"Those who took part in the Distant Worlds Expedition, the First Galactic Expedition, the Crab Nebula Expedition, and several others will be familiar with the Kamzel private group. The Kamzel PG was created by CMDR (Erimus) Kamzel to allow a safe space for the Distant Worlds pilots, and that group has grown to over 1,200 members. On September 1st, that private group was renamed (and transferred to a new, dedicated game account) to FleetComm. I have taken over administration of the group, although I have no intention of straying far from the guiding principles that have built Kamzel into the group that it is now. I have also selected a couple of other commanders to assist in running the group -- they may or may not identify themselves. At some point in the future, if I get burned out, will select and turn the group and account over to the next Dread Pirate Roberts, and retire."
-CMDR grnbrg​
Hello! I'm CMDR Satsuma, the new Dread Pirate Roberts, and I'm delighted to announce that FleetComm Private Group is open again to commanders!
In addition to the FleetComm private group, there is the FleetComm HQ Discord server. Other groups are welcome (but certainly not required) to use it to host their expeditions in the future. I can usually be found there, if you have any questions or emergency issues with the PG.
The rules of the FleetComm Private Group are as follows, and all members are expected to follow them:
RULE 1:​
Commanders are not permitted to cause the destruction of another Commander's ship​
​
RULE 2:​
Any aggressive activity (which must not violate Rule 1) must be by mutual consent of all parties involved.​
​
RULE 3:​
Restrict speed and stow hardpoints while within 2 kilometres (including altitude) of any published waypoint, landing zone, base camp, or any gathering of 4 or more ships.​
Violation of Rule 1 will result in an immediate ejection and permanent ban from the group, whether deliberate or accidental. Violation of Rules 2 or 3 may result in either temporary or permanent bans, at the sole discretion of the group admins. Rule 1 is self evident. Rule 2 is intended to allow races and other games and events within the group. Note that both hull damage and SRV destruction are permitted under Rule 2, but ship destruction is not. Rule 3 is intended to ensure that gatherings are safe. There have been very few incidents in the history of the Kamzel private group, and (to my knowledge) no incidents where a commander deliberately attacked another. However, there have been incidents where commanders at published landing zones have incurred significant hull damage because another commander had an "accident". Fly safe. Check your speed, not your credit balance.
And a word about membership. FleetComm is normally open to all commanders. As long as they are willing to follow the posted rules, we don't care what they do in Open. I have a list of commanders who will be scrutinized and likely interviewed before their membership is (or is not) granted. We have a smaller list of commanders who have been confirmed to have invaded PvE groups in the past.
Those
commanders will not be admitted.
Joining FleetComm on PC is a new, streamlined one step process.
Step 1: Fill in the FleetComm application form. This gives us a single place to review applications, as well as explaining the group rules, and asking you to agree to them.​
Step 2: There is no step 2! You don't have to send a friend request, or an in-game request to join the private group. Everything is driven off of the application form! Easy peasy!​
We will review the application, and approve the join request ASAP, usually within 72 hours.
What if I don't play on PC?
We have Playstation and XBox private groups as well. Each has its own application process that is a little different. Please join the FleetComm discord and see the specific instructions in channel
#joining-fc-pg.

How do I know my application has gone through?
Private groups are a little confusing in Elite Dangerous. You won't receive a notification that you're application has gone through. Instead, you will simply see the FleetComm private group appear in your
Social | Groups
tab.
Click on the
Social
menu item...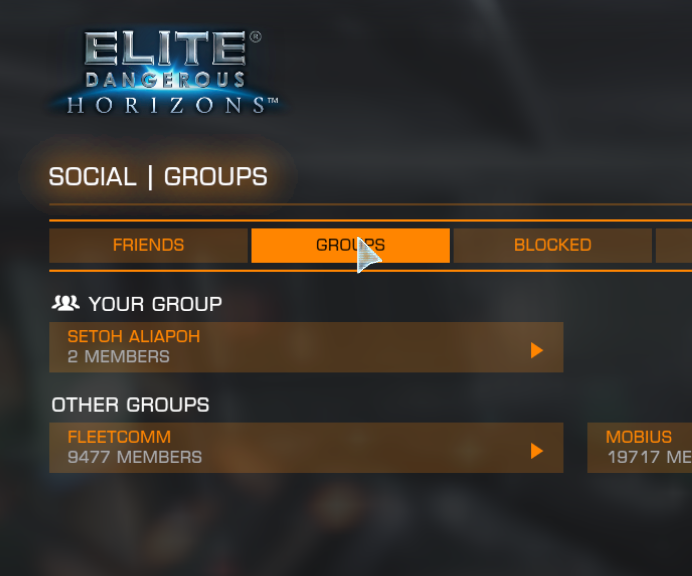 Click on the
Groups
tab...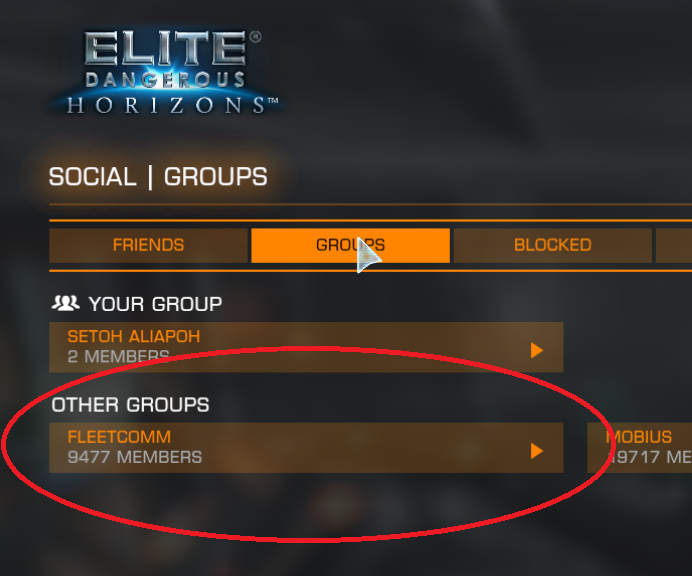 You will see the FleetComm group under
Other Groups
.
Which form is for me?
PS4/5 Commanders: See the PS4/5 instructions on the FleetComm HQ Discord Server, #joining-fc-pg channel
XBox Commanders: See the XBox instructions on the FleetComm HQ Discord Server, #joining-fc-pg channel
Optionally, but encouraged: Join the
FleetComm HQ Discord server
. The FleetComm Discord server is the official communications hub of the FleetComm private groups. While membership in the discord server is not a requirement for membership in the private groups, Commanders banned from the discord server may be banned from the private groups as well.
Welcome.
CMDR Satsuma.
Host your expedition on FleetComm!

Starting with the original Distant Worlds, FleetComm has hosted the vast majority of exploration fleet expedition, providing a Discord server and Private Group for expeditions over the years. We can offer:

Exploration-focused PVE private groups for all platforms with over 9000 members combined membership
An exploration-focused Discord server with over 13,000 members

Active expedition-specific channels
Multiple exploration-focused bots
An extremely helpful and friendly community

An active moderator and admin team with a focus on exploration

Most of our admins and moderators have been involved in planning major expeditions and are happy to help new expedition planners

If you're considering planning an organized expedition, talk to us! We'd love to help you out.
Last edited: