Here's another new one: I've found an unreported Guardian Structure on PENCIL SECTOR VY-A B8 B 1.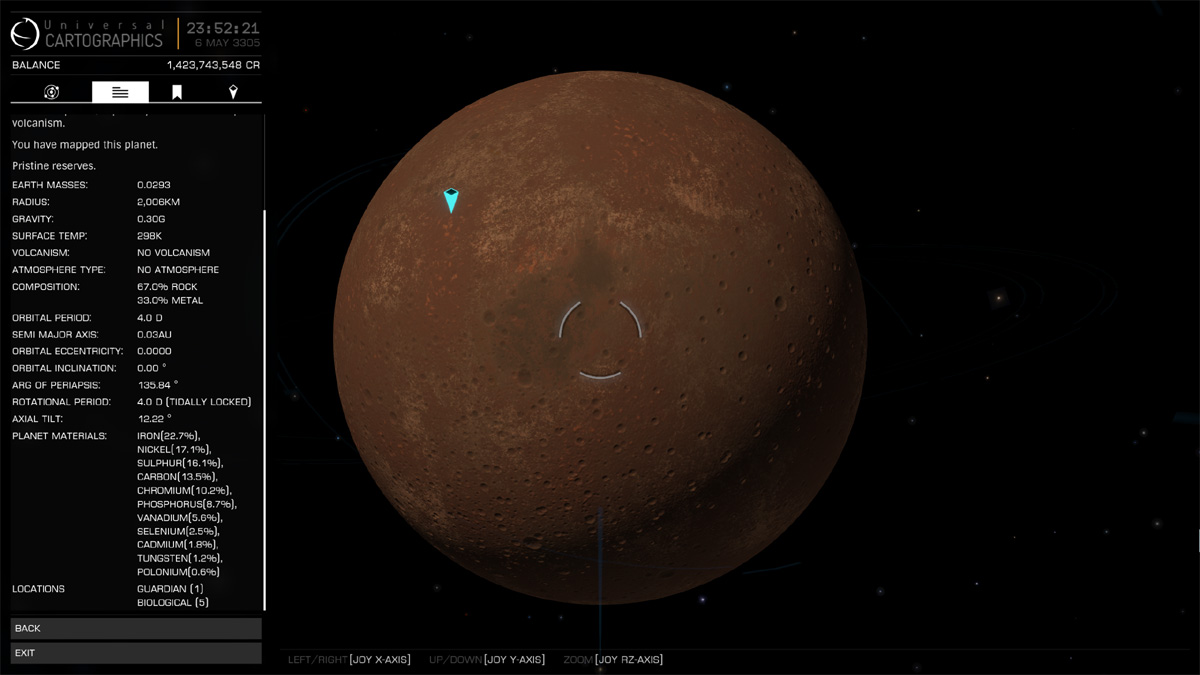 This site is less exciting for me than
my last one
because it's apparently not a new discovery: it was previously mapped by another explorer who sold the data but never mentioned the site here, on Reddit, or anyplace else on the web. I can't believe that anyone could map it, see the Guardian surface signal, and then just move on without having a look. So it can't be a new discovery... except that it is, to everyone but that solitary pilot.
This is a module blueprint site that resembles what Canonn Research calls the "Turtle" pattern. On the same planet there's a small number of bark mound locations, so it's an easy stop for blueprints and materials. It's a convenient distance from the system's arrival point (about 1200 ls).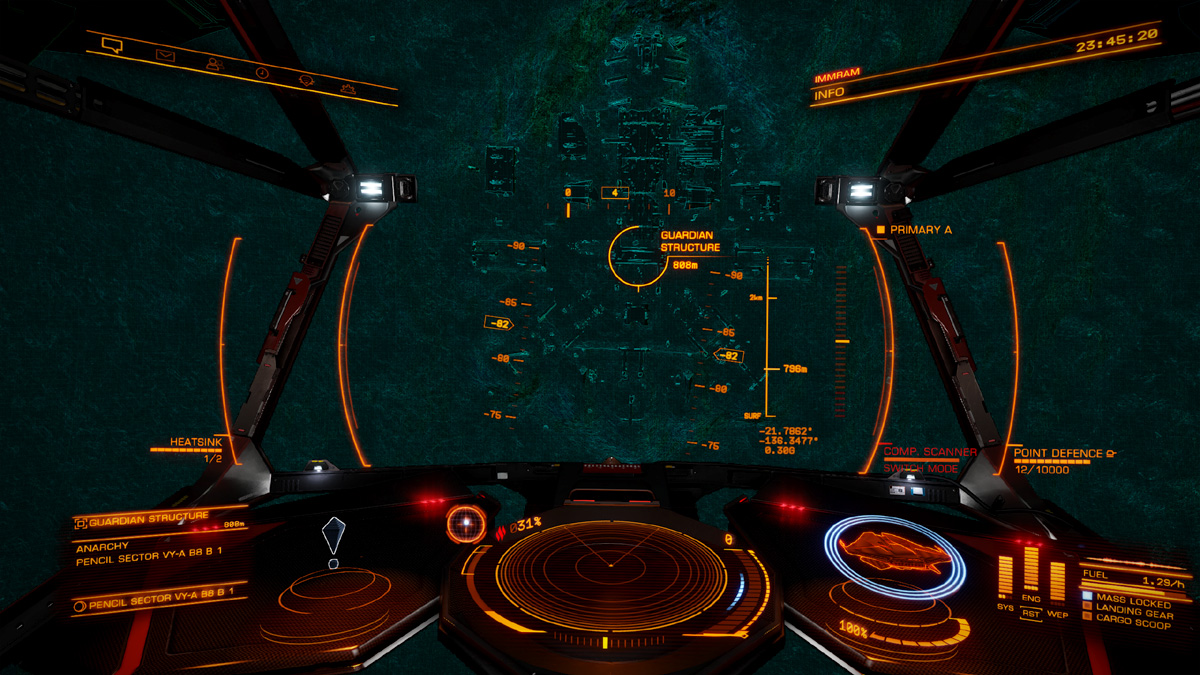 ​
In fact there are six other bodies in the system with bark mounds and one more that stopped me in my tracks: PENCIL SECTOR VY-A B8 B 3 A has 25 geological and 14 biological sites. Five of the biologicals are bark mounds, while the rest are Roseum Brain Trees. This is the first time I've seen Brain Trees share a body with another life form.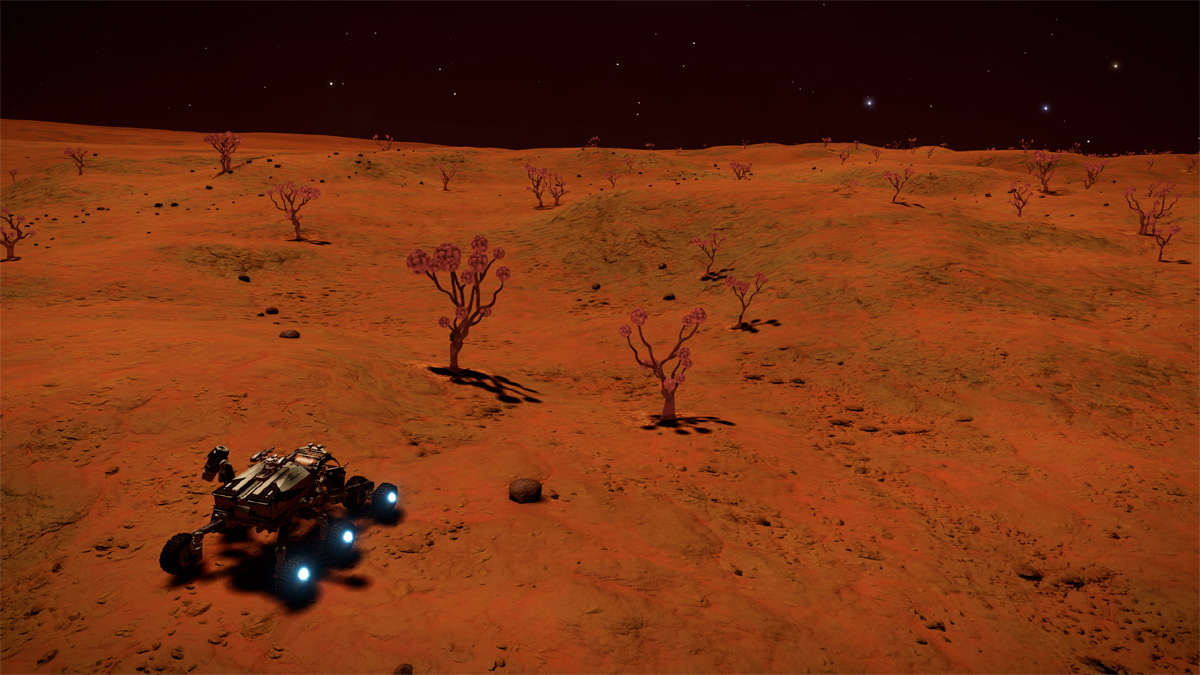 In addition there are three terraformables and a water world in the system. So it's a pretty nice one to visit for its data, its blueprint, and both raw and Guardian materials.
This system is located a little lower and to the west of my first-discovered Structure site, still well above the previously known Structures.
Finding both of these Structure sites has been pretty exciting for me; I feel like my ideas about more Guardian locations are bearing fruit now. But I won't be really satisfied unless I find one or more beacons up here, around 200 light years above the approximate center of the Guardian sites we were aware of.
The Search
Like I
mentioned earlier
, I'm conducting a survey above the rough middle of known Guardian space. My first search area is centered on WREGOE MC-Z B4 1-6; I've been examining every system I can jump to from that point. This turns out to be a very large number of systems. So far I've worked my way out to a forty light year radius, and I hope to look at everything within 64 light years of the center point. (It used to be 65, but I've just added some new equipment that it would be wise to have along, so my jump range has decreased. Here's hoping there was nothing amazing in that other light year, right?)
I'm not sure if I even imagined how long this one search area would take. It's a lot more systems than I expected.
My goal is to find the limits of the Guardian Structures area in every direction, and (possibly) additional nodes in the Guardian data network that we haven't seen yet, because the Beacons/Structures network, on its own, doesn't make a lot of sense.
Brain Tree Overload
The first thing I found was Brain Trees. Then I kept finding them. Then I found more.
They were an encouraging sign that there could be Guardian remnants around here. Whenever I found Brain Trees on a body, I investigated every location, noted the material composition of the planet or moon and the Brain Tree variety at each site, and I took a screenshot or six. It's been a pretty thorough project.
And here's why: if we ever had a detailed survey of Brain Tree sites around the Galaxy we might learn something interesting about their distribution, like whether the Guardians dispersed them from some central point. I like to imagine the remains of the giant Interstellar Brain Tree Cannon the Guardians used to shoot spores across the cosmos. Who wouldn't want to find
that
?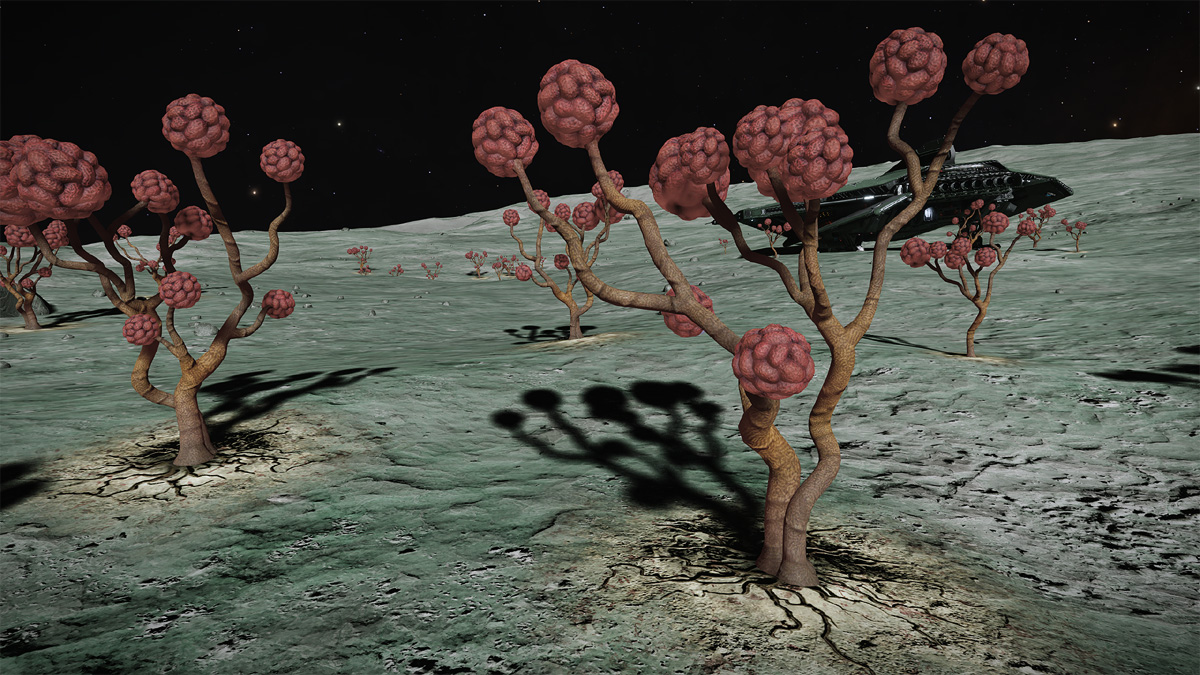 So far I've catalogued every Brain Tree location on 46 planets and moons; many of them have more than twenty locations each. And as much as I'd like to continue that for the data's sake... I'm pretty much done with Brain Trees. I could only face the 35 locations on the last planet by promising myself it would really
be
the last planet.
What I have to date is a sphere in space, roughly 80 light years in diameter, that contains almost all those Brain Trees. (There were a few stragglers I found on my way to and from the bubble.) I'll compile all my data sometime soon. It's a compact area, not far from the Guardian Structures, where a pilot can max out on every raw material except for those three odd ones you can get only by mining.
But you could set an army of explorers loose in the Galaxy to do this kind of survey, and they would never finish it.
So from now on I'll just note that BTs exist in a system and move on to look for for the Guardian remnants I'm really after. It bugs me, but I have to do more than one area in my lifetime.
Anyway, here's PENCIL SECTOR VY-A B8 B 1. It's in a nice spot!