Hi everyone!!!
I just changed my Cobra MK III on a ASP Explorer and I'm trying to build a nice Trade setup for it....
As I am kind of new on this game, I'm looking forward some advice on my recent build: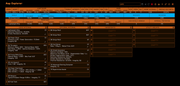 I'm playing solo for now and my intention is doing some long range trades with this ship.
Thanks in advance!!!!
FLUEX