Hi Everyone,
Intro may get wordy so feel free to skip straight to the pretty pictures!
Some of you may know I have been spending a lot of time working on my Parlusiana project - a map of a port/lumber town that kinda slots in to the Rose Lake Park universe - but I also have a lot of others on the go; Diznee World (three guesses as to what that's based on...), Thunder Gun Express (a wooden rollercoaster and small corner of a park), Ice Town (Section of a park with a Seven Dwarves Mine Train type coaster) to name just a few of the main ones. Sometimes I overwhelm myself as I start too much and lose inspiration for one or other of the projects for a bit and so it was I found myself needing a distraction.
Enter
Hethetheth
's cool '
Rustica 20 x 20
' park for a bit of inspiration. 20 x 20 is a tiny area to work in and so not only presents a challenge but also should be quick and easy to build, right?! WRONG! I have spent way too long on this obsessing about little details and tweaking things BUT it's finished (at least I thought it was until I noticed some things missing/that need adjusting in these pics!) which is more than I can say for the other projects AND most importantly the challenge was a lot of fun - I'd encourage anyone to give it a go!
Now, let's take a look at "Astroland - Out Of This World Fun!"
Astroland is a small park built on a single block of a grid system town somewhere in the United States around 1969/70 (I'll be honest the back story of this park is pretty loose, I didn't put much thought in...). The owners were inspired by the space race and the first man stepping foot on the moon (July 20th 1969) to create a space themed park/entertainment centre on this small parcel of land.
Originally the park opened with the Cinema & Arcade Buildings as well as a small collection of rides. These included a Big Wheel on the roof (Space Wheel) and some small flat rides and carnival style games but also the slightly more unique People Mover type ride - the only one outside of a Disney Park. (I may have made that up... and this next bit too so please don't be offended if it's not factually correct!) Disney, having invented the People Mover ride system in the 1960s, thought they could make a few bucks selling it as a transportation system with no luck, but they did sell one to this small park and it went on to be one of the most popular and unusual attractions at Astroland.
Fast forward to the present day (there or thereabouts) and things haven't changed that much around the park, Space Wheel and Astroland RapidTrans are still bringing joy to guests, as are the Arcade and Cinema, and aesthetically the park hasn't change much other than a few lighting upgrades and a lick of paint. However, the current owners have invested in some newer thrill rides to appeal to the tastes of a modern audience including Shuttle Spin and a spinning coaster called Re Entry. The park is a mix of old and new and still retains it's space theme, although now viewed through a more nostalgic lens.
I'd like to take you on a little tour of the park, however, having taken nearly 100 Photos (and spending longer going through them than building the park!!!) it's going to have to be split in to manageable chunks, here's what I am thinking:
1. Entrance Plaza
2. Thrill Rides: Shuttle Spin & Re Entry
3. Classic Rides: Astroland RapidTrans & Space Wheel
4. Outside The Park
5. Overviews/Non-Natural Angles
Let's dive right in and pay a visit to Astroland!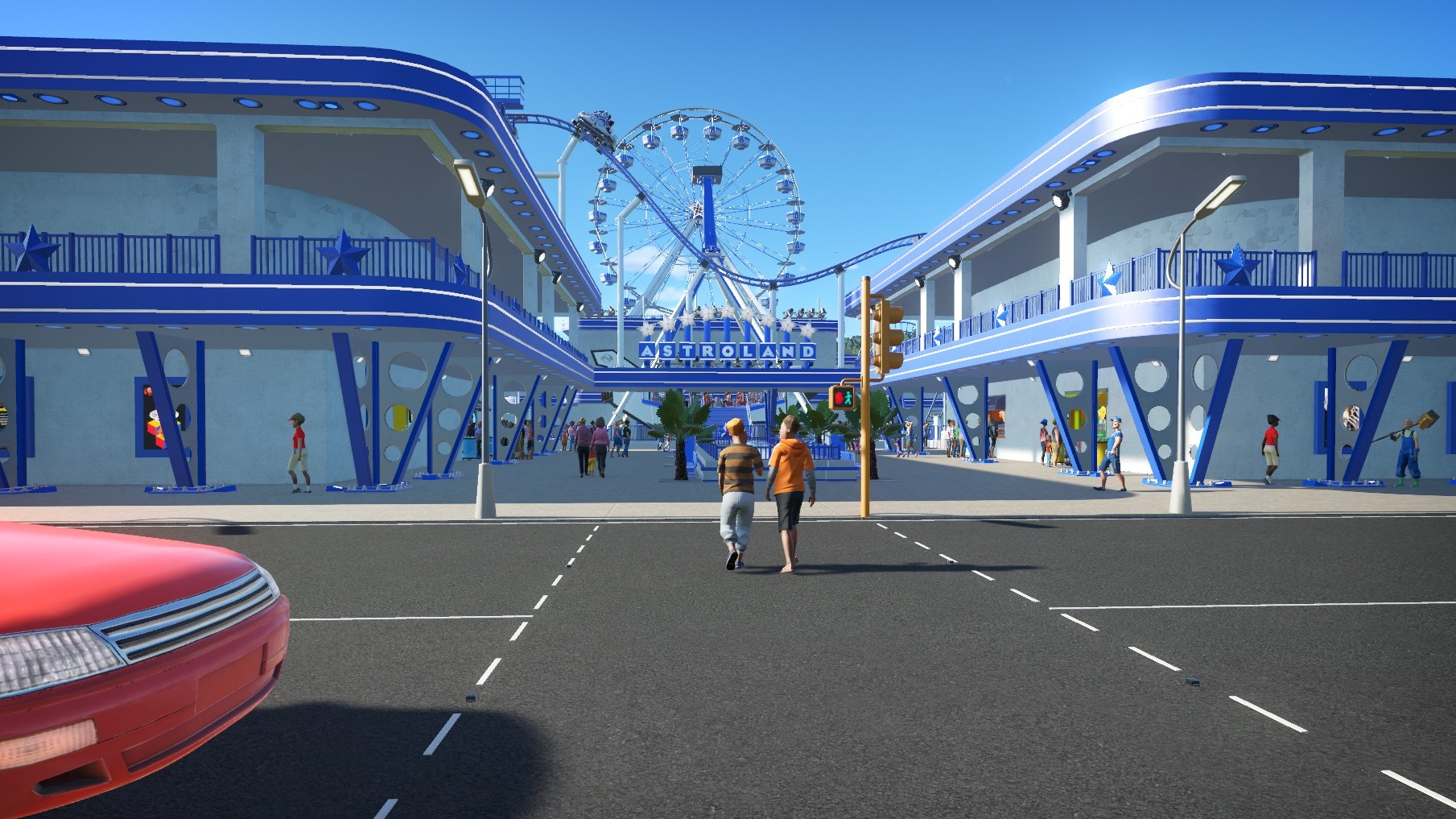 Crossing the road we see the main entrance plaza of Astroland ahead of us.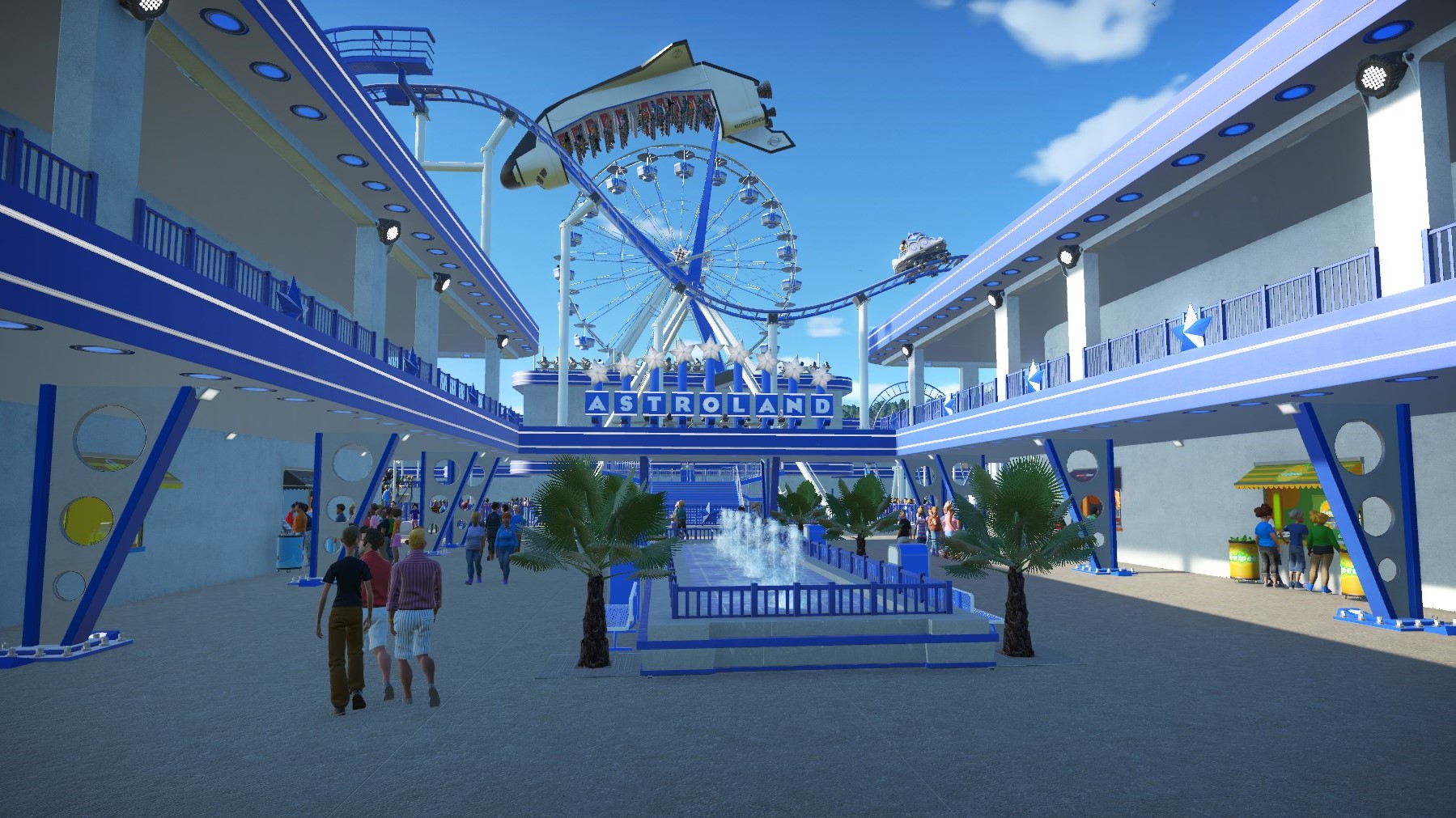 From this angle you can see all four of the park's main attractions - Space Wheel at the back, Shuttle Spin up in the air over the Re Entry rollercoaster and the Astroland RapidTrans on balconies surrounding the plaza.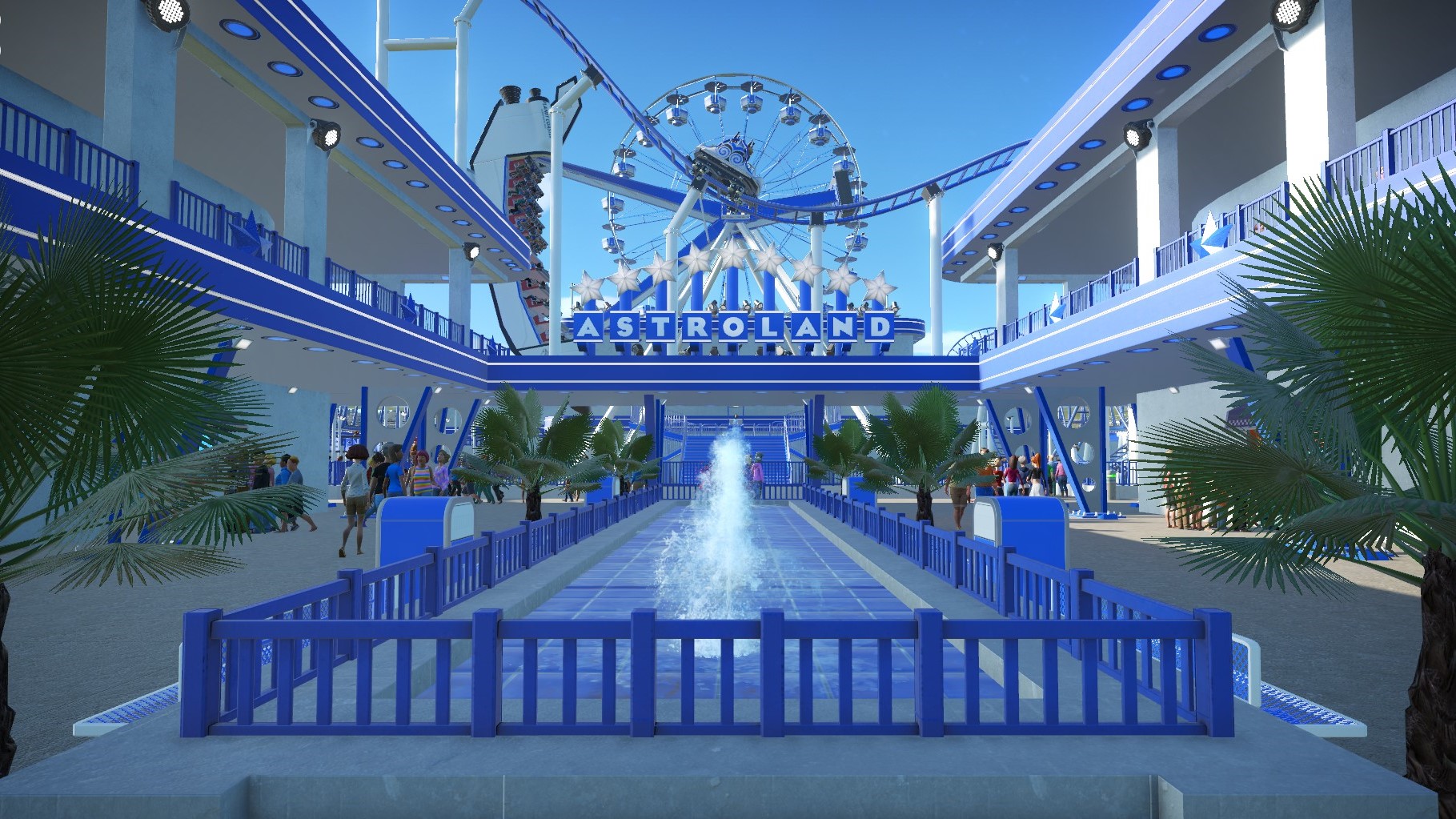 Welcome to Astroland!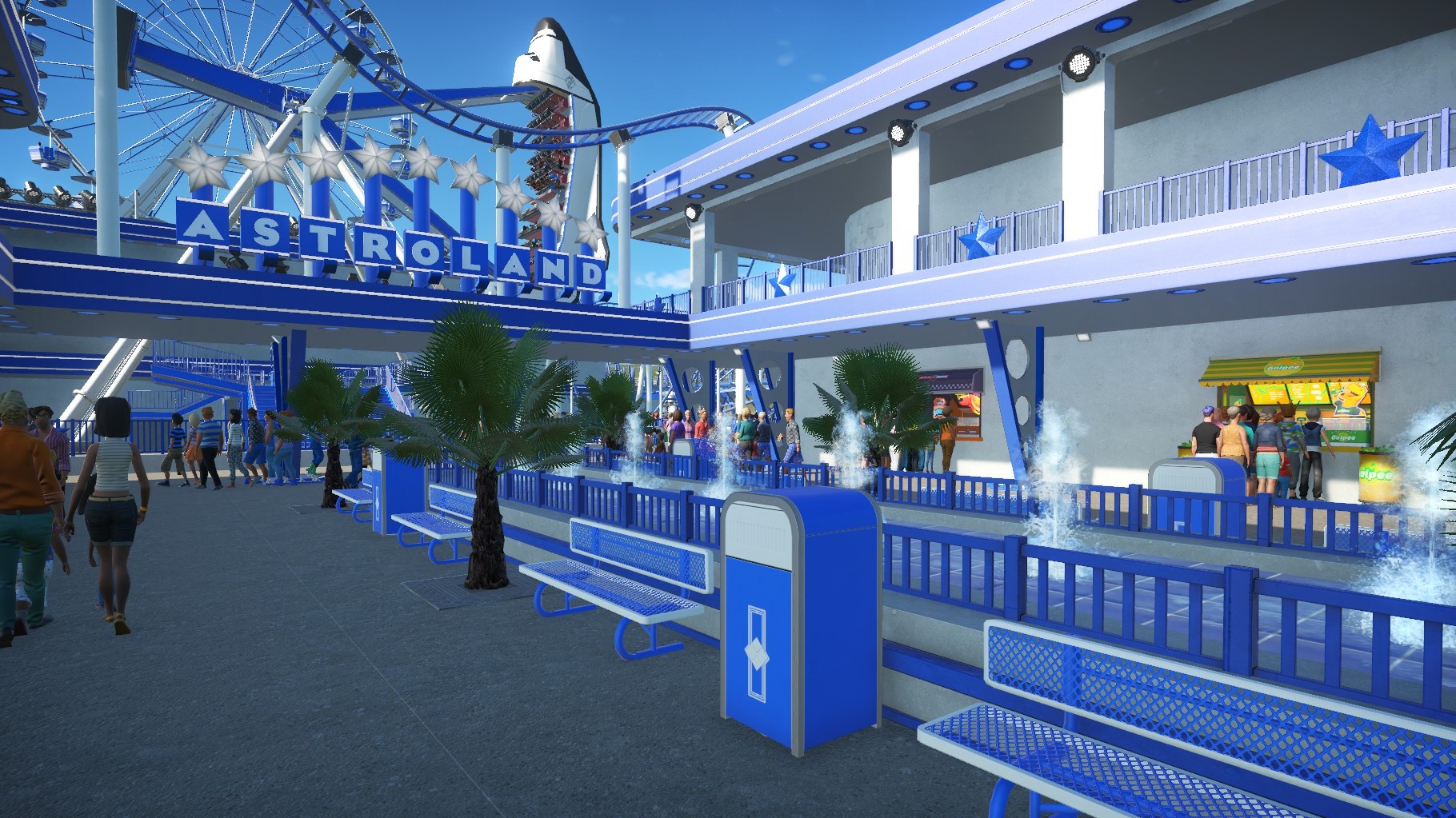 There's plenty of places to sit and rest or eat food from one of the vendors on the plaza.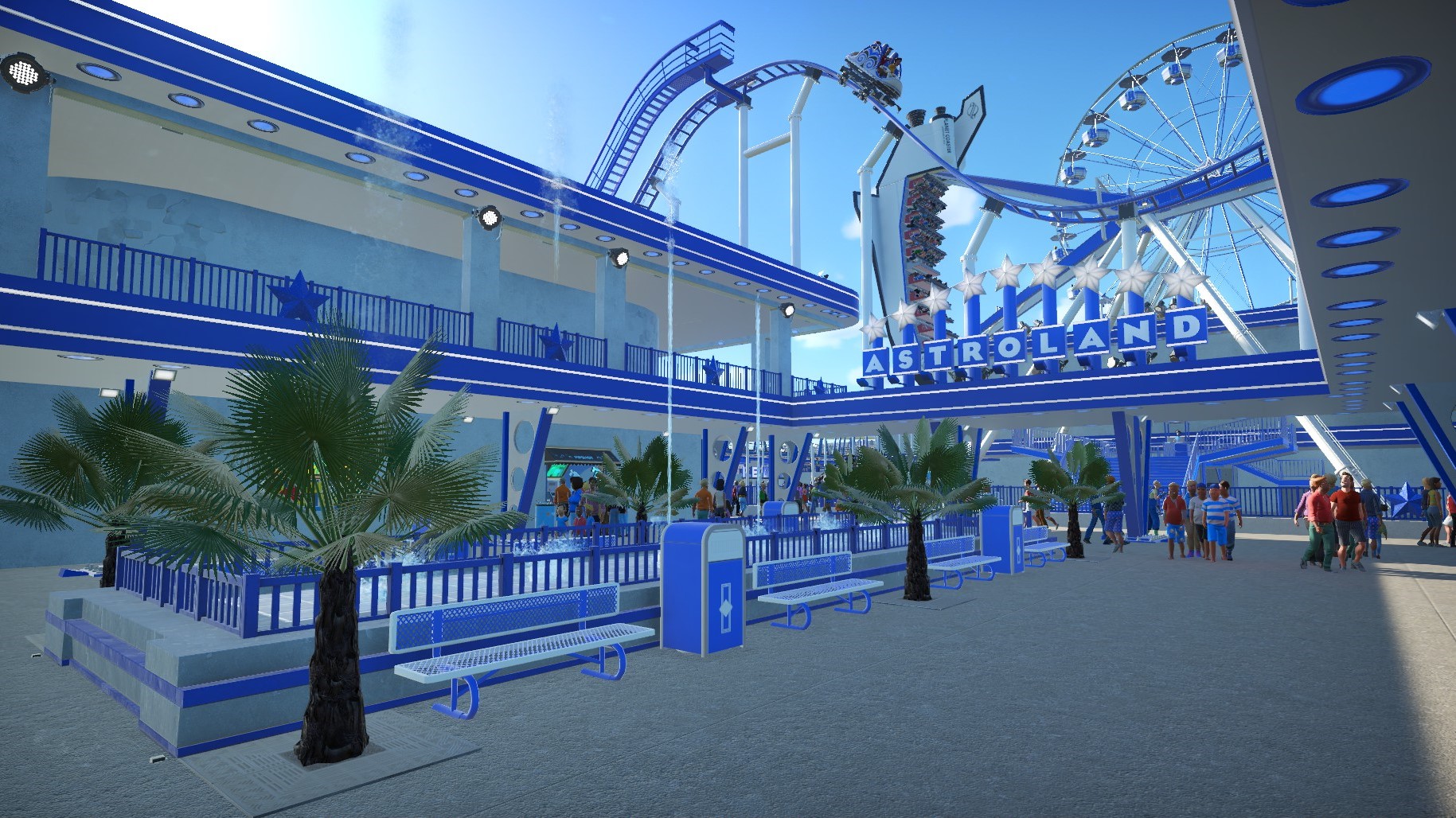 The fountains in the centre of the plaza perform a short 'dancing waters' type show every hour on the hour during the afternoon.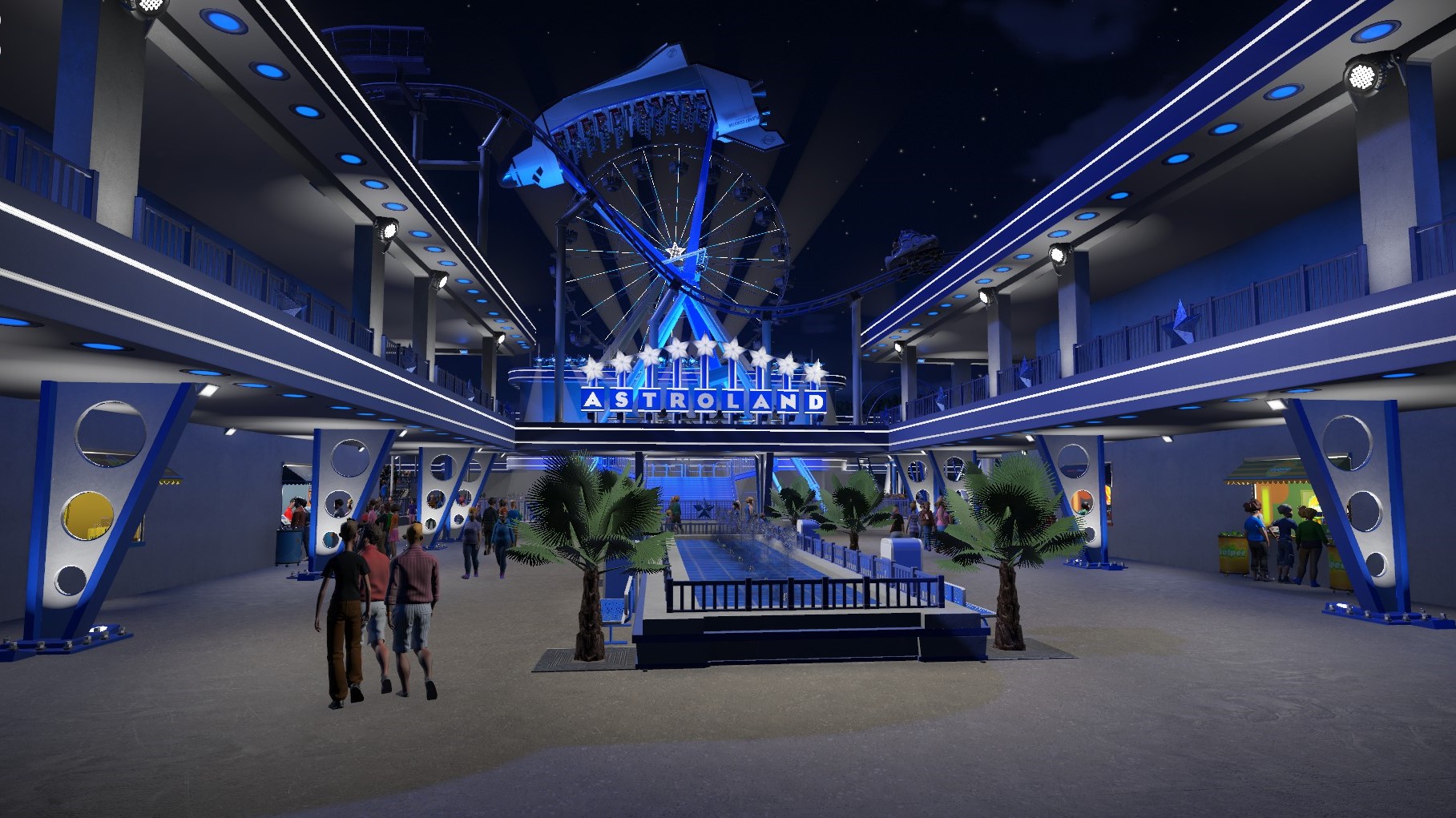 The whole park really comes alive at night.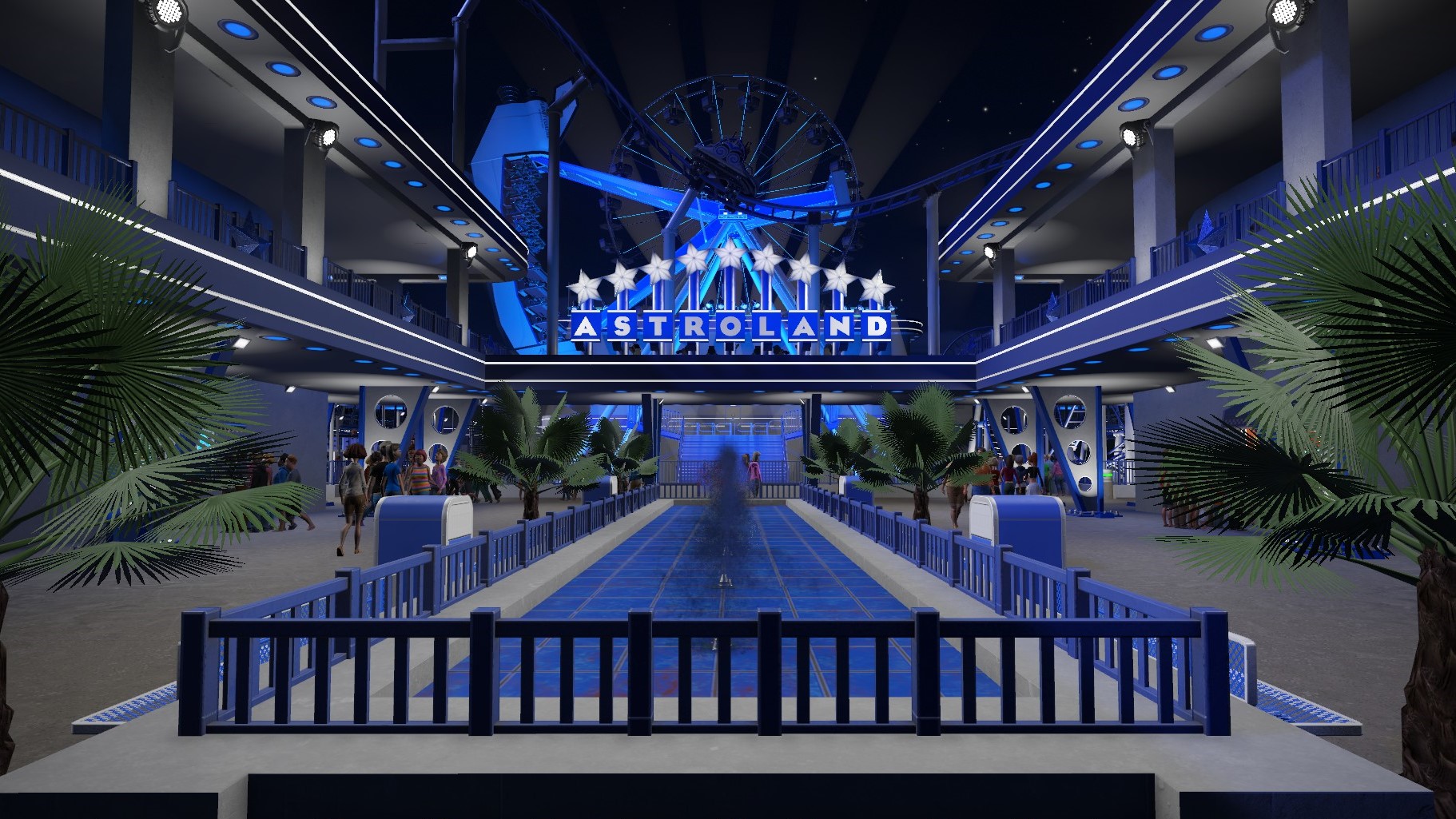 The Astroland sign all lit up at night.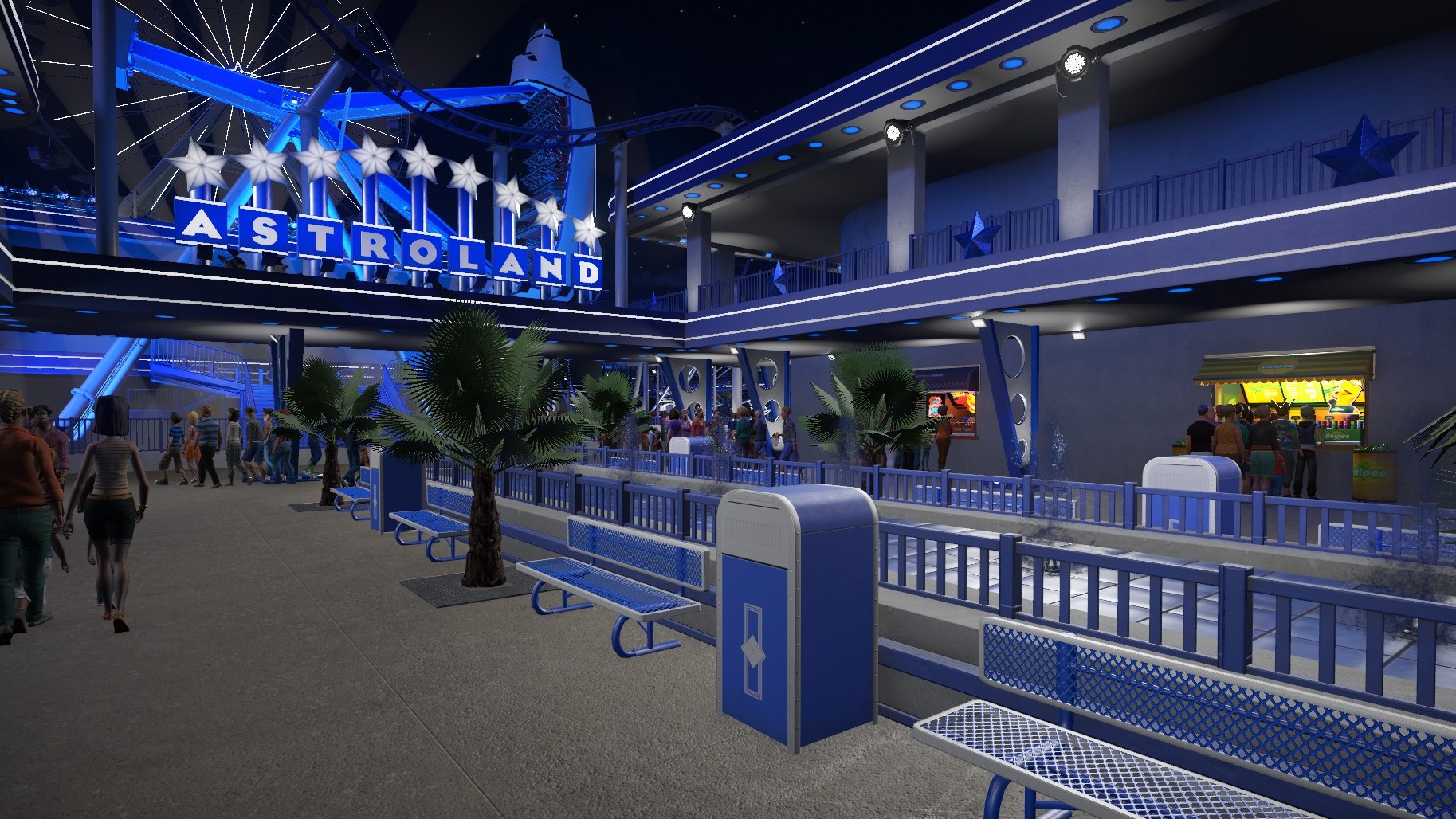 This is one of my favourite places to sit and take everything in at night.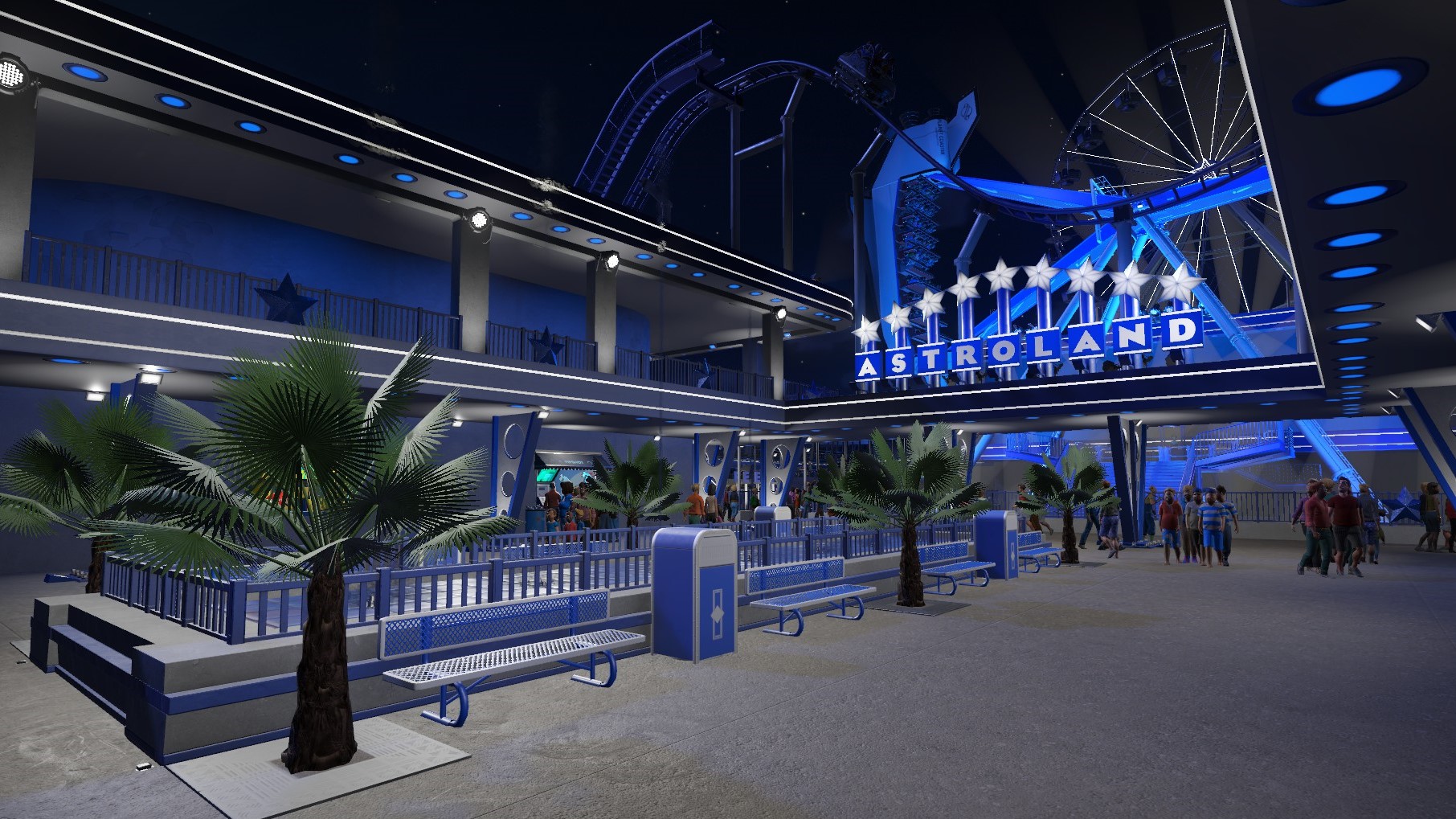 The plaza sits between the arcade building (on the left/west side) and the cinema building (on the right/east side) and is home to the majority of the park's food and drink outlets.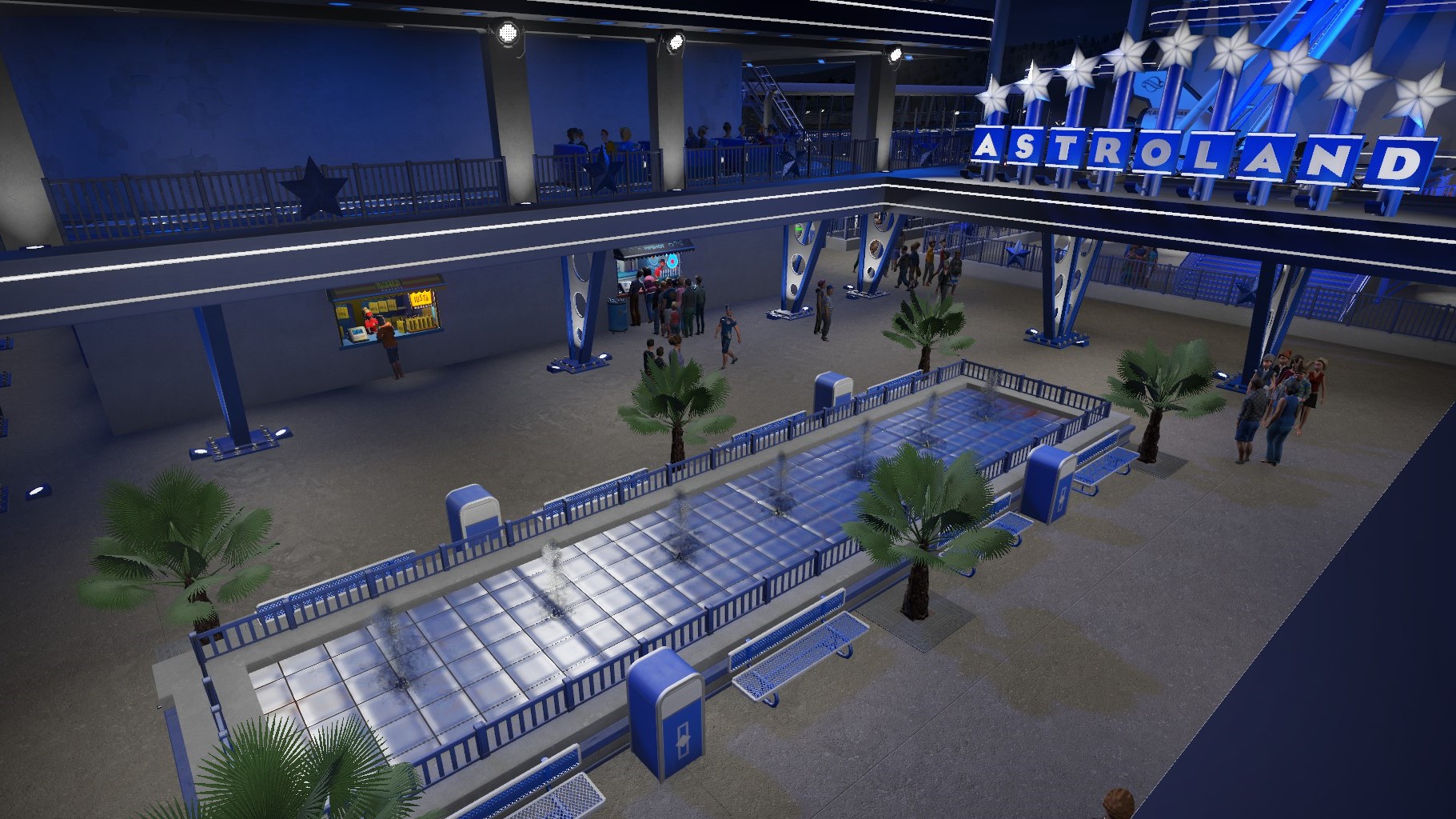 And lastly a view from the Astroland RapidTrans looking down on the Plaza, from here we'll walk further in to the park and on to the two newest attractions Shuttle Spin and Re Entry.
See you next time!