Greetings CMDRs. CMDR ADM Infwhale here.
I have been out mapping the NSP sites around the NGC 3199 Nebula since March. Now, with a little community help and the launch of the Banana Nebula Expedition, there are numerous CMDR's hard at play, mapping all of the NSP's (See the reddit -
Banana Nebula Expedition
). So far, we've found over 3187 systems and 5931 NSP sites all bunched up in an sphere approx 1000 ly in diameter (See the image). If you're up for a little exploration or just passing by, please feel free to join us.
We could always use miners, explorers and someone to model the data. If you do decide to join, we've got a discord channel running so we'd be happy to invite you in.
There are some spectacular sites to see and we plan on running some events, etc while we're here.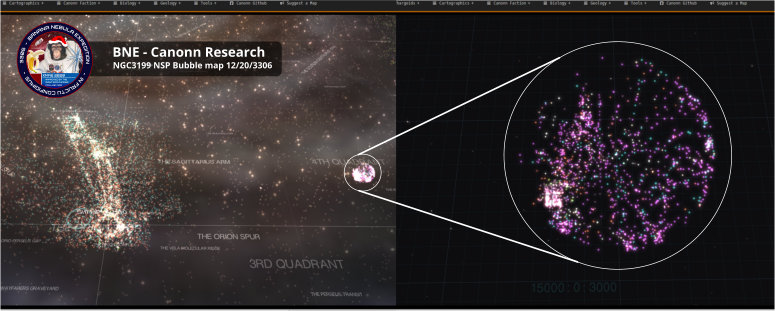 Check out:
Canonn Glaxy Map
Sagittarius Eye Podcast issue #30
D2EA - Hello Dave #162
Current 3D Model with data
BNE Expedition Teaser video here -
Source: https://www.youtube.com/watch?v=NZ2_2BHvEqY
o7 to all.
Last edited: