Buckyball Racing Club presents: Seven Sisters Speedway
Ohm Horizons (HIP 29312) 13-JUL-3305 to 21-JUL-3305
Welcome to the
Seven Sisters Speedway
: In a reimagining of
one of the earliest BRC events
, take off from
Ohm Horizons
in
HIP 29312
near the edge of the bubble, and take a whirlwind tour around some of the stations and installations of the
Seven Sisters
in the
Pleiades Nebula
, then race back to Ohm Horizons.
Alongside the main event, the most
crazy
daring commanders can earn time bonuses by
flying fast
through checkpoints, with the lowest adjusted time claiming
Nuk's Kamikaze Cup!
---
THE RACE IS OVER NOW FOLKS - HERE'S THE FINAL STANDINGS
---
Open Unlimited Class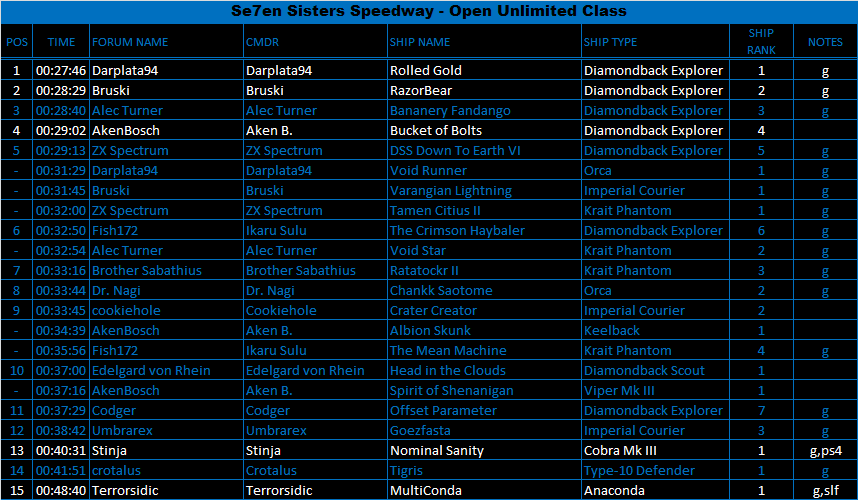 Notes: g= Guardian Tech fitted;

ps4= Run completed on ps4 console;

slf= Ship Launched Fighter used
---
Regulation Hauler Class

Notes: ps4= Run completed on ps4 console.
---
Nuk's Kamikaze Cup
Notes: g= Guardian Tech fitted; h= Hyperdiction bonus; r= Regulation Class run;

ps4= Run completed on ps4 console;

slf= Ship Launched Fighter used
---
---
Race Backstory
---
The bar was almost as deserted these days as the rest of the station, soon fix that though thought Raiko as he carried his glass of Indi Bourbon over to the battered corner table where his old friend sat.

"Kligg."

"Raiko, long time no see."

Sitting down Raiko glanced across at the old chalkboard over the bar, the words hadn't changed since five years ago:

Under 20 mins: Double Centauri Mega Gin with a Bast Sanke Gin chaser followed by a Alacarakmo Skin Art tattoo of Bucky's face on your back!
20-22 minutes: Lavian Brandy and a Kamitra Cigar
22-24 minutes: Haiche Black Brew and a packet of Karsuki Locusts
24-26 minutes: Kongga Ale
26-28 minutes: Gerasian Gueuze Beer
28-30 minutes: Leestian Evil Juice
OVER 30 minutes: You, sir / madam, are buying the drinks!

Raiko chuckled as he remembered the event, "We nearly bankrupted the joint back in '01. Get many entries these days?"

Kligg shook his head sadly, "Nah, kids these days don't know how to race, too busy grinding stuff. Even send out angry comms messages if they spot anyone speeding in the dock."

"Ahh, well we were thinking of starting up the BRC again, teach the kids how to fly fast."

"That why you came here Raiko?" anger flashed in Kligg's eyes, "You know I'm done with racing!"

Raiko just smiled as he sat back, taking a sip of bourbon, "Nope, I came here to ask if you'd mind if we borrowed your old race? Ran a proper old-style Buckyball race from here to the sisters and back? They've got stations in most of those systems now, the one in Atlas is too far out for fun racing, but there's plenty of usable ones."

"A proper old school Buckyball race, like Buckyball-7?"

"Yeah, that's what we were thinking."

"With no shenanigans?"

"Well, you know a lot of us like some shenanigans in the races."

"No way!" Kligg thumped the table, "A real Buckyball Race doesn't need any shenanigans! Electric-Z never needed no shenanigans."

Raiko sits quietly for a moment, waiting for his friend to calm down, "Well I'm not sure that that's true, but okay, just a Buckyball race..."

"With no shenanigans?"

"...with no shenanigans, gotcha."

Grinning Raiko stood up to leave, time to get the word out.
---
It's just a Buckyball Race...
---
In August 3301 the BRC hosted an event – the Pleiades Hip Hop – involving a run from Ohm Horizons at the edge of the bubble to each of the Seven Sisters – the most prominent stars of the Pleiades Nebula – and back to the bubble. At that time there were no stations or human installations in the Pleiades and so the event involved "Hip Hopping" between the seven stars collecting an evidence screenshot from each and then docking back at Ohm Horizons. The premise of the race was a standing bar challenge to make it to the Seven Sisters and back in less than thirty minutes for free drinks, if you took more than thirty minutes, you bought the drinks!
Things have changed a lot in the Pleiades since then, indeed Electric-Z and Bucky organised Buckyball-9 to celebrate the opening of the first Pleiades station – a race across the full width of the bubble and ending at Obsidian Orbital.
Alien sites were discovered in the Pleiades, and so the BRC organised a race to "Kick an Alien" and then run for it, what could possibly go wrong? Well the Bubble burns as Thargoid warships raid systems across human space, but at least the race was fun!
So, Buckyball racers have a long history of fun in the Pleiades Nebula, and so it seemed fitting after our brief break from racing to return to the route of one of our original events and see it the high performance ships of 3305 can race to the Pleiades and back in less than thirty minutes, but this time visiting a few of the stations and installations of the Seven Sisters in typical Buckyball Style.
The race begins at 00:00:01GMT Saturday 13-JUL-3305.
The Seven Sisters are:
Asterope
Atlas
Celaeno
Maia
Merope
Pleione
Sterope II
Classes:
The Seven Sisters Speedway has the following classes:
Open Unlimited Class
Regulation Hauler Class
Regulation Hauler Class:
For this class, you
must
use the following build:
https://s.orbis.zone/3q2a
That is:
Class A Thrusters and FSD
All other core modules class D
Fuel tank : 2 ton
Class 3C Fuel Scoop
No other optional modules, hardpoints or utilities.
All parts are normally available at Ohm Horizons.
Engineering is BANNED
Guardian Tech is BANNED
Jumponium synthesis is BANNED
White dwarf / neutron star FSD supercharging is

PERMITTED
Open Unlimited Class:
For this class, you may used
any build
, subject to the rules below:
Standard & Advanced Docking Computers are BANNED
Supercruise Assist is BANNED
Engineering is

PERMITTED

Guardian Tech is

PERMITTED

Jumponium synthesis is BANNED
White dwarf / neutron star FSD supercharging is

PERMITTED
The Course
Begin the race docked at
Ohm Horizons
in
HIP 29312
.
Visit the following nine locations in the Pleiades Nebula in any order:
Asterope – Dock at Copernicus Observatory (83ls)
Atlas – Hip Hop only!
Celaeno – Dock at Artemis Lodge (46ls)
Maia – Dock at Obsidian Orbital (635ls)
Merope – Make a fly-past of the

Listening Post

orbiting Merope-1b (2100ls) – Note: listening posts, like other space structures, only appear on your Nav Panel when you approach to within 1000ls.
Pleione – Dock at

Stargazer

(1072ls)
AND
Pleione – Make two tunnel fly-throughs at the Squirrel's Nest space bar (265ls)
Sterope II – Hip Hop only!
Then return to dock at
Ohm Horizons
in
HIP 29312
.
Evidence:
Start Line – Your start time is the displayed time and date, on the landing pad at Ohm Horizons, before you select launch.
Docking – Your docking screenshot must show the time and date, on the landing pad
Hip Hop only! – Take a screenshot while in system, with both the clock and the system / star name displayed OR take a screenshot of the GalMap showing your current location and the time & date.
Finish line – Your finish time is the displayed time and date, on the landing pad back at Ohm Horizons.
Tunnel fly-throughs at

Squirrel's Nest

– Your two screenshots must show that you are inside the

tunnel

and your

cockpit clock

must be visible.
Listening Post fly-past in

Merope

– Your screenshot must show that you are within 250m of the listening post, additionally

Merope 1b

must be displayed in the bottom left corner of the HUD. Finally the time must be visible – either the

cockpit clock

, or if making a Kamikaze Cup run, the time of your transmitted message.
Note there are two possible distances to the listening post: the nav-marker and the distance to target if the LP is selected. Either will do.
That Listening Post (images in spoiler tags):
The correct Listening Post is selected and is orbiting the moon Merope-1B
The incorrect Listening Post is visible over to the right 0.11ls away.
The correct Listening Post is selected in the Nav panel below, inset below Merope-1B
The screenshot below shows distances of 130m (Nav Marker) and 143m (selected target) to the Listen Post (either is valid). Merope 1B is displayed bottom left, and for Kamikaze Cup evidence a speed of 855m/s and a message time of 23:43 are displayed.
Note that for a video recording submission, you don't need to get everything into shot at the same time. Just fly within 250m -
fast and after transmitting the message in the case of a Kamikaze Cup run.
---
...with no shenanigans!
---
Okay, so everyone loves a few shenanigans, some commanders even love to find ways to register negative times for their runs. And no one loves a few shenanigans more than long time Buckyball fan Enoch "Little Nuk" Lonnigan. And so alongside the Open Unlimited and Regulation Hauler classes of the Seven Sisters Speedway, commanders will also be able to try and win Nuk's Kamikaze Cup:
Earn time bonuses by flying really fast through checkpoints such as station entrances and space bar tunnels, can you balance velocity against overshot and explosion skillfully enough to earn the lowest adjusted time and claim the Kamikaze Cup?
Just don't tell Kligg...
The Kamikaze Cup Rules
All repairs are banned during a Kamikaze Cup Run – so remember to repair before starting!
Receive a time bonus for each m/s in your two
Squirrels Nest
tunnel run screenshots and in your
listening post
flypast screenshot.
For the listening post screenshot to be valid, as well as being within 250m of the listening post you must have posted the message "
There's fast and then there's Buckyball
" to the local message channel. It'll confuse the hell out of those xeno-watchers!
Spread the word Commanders!
Additionally take a screenshot
inside
each station that you dock at, prior to docking, including
Ohm Horizons
. You will receive a time bonus for each m/s of velocity in each of your pre-docking screenshots (maximum of 5x screenshots). Inside the cage will do.
For Kamikaze Cup runs it is strongly advised to make a video recording of your run, to either upload or extract the best screenshots from, this will allow you to take the highest speed during each tunnel run and make the other screenshots much easier to record.
You do not need to submit all 8 time bonus screenshots for a valid Kamikaze run (even 1 will give a time bonus).
If you submit a video recording as evidence, then I'll try to get the fastest valid speed at each checkpoint.
So you can accumulate bonus time from up to 8 checkpoints:
Tunnel fly-through #1 at

Squirrel's Nest

.
Tunnel fly-through #2 at

Squirrel's Nest

.

Listening Post

fly-past near

Merope 1B

Docking at

Copernicus Observatory

Docking at

Artemis Lodge

Docking at

Obsidian Orbital

Docking at

Stargazer

Docking at

Ohm Horizons
The speeds of all 1-8 checkpoints will be added together.
Then this percent of a minute will be deducted from your run time. Fractions of a second will be rounded up unless need to split a tie.
E.g.
If you like to "fly Cmdr Daisy" and pass through all 8 checkpoints at

100m/s

, you will receive a total time bonus of

800%

of a minute, or

08m00s

. And so

08m00s

will be deducted from your Kamikaze Cup run time.
If you pass through each checkpoint at

711m/s

, you will receive a total time bonus of

5688%

of a minute, or

56m52.8s

. And so

56m53s

will be deducted from your Kamikaze Cup run time.
Negative adjusted times are
valid
; the lowest adjusted time wins the Kamikaze Cup.
---
What is Buckyball Racing?
---
Quoting from the
BRC website
:
The aim of Buckyball-style races is to be as inclusive as possible. The features of these races are:
In systems accessible to all - no permit-locked systems
Can be run at any time - time-trial / checkpoint-style races, that can be run at any time within the race period, and thus open to those in all time zones
OK to run repeatedly - part of the excitement is trying to improve on your time!
Open to any ship - this normally means no outposts as that would rule out large ships, but certain events will include outposts and thus cannot be run with larger ships; check the rules of each event
Events run by the BRC are inspired by the Buckyball Run, a series of point-to-point time trials organised by Commander Electric-Z and Bucky, the fastest kangaroo in the galaxy.
---
Frequently Asked Questions
---
Here is a set of FAQs to help out:
How many times can I enter?
You can make as many runs as you wish during the race week, but only your best valid run will appear on each leader board. So the most leader board spots you can have is three, one-each for Open Unlimited and Regulation Hauler classes, and one for Nuk's Kamikaze Cup. Half the fun of Buckyball racing is seeing your time improve during the event.
So does my Kamikaze Cup entry have to be made separately?
No, you can enter any qualifying Open Unlimited or Regulation Hauler class run into the Kamikaze Cup if you like, or you can make a separate run especially for the cup, it's up to you. Remember that repairs are banned during Kamikaze Cup runs though; and that you need to transmit your BRC message to the listening post to gain that time bonus.
I'm on console, is this just for PC cmdrs?
No, Buckyball events are open to cmdrs on all platforms. The nice thing about our time-trial format and the shared universe, is that runs are generally balanced across platforms, time-zones and play-modes.
So is Open Unlimited class for open mode only?
No, it's open to all ships with a few module restrictions. You can play in any game-mode, but we do encourage participants to give open mode a go for our events. Most BRC regulars race in open-mode and it's nice to meet fellow racers out on the course. Most of us have destroyed so many of our own ships crashing into stations, that we're not worried about other cmdrs shooting at us, and pvp attacks have been very-very rare during our events anyway .
(Unlike those pesky npc 'griefers' who never fail to spoil a personal-best run with an interdiction attempt 1.1Mm from the last station!)
Do I need Horizons to enter this event?
Not to the best of my knowledge. All checkpoints are space based stations and installations, or just stars in the case of two destination systems. So I believe this race is fully accessible to players of the base game.
Which modules are allowed?
In Regulation Hauler class you must use the build specified. In Open Unlimited class and Nuk's Kamikaze Cup the following modules are banned: Docking Computer, Advanced Docking Computer, Supercruise Assist. All other modules are legal.
What about Guardian Technology?
All guardian tech, including the FSD Booster is legal in Open Unlimited and the cup. Ships with an with FSD boosters will be noted though, so it's still worth entering open-unlimited even without access to guardian technology.
Can I use FSD fuel boost synthesis?
No, FSD synthesis is banned before and during a run.
Can I boost using white dwarfs / neutron stars?
Yes, FSD supercharging is allowed, so if there's a dead star in a convenient location, dive in there and get a boost.
Can I repair / refuel at stations?
Yes, but ship repairs are banned during a Kamikaze Cup run.
Can I swap ships / modules during a run?
No the ship configuration you begin a run with must remain unchanged during that run.
I love those Lonnigan brothers and I'm glad to see that Little Nuk has made it, but where the heck is Fat Tony?
Fat Tony is busy seeing if he can fix the Black Riband without needing to reboot it again. He'll be watching the action on the GalNet Sports Network though (via pirate stream of course).
---
Intent to Race!
---
Is it customary (but not required) for Buckyballers to declare their intent to race before doing so, in something like the following format.
Intent to Race
CMDR Name (forum alias if different)
Ship name
(ship type)
Race Class
Examples:
Intent to Race
CMDR Raiko
The Nomad
(Asp X)
Open Unlimited
Intent to Explode
CMDR Raiko
Buckyball XL-5
(Hauler)
Regulation Hauler and Kamikaze Cup
---
Proof and Submissions:
---
Please PM me on here with your run times (use the "conversation" envelope at the top of the screen):
Format:
CMDR Name (forum alias if different)
Ship name
(ship type)
Race Class and/or Kamikaze Cup
Start Time: hh:mm:ss
Finish Time: hh:mm:ss
URL Link to Evidence Screenshots or Video Upload
Screenshots are the fastest and lowest bandwidth way to submit your run, but if you wish to upload a full video and link to that instead, that would be great!
If you're feeling kind, please provide timestamps for the start and end screenshot times.
If you enter the
Kamikaze Cup
, there's no need to work out your time bonuses yourself, just include the required additional screenshots, or I'll extract the best bonuses from your video upload.
Please don't link to your video uploads or screenshots in forums post or post your run times until the final weekend of the event. In the traditional Buckyball style, I'll be obfuscating precise run times until the last few days of the race.
---
P.S. Why not join us in the BRC Discord for live chat before, during or after making a run!

---
Last edited: