aka The Rats Endurance Rally
(Yes, We know that is too many titles)
--------------------RETRIEVING TRANSMISSION FROM ARCHIVES--------------------
Hello? Is this The Fuelrats?
Yes! How can we help?
I am stuck in a Fer-de-lance in Celaeno that has a 4ly range!! The Fleet Carrier I took left me behind!
Is your fuel level still okay? Are you on Emergency oxygen?
No, Both are fine.
That is some situation you got yourself into. We are discussing it! Sit tight I'll get back to you.
…
...
…
…
Allright, we got a possible solution for you! If you can make it to Cyllene Orbital in Atlas you should be able to buy a Hauler and make your way back!
I should be able to make that. thanks for all the help!
We are here to help. Oh, Don't forget a fuel scoop! You got a long journey ahead of you.
Oooh Yes,right!! Almost forgot that, Thanks again!
Tell your friends about us and Fly Smart cmdr o7
--------------------END TRANSMISSIONS--------------------
The cmdr got home safe! But this whole exchange sparked some discussion if a sidey could get back to the bubble from Maia? I took it upon me to test it out… 2 weeks later and 7 sidewinders later the verdict was clear: It is possible and this needs to be a race! But to keep life spicy we abolish the fuelscoop for the hard part. Show the rats what you are made of!
How the Race goes:
1. Make your way to the maia region.
2. Buy a 2a FSd there (You can use EDDB.io to find where exactly)
3.Make your way to Artermis Lodge in Celaeno, Ship the 2a fsd from earlier to you and buy a Sidewinder.
3½. Give your sidey a snazzy name!
4. Strip off anything you want and add the 2a fsd to the Sidewinder.
You are free to remove any module, but the only part you can add at this point is the 2A FSD.
4½. Start the Clock. The race begins!
5. Make your way to Ngalia and refit the sidewinder however you want (no guardian tech or engineering allowed) Fuel scoop is allowed (even recommended) from this point.
6. Charge your FSD and get to Wollheim Vision in Fuelum and be all smug to the rats that you made it!
7. The shortest time wins +3 life points and a pallet of the finest Snickers shipped to their home station!
Screenshots needed:
Docked at the Station and outfitting in
Artemis lodge.
Gal map when arriving in
Ngalia.
Outfitting Shots when done outfitting.
Docked Station screenshot in
Wollheim Visions.

OR
A continuous Video showing all these in game is accepted as well.
Added rules cause everybody is master in finding loopholes
(
This section will be updated in the coming days)
The use of Fleetcarriers is prohibited in any way shape or form. Outfitting, General travel, etc etc
You MUST use the SAME sidewinder you bought at artemis Lodge throughout the whole race.
When Outfitting your Sidewinder in Ngalia you must BUY all modules at an NPC station. No shipping modules upfront or using your universal storage.
No FSD injections allowed at any point.
No refueling by other cmdrs along the way.
Multiple attempts are allowed and encouraged! Some healthy Competition!
After you have finished your run please fill in our form to register your attempt here:
https://forms.gle/NxLfL6q8VTSoJWrv7
THE RACE IS OFFCIALLY FINISHED. THE FORM IS CLOSED! You are however free to post any further attempts as a response in this thread! (Scoreboard won't be updated)
All submissions must be entered before 2021 Januari 17th 23:59 UTC (in game time).
SPECIAL PRICE CATEGORY: Keep track how many times you get Hyperdicted. The cmdr with the most in a single run will deserve a special title!
Final Leaderboard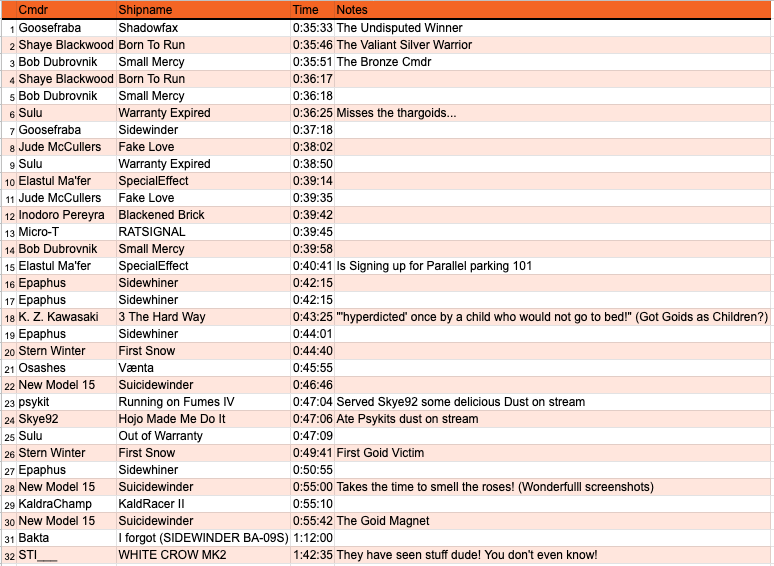 ​
Last edited: