Heck, I didn't realise how long it's been since the last official board update!
The spreadsheet is a bit of a monster, so that took some serious updating - done now though!
There were lots of runs to check back through, so there is a small chance that I've missed one (or more!). If I've missed your run, please let me know and I'll update again immediately.
---
SUMMARY REPORT 10-MAY-3306
---
RECORDS TUMBLE DURING GALACTIC PANDEMIC.
The recent galactic pandemic has seen several records broken, as Buckyball Runners flee the bubble and head 26,000 light years north! (The ultimate in social distancing?)
There are many great runs, the best of the bunch being from
CMDR Goosefraba
(@goosefraba19), who after making many incremental improvements to an already great time, finally took the A* Challenge record from CMDR Alot with an awesome run of
01:37:18
in his Anaconda Phoenix. Right on Commander! o7

Once again the galaxy awaits the response from CMDR Alot, has he finally been bested after holding the crown for most of the last five years? For now CMDR Goosefraba is the fastest Cmdr in the galaxy.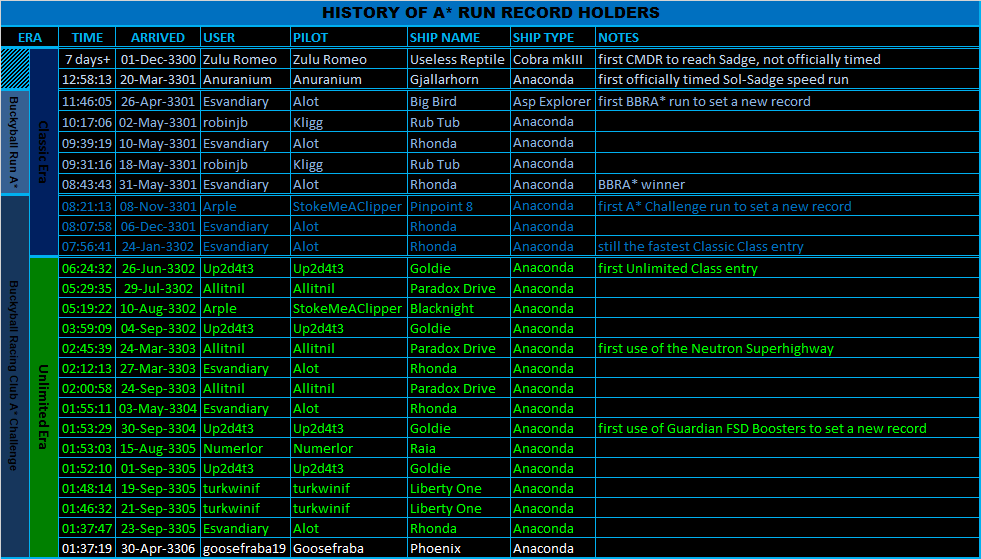 Just behind CMDRs Goosefraba and Alot,
CMDR Ravenov
also made several A* Conda runs in
Wake Turbulence
, making it into third postion with a great time of
01:42:18
- definitely within striking distance of a record attempt.
@Ravenov
also made a series of brilliant runs in her Asp Explorer - renamed
Redshift Resolution
- and became the first commander to break the 2 hour barrier in any ship other than an Anaconda. Congratulations CMDR Ravenov, that's a great achievement (and one that I wouldn't have minded attempting myself).
Ravenov's time of
01:58:43
sits in 7th place overall, a lone Asp in a crowd of Condas.
The only other non-Conda run in the top 16 is a new, improved DBX record by A* Challenge regular
CMDR Darplata94
.
@Darplata94
made the run in the DBX
Dark Runner
, setting a time of
02:19:09
. This sits just a few seconds behind another new record:
CMDR SilentPhoenix05
set a new console record of
02:18:51
in his Anaconda
I Believe I Can Jump
- damn right you can jump
@SilentPhoenix05
, you just smashed 30 minutes off
@Razor16251
's console record! o7
Further down the table A* Challenge veteran
CMDR Timothy Knight
(
@Rankaze
) marked his return to Buckyballing by storming to
The Centre
in a great time of
04:16:07
in his racing Courier
Joyeuse
.
Last but not least in unlimited class, A* Chellenge newcomer
CMDR Iceange
l achieved the almost impossible by taking a vacant record before
@crotalus
or
@Darplata94
snaffled it.
@Iceangel
set a great unlimited baseline of
06:07:25
in the Cobra MkIII
Warp Factor Potato
.
Talking of
Darplata
, not content with setting a DBX unlimited record, he also made the sole Classic Class entry of this update by setting a new Dolphin record with an excellent time of
09:26:18
in
Tursiops
. This run pushes
CMDR Kligg's
once record breaking run of 09:31:16 down to 20th place in classic class.
---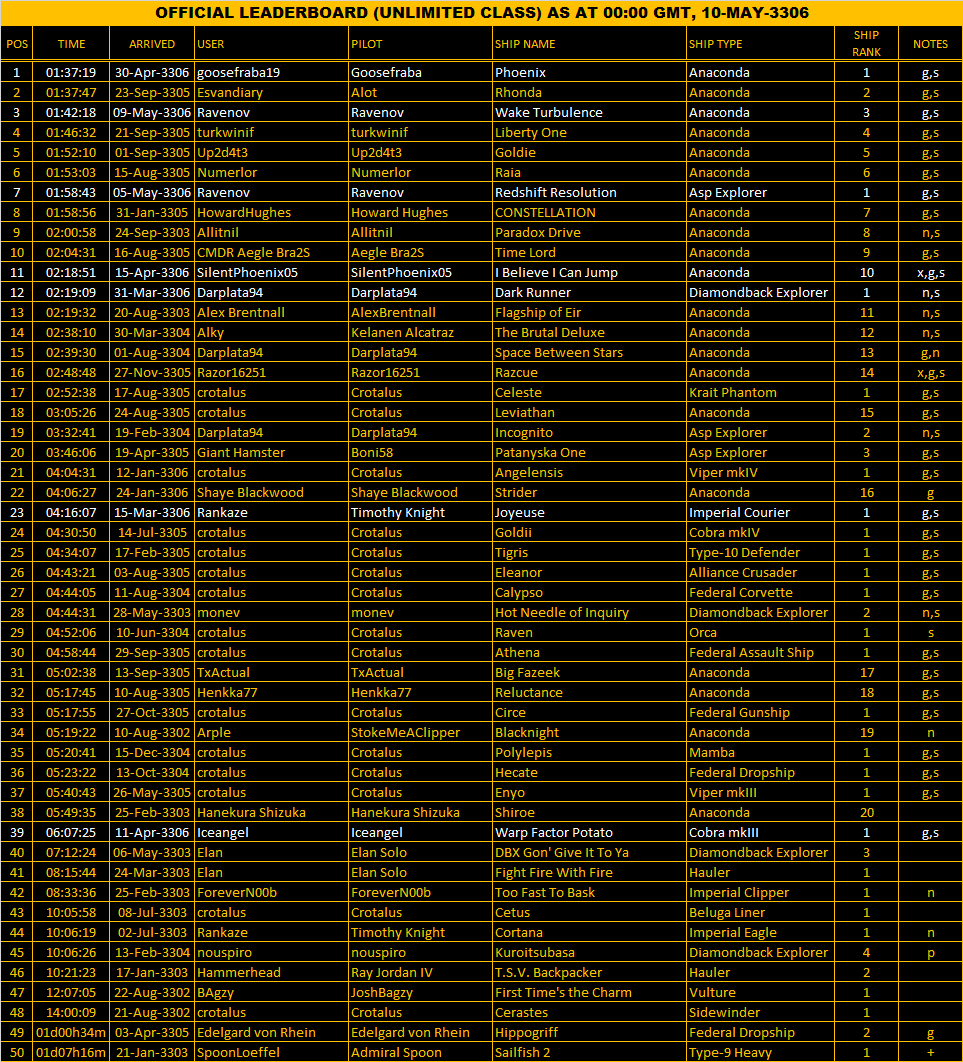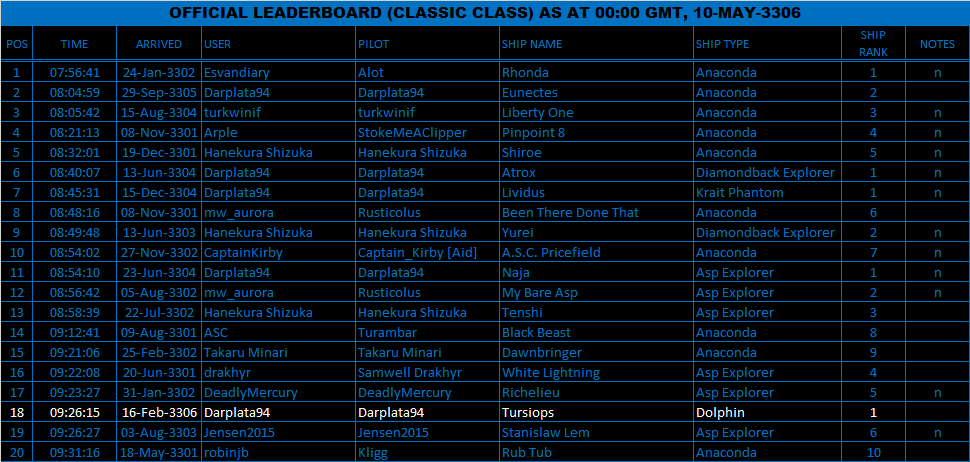 Last edited: