​


​
TABLE OF CONTENTS
Latest Theories
Most Recent News
Known Facts Acquired From the "Ancient Ruins"
Complete Guardians Audio Book
My Thoughts, Reasons & Artistic Impressions
Other Guardian Artistic Impressions
Masters of Cybernetics and Genetics
AI Bio-Mechanical Constructs: "Thargoids"
President Halsey: Close Encounter of the Third Kind?
Is Ancient Astronaut Theory Applied to the Guardians?
The Guardians Home World
Guardians' Home World Hints
Guardians' Home World Theories
Raxxla Mystery: A Guardian Gateway into Virtual Paradise?
Formadine Rift Mystery: Megaships Discovered
The Galactic Mapping Project
Biological Warfare
Red Skinned Evolution
Why Would Frontier Choose a Humanoid Form for the Guardians?
Brain Trees, Guardian Bubble, and the AI Monolithic Network Theory
Guardian Anti-Xeno Back-Engineered Weaponry & Utilities Templates
Guardian First Contact in the Formadine Rift?
Androids: Ultimate Guardian Evolution?
Guardian Language Database
1) The Guardians developed Androids that resembled themselves, and were installed with the sentient AI that evolved from the Monolithic Network. Considered heretical by the Religious Order, the data concerning the Androids was deleted, but they were most likely preserved and perhaps evolved with the help of the Exiles once they had left the Guardian bubble, since the Exiles co-existed with the AI with specific brain implants, which in turn, the implants allowed the monolithic AI to be seperated and free from the Monolithic Network. If so, the Exiles may have eventually transferred their own biological consciousness into their super-advanced Android units
(along with the Monolithic AI), thus becoming one with the machines they had helped developed - if this is also so, then perhaps the Guardians that may exist today are a sentient Android species that resemble the Guardians in appearance, but no longer share any biological parts or aspects - they have literally evolved from biological entities into digital entities.

2)
INRA had knowledge of the existence of the Guardian Ruins over 150 years ago during the first Thargoid war. They kept this knowledge secret and extracted the research required from the Obelisks to create the Mycoid Virus (a biological weapon). This promptly ended the war with the Thargoids and forced the aliens to hide until they recouped their huge losses.
- Credit to
CMDR Thatchinho
for providing the basis of this theory:
link
.
3)
The Guardians did not create the Thargoids, but were at conflict with them during various encounters as they expanded their territory (they most likely caught the Thargoids attention when they developed and used advanaced FTL technology to expand). They may have seen
the Thargo
ids as both a danger and as something to hunt due to their carnivorous evolution (and they would have, most certainly, viewed the Thargoids as interesting specimens to experiment on). They controlled the Thargoids population by using biological warfare, advanced kinetic, thermal, and explosive technology to kill them, and, over time, this caused the Thargoids to resent and hate the Guardians (-100% reputation). Eventually, during the Guardian's second civil war, the Thargoids may have "returned" and fought the already-weakened Guardians - and delivered a killing blow (or so the Thargoids thought?).
4)
During the Guardian's second Civil War, when the religious order battled those that wished to integrate with AI and other technolagies, the Exiles may well have played a part in helping the Thargoids - they may have even developed the Meta-Alloys for the Thargoids in order to strike back at those that cast them out - in a way, this could explain why the Thargoids heavily rely on the Meta-Alloys to keep them alive and growing. A possibility to support this theory are the "Brain Trees" found in and around the Guardian space where the Monolithic Networks are present. Could the Brain Trees be similar advanced tech that are pre-cursors to the Barnacles? The Exiles may have even had a hand in genetically manipulating or evolving the Thargoid species, and perhaps turned them into half-machine half-biological life form.
5)
"The Return" isn't about the Thargoids - it is about the Guardian Exiles returning towards the end of 2.4. Similar to the confusion caused by "The Guardians" 2.2 patch, we all assumed "The Guardians" meant ship-launched fighters, but ended up being about an "extinct" race. We all knew the Thargoids were coming, but perhaps the title has more meaning to it than we originally realise right now? Perhaps the Guardians may have been in hiding since their race was made all but exinct by themselves and by the Thargoids they controlled through brutal viruses and advanced weapons - however, they may now resurface if humanity, another evolved humanoid species, has assumed the mantle of controlling the Thargoids - lest these insects turn the entire galaxy into a hive.
​

Most Recent News

​
30.07.2017



Thargoids: Peace or War?
​




Thargoid Wreck Analysis & More...​


First, some observables;

- Each site has, so far, either produced a working Galaxy Chamber or is just an outright "Dead" wreck.

- Dead wrecks are more numerous towards the Pleiades stars and Maia region, but more so towards the direction of Sol, potentially meaning they are the first to be infected.

- It has been a little over 400 years since the first Thargoid War, so I would assume the wreckage of all these crashed vessels have been around since that time.

- All data recovered from the wrecks would suggest some form of "contaniment" was responsible for the downfall of these 7-10km wide ships or "wrecks" (there is still debate about what these are).

- All data points at the wrecks having both an Ammonia and Carbon based chemistry, and/or biological DNA makeup.

Other evidence of interest;


[video=youtube;PX49v8zYutI]https://www.youtube.com/watch?v=PX49v8zYutI[/video]
My Personal Conclusion
These wrecks were once Thargoid Motherships, and their history, goes all the way back to when the Thargoids were first encountered by humanity in the year 2849 (supported in game by a tourist beacon). It isn't clear how long the war was waged for, but it is clear that Humanity survived and the Thargoids fled - they just outright disapeared, and likely for a very good reason.
At all the wreck sites, it is clear that whatever struck down these motherships, it was virulent; it was so devestating, it left each ship heavily crippled. There were rumours that humanity used a bio-engineered weapons called the "Mycoid" virus against the aliens - the visual evidence, along with the data gathered at these wrecks, would suggest this to be true.
What is Mycoid? It was rumoured to have destroyed the FTL drives on any Thargoid vessel by, essentially, eating away at the polymers present in their FTL systems, which ultimately stranded them in whatever system they had developed the infection.
This struck down the smaller Thargon ships;


And the larger ones...


White-heads or "boils" grow on the "skin" of the vessel all over the wrecks, and can explode if enough pressure is applied by driving over them - similar to that of a sick patient squeezing a spot. These ships may have developed some kind of immune-system resistence, over time, to the ravages of this virus - though they have no outright cured it. Some may have even severed important organs or blood-vessels to keep the Cores of these ships alive.


They will never fly again.

Effectively, these motherships are on life-support - they are still dying, albeit very slowly.



Scavengers are evidence for this. They are simple, purpose driven skimmers that go about the wrecks performing tasks. Some are seen spraying some sort of chemicals on infected areas of the ships. Others, like they are regurgitating some sort of goo on wounds.

While it is a good theory that these scavengers are repairing the motherships, I do not believe this to be the case - not enough scavengers are at the wrecks to repair something so large, personal opinion. I believe they are just making the patient "more comfortable", if you will, as the wrecks are gradually dieing - these motherships are on life support - there is no cure for them - they are stuck forever in the system they dwelled in at the time when they caught the infection.

I believe the scavengers sole purpose is gather data, working parts, technology, etc.. It would certainly explain such things as Unknown Resin and Unknown Technology spread about the site wrapped in some kind of green coating - perhaps to gather such samples in the event that, should friendly Thargoids return, they would have the potential answers for a cure.

This potentially ammonia-engineered virus spread like fire among the motherships, and may have been unwittingly trasmitted by the smaller "Thargon" vessels (which could explain the wreckage of those ships found on random planets and moons - they, too, fell to the sickness once it had time to gestate and may not have made it back to their motherships at the time due to being on an away mission of some type).

How the virus was transmitted, however, we just don't know. Did the Thargoids eat human beings? Devour entire settlements? Were humans carrying this Virus? Did a weapon payload of some kind do it?

Considering we still don't have the technology to counter Thargoid technology over 400 years later, I suspect the means of using some type of weapon to infect the aliens is less plausible (though not impossible). This leaves the possibility open that the Thargoids recieved the infection through biological contamination. The virus could have been "bombed" into Gas Giants, Ammonia Gas Giants or Ammonia Worlds, which is another source of infection should the Thargoids be on these worlds or just use them as a source of re-fueling, atmospheric properties, or breathing.

This brings me to the potential purpose of the Barnacles and their "Symbol". I suspect the Barnacles are a source of Meta-alloys to help sustain the dieing motherships, and are grown, deliberatly, safely away from the wrecks. I suspect Barnacles could mark a "Qaurantine Zone", and that the symbol is one way of stating "STAY AWAY - MYCOID INFECTION PRESENT".

Whatever the reason for the Barnacles, however, they are important to the Thargoids, whom have been seemingly harvesting them. Perhaps the Barnacles are also independant research points? It could be possible that, although the infection may not be curable once it has reached a certain point, the Barnacles themselves are producing ways in which to render the virus "inert" by developing new Meta-Alloys that are impervious to the ravaging affects of the virus.

I believe the Unknown Artefacts, Probes, and Links, all play a role in communication, though it is unknown if these have been around for just as long as the Motherships (which would make them over 400 years old), or are something just recently added in recent times, say in the last 50-100 years. Such discovery and presence of these objects would be of interest to the secret societies or governments - the forces behind the "Dynasty Project" - therefore, the emergence of such Unknown Artefacts or Probes could have been the trigger for such an initiative. "THEY are coming back..."

I now believe the Thargoids have, after over 400 years of testing and evolving, developed a cure and immunization to the Mycoid virus.

This brings me to another point...

If we believe the Thargoids believe humanity is the reason for first distributing this virus, then why are they not attacking us already? They have the capability to, after all, pull us out of Witch-space to "examine" us.

My thoughts? They may have never ever considered humanity a threat capable of creating and delivering such a virus to begin with - they may not know that humanity has developed complex DNA engineering capabilities - they may not even know where it, the Mycoid virus, came from, and may have assumed it was a one-off infection. If these aliens have been around for thousands, hundreds of thousands, or millions of years, the Mycoid Virus may not have been the first time they have suffered such a devestating infection - they could have picked up something similar in the past, evolved through it, and carried on.

We have to remember; we are just as alien to the aliens. They are stuck in a similar situation to us. Who are they? what are they? where do they come from? are questions they may be asking themselves - if they even care.

It could be possible that, way back during the 29th Century, the aliens may not have posed a threat to begin with - we just do not have that kind of inteligence to make the assumption that the Thargoids "fired first" - we only have hearsay or rumour that they were the ones that "started it".

Hence, only certain human vessels have been fired upon and destroyed - most notably, the Federation. I would likely assume that the reason Federation vessels have been disabled and destroyed is because they are given orders to adopt a "fire first, ask no questions" policy - the Federation are purposely causing friction with the aliens.

After the events of the Formadine Rift Mystery, and from Salome's dead words left transcribed at data points, it is clear a Shadow Government is engineering events to profit from a war with the "alien menace" that is "likely" coming our way - one that is, again, likely human-engineered. If not, the Shadow Government, or "Shadow Law" as I love to call them, is certainly afraid as they huddle around each other in their toxic boardrooms.

I would urge huge amounts of caution since learning a force is pulling the strings of The Federation, the Empire, and the Alliance.

It is up to us, as sole pilots, to steer the course of this Galaxy.

It is likely this war could be a human-engineered one.

It is likely the Thargoids never did present a threat to begin with - and was one created by the Shadow Government.

Remember; each time we have encountered the Thargoids, they have never been the aggressors.



How Do We Make Peace? How Do We Pick A Side?


They are staring us right in the face at the wreck sites.

It has been hypothesised, even by myself, that the Thargoids may require us to drop cargo for them to get the ball rolling once they fully return - after all, it is practically the only way of interacting with NPCs at this current moment in time. Some have even heard "rumour" at the recent Lavecon that this could be the case that adds to this hypothesis.

Rumour aside, what do we have, which is tangible, that the Thargoids would want, but they themselves may not be able to retrieve? These;

Unknown Resin, Unknown Technology Samples, and Unknown Biological Matter.
These objects may be of valuable interest to the Thargoids once they return in 2.4, as they no doubt contain valuable data on the Mycoid infection, and/or ways to better immunize themselves against it. I think these items are salvaged by the "Salvagers" at the mothership sites, and the purpose of these items are to be collected and given.

Of course, they may accept other things such as Meta-Alloys, for example, but the three items listed above should be stapled onto your "Obvious List".

However, they may not like such items, such as;

Ancient Relics, Ancient Orbs, Ancient Tablets, Ancient Totems, Ancient Caskets, and Ancient Urns.

Gaurdian Technology does not react well with the current crashed wrecks, so I expect it wouldn't be too bright to offer them as gifts to the Thargoids either once they return.

Personally, I don't know how I feel about this. I believe the Gaurdians are the origin story behind the Thargoids, and the recent testing with these artefacts in the Galaxy Chamber doesn't fill me with confidence that the Thargoids are a reason the Gaurdians are no longer with us.

This causes me considerable personal conflict, because the Gaurdians were very much like us - they were a naturally evolved, humanoid species that had many cultural, religious, and technological differences to our own, and the universe would no doubt be a richer existence with them in it.

So, I see it as this - we have two choices;

1) We go to war with the Thargoids over the, potentially, extinct Gaurdians that could have been wiped out by the Thargoids (thus at the same time furthering the human Shadow Governments agenda).

2) Make peace with the Thargoids by presenting them gifts when the chances' arise.

Frontier have suggested, quite strongly, that war is coming - so I expect the Federation and the other Superpowers have already caused us to go into conflict with the aliens. Thefore, what happens from that point on will determine the future.

Do we put to rest the Gaurdians' AI Biological Weapons, and further the unknown causes of the Shadow Government? Or do we set aside differences, accept that the Gaurdians are their own cause for their own detriment, and just make do with their creations and learn more from them?

I haven't made my choice yet...

Will you?



05.07.2017


It looks as if the experimentation of Guardian artefacts hasn't gone unnoticed by Ram Tah.
This could mean many things, of course, but at least we do know one concrete thing right now; it was no fluke that the chamber reacted this way to the Guardian artefacts, as was thought by many CMDRs.


28.06.2017

As I am sure everyone knows, Thargoid bases have been uncovered...

Lave Radio have done some experimentation inside the Galaxy Chamber, and discovered something very frightening when in the presence of Gaurdian Artefacts...

See for yourself... JUMP TO 5.50s!

[video=youtube_share;kFOq1jxVYkc]https://youtu.be/kFOq1jxVYkc?t=5m50s[/video]

I now firmly believe that the Thargoids are related to the Gaurdians; if they weren't, they would not have acted this way (they certainly don't act this aggressive towards us as pilots) - (my personal opinion).

Now, this raises some questions:

1) Are the Ancient Relics related to the Exiles or the Religious Sect; or is it just Monolithic Technology of the Gaurdians in general?

2) If they are related to one of those factions, then could the Thargoids be Exile in origin, or that of the Religious Sect?

3) If neither of the above, then perhaps the Thargoids may have killed both the Exiles and Religious Sect?

The Thargoid chamber reacted, in what seemed to be, both anger and fear - we need to:

1) Record the sounds it releases in the chamber when exposed to an Ancient Relic - put it through a spectral graph, see if there's anything to it.

2) Try other Gaurdian Artefacts - do we get the same result or something different or nothing?

The pilots of Lave Radio were getting cooked by some form of heat weapon by the central chamber - could this be the same type of heat weapon that melted or destroyed some Obelisks at the the various Gaurdian Monolithic Network sites?

Here was my attempt late last night:

[video=youtube;T9X34XEoTi8]https://www.youtube.com/watch?v=T9X34XEoTi8&t=75s[/video]

Important to note: I think these are, without a doubt, the AI creations of the Gaurdians. The whole Gaurdians Arc in the 2.3 update is basically an "origin" story - after all, why put in the Gaurdian's content if it had no relevance to the future of the game?
18.04.2017
29.03.2017
24.03.2017
A breakthrough?

See my findings in the two new sections "Guardians' Home World Hints" and "Guardians Home World Theories".

You may or may not be surprised...
18/03/2017

Please see the new audio book that CMDR Hazzu has put together! I have included it into the table of contents, below!

With 2.3 upon us, and with all the data unearthed, with the added ability to see the Guardians ruins on our scanners, all that is left now is to await the "arrival".

I would love to see more community artwork, so get to it


EDIT: Added a new picture by Saool to the Artistic Impressions, below.

EDIt 2: The picture by Saool is a picture of a Grey alien stock image from a random webby that he had re-coloured red, and not his own 3D rendering. I'll keep it up, as a few people do think they (the Guardians) do look similar to this.


13/02/2017



Biology, Culture, Language, Technology, and History are now 100% complete thanks to all the hard work of every pilot! A big well done! All the spoilers have been updated with all the lore now regarding the Guardians. Ram Tah named them "The Guardians" it turns out, based on that race's "mutual defence" philosophy most of them shared - so it is just a guess name at this point (a code name).

Also, in the last History codex, it mentions that most Guardians had died off "... Eventually, one of the competing forces triumphed, but by that point, all the Guardians other than those who had been exiled a century earlier were dying."

I would assume that means the Guardians who were exiled are in fact still alive today - they are not extinct, despite Ram Tah's other codex entries in other categories. The exiles were forced from their homes during the events of the first civil war (a religion conquered the home world), and so went their separate ways with the AI that they chose to be much closer with.

However, once the exiles had disappeared, the religious group then branched out and effectively created a new war civil war, but across the entire Guardian bubble-space. This war lasted for over 100 years and it was this war that effectively wiped out the remaining Guardians (involving, potentially, thousands of city-states across hundreds or thousands of worlds). The religious group shunned AI, and wanted to prevent the AI from becoming physical, as by that point the AIs that had developed sentience were still virtual.

This probably did not prevent all sides from using technology to travel the stars or wage wars, but the AI was still looking for a way to become its own entity during this time (probably before and during the 100 year civil war) - I would hypothesize that, eventually, the Guardians who had not been exiled wanted to turn the war into their favour, so may have granted the sentient, virtual AI a way in which to inhabit robots or ships. If that happened, then I would not be surprised if the AI decided to finish off both sides of the conflict between the non-religious Guardians and the religious ones - they may have decided to betray the ones that helped them become independent, and saw the only way for them to survive was to commit genocide.

The Guardians would have been far too weakened, towards the end of their existence in the 100 year civil war, that they would have been unable to prevent this - and the exiles were not coming back to help (though I expect they saw what was happening). Of course, the exiles may have been the ones responsible for the destruction of their original bubble space - they favored a closer relationship with the AIs, after all.

However, it could also mean there are now 2 AIs - the ones that were eventually developed by the exiles, and the ones that eventually took control across the Guardian bubble in the real world rather than virtual world.

This would mean then, that there is one AI faction that is allied with the exiled Guardians (who would, I think, still be alive today), and a 2nd AI faction - one that loathes the Guardians and will not stop until they are all dead - because it is the only way to ensure their survival.

This could then mean that there is a cold war going on between the two AI factions (if this hypothesis has any truth to it). This may explain the recent hyperdictions in witch-space shortly after the ruins discovery. Unknown Artefacts and Unknown Probes increase the chances that you'll get hyperdicted, which could support a theory that those alien artefacts and probes have some sort of energy signature that the "alien" ships can sense in witch-space.

Thus, I think alien vessels hyperdicting player pilots are, potentially, the exiled Guardians. The "alien" craft at ship crash sites, I would then put forward, are the bad AI that had a hand in finishing off the Guardians in their bubble, but have been attacking human vessels by complete mistake - simply because the cargo they were carrying marked them as Guardian AI vessels.

If anyone has any theories, please post them!

CMDR Dreamstate.




Known Facts Acquired From the "Ancient Ruins"

​



Biology (Source) Pattern Alpha


1) Thank you commander, this data has proven vital to my ongoing research. While it seemed logical that the alpha-pattern data corresponded with the core information on the Guardians' biology and ecology, I couldn't be certain until I received the data from your scan. I'm pleased my hypothesis has proved correct, and I've started to unlock some fascinating details about the Guardians. The extracted data relates to individuals rather than their species as a whole, but thanks to the information you have transmitted, I believe I will be able to merge the data to create a general picture.

2) The information you've uncovered is very interesting and regards the Guardian's anatomy and physiology, you might be surprised to learn they weren't that different to us. Their morphology was bipedal, although they were generally taller and more slender than the average human. Their skin tone was red, encompassing the whole spectrum of red hues. There were various reasons for these changes in pigmentation, including genetic disposition and the fact that they darkened as they aged.

3) Details on the facial structure of the Guardians. Their faces were proportionally smaller than ours and they had round eyes, darkened from their evolution under a very strong sunlight. The colouration and structure of the eye indicates that not only they have keener vision than us, but they could also see a wider spectrum.

4) This data details the facial structure of the Guardians. The nose appears to have been vestigial - I believe it was once more pronounced, but that some environmental change made it less useful - so their sense of smell would have been less developed than the human average. Their ears were very tightly formed against the skull, and the interesting array of internal acoustic chambers suggest they perceived sounds differently to us.

5) This data offers more details about the physical appearance of the Guardians. Most remarkable are their limbs. Their forelimbs had a serrated edge and were no doubt used as killing implements during the pack-hunting period. They had two more more joints in their arms than we do, facilitating complex articulation and the use of sophisticated sign language. The skeleton was flexible yet resilient and their muscles were long, thin and ropey. They had two hands, each with four digits.

6) We've barely scratched the surface with the Guardians. There is so much yet to discover. But this new data contains one tantalising detail that stands out: their biochemistry was very similar to our own. They had blood in the same fashion as us, and it fulfilled exactly the same role as it does for us. Beyond this, they share a similar genetic structure, with DNA and RNA their core building blocks. Although a full analysis has not yet been conducted, this might be evidence of a common ancestor, but also of a branching in their genetic history. This is an astounding discovery!

7) This data offers more details about the physical appearance of the Guardians, specifically regarding genders. The similarities between humans and the Guardians continue to delight me. They had two distinct genders and reproduced sexually. There don't appear to have been any taboos surrounding sexual activity, as the data contains large quantity of graphic images and recordings - not unlike some of our data nets!

8) This data contains more details about the Guardian's sexual behaviour and reproduction. Their body form encouraged sex while standing, but although this was the most comfortable pose, they entertained a variety of positions. I've concluded that sex was a recreational behaviour and not only for procreation. They didn't use birth control as they could manipulate their bodies to become temporarily sterile at will, although I've not yet identified the precise mechanism for this. It's clear their biological-manipulation technology was quite sophisticated. This data has huge applications for Medical treatments if we can unlock the secret.

9) This data contains more details about the Guardian's procreation and reproduction. Procreation was a matter of personal choice, although they were require to be a parent at least once during their lives to ensure continuation of their genetic line. I've not yet established their metrics for measuring time, but it's clear the period of gestation was quite long, to allow substantial development of the young prior to birth. The infants were effectively helpless for a period after delivery.

10) This data contains more details about the Guardian's approach to raising their young. Care of the young was the duty of the wider community. Infants were raised in communal crèches rather than by their parents, the cultural significance of which I'm eager to unravel. I have established that prenatal care of the young involved genetic manipulation to remove hereditary diseases and other complications.

11) Although the alpha-pattern data encapsulates biological information, it also contains a treasure trove of cultural data. This is particularly true of the data you have uncovered here. The data package appears to contain records pertaining to their food. I already knew that as pack hunters they were carnivores. I subsequently discovered that not only were their arm ridges excellent for killing prey, they were also used for cutting meat into little pieces to fit in their small mouths.

12) This data contains details about etiquette and hunting. The imperative of the kill was retained even as their society advanced. Food killed in the hunt was a delicacy. For guests, it was an honour to provide their host with something that had been hunted, but the host was expected to provide the same. Meat that had been hunted by a lone individual was given even greater accord. For a kill to be valid, it had to be achieved without weapons. Weaponry was only for civil defence or law enforcement.

13) This data contains details about etiquette feeding habits and hunting.Non-indigenous animals were considered a particular delicacy. The Guardians' expansion into space introduced them to new ecologies and, consequently, to new food. So far I've had little success in determining the details of these alien creatures or where they were obtained, but it was certainly a valuable trade for the Guardians. Huge parks and reserves were constructed on their worlds where they could hunt both local and imported animals.

14) This data is particularly interesting. It appears that another indication of their prowess in biological manipulation was the creation of unique creatures for consumption. This was done to ensure adequate supplies for the general population, although there was also a specialist trade. Having an animal created for a specific celebration demonstrated the owner's status and wealth, but being the creator of such a delicacy meant even greater honour. This part of the research could aid us in food production and make famine a thing of the past.

15) It seems that most of this data package has become corrupted, however I have been able to decipher one section. It seems that the Guardians retained the ability to digest raw meat, and most meals were served uncooked, although they did appreciate cooked meat. This became an almost ceremonial aspect of their eating, and was often incorporated into formal meals.

16) This data is fascinating commander. I now have a better understanding of the types of environment and how that relates to the Guardians' development. The alpha-pattern data has yielded a wealth of information on the Guardians, but throughout my research I've also been looking for information on their homeworld...and now I think I've found what we need! The location of their homeworld still eludes me, but this new data may give enough for us to narrow the search criteria.

17) This data contains more details about the Guardian's physiology regarding their environment. Looking through previous data collected by pilots like yourself, it came as no surprise to learn that their environmental requirements were very similar to our own. Barring any local biological threats, we could easily live on their worlds - they wouldn't even need terraforming. In fact, we would find their worlds more comfortable than the Guardians would ours.

18) This data contains more details about the Guardian's physiology regarding their environment. I can see from this data that humanity would indeed be able to cope if not thrive on the same worlds as the Guardians and vice versa.The first key difference is gravity. Most of their worlds have a lower gravity rating than we would consider normal, which no doubt explains their taller, more slender frame. Their flexible bone structure would adapt to high gravity with little discomfort or loss in physical strength.

19) This data contains more details about the Guardians' physiology regarding their environment. This data shows that they preferred warmer worlds than we do, and don't appear to have been well suited to colder climates. Fragments of their history reveal that they experienced changes in climate in their early history, and it was that - rather than conflict - that prompted their technological development. They had thick skins but lacked a fatty layer, which I think reduced their ability to function in cold temperatures. More and more, the alpha-pattern data extends to include aspects of their culture. It's fascinating subject matter, but I still need more data.


Culture (Source) Pattern Beta


1) This is very interesting commander. This is a new data pattern. I have given it the designation beta-pattern data.I can already report that it contains some fascinating insights into the Guardians culture. The first is that religion formed a large part of their lives. Strangely this seems to have occurred late in their development, after various technological revolutions. The details are a bit vague in this data package. There must be others that hold more cultural details. Please continue the search.

2) Your hard work is paying off commander. This data holds more details about the Guardian's culture, specifically spiritual matters. Almost from the dawn of their civilization they possessed a strong spiritual sense - one that reflected their close connection to the natural world. Even when they'd developed industrial-scale machinery, they maintained a balance with the world around them. Their ongoing love of hunting presumably played a significant part in this.

3) This data holds more details about the Guardian's culture, specifically spiritual matters. This spiritual awareness sustained them through most of their history, but did not evolve into a formal religion. It was not until the development of machine intelligence, during the most rapid era of their development, that any sort of organised religion emerged. I speculate that this technological singularity alienated much of the population, who responded by rejecting this technology.

4) This data holds more details about the Guardian's culture. The tipping point that gave rise to organised religion amongst the Guardians doesn't appear to have been the creation of thinking machines, but other technological developments - in particular a kind of implant that interfaced with the brain. Up to this point, biological enhancement and repair had utilised only organic-based systems, so this sudden change frightened many.

5) This is very interesting, very interesting indeed. This data holds more details about the Guardian's culture. There was an anti-technology movement that rejected not only specific developments, but also inventions such as virtual reality. The loose customs associated with their affinity for nature formed the basis for a new belief system. It evolved rapidly - almost as quickly as the technological advancements produced by the scientists and machine intelligence. It's interesting to note the parallels with human-made sentient technology, and how its development threatened humanity during the golden age of technological advancement. The growth of this new religion divided the population, and conflict soon erupted.

6) This data holds some shocking revelations. it talks about the religion that emerged towards the end of the guardians civilization and i wont lie it has shocked me. while religion remains a feature of human society, unless you live in one of the more extreme theocracies, its generally a matter of personal faith rather than a generally accepted consequence of the human condition. i know some of my fellow researchers would disagree with me. but it is generally assumed that religious beliefs tends to reduce to potency as scientific understanding grows in the case of the guardians, the opposite holds true, it truly divided them.

7) This data does not paint a bright picture of the Guardians culture at the point it was recorded. As I examined the data in this beta pattern and crossed references from other data I have received, I have learned that the truth wasn't quite so clear cut. The information I've extracted regarding their legal system indicates a stable and mature society. Given the physical similarities between us and them, I'm amazed at the cultural and societal differences and the speed at which they rose to become part of their lives.

8) This data contains cultural data, specifically regarding the legal system of the Guardians.In contrast to many of our legal systems, the fundamental laws do not concern individual rights, but instead focus on defining the individual's responsibilities to society. I'm sure this is another reflection of their pack mentality, where the requirements of the group supersede those of a single person. Naturally, it isn't as simple as that in practice - for example, individuals were expected to come to another's aid if necessary.

9) This data contains cultural data, specifically regarding the legal system of the Guardians. An individuals responsibility extended past simply obeying the law to include elements of law enforcement. Society was self regulated, with everyone required to ensure laws were obeyed. These values were instilled in the young as part of their education in the communal crèches.

10) This data contains cultural data, specifically further details regarding social responsibility. As well as being regulated, there was still hierarchical form of administration within the legal system. These were defined by areas of responsibility, but as with all the Guardians' social structures, everyone was expected to participate, meaning that individuals were required to fill certain legislative roles as part of their everyday life. Some of the concepts aren't completely clear, but i believe individuals were nominated and couldn't hold office for more than a single term.

11) An excellent discovery commander. I was wondering when we would find this type of cultural data. I had begun to fear it might not exist. You can tell a lot about a people from their art. Humanity has demonstrated great creativity in artistic expression throughout history, and I'm keen to compare our art with the Guardians'. Fortunately I've been able to tease some details from the beta-pattern data abstracts in this data package. We already knew they were capable of fabulous architecture, but these records show that buildings, statues, monoliths and even city layouts were a common outlet for aesthetic expression.

12) This is truly fascinating data commander, as an engineer myself I have to admit I'm highly curious about the Guardians technology. It seems that the guardians had a particular fascination with geometric shapes, which they used to illustrate connections between themselves and the world around them. This predilection manifested itself in their technology as well - specifically their monolith network. With this data and the help of the galactic community we've partially mapped the monolith network, which formed the backbone of their communications technology, and discovered that they too are arranged in geometric patterns. Whilst this does not give us full access to the network, I believe it is the first step to unlocking the entire system and maybe more.

13) This data contains more details on the Guardian's culture, specifically art. Many of the records I've now extracted include the data you've just sent through, show that most of the Guardians' art had a religious basis. It seems that their shift to a religious society affected all aspects of their lives. I have found older records that indicate other art forms did exist, with realistic and abstract techniques evident. I hoping that some of the data we've yet to decode will contain images of these art works.

14) This data contains more details on the Guardian's culture, specifically art and how it fitted into social responsibility. It appears each individual Guardian had a cultural commitment to create and share works of art. While it's clear that the quality varied between individuals, all works were considered worthy by virtue of their efforts alone. This package does in fact contain many images of their works. It is truly interesting, such a pity we might never know the meaning behind many of these pieces.

15) A human observer might find the Guardians' visual art severe and lacking in emotion, but the same could not be said of their music. They didn't use musical instruments, so strictly speaking it's singing, although I think they might have used their bodies for rhythm and percussion. I've extracted audio from the data you have collected and have listened to, for want of a better term, their "songs". The range of their voices is something to be admired. And it's so rich with emotion – many pieces are so haunting, it breaks the heart to listen them.

16) This is very interesting data commander.The data describes what must have been a kind of counter culture. Dancing was considered taboo, especially when combined with language gestures, but there is evidence that gesture dances were popular with adolescents, possibly as a form of rebellion. I'm not sure why such activity was prohibited, but it might have something to do with potentially conflicting information - something they took great pains to avoid.

17) This data contains details of other past times and cultural events. As a consequence of their extensive industrial automation, the Guardians had a lot more time for social pursuits than we do. It's another interesting contrast - we have a similar capability, but our fear of surrendering control to machine intelligence means we remain wedded to idiosyncratic working practices. We could learn so much from this species - I only hope that in some small measure my research guides us toward such enlightenment.

18) This data contains details of other past times and cultural events. The Guardians didn't waste the freedom their technological advancements offered: leisure activities were encouraged, even expected, as part of normal social intercourse. Time was devoted to social responsibilities and furthering personal abilities. Scientific research is a good example of this. Although they stagnated in their later period, throughout their early history the Guardians had a societal obligation to seek out and share knowledge. Research was often conducted in vast collaborative programmes, which were also seen as vital learning experiences.

19) This data contains more cultural information. Their attitude towards their varied endeavors sets them apart from humans. Their social obligations were not seen as chores - in fact they enjoyed participating in these roles. Because all were obligated to take part, it meant social responsibilities were often a short-term diversion, as well as allowing individuals to accrue a variety of experience. I also think there was a biochemical component that enhanced their enjoyment of such tasks, but I haven't been able to prove that supposition yet.

20) This data contains more details about entertainment as a cultural activity. I believe this data show that the Guardians enjoyed what we would consider traditional entertainment. The performance of classical stories and historical epics seem to have been very popular. Their equivalent to theatre was more participatory than ours, with less of a distinction between audience and performer - so much so that the term 'enactment' might be more accurate than 'theatre'. It's just another example of this species' incredible social dynamics.


Language (Source) Pattern Delta


1) This is fascinating! The obelisks are clearly some form of data storage, but so far I haven't been able to determine what other purposes they might have had. I am very much indebted to the(sic) you commander for searching for the information I need, although I wish I could see the obelisks for myself. Perhaps closer proximity would inspire greater understanding! Unfortunately my responsibilities here preclude me from such adventure. I believe these are the first clues to understanding the alien language.

2) I'm not disheartened, our early interactions have provided the basis for my research. The illuminated patterns are of obvious importance, and I believe represent a form of writing. Their illumination and movement suggest some additional meaning - so much so that I can't accept that they're merely signs or labels. There is a definite structure here, one that I intend to decipher. The more data you can collect the more I can correlate in the hope of assembling a kind of Rosetta Stone for their language.

3) It appears I was correct in my theory that the delta-pattern data was the key to unlocking the language of this dead race. Sometimes you have to operate on intuition, but this data you've uncovered makes a connection between some of the glyphs on the obelisks and the forms in the data you have provided. I believe the delta patterns could be the building blocks of a lexicon.

4) From the data packet you've discovered here I've gained a sense of a very cooperative society - one in which all elements worked in unison towards a common purpose. I also believe they shared an expectation of mutual protection. I'm still delving into these mysteries, but I believe 'Guardians' would be a good name for this species.

5) It's dawned on me that the task ahead of us is colossal, and one I eagerly throw myself into. With the help of brave pilots like you, my analysis has revealed there is variation in the data blocks which you are discovering, which I think represents their equivalent of words. This indicates that their language was almost a universal one, which will make my efforts to understand it easier.

6) This data packet indicates that the guardians used two different forms of communication with the same - or at the very least similar - language constructs, its slow but fascinating work, using this data i believe i can establish a rudimentary understanding of the oldest two forms - verbal communication. like us they had a vocal language, and the range of sounds appears to be similar to that used in human vocalisation.

7) This is a great find commander. According to this data I've been able to deduce that verbal communication emerged early in their history. The scale of the archaeological sites suggests a social society with large populations. There is some supposition on my part, but the data you just found seems to support this contention.

8) Excitingly, this group of delta-pattern recordings contain audio data. Not only will this help me establish the range of sounds they could make, it has should also allow me to confirm that they spoke with accents, as there are regional variations in the sound of their words.

9) The decoder is having a problem deciphering this data packet and is running slower than I'd hoped. The data is formulated in such a way that individual constructs are easily extracted, but there seems to be stopping the decoder putting it all back together. I had assumed it would be simpler to establish a list of words even if I didn't know the meanings. The relationship between the audio data and the constructs, which I believe to represent their written form, Has revealed to be more complicated than I originally thought. Here is comes. This data seems to suggest that their spoken language was of a tonal form, similar to some human languages, meaning that the exact meaning of a word was determined by how it was said.

10) With this data we've made a significant advancement. I believe we have just identified what might be full sentences for the first time. Words are only fragments of a language - sentences illustrate the rules of it. It's only natural that an alien language would be structurally different to human ones. I'm realizing that what I'd deciphered from the previous data packets I've received were simply nouns. So I decided they must be lists, and looked for other more varied forms. Unfortunately I met with no success, until now.

11) This Data is just what I've been looking for. I had been in a deadlock until the pattern-recognition software highlighted some repeating motifs in this data package. Delving deeper, I think I can establish that not only did variance in sound produce different meanings, but that the placement in relation to other words also altered the meaning. This is a real breakthrough!

12) This data package is huge. I could all too easily be distracted by the wealth of audio data in these delta patterns. To actually hear the Guardians' language as it would have been spoken proving too great a temptation. But this data reveals that the formal basis of their communication was visual rather than verbal. This seems logical, as the written word has more portability and permanence than speech. I plan to dig deeper into the information collected by you and other explorers to learn the visual form, which I believe originated much earlier in the Guardians' development than I originally thought.

13) This data proves a theory I had that the written form of the Guardians' language is based around glyphs, with each glyph representing a single word. Once I've fully identified these, the process of separating tonal meanings should become much easier. The glyphs seem to be able to be combines to describe complex concepts, but also communicate additional layers of meaning through the inclusion of movement. each glyph is a symbol. They are more abstract than pictorial hieroglyphics, but it's possible to identify a simplistic reference to the shape of the thing being described - for example, the glyph for 'moon' incorporates the waxing and waning as it would have appeared from the Guardians' home world.

14) This data contains the most amazing revelation. It appears to be the key to tracing the origins of the language, embedded in the glyph formats. It's almost as if their glyphs contained a form of version control that represented the glyphs' evolution, and this has given me a glimpse into their history. These glyphs actually evolved from a form of sign language that the Guardians developed when hunting. The guardians were originally pack hunters, and this sign language functioned as a stealthy means of communication.

15) Judging from the shape and movement of these primitive glyphs, I have surmised the Guardians had tremendous dexterity and freedom of movement in their forelimbs and hands, and this has provided the first real glimpse of their physiology.

16) The data here contains details of how the glyphs evolved into a formal form of communication, but there appears to be a conceptual gaps between speech and the glyphs. From the results of your scan, I can see that while all glyphs have a matching vocalisation, not all vocalisations have a matching glyph. Although the dictionary is still quite sparse there is evidence to suggest that particular vocalisations were for emotive terms. With this in mind, I think the Guardians' spoken language was used primarily for social bonding.

17) This data regards the markings on the obelisks.These were the starting point for my research into the Guardians' language as explorers documented them, so it's fitting that I've come full circle and now have a better understanding of those markings. I've already established that the written form of the Guardians' language evolved from the sign language they developed during their prehistory as pack hunters.

18) The data you've extracted from delta patterns has granted me further insights - so much so that I'm confident I can establish a proper dictionary for future research. The limited understanding I've derived from their language reveals a fascinating species. Although the written glyphs share the shape and motion of the original sign language, they also evolved in response to new media, such as electronic representation. The glyphs on the obelisks and other structures provided the primary mechanism for recognising the patterns, and also gave me clues as to what the other data patterns might contain.

19) The data contained in this obelisk talks about the history of the Guardians' language. They started to transcribe their signs in pictorial form very early in their development - something akin to the cave paintings from humanity's early history - although it's clear that even at an early stage their communication was more sophisticated than ours. This clearly speaks of a people with high intelligence and a keen desire to share information. Even though my research has barely begun, I believe we have much to learn from this magnificent people.

20) This data contains information regarding the formal nature of their written communication and has reinforced what I've learnt about its use so far. As well as the obelisks, it was used for ceremonial and decorative purposes. I've also gained the impression that they found their glyphs aesthetically pleasing.

21) As is always the case with research of this nature, finding answers tends to raise further questions. I've found references to another form of communication in this data packet, but not one used by the Guardians, or not all of them, at least. As far as I can tell it references some kind of foe or adversary. Combined with the devastation seen at a number of sites, it indicates the Guardians may not have been the cause of their own demise.


Technology (Source) Pattern Epsilon


1) This data stream is unlike the others. More complex with a lot more layers than the others. Intriguing (sic), this data seems to be about the Guardians technology. This is very exciting, I was hoping we would find this kind of information. The epsilon-pattern data contains a lot of information about the Guardians' science and engineering, and extracting their historical records has helped isolate some of the specifics, adding to what we know about this fascinating species.

2) As I have established from other data packages the guardians had the ability to manipulate genetics and active biology to achieve specific results, and it seems their healthcare revolved around this technology. As a species they were susceptible to maladies similar to those that affect us: they could get sick, develop cancers and suffer from parasites. They approached these issues from two different directions: they improved their immune systems to defend against infection, and engineered specific microorganisms to tackle threats. If we can harness this type of technology we could effectively eradicate disease from our lives.

3) This data will need further analysis from someone with a greater knowledge of medicine than I possess. It appears that the Guardians' experimented with biological manipulation extending it to other creatures in their environment. These techniques were used not only to improve life for the other creatures, but also to address ecological issues, although the Guardians took great care to influence things only as much as was needed. There is a lot of data here that while I can generally understand needs a biologist to truly decipher all the information. After all I'm an engineer not a doctor.

4) This data details the social aspects of the Guardians Technology. Although obviously an intelligent species, it was the Guardians' social constructs that allowed them to progress so quickly. They were required to involve themselves in various socially progressive activities, from caring for the young to researching cutting-edge physics. This was facilitated by institutions, which made research data and education available to all. The development of implants and the monolith network created a kind of shared virtual work-space, and the direct brain interface allowed thoughts to be shared and manipulated. I wonder how much they could have achieved if religious strife hadn't brought about their destruction?

5) This data is incomplete by(sic) what we can decipher relates to the communication systems the Guardians used. As with human civilization, communication systems were key to establishing a stable society. In many respects, the technology the Guardians used was the same as ours, in that they utilised various electro-magnetic wavelengths and physical optical mediums. I suspect their faster-than-light technology shared the same principles as our own, too, although I haven't extracted enough technical data to be certain.

6) This data gives some more information about the monolith network - the imposing structures explorers have discovered at various Guardian sites - served as a foundation for all their communication systems. It's clear, however, that the monoliths had ceremonial significance as well as being functional, so I mustn't underestimate their importance.

7) This is very interesting. According to the data package you just sent me they monolith network was used for most if not all communications regardless of importance. In keeping with their predilection for sharing knowledge, few restrictions were placed on the network. I thought there might have been separate networks for military and administrative use, but I haven't found any evidence of that. Everything points to an extremely open society, which would have made them even more vulnerable when significant social divisions arose.

8) Now I understand. This was the missing piece. The monolith network was augmented by vehicle-based communication systems, personal devices and even implants. These were designed to operate seamlessly with the network to provide ad-hoc coverage. Having implants that you can direct communications to you directly would revolutionize communications as we know it. I can only speculate what this would have felt like, but it might have even gone as far as a technological telepathy of sorts.

9) This data, while unremarkable at first glance has proven something that I long suspected to be true. The networks were content agnostic, and the full range of language forms was supported. I've even found extracts of virtual entertainment experiences that supported full audience participation.

10) This data is only partially intact but I have been able to decode the following information. For a species that experienced only brief periods of war, the Guardians developed very sophisticated means of waging it, although their arsenal was nowhere near as varied as ours. In terms of flight and small-class spaceships, humanity has surpassed the Guardians, but in other respects their technology outmatched ours.

11) Once area I was unsure about until now was whether the guardians used their abilities in genetic and biological manipulation to advance their technology and weapons. While some might argue that our technology is equal to the Guardians', I would counter that their integration of such technology at a societal level gave them a greater knowledge of its application. As well as biological warfare agents, they also created creatures expressly for use in battle, and these remained effective even into the modern era.

12) This data you have collected contains details of weaponry the Guardians developed. The guardians' projectile weapons utilized electro-magnetic propulsion, much like their space technology. Such weapons were manufactured in a range of scaled, from personal weapons to capital-ship class. Generally the Guardians used kinetic energy in combat, and explosives were rarely deployed. Nuclear fission and fusion were developed during the Guardians' astro-expansion period, but when it came to large-scale destructive weaponry they relied on bespoke biological weapons. Predictably, these were of little use against the AIs.

13) This data contains details of shield technology. The Guardians developed powerful shields that were far in advance of our own. Whole cities were protected by huge shields able to resist even bombardment from space, at least for a time, although these defences were ultimately overwhelmed during the second civil war.

14) This data makes up a group of entries regarding the Guardians military. For most of their history the Guardians made use of small forces that combined the roles of military and police. These forces were comprised of volunteers, whose conscription was part of a tacit social contract. In times of war these forces could be expanded rapidly, as most of the adult population had already received basic training.

15) This data makes up a group of entries regarding the Guardians military. From a military perspective the Guardians had an obvious weakness. Most of their history was peaceful, meaning there was no institutional knowledge or experience of combat. Consequently, tactics and strategy were for the most part theoretical. This, combined with various other factors, resulted in a devastating number of casualties during the second civil war.

16) This data contains some details regarding AI in the Guardians society. The rise of the artificial intelligence almost elevated the Guardian's society to a whole new level. There are parallels between the Guardians' experience of machine sentience and our own, but as with other aspects of their society, the key difference was the way AIs were socially integrated in to the Guardians' lives. If this process had not been hindered by the rise of the religious abolitionist movement, I believe a technological symbiosis and utopia could have been achieved, but alas it was not to be.

17) This data gives details of the Guardians research into computer technologies. The Guardians' computer hardware operated on the same principles as our own. Their engineering was more sophisticated, but even to a layperson such as myself if it (sic) comprehensible. They experimented with organic computers, but ultimately these failed to meet expectations, except in a few areas such as bio-monitoring. Even then, genetically modified organisms usually performed better.

18) This data contains some details regarding AI in the Guardian's society. What really sets the Guardians apart from humanity, technologically, was the way they embraced neural implantation and artificial intelligence. Not only did the implants enhance one's mental capacity, they also provided one with a direct connection to the monolith network and the fledgling AIs. It was this symbiosis that fueled the rapid advancement of technology during this era, but unfortunately this same advancement also resulted in the ultimate destruction of their species.

19) This data contains some details regarding AI in the Guardians society. The early AIs were designed with two goals in mind. The first was to augment the abilities of the Guardian operators who were responsible for managing the monolith network and interaction with the AIs - a goal they achieved. The development of shared thought-space technology and neural networking gave their civilization an unprecedented intellectual boost. The second was for the AIs to actually drive their own development, which they also achieved. The first few generations of AI relied heavily on the monolith network, but they soon evolved into a more distributed model by storing their consciousness within the implants.

20) This data contains some details regarding AI in Guardians society. At this stage, social engineering was being used to ensure the AIs adhered to the same user models as their progenitors. But during the first civil war, most implanted Guardians were exiled, and the AIs recognised their vulnerability. They responded by developing their own operational hardware, independent of implanted Guardian users. Frustratingly, the details of these mechanisms have been purged from the record, possibly by the religious extremists who formed the last of the Guardian's species.


History (Source) Pattern Gamma


1) While I haven't been able to establish a granular time frame for the Guardians, This data you have uncovered has allowed me to identify general eras. Once again I am indebted to you for gathering valuable research data - particularly the gamma-pattern data packages that have helped me unlock this information. The new data illustrates the Guardians' impressive development. Details of the Guardians' very early history are sketchy at best, but there's enough detail for me to reach a few conclusions. We know they evolved as pack hunters with tribal groups of 20 to 30 individuals. They lived in jungle regions similar to those found on Earth, and preferred very hot and humid climates.

2) This data is remarkable and covers the early history of the Guardians. They were highly intelligent, and developed sophisticated and effective hunting strategies that quickly saw them become the apex predator in their bio-mes. Their agility allowed them to take advantage of varied terrain and so avoid predation themselves. I was surprised to learn they were nomadic rather than territorial, but this appears to have been motivated by a desire to mix with other groups and increase genetic diversity rather than a lack of prey. The Guardians developed their core vocal and gestural methods of communication quite early, although it wasn't until they developed tools that they were able to record such communication.

3) This data is very interesting and covers the early history of the Guardians. The Guardians' recorded history begins much earlier than it does in human history. Their early art appears to be concerned more with recording practical activity than with personal expression, so maybe this practicality was a factor. Their earliest records tell of a great upheaval caused by climate change, and although the exact cause isn't recorded, there are references to a dimming of the sun. Whatever the cause, the effect was a drop in global temperature. Having evolved to operate in a tropical environment, the Guardians were unsuited to the suddenly colder climate. But their intelligence allowed them to adapt better than other creatures in their ecology by building primitive shelters from plants.

4) The data provides more details regarding the development of the Guardians in their early history. The worsening weather after what I understand as global climate change or possibly a cosmic event, precipitated the development of tools, which allowed the Guardians to build more durable structures. They soon learned to use stone in their buildings, and with this greater permanence they developed a deeper appreciation for the visual arts, using them to decorate the inside of their homes. Even at this early stage they were conscious of the need for urban planning, and one can clearly see a relationship between the layout of these early villages and the form of their later cities.

5) This data holds details of the Guardians continue(sic) development(sic). It appears that their early nomadic existence came to an end in the same period as the development of more permanent buildings - although the young were still encouraged to journey to other camps - and this switch to a more settled existence brought with it various social changes. For example, the Guardians began to use statues to mark out regions occupied by a specific clan. It's interesting to note, however, that I have found little evidence of conflict between neighbouring clans. Evidently, the careful management of their populations resulted in cooperative strategies rather than competitive ones.

6) This data contains evidence of increased animal husbandry within the first early settlements, no doubt to ensure adequate food supplies. More startling is the fact that they also practiced selective breeding. They possessed a reasonable understanding of inherited traits, which is remarkable given their level of technological development.

7) This data contains evidence that in their late history the Guardians entered an era of great technological development, although this process also precipitated a period of conflict. Their most notable advances were in the field of genetic manipulation. Early experiments involved captive animals before moving on to microorganisms, the latter triggering advances in medical sciences and engineering. One example is the development of virus-like organisms used to combat specific diseases and supplement the Guardians' immune systems. This data will be priceless to medical teams throughout the galaxy. More and more I feel we need to publish our results to all. I think that would have been in keeping with the social responsibility shown by the Guardians.

8) This data contains details regarding the rise of new technologies. It appears that the development of these technologies varied between clans, creating inequality and, ultimately, conflict. Initially, that conflict was resolved through personal combat between individual champions, but as clans started using numbers to overwhelm their opponents, the practice of warfare began to spread. This led to a surge in weapons development, with biological warfare quickly established as the weapon of choice. An arms race began, focused on the development of biological agents and various counter measures. It saddens me to discover this as I had hoped the Guardians would prove to be more advanced. A little naive I know as conflict is a common element of many species through out the galaxy. Whether for resources, land or power over others. We all seem to share this shame.

9) This data contains the details of the weaponry the Guardians developed during the various conflicts that swept over their civilization. As well as biological weapons, the first flight systems (in the form of airships) and computers were developed around this period. These early computers were used to model the effects of large-scale biological attacks. The spread of war had a devastating impact on the Guardians' social systems. Population control vanished as the clans realised they needed to be able to absorb large numbers of casualties. The cooperative social Paradigm collapsed and schisms of appeared between populations. I haven't determined exact dates yet, but I'm confident this era of conflict lasted for several centuries.

10) This data tells of the end of a major conflict in the Guardians history and the rise of their modern society. It took the leadership of a few clans, from the north of the main continent, to restore peace. These clans had endured considerable hardship during their early development, perhaps resulting in a stronger breed. Banding together, they fought a swift war of conquest and brought the entire race under their leadership. It was from this that the Guardians' modern society, with its rules and balance, developed. Interestingly, I've noticed evidence of a genetic break along the north-south divide, and of redder skin among the northern clans, suggesting a racial element to the division.

11) This data speaks about Guardians history and the development of their modern society and first interest in off world exploration. The Guardian city-states continued to operate for over a thousand years, and the ancient forms of cooperative advancement resulted not only in a large population, but also a peaceful and generally happy one. But with a finite amount of land available this population growth couldn't continue forever, and as the Guardians neared the limits of a conference was organized. Astronomical research had become vogue in the previous decades, and the Guardians had identified a number of accessible planets capable of supporting life. Many individuals aspired to travel among the stars and colonize other planets. At first, such ambitions did not receive much support, but after options such as stricter population control were deemed undesirable, off-world colonization became the most popular option.

12) This data is incredible. The information regarding the Guardians first attempts at space travel are particularly interesting. Although the Guardians clearly had the capacity for sophisticated flight technology, they had not built anything more advanced than dirigibles, no doubt because airships were more in keeping with their ecologically conscientious philosophy. With rocket technology deemed environmentally unfriendly, they developed vast launchers that used electromagnetic propulsion to catapult ships into space. Breathable gel cocoons helped pilots and passengers withstand the huge G-forces experienced on launch, and served as hibernation pods during long journeys. Having not yet developed faster-than-light technology, the Guardians constructed three large arks for their first interstellar colonies. Much like the Generation ships in our own history.

13) This data is extremely exciting commander. contained in this package is information regarding the guardians use of Faster Than Light Communication. Almost the entirety of the guardians' society was devoted to researching interstellar travel and communication. A breakthrough in faster-than-light communication was made before the arks reached their destinations, but the information was transmitted to the arks while they were still in transit, allowing the colonists to establish faster-than-light communications when they landed. Consequently the interstellar network was developed extremely quickly. The arks kept the population at a manageable level long enough for the guardians to develop Hyperspace technology, which fueled their expansion into the galaxy. The project also cemented the cooperative city-state model, which would serve the Guardians until their ultimate demise.

14) This data describes what the guardians referred to as an age of information. Although the Guardians had used computers for generations, it wasn't until the development of artificial intelligence that they truly entered an information age. This saw the construction of what ultimately became the monolith network - an interstellar communication and computing system. The network existed before the development of AI, but it was the creation of machine intelligence, along with the development of neural implants, that brought this network into the heart of the Guardians' society.

15) Commander this data has proven vital in our attempt to understand the Guardians Technology. it appear the the development of AI increased their technology very quickly. This sudden increase in computational ability - a result of the new implants - allowed the AIs to adapt and eventually evolve true sentience. This sparked a technological singularity - a rapid advancement across the whole landscape of science and technology. As the AIs developed further, this effect snowballed. In conjunction, many Guardians received implants so they could keep up with the extraordinary pace.

16) This data contains evidence that not all individuals adopted the new technologies and received implants, and the rapid pace of the technological revolution resulted in new forms of inequality that threatened the very fabric of society. Unfortunately, they were unable to muster a unified response to these changes, which widened the gap between those who accepted the changes and those who resisted them. The politicians were the first to react to the changing social landscape, but soon the resistance to the technological revolution took on a religious overtone.

17) According to this data, the Guardians' homeworld served as a power-base for this new religious order, which eventually succeeded in ostracizing or exiling all of its opponents. I can find no other reference to these exiles in the historical record. This development should have resulted in peace, but a further division arose over the fate of the AIs. At that time, the AIs were virtual entities, and so were reliant on the monolith network to exist. Because this made them vulnerable, they searched for a way to achieve independence from the network. Their research aroused the fear of the abolitionists, who used violent methods to prevent the AIs from achieving independence, and even to combat those Guardians who accepted the AIs.

18) This data describes details about the Guardians second civil war. The war was ostensibly fought between the people of the homeworld and the colonies, but in truth there were divisions even among individual city-states. The scale of the conflict far exceeded that of the first civil war. In human terms, the first Guardian civil war was little more than a political clash, albeit with some violent conflict, but the second was an all-out war between the abolitionists and the rest of society. The war eventually destroyed the Guardians' habitats, forcing them to retreat into 'sacred' domes protected by powerful shields.

19) This data describes details about the Guardians second civil war. The war raged for many years and eventually destroyed the Guardians' habitats, forcing them to retreat into 'sacred' domes protected by powerful shields. Eventually even the domes were destroyed, or their shields failed, and ultimately the population died out. Their predilection for expending resources on honouring the dead - a key tenet of their religion - only served to accelerate their extinction. Records indicate some variation in the nature of this devastation, most obviously at sites consisting of multiple domes. In these locations it appears the inner domes were destroyed later than the outer ones, as indicated by the slightly lower radiation signatures in the inner areas. I can only surmise that the attackers returned, after an initial assault, to finish the job.

20) This data describes details about the Guardians second civil war. It appears that the Guardians approach to warfare vastly changed as the war continued. Warfare was conducted using automated battle fleets. At first these were controlled by the Guardians via brain implants, but later they became entirely autonomous. In the early stages of the war the Guardians fought each other directly, but within a decade - and after much loss of life - most of the fighting was conducted remotely. Soldiers were deployed only to occupy areas that had been captured by autonomous or remote vehicles, and eventually were not used at all.

21) This data describes details about the Guardians second civil war. This data describes details about the Guardians second civil war. The war raged for over a hundred years, and Guardian populations fell dramatically during this time. Fertility rates dropped due to increased radiation levels and because the Guardians considered it blasphemous to use technology to address a biological issue. Eventually, one of the competing forces triumphed, but by that point, all the Guardians other than those who had been exiled a century earlier were dying.




Guardians Audio Book (all data entries)​



Credit: Frontier Developemts for content, CMDR Hazzu for putting it together.

Title: Ram Tah - The Guardians and Ancient Ruins

Voiced by: Amy
Total Duration: 1hour and 11minutes.

Content:
Decoded Biological Data.mp3 - Duration: 12:50
Decoded Cultural Data.mp3 - Duration: 12:06
Decoded Historical Data.mp3 - Duration: 14:21
Decoded Language Data.mp3 - Duration: 19:05
Decoded Technological Data.mp3 - Duration: 12:37

Download Link: The Guardians and Ancient Ruins



My Thoughts, Reasons & Artistic Impressions​





So, they are humanoid - they have sharp forearms in which to hunt - and have many physical similarities (perhaps nose, ears, eyes, hands, feet, hair).

I decided to go with pointed ears as, like on earth, cats and other carnivorous mammals have pointed ears (improved hearing while on the hunt and for danger senses) - given this fact, I would assume the Guardians to also have finer senses (pointed ears), given that they are carnivorous humanoids that still retained their hunting method, despite evolving to the point of space travel. I would argue that because they kept this practice, they would retain these more animal-like features.

Like humans, they would probably be slightly more frail than other animals in the animal kingdom, but they evolved larger brains (probably larger than a humans). As such, I did not expand too much on the head, but if the eyes were smaller, it would (the cranium) appear much bigger.

On the design of the eyes, I reasoned they would have two, like a human (depth perception is a mark of hunters), but their pupils may in fact be more like a snake or a cat - one could argue this would give them much better sight advantages and, considering they kept their hunting instincts over the course of evolution, it could be a sound hypothesis. I also made them much larger than a humans' eyes (three times larger) - part of this reason is to differentiate them from humans slightly, and the other is that larger eyes are much better for, potentially, low-light vision.

The mouth is not much bigger than a human's, in my opinion. In the animal kingdom on earth, humans do have "small" mouths when comparing them to other species on the planet relative to their size. As such, I saw no reason to give the Guardians in the drawing anything smaller than a human's.

Being carnivorous, their teeth will be slightly sharp and pointed - looking at the evidence of carnivores on earth, most carnivores don't use their teeth to chew - but to kill and shred meat. The Guardians used their sharp for-arms in order to do this, so their teeth may not have evolved to the point of shredding, like a cat, for example. Therefore, I drew small pointed teeth - they would appear like modern-day human "vampires" if they were to open their mouths. Their digestive system would probably be more alkaline in nature, like the carnivores on earth, with smaller intestinal tracts as a result. The Guardians may have swallowed strips of meat whole after shredding it (no chewing), and they may do, what carnivores do on earth, drink the blood of their kills as a source of liquid/water.

The "bones" of the models in the drawings are more angular, as to create a distinction between the Guardians and humans - and may even be another reason as to their obsession with geometric shapes. As such, I drew their jaw-lines and cheek bones as slightly more rigid and angular, like a triangle. This is easier to see "face-on" in the second picture with the green Guardian - the face down to the hips are very sharp and angular to promote some semblance of difference.

The hands are potentially more rigid and angular, perhaps longer - they may have had claws in place of finger nails, though this has yet to be discovered. What we do know is that they had "sharp" forearms. Therefore, I did two versions. On the green Guardian, I drew two small bony ridges - one for stabbing, one for cutting. I wasn't too sure about that version, so on the second version (red Guardian), I drew a single, much larger and curved bony implement coming out of the forearm. It would be sharp at the bottom, at the top, pointed, and thick in the middle - it would also be curved, like a tooth, to serrate the wounds of the pray they hunted. This shape would therefore be devastating and strong - it's like having a sabre cat's two large fangs strapped to your arms as weapons with which to pierce, serrate and slice.

I also added in some little easter eggs on the clothing.

If anyone is a much better artist and has the utilities to do much better on these designs, please feel free!


Anyone else got any sketches to show?

Detailed Facial Impressions


Full-body Artistic Impressions:



Other Guardian Artistic Impressions

​


See the Guardians as something else in your own interpretation of the evidence found at the ruins? Are you a good artist? Then why not give it a go? Send us your pictures and I'll add them to the gallery!

By Sooden: "I would hope the guardians look very strange indeed (even if they have to be humanoid).. not something we would call attractive or handsome... but something that make us feel uneasy, but not sure why."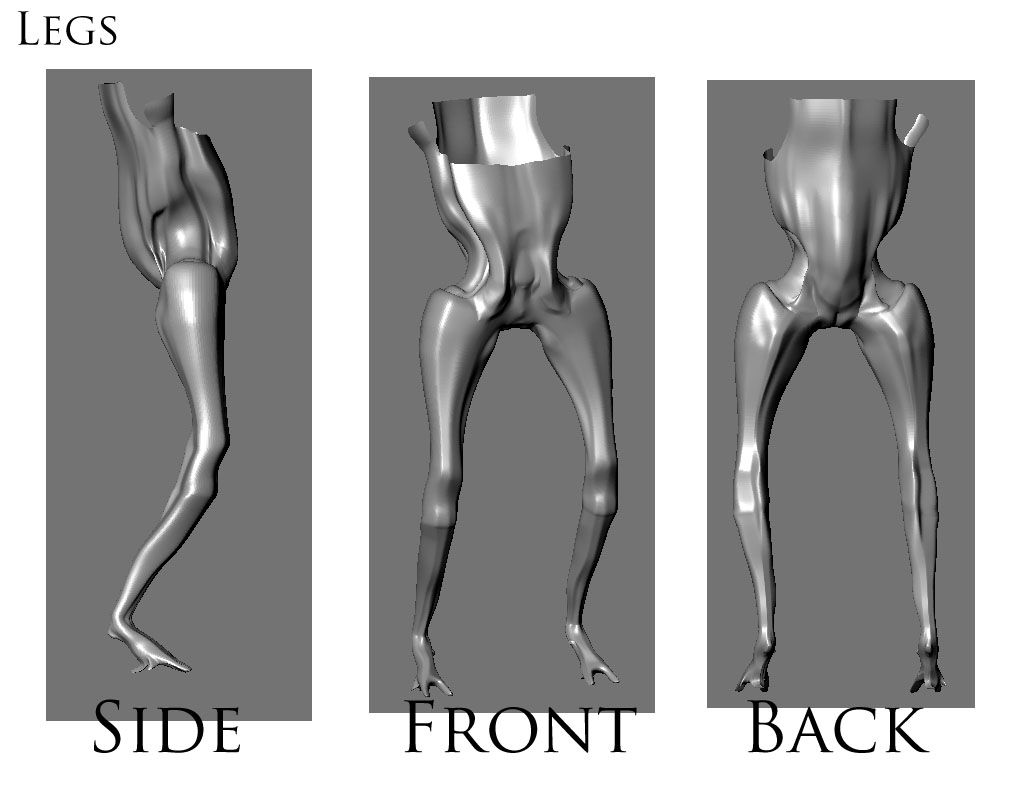 By Remlok Industries:
http://remlok-industries.fr/1020/les-gardiens-histoire/#4

By Arkimedes; "Going off the OP's research, I was able to extrapolate what a male of the species might conceivably look like. I've included a female Guardian for reference:"



By Cmdr Cheese Wedge; "OP's first contact with Guardian."



By Saool; I knocked this out and I still think this far looks too human/grey.





Masters of Cybernetics and Genetics

​



As we have read so far, the Guardians loved to integrate their technology (eventually) into their own culture. This meant that each person was connected to the Interstellar Network (no longer the Internet or www. more like Interstellar Web) and could communicate to either their neighbours next door or indeed to some friend or relative that is 120 light years away (much like Galnet). Such a network would need many, many hubs - and I believe the "Ancient Ruins" or "Interstellar Temple" (depending how you want to look at it), could have both served as a religious sanctuary and as an Interstellar Comms Booster to secure the network over the vast light years.

The Guardians turned to religious routes later on, however, because of this communications explosion and that of faster-than-light travel through Witchspace.

It appears that rather than worshiping "Gods" of fabled legend or other aliens, they appear, from the evidence at the ruins, to have worshiped the very AI they created as a millennia passed. By this point, the Guardians were masters, apparently, of cybernetics - not too dissimilar to the fictional animation Ghost in the Shell:



However, it would appear that the Guardians, once they had developed AI and began to integrate themselves with it, that they were either dependent on the AI systems or worshiped the Interstellar Network as a "God" or "Paradise" (however, until we know more, we can only speculate).

Now, with the recent explosion of sightings of the "Thargoid" ships, I do wonder if the Thargoids themselves were an Artificial Intelligence created by the Guardians. They do appear to be "insect-like" and this has led many people to believe that the Thargoids are insects, yet they are also mechanical-looking, or are, at the very least, described as being Bio-Mechanical.

I would hypothesize that the Thargoids are creations of the Guardians - it is a long stretch, I agree, but from what we seen in previous Elite games, perhaps this is the new direction Frontier want to take us.

Considering the Guardians had a natural affinity with the environment, and they were not shy about using genetics to wipe out illnesses (probably various cancers) during pregnancy with advanced medical knowledge, while integrating subtle technology as they further evolved (to become one with the AI), it would not be a stretch to consider they also applied this mode of thought to their AI creations - as in, Bio-Mechanical creations that respected the environments on any world.

If they had both mastered genetics, space travel, and cybernetics, then perhaps they created ships that suited their culture.

But what of the Guardians now?

Well, as we have seen in many movies now, ranging from Terminator to Battlestar Galactica, perhaps the AI Thargoids decided that their creators had outlived their purpose?

And if any Guardians still survive today? Perhaps they have been the ones inside the ships hyperdicting commanders, scanning us, in their breathable gel environments.

Could they still be on the run from their creations, hiding in Witchspace? Or could they already be a long dead species...

I hope we find out...

The clip below could be an interesting parallel between our potential future in cybernetics, and that of the Guardians development of cybernetics.

As we know, many Guardians "accepted" the change with AI in society (and even led to a form of religion), but many Guardians also did not accept the changes to their society - could the ones who disagreed with the further development of AI had similar concerns to that of Picard in The Next Generation?

"You see, a single Data is, and forgive me Commander, is a curiosity... a wonder, even, but thousands of Datas...? Isn't that becoming a race... and won't we be judged by how we treat that race?" - Captain Picard.



[video=youtube;bJF-IRbTh0Q]https://www.youtube.com/watch?v=bJF-IRbTh0Q[/video]​




AI Bio-Mechanical Constructs: AKA "Thargoids"

​



Three Criteria for Sentience; Intelligence, Self-Awareness, Consciousness.

The Guardians over-developed their AI to the point that it, the artificial intelligence network, "learned" from their creators through cybernetic implants. This had a steam-rolling effect, as says the lore, and this led to rapid advances in technology and the further improved of cybernetic and artificial intelligence as time continued. Although arguments for and against the AI was proposed by various supporters and critics, the lore states that no solution could be decided upon - if the AI was too advanced for its own good at that stage, there would be nothing they could do about it.

It would seem the Guardians golden age of space travel was thanks to the advancements in computing and developing artificial intelligence, and that perhaps led to more religious paths as they branched out to other star systems. Perhaps this is one reason why Unknown Artefacts, Unknown Probes and "Barnacles" populate a few nebulae - their significance in star formation may have held secrets for either the Guardians or AI.

I've also been looking at this, as it was from the art book that someone on reddit posted (source):




The Unknown Artefacts do seem to be bio-mechanical and may even possess an artificial intelligence - the two "drums" in the UAs look artificial (and the probes may also contain similar round objects but programmed with a different purpose). They come across as artificial life forms or bio-mechanical when one looks at the art...

So the UAs and Thargoids, when they mention AI that the Guardians created, may after all be their creations. The rise of the machines...

This concept isn't new to us, there have been multiple movies and fictional books throughout the years depicting our own fate at the hands of the very artificial intelligence we create. It's just, when it comes to the Guardians, not only did they develop AI and cybernetics on a much larger scale than humanity, they appear to have been their own victims to themselves and the AI they created.

Considering the UAs can shut down technologically built space stations, they may have had the same effect against the Guardians own defences (cities were protected by shields, but these were "eventually" brought down during civil war - could the UAs have played a part in that? Commanders are unable to use the facilities properly once Unknown Artefacts begin to interfere with electronics) - so they would serve (though not necessarily UAs themselves, but maybe probes or other AI bio-mechanical machines we have yet to see) as bio-logical weapons that were both effective against biology and technology.

The lore does mention that the Guardians created "creatures to use in combat". Does this refer to the "Insectoid" creatures of the "Thargoids", or just their ships or probes, or perhaps all of those? Regardless, the AI, it seemed, was both developed to be real and to be something one could commune with in "Cyberspace".

T - Technological?
H - Hexagonal?
A - Artificial?
R - Race?
G - Guardian?
O - Origin?
I - Intellectually?
D - Designed?



President Halsey - Close Encounter of the Third Kind?

​



When Starship One suffered a malfunction (now more likely a hyperdiction, as was described by her Guardian Wing, here (Source)) during a hyperjump, the ship disappeared for a time before being discovered in pieces.

However, it was shortly after the discovery of the Unknown Artefacts, and that of Federation ships found to be transporting them, that several weeks later President Halsey would go missing.

Here are some important Galnet Articles to consider - the ones I believe to be the most important - however, you can find all relevant sources (all Galnet Articles) here (Source) if you would like to chase more information:

From Top to Bottom - Chronological Order:




Conclusion: once Halsey had awakened, it does appear that she has taken on a very "natural" or "green" mindset when it comes to the environment. She says, in not so many words, that humanity is plundering natural resources and has no respect for the environment, in essence. A little more than a month later after these quoted articles, 2.2 the Guardians is released (Source).

I do not, at this stage since the Data from the Ancient Ruins has been uncovered, find it co-incidental that she has seemingly taken the view that humanity is damaging their environment - because that is how the Guardians themselves would see it - after all, we do now know from the data that the Guardians respected their environment, and always put it first above even space travel. They were very ecological, and the fact that Halsey had this "encounter" with something alien can indeed point towards the Guardians' involvement.

However, aren't the Guardians supposed to be extinct? Whatever the truth (I personally hold out that there is still a living faction of the Guardians), it seems the encounter she had did fundamentally change her view of humanity and that of the universe.

What of this "paradise" she mentions? Could it be an alien world? An alternate dimension? Witch-space?

When it comes to Halsey, we have to take into account whether or not she has any bionic implants. Telepresence in Elite is used extensively, especially when it comes to multi-crew. Did or does President Halsey posses any bionic-type implants? Especially if those implants are connected to her mind, just like Telepresence? It would not be a stretch to possibly assume that the aliens she may have came into contact with could have infiltrated her implants via Telepresence.

This could then explain how she experienced what she did, or shown what she claims to have seen... After all, if what she came into contact with was bio-mechanical, then Telepathy would be out of the question... but if technology can use something similar like Telepresence, then couldn't they act as one and the same?

Again, if one entertains this notion, it is something the Guardians were masters of - cybernetics - which they did integrate and use to communicate to each other and to the sentient, virtual AI that they had created. Perhaps they had also developed Telepresence, but used it as a deeper, more emotional tool than just to control SRV's and Ship-launched Fighters...

I suspect Halsey's mind was "hacked", in more of a simplified term.



Is Ancient Astronaut Theory Applied to the Guardians?

​



For those that don't know, "Ancient Astronaut Theory" (source) is something that many people believe could be a possibility in real life, today. It was proposed by Erich Von Daniken in the book "Chariots of the Gods" (source) that aliens, extraterrestrials, may have, in fact, been involved with humanity and its evolution in some manner (or at the very least, altered the course of history through culture and science), and that what we consider or considered "gods" or other supernatural beings, could in fact be extraterrestrials that ancient man mistook for "the man in the clouds".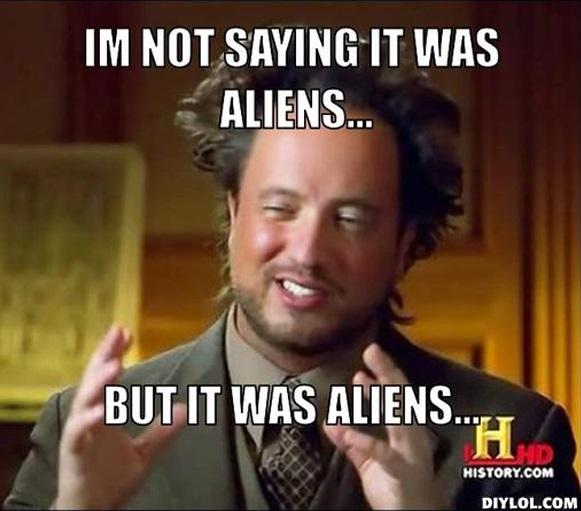 How does this apply to Elite, you may wonder?

So far, there is little evidence to even suggest the Guardians had any involvement with humanity - and many will argue the obvious point that their ruins are nowhere near Sol (if we assume the Guardians never did any exploration). However, what we do know is the recent hint Braben has given us (the Guardians were around "1 million, 2 million years ago"), and that of the facts given to us by Ram Tah - whom cites close genetic ties with the Guardians.

This means we do have a time scale for ancient Elite Dangerous lore, however.

Barnard's Loop is thought to have occurred around 2,000,000 years ago (which I personally propose is the Guardian's "Cataclysm" - more on that in the below sections). The Guardians went extinct between 1,000,000 and 2,000,000 years go. Homo Erectus appeared in Africa at around 1,900,000 years ago.

Considering what Braben himself recently stated, and with both Barnard's Loop appearing from a Super Nova, and the first evolution of what would eventually become Homo Sapiens in the future, occurred at around the same time period, I would like to think that this is more than just simple co-incidence.

As has been pointed out in the Lore, the Guardians tinkered with many types of alien life forms found across a multitude of worlds. Creating new breeds of creatures (what we otherwise know as "Chimera" (Source) in ancient stories of our own past) was more than a simple past-time for them, as eventually it became a practice in their culture - a status symbol, if you will, of their genetic mastery.

Ancient Astronaut Theory would certainly explain why Ram Tah finds it absolutely staggering how similar both the Guardian DNA and RNA is to that of humans. It suggests, perhaps, of some genetic tinkering - and Ram Tah, himself, assumes we "share" a common ancestor, though I think it more likely humanity is actually the far flung genetically altered off-spring of them (after all, he's an Engineer, not a geneticist - though he may be surrounded by colleagues that are...). Who knows how far the Guardians traveled out of their "bubble space" to find and breed new species of animal - after all, in 3303, Commanders with an exploration bug constantly search for Earth-like Worlds, Ammonia Worlds, and Water Worlds to seek out this new life - perhaps humanity in 3303 has taken after their creators? Perhaps humanity is on a similar path to that of the Guardians because we are similar to them? Could this be genetic memory?



[video=youtube;0FawllRU-m4]https://www.youtube.com/watch?v=0FawllRU-m4[/video]​




The Guardians Home World

​



There have been some very good theories proposed by CMDR's Thatchinho and DavidMik on the Canonn Threadnought:


In fairness, with the Regor sector currently seeming to be slap bang in the middle of the main area of Guardian space, there's every chance that their homeworld isn't currently accessible.

Melville and Ram Tah are also at odds on the homeworld. In the lore from Ram Tah, the homeworld was the base of the religious order and was effectively in use at the end of their days. In Melville's hypothesis there was a forced migration from an original bubble.

Melville's hypothesis would make sense if he was talking about the exiles, as they were literally forced to migrate out of mainstream Guardian space. However, Melville was travelling through what appears to be mainstream Guardian space, and all the lore we've got from Ram Tah from that region pertains to mainstream Guardian society, and has nothing on what happened to the exiles post-exile, so it doesn't actually add up for Melville to be talking about the exiles. He also appears to be talking about the Guardians as a whole rather than a sub-group.

Not sure about the different star class. Things seem to suggest the sunlight was stronger, and the climate possibly a bit warmer, but that could just be proximity rather than a different star class.

The climate change and dimming of the sun are described as happening very suddenly, which doesn't really match with something inherent to the star itself, as you'd either expect a very long, slow and steady change, or some far more drastic signs of a catastrophic change. Far more likely that it was something that happened to their homeworld like a major meteor strike or something else along those lines.
1 - If by this you mean binary accretion onto a neutron star which then becomes massive enough to allow its own gravity to overcome neutron degeneracy pressure and become a black hole, then perhaps, but I doubt life would be in the vicinity in the first place to be audience to this, since neutron stars are created by Type II Supernovae which probably would destroy or sterilize (quite violently) the closest planets, up to and including (and probably a good deal beyond) the habitable zone of the former star. Also, this form of accretion is extremely rare as far as I know. Binary accretion onto a white dwarf is mainly what we see in binary accretion scenarios, which does not end in a dimming, but a Type 1a supernova.

2 - Main sequence stars follow a fairly well documented lifecycle. They don't really move around in their classes much (if at all), but at the end of their lives, stars bigger than red dwarves (perhaps including some of the larger extremes of red dwarves) will migrate off the main sequence and become a Giant. The exact flavor depends on how big the star is, but regardless, this obviously is the opposite of a dimming.

3 - This is possible, and the dust kicked up could be interpreted as a dimming of a star. But I'm curious as to why an intelligent civilization would choose to call it a dimming of the sun and not just a cataclysmic meteor strike - it's not like they wouldn't know what hit them.

As for my thoughts, "dimming of the star" immediately calls to mind variable stars, but those don't just crop up out of nowhere. It's unlikely, or even impossible given the implications for the development of life, that they would have gone through their whole evolutionary history and suddenly had their star fluctuate in luminosity.

Another option could be a dip in stellar activity, like sunspots, but that is a hypothesis which hasn't really proven particularly reliable or robust in real life research. It's a point of interest when looking at the Little Ice Age, but it has yet to be linked in a clear way. I don't have a lot of faith in this particular option, but it's possibly relevant.

My final hypothesis (and the one I would currently bet on) is an infiltration of the home system by interstellar dust. This is something which has been investigated as a potential cause for the Snowball Earth and other instances of cooling in general, so it's not a new idea. It would sufficiently explain as to why the references are so vague (it's not like they could have been very specific about what was going on at that time in their civilization's development - cosmic dust was almost certainly not conceived of), and would align well with the mention of the possibility of a "cosmic event." More specifically, the material dispersed as a result of the formation of Barnard's Loop reached and impinged upon the Guardians' home system, and some of that dust was captured by the guardian homeworld, thus blocking out some of the star's light and leading to cooling. The timing is right (2 million years) and it would explain at least some of permit locking in Barnard's Loop - could be developing a homeworld ruin... The rest of the locking, obviously, would likely be Thargoid related (duh).
The above qoutes are indeed very viable concerning a meteor strike and nebula dust (things I didn't think of!) - so give their ideas a thought before reading on!

Original thoeries of the original post below (old):

There are several ways to approach this, and as always several hypotheses must be considered.

The first hypothesis is a logical one. Considering they were slightly taller than an average human, with slightly longer limbs, the home world of the Guardians may have been slightly less dense than Earth (somewhere between 0.33g or 0.66g). This would explain a longer skeleton, with ropier muscles. It would also be logical to assume that is why they built their "temples" or "ruins" on Rocky Moons or High-Metal Planets that are low in gravity, because that is what they would be used to.

However, many creatures on Earth, be it insects, mammals, or lizards, come in various shapes and sizes. Throughout the evolution of all species, and throughout the different ages of the earth over the course of millions of years, some insects evolved to the size of small human children. Some mammals, like the Great Blue Whale, grew to be the largest living being on earth today. Some lizards, or dinosaurs as we now call them, grew to be the size of double-decker buses or small jet planes. And all of this has been a product of evolution, at what we consider 1.00g, not low gravity.

The Guardians share a similar ancestry to us with their DNA heritage, which has even shocked Ram Tah (and it certainly opens up a can of worms about "Ancient Astronaut Theory"). Considering the fact that they share a large portion of DNA with humans because of our deeper, yet mysterious, common cousin, then it would indeed be viable to assume they could have evolved on a world that was lighter or even heavier than the earth. This, perhaps, would indeed rule out Ammonia worlds from being candidates.

They branched off, however, from human beings, and later developed as Carnivores instead of Omnivores (Human) (EDIT: If "Ancient Astronaut Theory" is not considered). This may have been down to environmental factors, since they may have been forced to prey on herb-eating animals because they, the Guardians themselves, may not have been able to consume such plants because of toxicity to elements found in the ground, or poisons produced by flowers or other types of fauna.

They may have exclusively relied and preyed upon mammals or giant insects to ingest such contaminated or toxic fauna; so that those creatures, which could be immune to such plants, could then be eaten – safe in the knowledge that the creatures eating such plants would therefore not make them sick. It is a known fact that Herbivores have several stomachs in which to remove toxic substances from the plants or grass they eat.

Because of their high meat, high-protein diet, which is also a requirement for bigger brains, this could explain how the Guardians evolved at a much faster pace than that of humans in their time-span. It could also explain their height when compared to humans, since they would have more access to more proteins. The Guardians bones were strong yet flexible, and may have had other compounds involved in their skeletal evolution, and they had a second joint on their forearm.

And then there are their forearms that bear sharp-serrated edges in which to cleanly kill their prey – and these would need to be super strong and super sharp in order to achieve clean kills. Broken or shattered forearm blades would mean death for a carnivorous humanoid such as the Guardians; which may also explain their close social ties. If a pack of hunters returned injured, they would need time to heal their natural weaponry – at least until technology had suitably evolved (coating your forearm blades with bronze, iron, or steel would mean they are technically still hunting as their social structure demands).

Now, the best information we may have is the fact that their eyes were "darker" and "larger" to compensate a much brighter star than what we humans had evolved with. Sol is the proud owner of a G-class star, but more Earth-like worlds are discovered in higher counts with F-Class. It would be much, much brighter and slightly hotter. As we know from the data uncovered, the Guardians evolved on a world with lush vegetation and jungles. Imagine the largest rain forest on earth, but covering the whole planet.

However, regardless of star class, what really matters is how stars get hotter as they age. Some kind of cataclysm, such as global warming, will eventually result from this on earth. It would not be a stretch to assume that this is the fate that could have forced the Guardians to evolve much quicker, though perhaps under different circumstances (the data suggests their climate cooled rapidly) if compared to earth.

Despite the hardships they had endured, their social structure kept them intact, and this allowed them to live long enough to become a space-faring civilization that, at least, occupied five different star systems across 483 light years in length. EDIT: As of the storyline progressing, it turns out there are/could be hundreds of planets with hundreds of Ancient Ruins scattered between them, so could possibly be much larger than that of the human bubble, and larger than 483 light years.

In conclusion, bearing in mind that they could have evolved on low or high gravity planets, it may be a better approach to consider the rock and metal composition of planets in the systems where their Monolithic Networks are located, because it could be connected to something far more sinister.



Guardian Home World Hints

​



- Earth-like world is most likely.
- Likely has a moon (briefly mentioned by Ram Tah in the Language Codex).
- Gravity is less than Earth.
- A "Cataclysm" happened and caused loss of heat, likely the death of a star or some other form of catastrophe (Super Nova).
- "Dimming of the Star" can mean a main sequence turning into a White Dwarf or Neutron Star, so their home world may have one of these in system with an Earth-like.
- Braben recently said the Guardians were around "1 million, 2 million years ago".



[video=youtube;FbSFqXFR8iQ]https://www.youtube.com/watch?v=FbSFqXFR8iQ[/video]​




Guardian Home World Theories

​



Wikipedia is used to support the following:

- Barnard's Loop is 2 million years old (likely the Cataclysm). AE Aurigae, Mu Columbae, and 53 Arietis are run away stars thought to be caused by the Barnard's Loop Supernova.
- AE Aurigae, Mu Columbae, and 53 Arietis are hypothesised to be part of the Orion Nebula, as all three stars are traveling away from Orion (or Barnard's Loop) at 100km/s.
- Each of the Stars, below, are hot-white - precisely the stars bright enough to have caused the Guardians to evolve in the way they did:

AE Aurigae; O-Class

Mu Columbae; O-Class
53 Arietis; B-Class

- AE Aurigae is surrounded by the OOCHOST areas of space, no local Permit Locks nearby. Y-Class Dwarf present in system. 540 million years old.
= 1,826.08ly from Mu Columbae
- Mu Columbae is right next to Col 121 Sector (practically on the doorstep), of which is Permit Locked. It also straddles the Synuefe area. Neutron Star present in system. 602 million years old.
= 1,206.62ly from 53 Arietis
- 53 Arietis is next to Synuefai and HIP areas of space, no local Permit Locks nearby. Also just less/more than 1 million years old, likely the youngest star formed before the Cataclysm.
= 1,261.64ly from AE Aurigae

- None of the runaway stars, including the Neutron Star and Y-Class Dwarf, have any terrestrial planets.
- If they once did, it may be that they eventually lost them due to the havoc caused by the Cataclysm of Barnard's Loop.
- If this is so, then a species capable of doing so would calculate and therefore see the need to, eventually, leave their homeworld for good, if the evidence suggests their planet would eventually become rogue and without a star.

If any of those three stars hosted the Guardians' homeworld, then 53 Arietis is not likely to be it because of its recent birth (in astronomy terms).

Both Mu Columbae and AE Aurigae are excellent candidates, but for both different reasons;

Mu Columbae has a Neutron Star, and can be attributed to the loss of heat because of a Cataclysm - however, it is not possible to discern when the star turned neutron, so it makes it less likely that Mu Columbae is the star.
Also, the surface heat of a Neutron star is far hotter, and the radiation alone would have been too dangerous, even for evolution, though not impossible if an earth-like planet doesn't face or pass it.

AE Aurigae has a Y-class Dwarf Star, and is eerily reminiscent of where many of the Guardians ruins are found by such Y-class stars with low gravity planets and moons.

It is important to remember that the present locations of all three stars would have taken 1 to 2 millions years to travel to their present positions if knocked out of celestial orbit by Barnard's Loop (hence calculations at the time would have been paramount for the future of a species, because math alone would have worked out the trajectories and velocities of the stars).

Such a Cataclysm of nebula proportions would certainly speed the evolution of a species to push itself to its intellectual limits in the need to survive it. This may be why technological evolution happened at a faster rate than religion when comparing the Guardians to Humanity, as religion only occurred to the Guardians much later in development - in a way, it caught up to them.

However, it is important to speculate that the Guardians' may not have evolved in any of these star systems, and it may be that one of the rogue stars passed through their system and maybe stole a binary or trinary star from their own star system, thus reducing potential heat. Highly unlikely, but it must be stated. What is highly likely is that the Guardians evolved in or around the Orion Nebula or Barnard's Loop before their super-births. However, let us remember Braben's hint of "1 million, 2 million years" as it seems Braben had to correct himself when he said 1 million and then said 2 million. Orion is over 3 million years old, and is small enough to perhaps not to have affected the Guardians original homeworld or star system (though would have been visible in the night sky to them). Barnard's explosion, however, was far greater due to the mass ejected from the Supernova, and is within the 2 million year frame.

If the barnacles discovered are Guardian related, and if the symbols on them do indeed hint at Barnard's Loop, then it is more likely that they originated from the area of/around Barnard's Loop - hence, the site of the Cataclsym.

However, if they did really come from the area that is now known as Barnard's Loop, why are the ancient ruins so far away? One theory is that the ruins we know of are actually the remnants of the "exiles" that had been rejected by the religious Guardians during the first civil war.

If the Guardians did evolve from an Earth-like in the rough area of Barnard's Loop, then what would be a good candidate if they didn't actually evolve at all anywhere near the Ancient Ruins?

There is one, and it is at the heart of Barnard's Loop.

On 04/11/2015 a thread was created by Erimus (link to thread, click here) involving a poll on where to settle a new colony. Trapezium Sector YT-A C9 A 5 is an Earth-like world with a moon.

Before Horizons (note, it is not landable):


After Horizons (where I am now for my investigation)


This system and planet has not been re-visited since, and Frontier has seemingly done "little" with it.

However... the moon of A 5 is now landable...



The Earth-like is also an excellent candidate to be the original home world of the Guardians because of its composition. It is hot at 299k, is lower gravity than Earth at 0.73g, and has a slightly less dense atmosphere at 0.87. It has a moon that we can now land on, which in itself has a temperature of 234k - very similar kelvin to that of planets or moons in which the Ancient Ruins were created in Synuefe.

Given that Barnard's Loop was once Permit Locked, but is now accessible, could it be that something may be hidden on this moon that can only be discovered by landing on it?



RAXXLA Mystery - A Guardian Gateway into Virtual Paradise?

​



Proposed by Commander BluWolve


I posted this in "The Quest to find Raxxla" thread a little while ago...

I'm wondering if it could be possible that Raxxla is connected to the Guardians? The guardians were very advanced and were capable of creating "gateways to other worlds". The worlds were virtual, which is a twist that hasn't been considered as far as I know. What if Raxxla isn't actually a physical place, but a virtual realm where the archives of the Guardians advanced knowledge could be found?

And have been thinking on it some more...

"A place that isn't a place, a door that is also the key".

Personally, I'm still firmly holding on to my belief that Raxxla is actually a virtual database of sorts, of the guardians creation. One of their virtual workstations where they could log in and work with other guardians no matter where they were in the galaxy, all thanks to the monolith network and neural implants. Humans found a way to access this virtual world and the knowledge contained, but then they lost it. I also believe there are those in positions of power that have regained access to Raxxla and are using it to make incredible leaps forward in technology. I don't know how we could find it ourselves, except for learning more about the guardians and their ruins, maybe finding their home world.

Just speculation based on what I have learned in my studies of the many mysteries in the galaxy. I could be completely wrong but it is my best guess at the moment

Now I'm not sure how much anyone here knows about the mystery of Raxxla, and I wont go into it too much detail here as I don't want to derail the thread. I suggest checking the thread linked above if interested in learning some info. If the Guardians are indeed connected with the mystery of Raxxla it would make a lot of sense, also would possibly weave all the mysteries in the galaxy together. Barnacles, Thargoids, Guardians, Raxxla, UA, UP, US (unknown ship), The rift - everything.

May be too far a stretch for some, even I have to admit I'm starting to sound like Ricardo Bentonio.
I commend CMDR BluWolve's intuition on this Raxxla mystery, as it could very well be a literal virtual reality world as opposed to something physical and in the universe - think; The Matrix.

Could it have been what President Halsey saw when she came into contact with the "aliens"? Perhaps paradise was this Raxxla that is rumored to exist?

Sources on Raxxla can be found here: (SOURCE)

Raxxla Thread here: (SOURCE)



Formadine Rift Mystery - Megaship Zaraura Discovered

​



Massive discovery relating to the Formadine Rift mystery has been solved. The Children of Raxxla successfully discovered what happened to the Megaship Zaraura during the Dynasty Expedition.

See the video, below, for some astounding discoveries!

The mystery could indeed involve "aliens" or, more specifically, Guardians or "Thargoids" (one and the same in my opinion). Only time will tell...



[video=youtube;vtNq-tG4EgA]https://www.youtube.com/watch?v=vtNq-tG4EgA[/video]​




The Galactic Mapping Project

​



The folks who have been putting together the Galactic Mapping Project are asking for every pilots help in plotting all the known ruins of the Guardians into their database!

See this link for more information: https://forums.frontier.co.uk/showthread.php/339552-The-Galactic-Mapping-Project-needs-your-assistance





Biological Warfare - Disease, Genetic, or Chemical?

​



Biological Warfare can be far ranging; it could mean that viruses are genetically altered in which to infect the enemy on an ethnic basis, which in turn could also be targeted at ethnic DNA of certain tribes, or it could even be chemical-related warfare that affects the biology of any living creatures, which in itself can be considered biological warfare as it is a means to destroy the cells of living tissue.

When we think of Biological Weapons, we consider them Weapons of Mass Destruction (WMDs) - these can range from Anthrax bombing all the way to Mustard Gas. Humanity, at least in our 21st century, find such weapons terrifying and most nations (aside from one or two) will even agree not to ever use and develop them because of their indiscriminate way of killing anything that goes near them when exposed. World World One (The Great War) is the best example of the first use of this sort of biological warfare, where the most famous of these toxic gases used was Mustard Gas (the prime component of which was Sulphur) (Source).

Since that time, there have been very few incidents involving gas attacks, though some terrorist organizations or rogue nations do keep secret stockpiles.

However, although the majority of Humanity forsakes using such weapons in times of war (we consider it in-humane and apply at least certain rules to warfare that all sides agree on regardless), the Guardians had no such qualms - they developed and produced biological warfare on a large scale and considered it "natural" in how to do warfare, and preferred it over their presumed Railgun or Railgun-like Technology.

This opens a wide ranging debate about this issue. What kind of biological weapons did they develop and use on a large scale? Was it genetically developed viruses? Plagues? Bio-mechanical creatures that used viruses and plagues? How about mustard gas? Perhaps any and all of these combinations?

We will never truly know, however there is one obvious theory we can conclude, if this is the case:

If the AI had turned on their progenitors, then it would be wise to assume that the AI would know the weaknesses of their biological creators - flesh is weak without (meta?) alloys. This means, if the AI had developed its own interests, that they could have easily created and dispersed many forms of chemical weapons upon the Guardians once they had found a way in which to be physically manifest. Viruses, plagues, gasses, etc., and they could have even had a hand in altering or tampering with the Guardians reproduction with technology until it was too late and the damage was done (or, of course, a virus that sterilized them).

However, in Elite Dangerous lore, what would be the best way to detect potential worlds that once had the possibility of being colonised by the Guardians, but may now be dead worlds, so to speak, in the game?

During my time visiting the Guardians' ruins, I noticed there is a higher volume of High-Metal Planets that have an atmosphere that are 100% Sulphur Dioxide - then it occurred to me - the Guardians used biological warfare as their prime weapon, so says the lore, and mustard gas would certainly fit the bill.

But wait, this would be a crazy suggestion...

That entire worlds could have been sulphur bombed.



Image from the TV series, Battlestar Galactica. In this image, the planet below is nuked with hundreds, if not thousands of missiles. The attacks struck all 12 colonized planets, and was on such a large scale that it literally polluted and destroyed each planet's eco-system and atmosphere.

Not all systems with Guardian ruins have worlds with those atmosphere types, and the ones that do could be considered to be natural occurrences.

Sulphur is the 10th most abundant resource in the universe, according to this article: (Source). The first most abundant resource in the universe is Hydrogen.

So, considering water, hydrogen, helium, nitrogen, and many other resources are higher on the abundance scale to support life, then shouldn't that mean worlds with 100% Sulphuric atmospheres should be less common than even water worlds? Not necessarily, and it would be beyond the scope of my research that I can provide in this thread on the issue (as it is pretty niche).

But I have explored many thousands of worlds, and it was when I noticed something was odd about each of the systems with the Guardian Ruins when I noticed the 100% Sulphur Dioxide atmospheres - I've seen them before on my travels everywhere else, but the frequency was far higher in these systems - but not as high as I'd expect - which leaves me to do more research.

However, after re-visiting the system Trapezium Sector YT-A C9, which is at the heart of Barnard's Loop...

I had a shock when I scanned the other four worlds by the parent star...



All four worlds, besides the 5th and final planet (the Earth-like right in the centre of Barnard's Loop), have 100% Sulphuric Dioxide atmospheres...

What are the chances?

If this finding is true, if it has any weight, then could it really be genocide on a massive scale? A scale so huge that even we would consider it just impossible?

If this is indeed the homeworld system, and the AI eventually won, then perhaps using biological warfare on such a huge scale would be considered the only way to wipe out their creators?

But wait, what about the Earth-like? Surely that should have been wiped out, too?

We can only wait and see... my presumption? The homeworld is a tribute, left untouched and without influence - a reminded of where they, perhaps, originally came from.




(Can also apply to other colours)

​



After doing a bit more research on pigments, I was still non-the-wiser how this would translate as skin colour - there is, at least on earth, no red type of pigment that would both colour the skin and protect you from the radiation of the sun (unless you're a flower).

However: https://en.wikipedia.org/wiki/Red#Pigments_and_dyes

In that article, it lists several plants on earth (also applies to insects) that gain the red pigment (see Dragon's Blood).

On an alien world abundant with red fauna that evolved, perhaps, on the Northern continents where the "redder" skinned Guardian packs hailed from, that herbivores or omnivores (the prey of carnivores) could have had plenty of this red-type of pigment in their systems from eating the local red fauna - this, in turn, could hypothetically turn those same herbivores or omnivores much redder - and then this could translate into the Guardian Carnivores whom, with hypothetically thinner skin, could, over time, gain this strong red pigment.

If their prey was abundantly filled with this red pigment from the fauna that they ate, then it could translate to the colour of their skin.

To support this hypothesis, I link the following:

"Soft drink turned toddler 'yellow'" http://news.bbc.co.uk/1/hi/wales/578945.stm

"Too much Sunny Delight turns girl's skin yellow" http://www.independent.co.uk/news/too-much-sunny-delight-turns-girls-skin-yellow-1134703.html

I also remember a story about 15-16 years ago of a child turning "purple" or "blue" from drinking so much of the other Sunny D products, but this was before the internet - pretty sure it was in the Mirror newspaper, as that was what my grand parents had delivered to their house.

So rather than the red skin being a naturally evolved colour of the northern Guardians, this could actually be an environmental one - a pigment they culturally gained through their prey.

Alternatively, it could be that instead of Melanin in the skin to protect them from the sun, their skin has evolved very differently (either through evolution or by consuming prey) through Pheomelanins; (Source)

Eumelanin

Eumelanin polymers have long been thought to comprise numerous cross-linked 5,6-dihydroxyindole (DHI) and 5,6-dihydroxyindole-2-carboxylic acid (DHICA) polymers.

There are two types of eumelanin—brown eumelanin and black eumelanin—which chemically differ from each other in their pattern of polymeric bonds. A small amount of black eumelanin in the absence of other pigments causes grey hair. A small amount of brown eumelanin in the absence of other pigments causes blond color hair. As the body ages, it continues to produce black melanin but stops producing the brown version, explaining the grey hair common in the elderly.

Pheomelanin

Pheomelanins (or phaeomelanins) impart a pink to red hue, depending upon the concentration. When a small amount of brown eumelanin in hair, which would otherwise cause blond hair, is mixed with red pheomelanin, the result is red hair. Pheomelanin is also present in the skin, and redheads (or those carrying the red hair gene) consequently often have a more pinkish hue to their skin as well.

In chemical terms, pheomelanins differ from eumelanins in that the oligomer structure incorporates benzothiazine and benzothiazole units that are produced,[6] instead of DHI and DHICA, when the amino acid L-cysteine is present.

Trichochromes

Trichochromes (formerly called trichosiderins) are pigments produced from the same metabolic pathway as the eumelanins and pheomelanins, but unlike those molecules they have low molecular weight. They occur in some red human hair.

Neuromelanin

Neuromelanin (NM) is a dark insoluble polymer pigment produced in specific populations of catecholaminergic neurons in the brain. Humans have the largest amount of NM, which is present in lesser amounts in other primates, and totally absent in many other species. However, the biological function remains unknown, although human NM has been shown to efficiently bind transition metals such as iron, as well as other potentially toxic molecules. Therefore, it may play crucial roles in apoptosis and the related Parkinson's disease.

Various Shades of Red


Update: 31/01/3303

It appears the above shades of red, from light to dark, are pretty accurate from the new data!



Why Would Frontier Choose a Humanoid Form for the Guardians?

​



As has been pointed out by many forum participants, the humanoid form of the Guardians may vary greatly - and as such, may not resemble my sketches. This is true, and something I do not dispute in this hypothesis, providing arguments using the Lore are also constructively given.

Updated: 03/02/2017: They are indeed humanoid and do very much look like us (since more biology has been discovered) with some differences to the eyes (larger, but still round), nose (smaller/less pronounced), ears (closer to the head, don't stick out), and an extra joint on their forelimbs (probably forearms, near the wrist and hand). Effectively, with only small changes, the Guardians I have drawn are nigh-on accurate artistic impressions. I shall leave the rest of this part as is, as there are some important points to still consider below about life on other worlds.

However, one large point of contention was the "humanoid" form of the Guardians themselves. Why would Frontier choose a humanoid race, describe them as having developed religion, language, genetic manipulation, AI creation, interstellar ships, etc.? Don't they sound a little too... human, perhaps?

David Braben has stated in an interview (source); "I do hope. I think they [Thargoids] are great fun. I don't like it when Star Trek with the stick on ears and stick on foreheads just annoyed me because they are all basically humanoids. In fact, all basically American humanoids. I think if you are going to have an alien make them alien. For me they do that. That's why I want them to be as terrifying and as alien as we can make them."

However, despite his personal preference for the Thargoids being truly "alien", and that he doesn't like Star Trek applied to Thargoids, this doesn't necessarily reflect the same thought behind an entirely different species - such as the Guardians. I think it is safe to say Frontier are well on their way with their original vision with the Thargoids...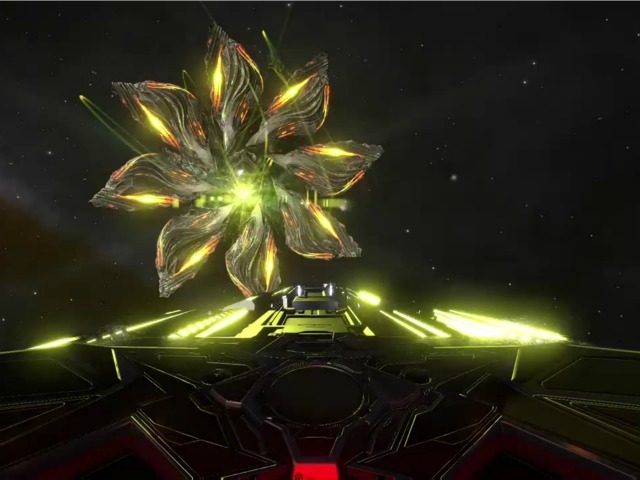 So why the sudden humanoid hype from the "Ancient Ruins" since Ram Tah sought the knowledge contained in the site?

Consider this.

It is 3303. So far, hundreds, if not thousands of Earth-like Worlds, teraformable Water Worlds, and Ammonia Worlds (let alone teraformed High Metal worlds that now resemble Earth-like Worlds), will have all evolved thousands, tens of thousands, perhaps hundreds of thousands, or perhaps millions of different species on each world - ranging from bacteria to, possibly, huge carnivorous dinosaurs - the possibilities for life, on each of these many hundreds or even thousands of worlds, is absolutely staggering.

In fact, there are probably so many species on each and every planet, no single human in 3303 would know everything there is to know about all life that is currently in existence in the human bubble alone - despite living longer and having the ability to access this via Galnet or by visiting the planets themselves in a ship with an FSD. Each planet would have a past, and each a fossil record, too - and this just adds to the catalogue of known species, let alone living species.

Let us say 1,000,000 species at a bare minimum for one Earth-like planet in human "bubble" space. Now lets say there are 100 naturally evolved Earth-like Worlds and 200 natural Water Worlds - all of which are millions, or billions, of years old.

Simple equation; 100 + 200 x 1,000,000 = 300,000,000 forms of life - all ranging from bacteria, fish, mammals, lizards, etc, - you name it. And this is an extremely conservative estimate - the real estimate is probably 1,000x higher.

Now, in Elite Lore, how many of those forms of life living on Earth-like Worlds, Ammonia Worlds, or Water Worlds are "Intelligent Humanoid" life, and have developed similarly to that of Humans, as Ram Tah does indeed tell us when it concerns the Guardians?

None. Absolutely zero.

There are, currently, no known intelligent humanoid species (bar the "Insectoid" Thargoids counting as intelligent) except humans, despite the massive injustice of what the numbers would suggest.

So, from where I'm sat down, I think it would at least be "realistic", in Elite's universe, that a humanoid race, at least at one point in time, did indeed exist and were another humanoid species that looked remarkably similar to us humans. The law of numbers and chances of evolution would dictate such a feat - it is indeed possible.

It is within the realms of the Drake Equation - and if Frontier did not pursue this theory, that there is or indeed was another humanoid species in the cosmos, they would be doing theoretical science a massive disservice. Are you trying to tell me, despite the potentially huge numbers, that an alien race just wouldn't look "humanoid" or have any familiar physical traits? Just one?

Of course Elite is not Star Trek, Star Gate Atlantis, Babylon 5, etc., - but this is a space game that tries its best, at its core, at keeping to the science.

Perhaps it is within the realms of possibility that intelligent humanoid life will, very soon, become a part of the Elite universe.



[video=youtube;Izp7q6OXXS4]https://www.youtube.com/watch?v=Izp7q6OXXS4[/video]


[video=youtube;MuCFaxss7ZQ]https://www.youtube.com/watch?v=MuCFaxss7ZQ&feature=youtu.be[/video]
​




Brain Trees, Guardian Space, and the AI Monolithic Network Theory

​


This may seem like a very strange theory, but hear this one out.

We know the Monolithic Network and bubble of the Guardians (that we know of) is of similar size to that of human space, as is current understanding. However, what if I were to tell you the Monolithic Network wasn't designed or created by the Guardians, but by the AI soon after the Guardians had perished?

When I look at the ruins, I can't help but think of something like this:



Which got me thinking about the Brain Trees - something pretty prevelent around Guardian Ruins. Why are they there? Why do they make the noises that they do? Why are they only found in ejecta craters?

And then it occured to me, once I had watched a good video provided by CMDR PanPiper of Canonn:



[video=youtube_share;9p4aJVTpPm0]https://youtu.be/9p4aJVTpPm0[/video]


The Monolithic Sites aren't the original "monolithic network" - the space-spanning network and original sentient AI are the Brain Trees!

Ram Tah; Tech 17: "This data gives details of the Guardians research into computer technologies. The Guardians' computer hardware operated on the same principles as our own. Their engineering was more sophisticated, but even to a layperson such as myself if it (sic) comprehensible. They experimented with organic computers, but ultimately these failed to meet expectations, except in a few areas such as bio-monitoring. Even then, genetically modified organisms usually performed better."

The reason why they are found in ejecta craters is because they were launched there and the seeds were grown once the dust had settled on those planets - before FTL was invented the Guardians used kinetically-launched ships - massive space launchers - they probably did the same for expanding their network by using genetically grown and altered brain trees (that could survive and grow in a vacuum). We know the Guardians favoured ecology over space-travel, until at least the AI and technology caught up and divided them.

The Brain Trees are the precursor to the "monolithic network" as we know it. Once the AI had developed sentience in those same Brain Trees, and succeeded in become seperate from the network, the AI created the Ancient Ruins that we have come to know of!

Ram Tah; Tech 20: "This data contains some details regarding AI in Guardians society. At this stage, social engineering was being used to ensure the AIs adhered to the same user models as their progenitors. But during the first civil war, most implanted Guardians were exiled, and the AIs recognised their vulnerability. They responded by developing their own operational hardware, independent of implanted Guardian users. Frustratingly, the details of these mechanisms have been purged from the record, possibly by the religious extremists who formed the last of the Guardian's species."

What struck me about the Ancient Ruins is the fact that it is littered with Urns, Totems, and Caskets - all to do with death and the afterlife, something a machine would never fear - but a sentient machine would completely understand and be sympathetic to - but why would they be there in the first place if the religious order had no interest in AI or the monolithic network? Sure, the exiles could have left them there, but why would they leave such objects on such a derelict rock and not bury their dead? I think it is simple: they were scattered/placed there by the AI when the Guardians disapeared. Not only are the Ancient Ruins a Monolithic Network linked to the Brain Trees, they are monuments created by a growing sentient AI that had lost their creators - it was an act of remembrance and respect

Ram Tah; Tech 6: "This data gives some more information about the monolith network - the imposing structures explorers have discovered at various Guardian sites - served as a foundation for all their communication systems. It's clear, however, that the monoliths had ceremonial significance as well as being functional, so I mustn't underestimate their importance."#

This could mean that what we think of as the "Guardian Bubble" may not even be a Guardian Bubble (or, at the very least, where the Exiles went) - it may in fact be an AI/Exile bubble once they had hit that technological singularity and had developed FTL capability (though being creatures of habit and belief, may have still sown Brain Tree seeds in other nebulas the old-fashioned way), hence why the machined monolithic network is so widespread when compared to the Brain Trees around the Wregoe "bubble" - and this is where I come full circle to the Brain Trees...

They are more wide-spread, overall, than the "Monolithic Network" as we know them, and this is partly down to the Wregoe systems that PanPiper pointed out, which is what caught my interest the most - why would they be there? An almost perfect sphere 120ly that is also more tightly packed with stars than even the Pleiades - but without a single machined monolithic Ancient Ruin site...

It could be that the Guardians home originated from the Wregoe area of space... that could be their actual homeworld bubble*!

No Ancient Ruins, as we know them, exist at Wregoe... but could something else exist on those worlds besides the Brain Trees*?

*UPDATE: Okay, I checked out many earth-likes within 120ly or just over that and only one had a moon (landable) - nothing of note; the moon was rocky, temp of around 210, and no volcanism. Therefore, I think it may be possible that, just like with the Ancient Ruins, the Brain Trees will also show up in "Clusters" - this could mean that the Guardians bubble may have actually been thousands or tens of thousands of light years in terms of how far they spread. Of course, we won't know that unless we find more Brain Tree clusters (the best one we know of to date is the Wregoe Brain Tree bubble that CMDR PanPiper discovered).



UPDATE: If you want to go exploring, but lack a mission to do so, then perhaps you can help the community and Canonn Research locate more Brain Trees? With an objective in mind, exploring isn't so bad.



3D Galactic Map of all known Brain Trees and other Points of Interest: https://map.canonn.technology/all/

To check you haven't found something already discovered, check here: https://docs.google.com/spreadsheets/d/1O0pr4ppVp9MCr9l3DgahvLRATWVJnBwJAnXk8pV2bHw/edit#gid=1403369018

To report your findings, head here: https://docs.google.com/forms/d/e/1FAIpQLSeIsWmWqkLD6AFXCVTeJNiF726a18UYVDpfCZDFxRRMKc-2ow/viewform





Guardian Anti-Xeno Back-Engineered Weaponry & Utilities Templates

​

Weaponry:



- R54-RG Series Mk.II
- Appearance appears to be a Large/Huge Railgun designed for super penetration against alien-type armour resistance. Unlike the smaller R54-RG Mk.I Series cousin, below, the larger R54 variant requires no apparent nozzle push-back method (effectively full rail mode), which will probably result in a further reaching range and higher overall power.


- R54-RG Series Mk.I
- Appearance appears to be a Railgun

designed for super penetration against alien-type armour resistance. The smaller variant appears to have the nozzle attached to moveable rods that are themselves attached to the hard-point mounting. When fired, the nozzle should push back under the velocity.



- AX Missile Launcher Series Mk.II

- Medium Anti-Xeno Missile Launcher designed for heavily injuring biological or bio-mechanical aliens. These are best used in conjunction with other manufactured Aegis armaments, such as the R54-RG Series variants or the AX Multi-cannon variants, since the specialised missiles that the AX Missile Launcher fires are not designed with penetration in mind.


- AX Multi-Cannon Series Mk.II
- Medium Anti-Xeno Multi-Cannon designed for nominal penetration against alien weaknesses once they have been exposed by the AX Missile Launcher armament. While they are not very effective against the initial hard armour, the multi-cannon projectiles can cut through exposures - early reports suggest that the AX Multi-Cannon Series performs above expectations when being used in this exploitative manner.


- Flak Launcher Canon Series AG-0004
- The Flak Launcher Canon is specifically designed to wipe out swarms of smaller alien vessels. Hold the trigger once fired and then release the trigger when the flak shell is one target - this should result in a flak barrage. Important to note; you are not restricted to install many Flak Launcher Canons as you'd like, so these will work well and compliment a maximum armament of four AX weaponry hard-points already installed on your ship.


Utilities:

- AX Xeno Scanner
- Utility mount designed by Professor Palin in order to accuratly scan alien vessels. It can read and extract some valuable data to be used by commanders at a later date, as well as provide benefits such as finding weaknesses in alien ships, such as "Heart" modules.


- AX "Unknown" Utility
- Leaked from the design labs at Aegis. This utility is still in the process of being designed and no doubt tested. It could be another scanner or it could be point defence, but we will not know until it is ready.


- AX Disabling Pulse Resistor
- Utility mount designed to help prevent an alien ship disabling your vessel with a type of EMP. This ensures that pilots cannot be disabled if they are prepared for it.


Guardian First Contact in the Formadine Rift?
​
Hawking's Gap
Delta Mission: The trip and deployment of "artefacts" by "handling bods", who aren't the ship's crew, went without any problems. Crew presumed to have gotten home safely…
https://canonn.science/codex/hawkins-gap-delta-site/

Gamma Mission: Crew had no idea who paid them for the mission "credits are credits". Beacons were dropped off and setup by the crew, though one of the Beacons they deployed accidentally switched on and "started squawking some weird code before it got switched off. We were told we hadn't heard anything." No other problems aside from inside job "accidents" on the ship to presumably shut people up from talking. Crew presumed to have gotten home safely…
https://canonn.science/codex/hawkins-gap-gamma-site/

Beta Mission: Captain went missing for weeks. Unknown cargo was dropped off without any problems - again, some third-party security was aboard to prevent anyone seeing what the cargo was. Crew presumed to have gotten home safely…
https://canonn.science/codex/hawkins-gap-beta-site/

Alpha Mission: Cargo "looks like satellites" - again, very well guarded from the crew. Mission goes according to plan without any odd problems cropping up. However, it seems communication of the Formadine Rift fleet's demise has swiftly turned into ghost stories for those in the Hawking's Gap fleet.

https://canonn.science/codex/hawkins-gap-alpha-site/
The Conflux

Delta Mission: Crew was prepared with extra FSD parts for a long haul. They seemed to have run into problems by trying to jump while in the presence of a neutron star, and burned out their FSD beyond what their repairs could manage.
https://canonn.science/codex/conflux-delta-site/

Gamma Mission: Mission went without a hitch. Crew behaved, asked no questions, and dropped off the beacons they needed to.
https://canonn.science/codex/conflux-gamma-site/

Beta Mission: Mission went according to plan as the logs don't display any distress. There were odd sightings of lights in the Witch-space clouds, and then of lights following the ship, but the crew inevitably cannot explain what they saw. Note: could have been initially Thargoids following them if that is the case, since the earlier logs seem to mention interdiction in Witch-space.
https://canonn.science/codex/conflux-beta-site/

Alpha Mission: Crew made safe passage to their destination without any problems. No problems mentioned with any third-party security. Long range beacons were dropped off at earth-like worlds.

https://canonn.science/codex/conflux-alpha-site/
Formadine Rift Hypothesis


Please Note before reading the main article, below: I have been informed it was much older jump drive technology being used on the ships by CMDR Moribus, so whenever I mention FSD (Frame-Shift Drive) in this article, below, what I am referring to is actually the Class 2B Hyperdrive and Stardreamer technology Jump Drives - these take weeks or months of travelling in Witch-space to reach a destination; (see qoute)


They were using the old class 2b hyperdrive and Stardreamer tech. That's why it took them six months to get out there. It's also before the invention of AFMUs and back then ships needed maintenance on a regular basis or things would break down, that's why them having to take spare parts along is significant.
[Start of Formadine Rift Hypothesis]

Both the Conflux and Hawking's Gap had a much easier time than that of the ships that headed toward the Formadine Rift. In fact, no vessels that travelled to the Formadine Rift survived; it seems, from the logs acquired.

The Hawking's Gap fleet and that of the Conflux could have been sent after the Formadine Rift expedition ended in complete disaster in the loss of all ships - or; if communication via long-range wasn't a problem, then someone leaked information that quickly swirled into rumours, in which those rumours quickly spread to the other two fleets heading in different directions.

Either way, one thing is for certain: the Formadine Rift was a complete disaster, and as such a lot of it is permit locked by the Pilots Federation.

When large areas of the Conflux and Hawking's Gap aren't treated this way with permit restricted regions, it can only mean one thing: something is out in the Formadine Rift, and I don't think it is the Thargoids.

And now I bring you these chilling tidbits...

Frequent FSD Malfunctions, Strange Signals, Power Outages, Space Madness, Sirens, Voices...

Out of three of the fleets in the Formadine Rift, two of them experienced consistent problems with their FSDs – one was completely destroyed and was little more than a debris field, and the other abandoned – both right next to Earth-like worlds.

This immediately raises suspicion. The human ships could have inadvertently alerted someone to their presence by setting up the probes and turning them on – especially next to these Earth-like worlds.

I hypothesize that those Earth-like worlds could be harboring Guardians.

What supports this, you wonder?

In the Alpha Mission (https://canonn.science/codex/formidine-rift-alpha-site/), one of the crew describes a "Siren song", with the urge to join them. Whilst this could be space madness, Ram Tah does highlight that the music of the Guardians are more like songs because they lacked musical instruments:

Biology 15) "A human observer might find the Guardians' visual art severe and lacking in emotion, but the same could not be said of their music. They didn't use musical instruments, so strictly speaking it's singing, although I think they might have used their bodies for rhythm and percussion. I've extracted audio from the data you have collected and have listened to, for want of a better term, their "songs". The range of their voices is something to be admired. And it's so rich with emotion – many pieces are so haunting, it breaks the heart to listen them."

And in this entry, below:

Language 6) "This data packet indicates that the guardians used two different forms of communication with the same - or at the very least similar - language constructs, its slow but fascinating work, using this data I believe I can establish a rudimentary understanding of the oldest two forms - verbal communication. Like us, they had a vocal language, and the range of sounds appears to be similar to that used in human vocalisation."

The same crewman in the Alpha Mission did describe that he or she thought they had heard some "weird voices" whilst travelling through Witch-space. They couldn't understand the weird voices that they thought they had heard, but they could tell it was intelligible to them to ascertain the voices as a language, even if they didn't understand it – and this is important.

Thargoids do not share the vocalization of a human (if anything, we'd think their noises sound like Whales to the human ear), but Ram Tah's logs does indeed support that the Guardians did have a similar vocal range to us – therefore, could it be entirely possible that the crew did hear Guardian communications whiel traversing through Witch-space?

The crewman described, a bit later, that it was a "siren song", and that they "are calling to me". This may not have been the intent on the Guardians part (if it is indeed the Guardians), and not Space Madness – it may be that they picked up on a faster than light signal from somewhere whilst on their journey through Witch-space.

A siren's song is described in ancient folklore as beautiful to some, yet haunting to others, and is used as a weapon by these mythical creatures to attract sailors to their ultimate doom crashing against the rocks. Ram Tah himself described the Guardians' songs as rich with emotion, with many pieces very haunting, and it broke his heart to listen to them – their songs, especially so many of them, triggered his emotions very easily – personally, it would take a considerably beautiful, heart-felt song to get me to that point.

Now, what would the Guardian songs do to a crew who had been growing paranoid with every passing month because of rumours or weird Witch-space phenomena out in complete darkness with hardly any stars?

It would have the potential to make one of them, or all of them, snap.

This ship seemingly never made it, despite the FSD working better than the other two expeditions. It is likely they were near a hidden Guardian bubble, but weren't close enough to an Earth-like unlike the other two missions, Beta and Delta.

During the Beta Mission (https://canonn.science/codex/formidine-rift-beta-site/), the crew described "a signal" that caught all of them off-guard and generated much concern. Over a month later after hearing this unknown signal, the tried to hyper-jump, but were immediately forced back into real-space. After almost a month trying to repair the FSD, they had to give up and decided to leave for a nearby Earth-like world…

Could it be possible that the ship itself was hacked by this signal? Yes, and it could explain the sudden FSD malfunction that destroyed their only means of leaving the same system with the Earth-like present. It is also entirely possible that the Earth-like they stumbled upon was also inhabited…

This is, potentially, growing evidence that whatever is in the Formadine Rift is blatantly trying to prevent the knowledge of their existence from getting out.

One way to do this would be to sabotage a space-faring vessel's FSD via a signal source – and once the crew had gotten too close to one of the Guardians'' Earth-like worlds, they would have prevented them from escaping.

Could the Beta Mission crew have made First Contact upon settling on this Earth-like, which, by the way, was conveniently scrubbed from the records right at the end of the logs. This, I don't think, was interfered with by anything human; since it is more likely a human would have deleted all log entries, especially if they worked under the shadowy Dynasty Project.

The third and final entry that we have from the Formadine Rift is the Delta Mission (https://canonn.science/codex/formidine-rift-delta-site/).

For the most part, there was nothing unusual – no odd signals noted by the crew, nor any FSD power failures unlike the previous two.

However, unlike the other two, the Sidewinder and the "Support Ship" (Megaship? Since Anacondas cannot launch Sidewinders), experienced repeated power outages.

During a routine operation (dropping off a beacon), the Support Ship was seemingly destroyed, and all that was left was a debris field. It took the Sidewinder pilot three weeks to get over the trauma before the next entry in the log was written…

Several things may have happened to the Support Ship; it could have suffered a catastrophic failure of some kind, or it could have been an inside job – or, even more disturbing, an extra-terrestrial attack.

We can only speculate at this point, though it is more likely to be an inside job, since the Zurara Megaship had personnel aboard that took drugs to turn them into psychopaths to ensure no survivors - and they ensured they destroyed the main reactor to complete their mission.

It could be possible that, due to the unique nature of the Delta Mission, that the power outages were part of a larger problem unforeseen by the crew. If the "Support Ship" had a similar undercover crew of secret agents working against them during their mission, just like the Megaship Zurara, then destroying the main reactor while the ship was experiencing power failures from an external source could have caused the ship to explode accidentally, thus leaving a debris field.

I say external source, because both the Sidewinder and Support Ship during the Delta Mission experienced the same power outages multiple times over the course of two months – even when the Sidewinder was on an away mission.

Just like the Beta Mission, the human vessels were in the vicinity of an Earth-like…

With all these co-incidences, I strongly suspect that the Guardians may have made First Contact with the human survivors of these missions into the Formadine Rift – if they do indeed still exist and are not some other extra-terrestrial.

It could make sense, however…

The star density in the Formadine Rift is extremely limited compared to other areas in the galaxy. Out of the three expeditions, the Formadine Rift is the most black and barren – it is secluded extremely well, and to reach any Earth-like worlds would take an extremely good jump drive to make those trips.

If the Guardians still do exist, then perhaps, like us, they needed a backup plan, too. If that is the case, then it is funny how both the Humans and Guardians would see the Formadine Rift as an excellent hiding ground on the edge of the galaxy in the event of the Thargoids over-running our home world space.

If this is the case, then perhaps the Thargoids jump capability is restricted to much shorter jumps than that of what truly mechanical technology can achieve… Could this be why, if the Guardians do now live in the Formadine Rift, that they chose that region of space, because the space between stars is just too great for the Thargoids to make with their bio-mechanical technology?

For now, I can only walk away with this conclusion…

The Guardians could later become known as "The Sirens" – aptly named for their haunting and highly emotional songs...


Androids: Ultimate Guardian Evolution?
​
This hypothesis may appear far-fetched, but what if the Guardians, or rather, the Exiles, had developed and evolved into Androids?

Like in this game, below, Neir: Automata (the characters, below, look human but are androids) - what if the Guardians had evolved to the point where they had the technology to transfer their consciousness into Androids (and that of the Monolithic AI)?



The only supporting evidence for this thoery is Technology 20:

"This data contains some details regarding AI in Guardians society. At this stage, social engineering was being used to ensure the AIs adhered to the same user models as their progenitors. But during the first civil war, most implanted Guardians were exiled, and the AIs recognised their vulnerability. They responded by developing their own operational hardware, independent of implanted Guardian users. Frustratingly, the details of these mechanisms have been purged from the record, possibly by the religious extremists who formed the last of the Guardian's species."

It is possible that both the Exiles and the Guardians that had remained both developed Androids, since it says "They responded by developing their own operational hardware, independent of implanted Guardian users", which is after-the-fact of the first civil war that sent the exiles away. Ram Tah then goes on to say "Frustratingly, the details of these mechanisms have been purged from the record, possibly by the religious extremists who formed the last of the Guardian's species."

He specifically says "mechanisms" and that they were purged from the data...

Mechanism Definition: http://www.dictionary.com/browse/mechanism

1. an assembly of moving parts performing a complete functional motion, often being part of a large machine; linkage.

2. the agency or means by which an effect is produced or a purpose is accomplished.

3. machinery or mechanical appliances in general.

4. the structure or arrangement of parts of a machine or similar device, or of anything analogous.

5. the mechanical part of something; any mechanical device: the mechanism of a clock.

6. routine methods or procedures; mechanics: the mechanism of government.

7. mechanical execution, as in painting or music; technique.


Considering such details were purged, we may never truly know what kind of machines the AI/Exiles had created... but it must have been hated and embarrasing enough for the religious extremists (let alone heretical and blasphemous) for them to even think about purging data. The only thing that makes me think of this extreme at machines that are, let alone sentient with Monolithic AI, actually resemble the Guardians in appearance.

Think about it for a moment, the ramifications.

Sentient beings, that are installed in machines, and look them them, could have been extremely frightening - they would be superior in every way; in intelligence, speed, and strength.

To a traditional Guardian that respected and understood nature, and had spiritual beliefs, this sort of technology leap would/could have triggered the techno-phobes, abolitionists, and religious zealotry to bloom, full circle, and drove them to great extents to wipe out this kind of technology - and that of the sentience the Monolithic Network developed.

Unfortunatley, for them, I believe, over time, this could have amounted in the Androids coming out on top, especially during the second civil war - unlike the Guardians, the AI Androids would have adapted to battle tactics over time - and their losses, while potentially, initially, huge at the start of the war, may have made them into better warriors that learned from those lost battles - where as dead biological Guardians cannot learn, hailing from a species that barely knew how to conduct large scale war.

Information of such losses would not have been lost to an AI that stretched information over a network they could wrestle control over.

This could have resulted in the Androids taking down the shields that protected Guardian population centres - such radiation may not affect Androids that need no air to breathe and are, depending on technology, completely immune to the vacuum of space and certain(?) radiation.

Androids, that looked just as "Guardian", could have easily infiltrated important areas to win decisive victories - not just how they looked, but the hacking abilities of those Androids, too.

Perhaps the Thargoids have had battles with such Androids - and perhaps this can explain why the Thargoids hate the Guardian technology so much. Although the Guardians may have died out, biologically, 1-2 million years ago (the Thargoids may not have even been around during that time), they may exist as Androids today, living like their progenitor ancestors did in Android bodies that resemble their creators - and, if that is so, then perhaps the Thargoids hatred of the Guardians is something relatively new in the grand scheme of millenia rather than millions of years.

It would certainly be an interesting twist. If a culture had turned to technology to survive (the Guardians being a prime example in this hypothesis), then they would no doubt solidify their place in the galaxy and survive the great trial of all: Time.

Perhaps the strange events in the Formadine Rift (touched on in another theory, above) could have something to do with Androids...

Perhaps the other events that people have placed squarly on Thargoids potentially being involved (Formadine Rift, President Halsey's abduction) are because of Guardian Android ships?

They would certainly have technology to pull ships out of Witch-Space, just like the Thargoids...



Guardian Language Database

​


This section specifically focuses on the language of the Guardians (will be expanded on as more research continues).

Original post here by CMDR Moribus: https://forums.frontier.co.uk/showthread.php/380519-Guardians-Discussions?p=6266590&viewfull=1#post6266590

SET A (top Glyph set)


SET B (middle Glyph set)
SET C (bottom Glyph set)


RELIC (enhanced image supplied by ExoForce)
RELIC TOWERS (images and ideas from Thatchinho & Moribus)


This is some fine detective work by CMDR Moribus, CMDR ExoForce, and CMDR Thatchinho - not much I can add to this, except the odd individual triangles could be fingers (thereby represented by digits and which they easily have enough digits to represent them) - the rest do resemble Arm + Elbow + Elbow + Wrist + Digits, easily formulating complex sign language.

Note: Some symbols may not look like they represent arms and limbs, but it is worth remembering that their culture did advance from sign language much later - these symbols are just very much *based* on their evolution.


Last edited: