What is The Club
An organization that controls Elite: Dangerous behind the scenes
Conceived by David Braben
Featured in GalNet and the novels
Clearly and repeatedly fingered as "The Bad Guys" in Elite: Dangerous
The enemy of The Dark Wheel
Only two known ways to interact with them: BGS and Powerplay
Their history was documented by The Children of Raxxla in "The Holdstock Report"
What is Club Raiders?
A web-based tool and a loose community
Working from The Holdstock Report, we identified in-game Club-related minor factions
Built software to analyze the minor factions looking for strengths and weaknesses
Helps CMDRs and Squadrons identify juicy Club targets
Tracks progress globally and regionally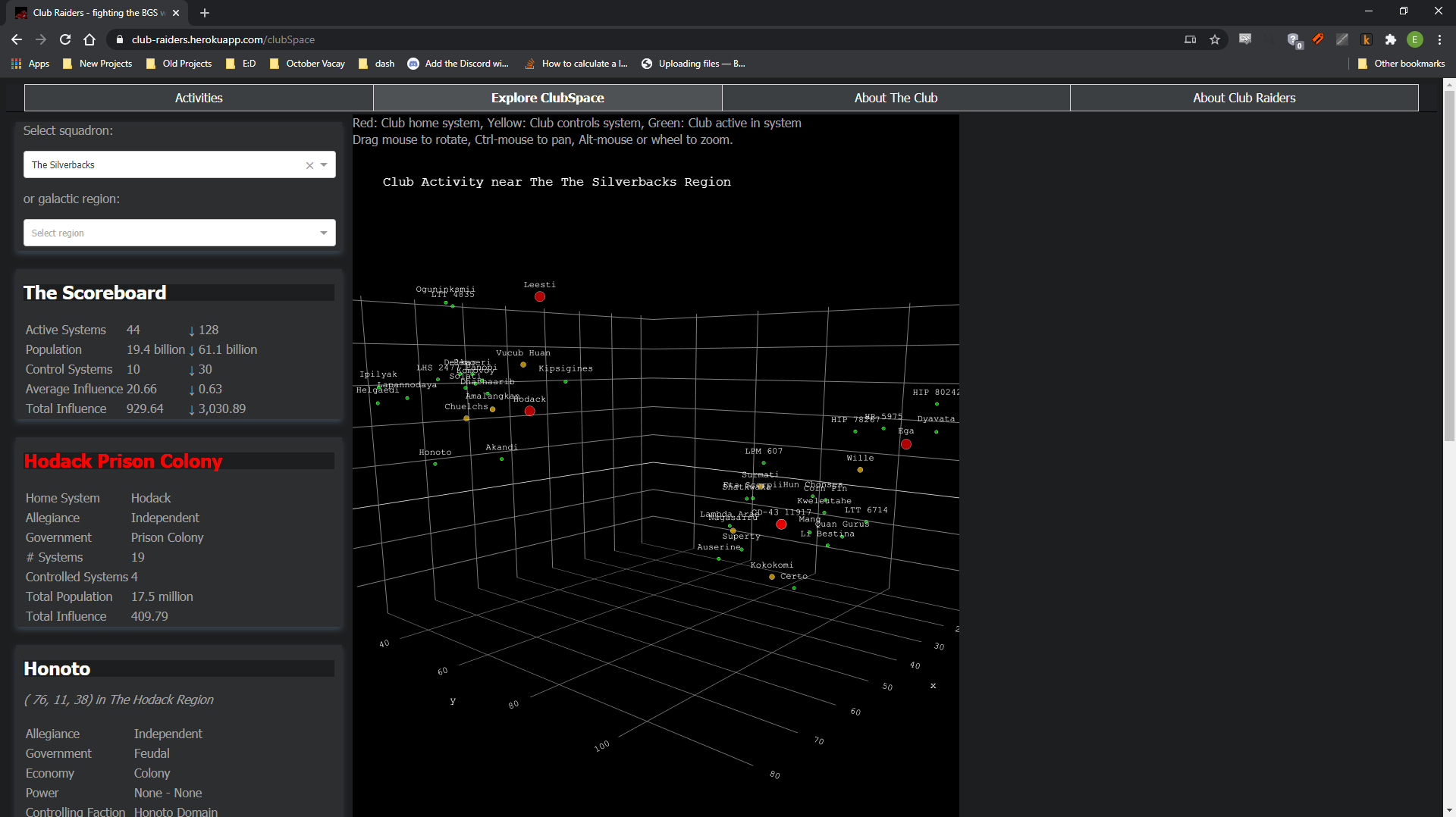 How does it work?
In the main "Activities" tab, you can select where you are and what you want to do (11 activities such as war zones, bounty hunting, trading, exploring) and get back a table of candidates.
Click on a row in the table for in depth analysis, suggestions, and links to other sites like eddb.io and elitebgs.app to help you refine your strategy.
The "Explore ClubSpace" tab does a similar job, but from the starting point of a 3D interactive Star Chart. You can pan and zoom your way throughout the whole map, select your squadron's area of operations, or look through the 10 clusters of highest Club activity.
The "About The Club" tab gives some information the Club-related minor factions on and background on how they were identified.
The "About Club Raiders" tab gives some information the project and the open source code that makes it run.
What's Next?
What we need to move forward are:
independent commanders to travel around as they see fit, forcing Club retreats from the 80-or-so very easy systems, and
squadrons to take aim at Club factions in their Area of Operations and remove them as they see fit
volunteers to help spread the word to the community
How can we communicate?
This forum thread is a great way to communicate.
The Club Raiders home Discord is shared with the Pleiades Historical Society, available at https://discord.gg/PdaCsRA
Where's the app?
Last edited: