Community Manager
Frontier
Last week, the
Fuel Rats
completed their 70,000th rescue! We'd like to take this moment to celebrate all of their hard work and thank them on behalf of every commander saved from being stranded at every corner of our galaxy.
The milestone 70,000th rescue was completed by commanders Ravenov and Darth Teo. The latter, also known as u/DogFishDave posted a photo of the ship he used to assist in the rescue on
Reddit
. He also commented on the rescue itself as well as flying with the Fuel Rats in general: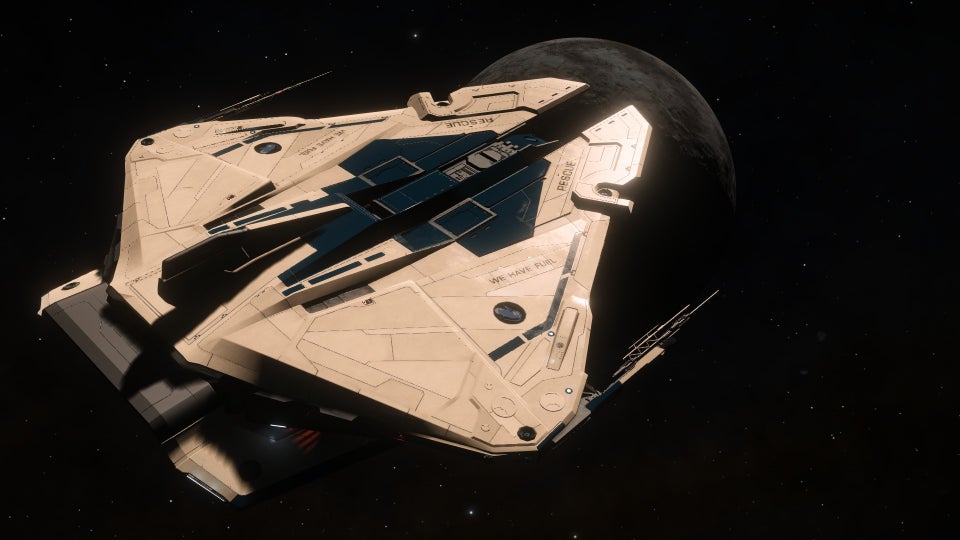 Darth Teo's ship - used to help in the milestone 70,000th rescue.
"
I joined the Fuel Rats to give something back to the universe that's entertained me so well for the last four years. I'm still very much a newrat - I've only got 31 rescues under my belt and I've run a few dispatches. There's a sense of excitement and adrenaline with each call because you never know what you're going to find, or what the client's Elite story is. In those few rescues, I've been to miners loaded with valuable minerals, brand new Sidewinders stuck 100kls from the entry star, badly damaged Corvettes that have emergency-jumped to a non-sequence star by mistake, commanders who've completely run out of fuel inside a star's exclusion zone, all kinds of things.

We often meet clients who don't have a fuel scoop and aren't sure why they need one, or clients who have a scoop and don't know how to choose the right stars to use it at. If the client's willing and not in too much of a rush, we take them through filtering the Galaxy Map for scoopable route-plotting, and if necessary, we escort them to their destination. That debrief is a nice way to meet other pilots out in the black as well as helping more pilots reach their destinations safely.

Whenever a call comes into the fuelrats channel the available rats tell dispatch the number of jumps that they need to make to the client, and start jumping. Dispatch usually assigns the first two who call, or makes rats three if the call is Code Red (client on emergency o2). It's pot-luck if you get your jump call in quickly enough or not when there are a lot of rats on standby, although when it's busy you obviously have more chance.

Rescue 70,000 was one of three that were called at around the same time. I was lucky enough to be paired with Commander Ravenov, the most successful of the Fuel Rats. It's great to fly alongside the really experienced fuel rats because it helps you to improve your own techniques.

The client for rescue 70,000 was flying a Diamondback Explorer in Aries Dark Region KX-S B4-4. The call wasn't Code Red so the two of us were assigned. I'd already arrived in the system when CMDR Ravenov reported to Dispatch that he was being intercepted by Thargoids - for a couple of minutes I thought I might be completing the rescue solo. Eventually he jumped free and arrived in system. Dispatch took the client through the process of sending friend requests, wing requests and lighting the wing beacon. After that it was a textbook rescue, Ravenov and I dropped in beside the client and immediately deployed fuel limpets. It's important that you refuel the client immediately, that has to be done before communicating.

Ravenov's fuel limpet was first to complete (we call that First Limpet and give the completed rescue to the rat who deployed it) so he made the "fuel+" call to dispatch. The rat with the First Limpet also conducts the debrief, and an experienced rat like Rav does that very well.

In all, the 70,000th rescue was a straightforward job, despite the best efforts of the Thargoids to make it otherwise, but that shouldn't take away from the fact that the Fuel Rats have pulled off some incredible rescues over the years and are continuing to do so.
"
Our congratulations go out to both commanders on another successful mission, as well as a salute to all Fuel Rats - thank you for your service! o7