Hello everyone
,
For this discussion, I first wish to show to you all this video on modern dinosaur artwork, it is about 10 minutes but it should give you all an idea on where I am going with this thread.
When it comes to jurassic world evolution. I genuinely love the design of these dinosaurs. They are scientifically flawed for sure but I enjoy some of the dinosaurs presented that showcased a sense of creative liberty from the art team in Frontier. To give context, I love the deinonychus' comb on head and tail, the ouranosaurus' bill, and the dreadnoughtus' odd nose. There is very little evidence that prove these dinosaurs had such features, but they do help define these creatures from other dinosaurs of similar niche.
Now I bring up these three dinosaurs, the therizinosaurus, gigantoraptor, and deinocheirus, as they could be seen as some of the oddest and most difficult dinosaurs to implement into the game. The three of them are large bipedal dinosaurs, each with a distinctive look such as the large claws for the therizinosaurus, the hump for the deinocheirus, and the large bird like features of the gigantoraptor. I think having these 3 could be awesome in the game as it brings some star oddities to the overall roster.
For visual reference, here are what these dinosaurs are often depicted as:
Therizinosaurus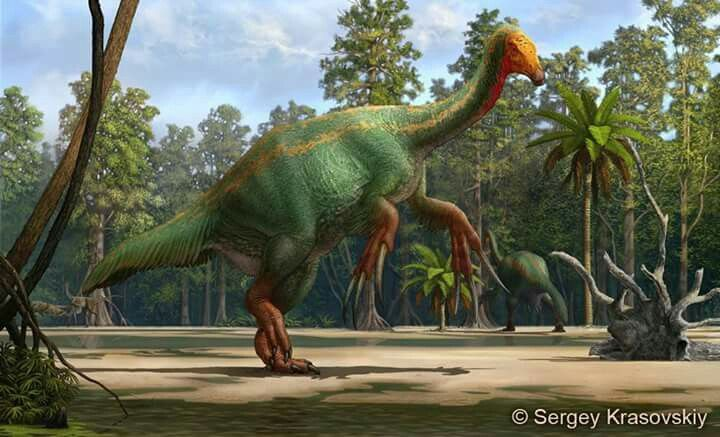 Gigantoraptor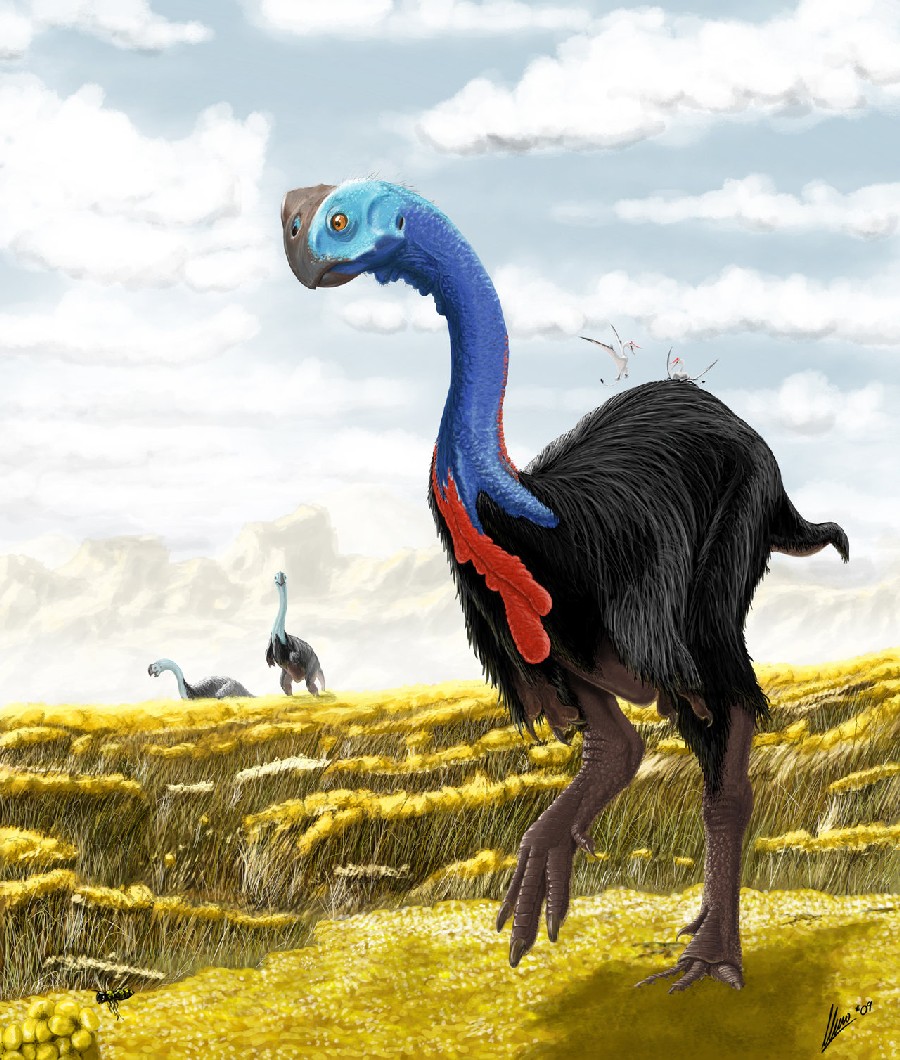 Deinocheirus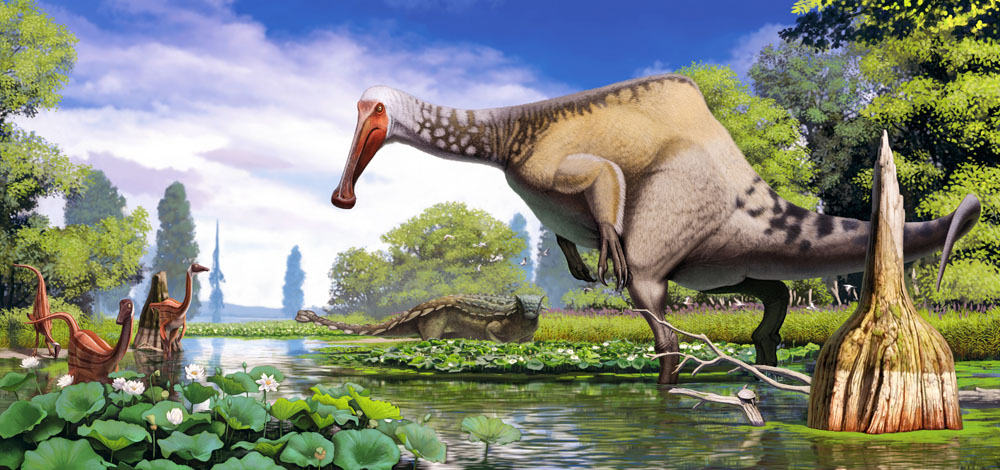 These 3 dinosaurs are some of the best choices for the roster as they are all large species, are possible combatants, and bring in unique niches that the game needs more of, a specialists niche.
So far, the pachycephalosauridae and spinosauridae are the two most unique families in the game. The pachycephalosauridae are bipedal herbivores that are able to combat small carnivores with their thick skulls, and the only small herbivores with an alpha mechanic. The spinosauridae are also unique due to their wetland and piscivorous diet. Both of these families became unique in the 1.8 update and is what I love in a roster: defining characteristics.
I do hope we could see these 3 be includes as they could be to a jurassic world park to what sloths, pandas, and kiwis are to zoos: Creatures that are so specialized that it is rare to find another species that fill out the same roles in nature.
This does lead to a creative issue, to which would lead to some divided and conflicting ideas, all based on this rule frontier has used to respect the jurassic park franchise:
• • • NO FEATHERS • • •
This is a major rule that has made people think of how these designs would look like. These three, especially the Therizinosaurus, are accepted to be full of feathers. Feathers which are hard to apply in a game where they are absent. But I do think they could still pull them off. These dinosaurs do not need to have feathers to be bird like, as they could have their other traits be well featured and highlighted to define them even more.
I will be giving off some Ideas for these creatures in terms of looks and behavior, but I would love to get your feedback for this direction.
1) The
Deinocheirus
The deinocheirus is an interesting dinosaur. The overall look of this dinosaur is bizarre, it is basically a giant spoonbill that wanted to be more like a camel in appearance. This dinosaur would be unique to have in the game as it brings a possible unique niche, a docile piscivore. Currently, the piscivores in the game are exclusively part of the spinosauridae. If the Deinocheirus gets into the game then she would be the first piscivore with a herbivorous diet as well. This will allow for cool wetland ecosystems that do not only consist of small carnivores and sauropods as possible companions to the wetland creature. So mechanically, I could see her like the triceratops in terms of population and social, it could handle a notable population and could be alone and in small groups.
In terms of behavior, I believe the Deinocheirus would only be a threat to the large carnivores. Initially, I thought she could be like the iguanodon where she could fight small carnivores, but the size of the Deinocheirus is massive! So it only makes sense for her to be able to only fight the large carnivores. She has those long reaching claws so it should be plausible to see her slash the carnivores as a defensive manner.
Her look will be interesting. I could imagine her not having feathers at all. But I think it will be interesting if she has a similar throat sack to the Marabou Stork.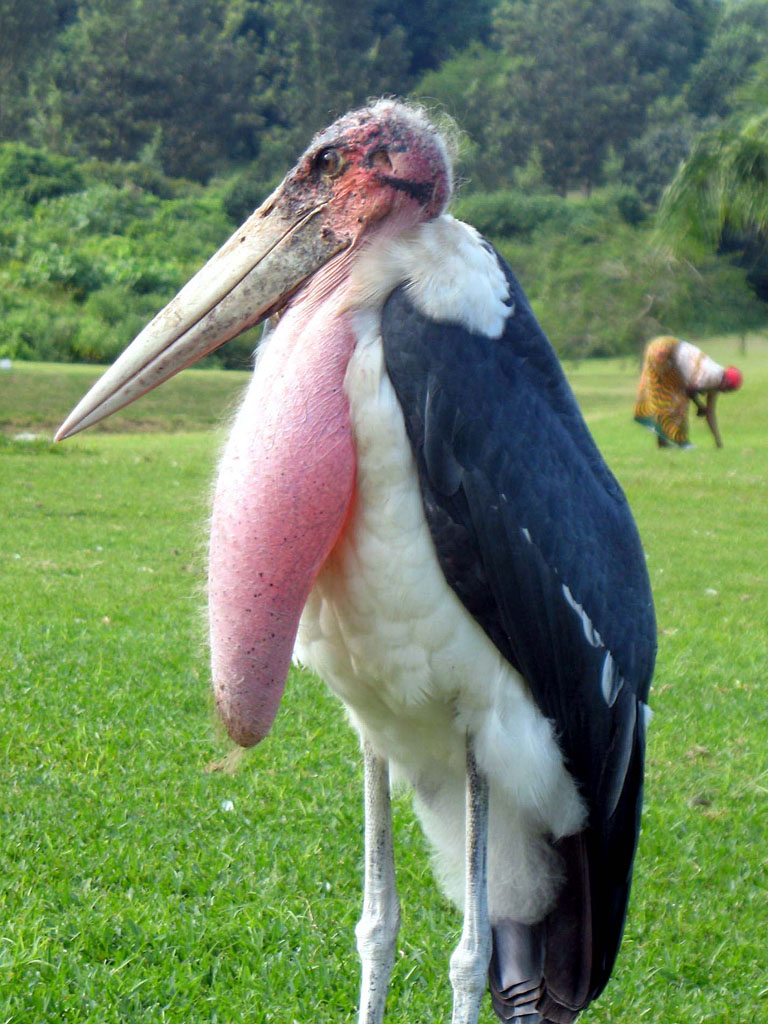 Birds like this stork and the pelican have an interesting throat sack for fish consumptions, and I think would work well to have a similar trait to the Deinocheirus. If the spinosaurids would have traits of crocodiles, then the Deinocheirus should feel like a large piscivorous bird. It will be cool to see her benefit from paleobotany from one feeder, and see her swallow a fish whole from the feeder.

Likewise, she could have a unique grazing animation. Where instead of seeing her graze on grass, she will graze in bodies of water. That way it imitates a sense of eating water plant matter.

And as for the skin, I would like to have something similar to the edmontosaurus. Having her head or at least the bill be of a vibrant color compared to the rest of her body would help. And small bumps on her skin will give her a strong look. Likewise, her pattern should be watery waves and spotty to emulate her semi aquatic lifestyle. With colors for skins ranging from greens, browns, blue, red, and white.

2) The

Gigantoraptor The gigantoraptor is a giant oviraptor, and one of the tallest dinosaurs in the game thanks to her long neck and legs.

I believe the gigantoraptor could be unique in terms of social and population. She could live in a social population between 3-7 members and live in an overall population of 20 members.



In regards to her diet, I think she would make for a great candidate for an omnivore dinosaur. She could eat both meat and plant matter and would have an equal chance eating from both with no preference, to eat whatever is available.



But to make things interesting, she will have one of the more unique compatibility with dinosaurs. The gigantoraptor could live alongside armored herbivores, medium herbivores, sauropods, and small carnivores. However, she will be a threat to small herbivores and large carnivores. I think this will emphasis her omnivorous behavior, but her selective choice of prey. She will happily munch alongside edmontosaurus, triceratops and velociraptors without causing much panic (expect for any small carnivores wanting to pester her, she will have none of that). But if a struthiomimus was wondering by her vicinity, she would not mind having some meat with her salad. Likewise, large carnivores have to think twice before trying her out, for she could deliver some deadly blows with her kicks.

This selective choice of predation and prey will make the gigantoraptor very unique in terms of exhibit building. She is not one to mess with an ankylosaur and would have a hard time chasing down and kicking a large hadrosaur, but she will pick on the small herbivore that passes by her reach. She will make a great addition in a predator exhibit, or prey exhibit, or an ecosystem all the same: It is up to the player to decide.

In terms of looks, I think she should have a bit of a dilophosaurus treatment. She should have a look similar to the sarada lizard.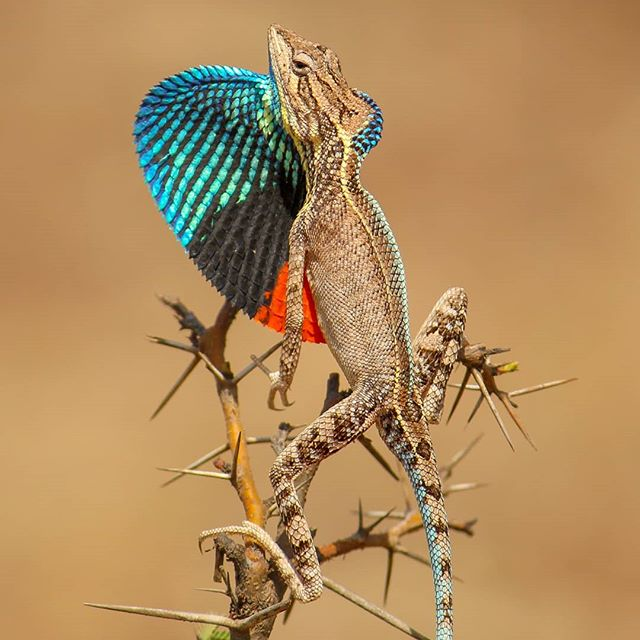 The sarada lizard is really unique for being one of the few lizards to have a colorful throat display. It will be really creative to give the gigantoraptor an extendable display similar to the dilophosaurus. Certain birds would have really colorful displays, but since feathers would not be an option, then we need to find a creature that has a similar display niche. The Gigantoraptor would not have an intimidating roar compared to the giant carnivores of jurassic world, and would not be as bulky as the imposing Tyrannosaurus and spinosaurus, so she could display that throat frill to make herself appear bigger. Likewise, she could use the same frill in a display contest against other gigantoraptor and to scare off smaller carnivores with the frill display alongside some stomps.
In regards to coloration, she should be similar to the proceratosaurus and olorotitan. She would be colorful with one basic color for the body with some slight pattern, but have her throat display and small crest on her head be the brightest and most vivid part of her overall look.
3) The Therizinosaurus
Finally, we have dinosaur #1. The most requested dinosaur to be included in jurassic world evolution.

The therizinosaurus would have a more solitary lifestyle, similar to the dreadnoughtus, she could alone or live in small groups and tolerate a good enough population. 1-3 social with 15 for population.
As for her diet, she is a strict herbivore, to which she must be able to eat from both small feeders and tall feeders. This is crucial as it would add to the paleobotany of the game even more. There is a strong exclusivity with the tall feeders in the game. They could only be used by sauropods and have a sauropod only paleo diet without consequence. Having the therizinosaurus in the game would have players to decide how to combine the food options of her feeders, as she could access both tall and standard feeders if she will have exhibit mates.
In regards to combat, simply put, she is only a danger to the large carnivores in the game. Nothing special, but she will have to be designed as one of the most powerful herbivores in the game, one that could rival in strength to the large carnivores in game.
In regards to looks, she may not have feathers, but I factually believe that she could make use of quills. All of this is thanks to the indominus rex and indoraptor in the game.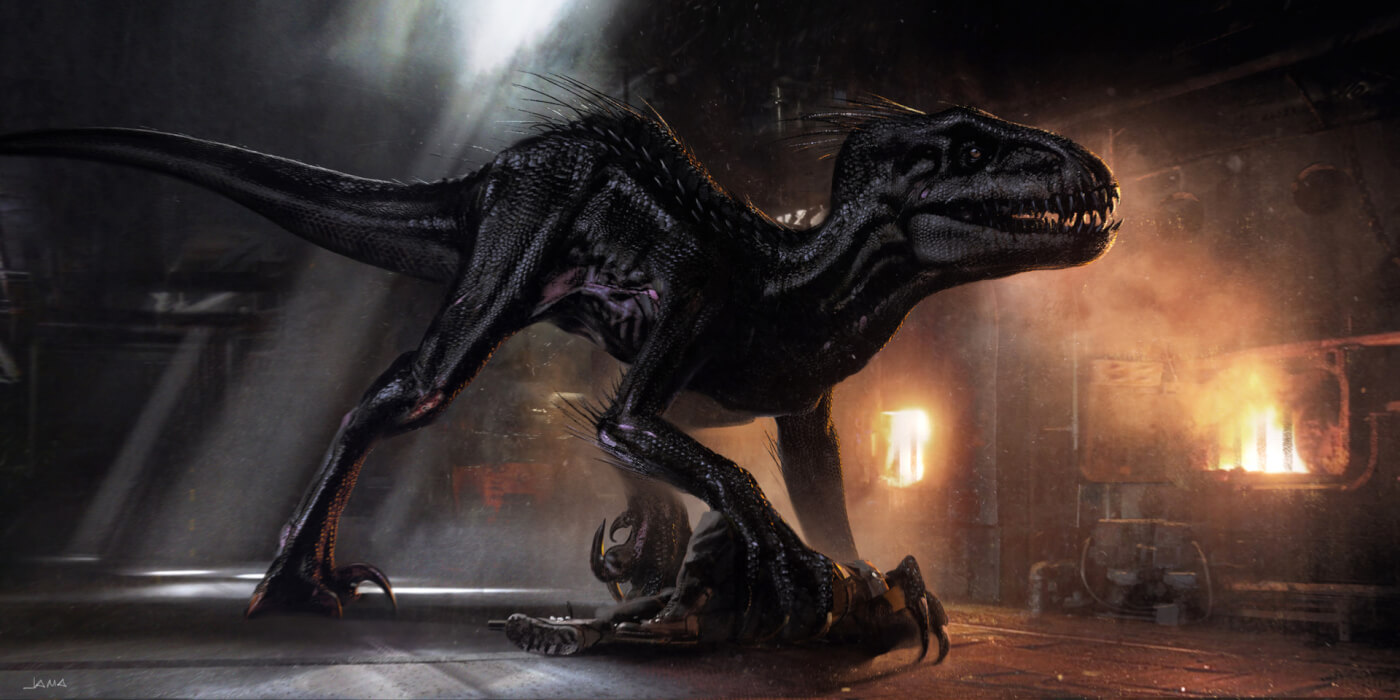 These hybrids are unique in that they are the only two in the game with some resemblance of feathers. Though it is not a full coat, it is enough for them to have a distinctive look.
Anyone who has looked into the indominus rex would know that they are made with multiple traits from different dinosaurs. One trait is the implementation of Therizinosaurus genes to give her the large arms and claws. So far, all of the dinosaurs that makes up the indominus rex lack the feathers we see on her with the exception of the velociraptor which has a feathered variant in Isla Sorna, and the Therizinosaurus, who is now acceptably depicted with feathers.
The fact that the indominus rex has quills would give the Therizinosaurus the chance to have quills of her own as she is one of the dinosaurs who makes up her genome. This could be used to further the lore of the relation between the therizinosaurus and Indominus rex. But to make this lore stronger these quills should be limited to the therizinosaurus' head, elbow area, back, and possibly tail if they wish to add more quills than the hybrids.
This should still respect the rule of no feathers as the therizinosaurus would still be notably scaly. And the creativity of a quilled dinosaur would lead to some awesome looks such as this picture below. This would allow for an overall unique look for the therizinosaurus and be the first non-hybrid dinosaur to have quills as a feature.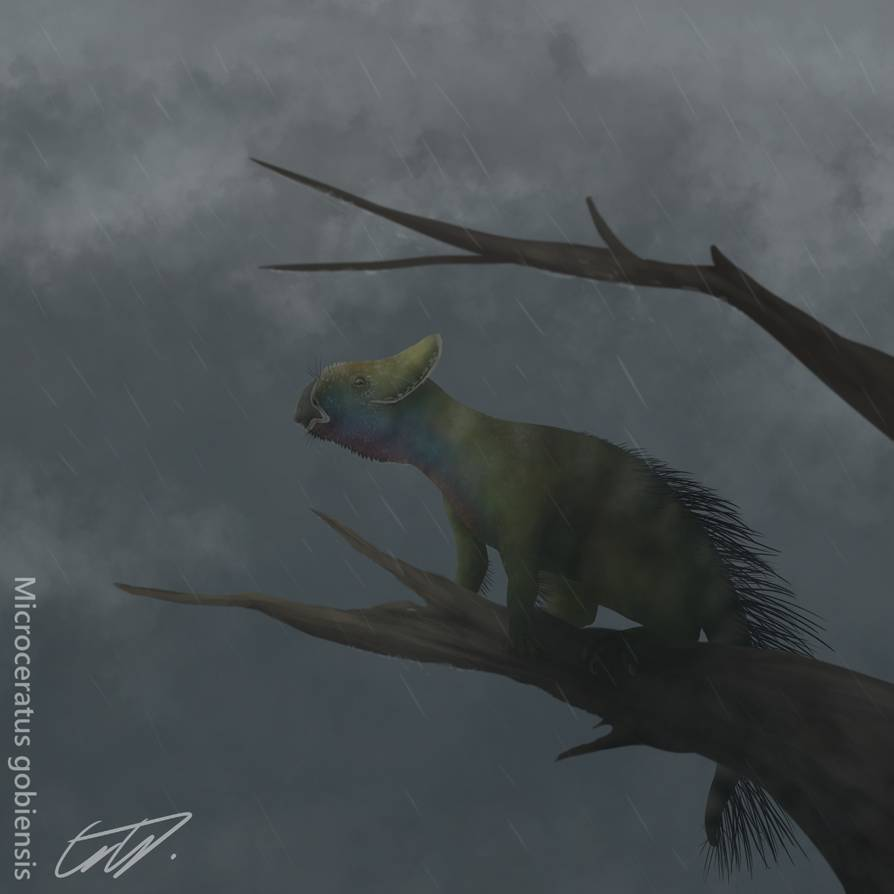 In regards to skins and colors, I wish to see the therizinosaurus have similar skins to the tyrannosaurus rex, browns, reds, blacks, and greens. This will be cool to give them a giant sloth like look, but also to make a subtle connection between the tyrannosaurs and therizinosaurs as therapods.
Ultimately, I would love to see such designs to be implemented into designing dinosaurs. JWE is a great platform to introduce some new ideas to dinosaurs as the theme of genetic modification would lead to mutations of the dinosaurs. Each dinosaur in the game has some glaring scientific accuracies but has lead to some very interesting looking dinosaurs I experienced in a video game. Just because a dinosaur could not have feathers does not mean that the design outcomes should be limited. I would love to see these dinosaurs be in the game, but I am just as excited to see how Frontier could implement some cool designs for these 3 creatures specifically.
Please let me know what you all think of this direction? Would you be okay if some added creative liberty would be used in the dinosaurs in JWE? I would love to see what could be made for some dinosaurs in this game, as I believe this game would allow for some really cool dinosaur ideas that tests the limits of imagination of these creatures. Let me know what you all think!
Kind regards,
Pixelated Sparkster
Last edited: