Community Manager
Frontier
Hayo Zookeepers,
The
Planet Zoo: Wetlands Animal Pack
is nearly here! We hope you're excited - we certainly are! - but before that, we're back with another developer journal. This time we're joined by some of our animation team to talk about how they work their magic to bring the animals we know and love to life with real-life references to make them as authentic as possible
Hayo! Thanks for taking part in this dev journal. Can you introduce yourself a little bit to everyone reading this?
Josh:
Hayo! My name is Josh Shepherd, I am the Lead Animator on Planet Zoo, and I've been with Frontier for just over six years!
Victor:
Hi, my name is Victor and I'm a Senior Animator on Planet Zoo! I've been animating Planet Zoo for four years, and it is by far my favourite project I've worked on in my 10-year career in animation. I've also got a bunch of good friends down at Shepreth Wildlife Park, and Planet Zoo is a game that they enjoy and respect very much.
So the first step to any Pack is, of course, research! How does the animation team kickstart their process?
Josh:
For Planet Zoo, we rely heavily on references, whether it be books, animal reference libraries, or a variety of other sources (even Capybara memes!). We're always on the lookout for ways in which we can inform our knowledge of the animals we work on!
Usually, early in the process, we will find a key reference video to define the character of the animal, as well as realistic traits we want to capture In-Game, and the team will use this to experiment with 'storytelling poses' to help jump-start development. Personally, I like to keep image boards of key poses I'd like for the team to capture, and the team saves useful reference videos as we progress.
Victor:
Research is very important. We normally try to ensure animals have a distinct walk and an idle with a lot of character, as those will define a lot of how the animal is perceived. To that end, the team starts bouncing back and forth a lot of clips and references - some we may have recorded at zoos or from online sources - until we find a bunch we all agree on. We also do anatomical research, normally based on comparative anatomy charts so we can understand how the internal structures work.
If there is a local zoo that we partner with that has the animals we need, a lot of us tend to individually pay them a visit to get an overall sense of the animal. After all, what better excuse to go to the zoo than to do research?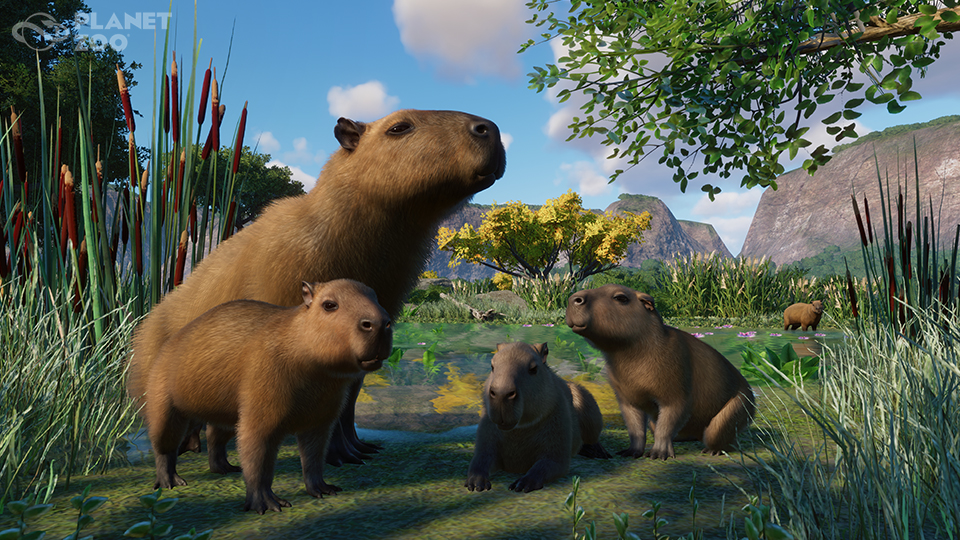 It isn't all personal research though. Our animation team works directly with partnered zoos to get up close with animals (where safe and appropriate for animals and staff alike, of course) to ensure they have the best references possible. This means that for the Wetlands Animal Pack, they even got to meet Capybaras - jealous!

How much of a difference does having real-life animal references make, instead of relying purely on recordings?
Josh:
Getting to meet the Capybaras for the Wetlands Animal Pack was a real treat; it was very special for me as they're my favourite animal! Being able to spend some close-up time with them was adorable and insightful. It was also a nice opportunity to collaborate with a local wildlife park, and to see how things operate a little bit behind the scenes! I also got to hold a centipede at Shepreth Wildlife Park!
It makes all the difference being able to see an animal in person and record your own footage from that experience. You get a much better sense of size and scale when seeing an animal up close you hear the sounds they make, and you notice how active they are. You're also closer and therefore able to see little inflections and details you might have otherwise missed.
All of those aspects are things that can inform the animals in the game; for example, by watching the Capybaras in person we noticed how much resting they do - whether it be on their haunches or on their bellies, they certainly like to relax! So we knew we needed to include enough variation to really capture their carefree manner!
Victor:
Yes, these are important field trips because it gives us the time to observe the animals interacting with their environment within the context of a wildlife park. Most of the footage you can find online is of animals in the wild which is amazing but there are particular behaviours that won't be shown. This includes things like playing with enrichment devices and drinking from a trough, and we want to capture that.
When observing the animals for a long time you gain a sense of their timing and the reasons they will move for. This then informs the animation behaviours we pick for Planet Zoo and the frequencies certain animations will play at. This also isn't very common in online footage as the bulk of what you can find is either edited in documentary format or just short clips.
What is your process for capturing live reference footage from an animal?
Josh:
It tends to be observation, then using whatever recording device that is available to capture interesting moments. I tend to get a lot of them just by watching and then pulling out the phone to record at the right time!
Victor:
In my particular case it means spending the first half an hour not recording references at all. It is just me walking around the habitat and paying attention to details, seeing how the group forms and dissolves, and how they interact with food, toys, and habitat features - basically gathering a feel of the animal, their pace, and their personality. Once this is done, I start taking short clips of the particular behaviours I've observed now that I have a better understanding of the context in which they happen. The other time I really try to take references is during keeper talks as the animals will exhibit behaviours that aren't seen at other times.
Animals aren't the only things you meet at the zoo, though! Does meeting Keepers or listening to Keeper talks inform the animation in any way?
Josh:
Absolutely! The more we learn about an animal, and the more we understand about it, the more this will inform its character and therefore the performance and realism we try and bring out with it. So, learning from Keepers first-hand is an invaluable way to do that!
Additionally, it's illuminating to reveal just how much hard and challenging work goes into caring for animals as a Keeper every day - it really gives you a new appreciation for how hard they work to give these animals the best lives possible!
Victor:
Yes, it does a lot. I've had many great chats with my friends from Shepreth about things like the anatomy of the animals under their care as they know EVERYTHING. Zookeepers are so well trained and knowledgeable, it's a pleasure talking to them!
They are also a great source to learn about group dynamics as they know the group in and out, their social hierarchy, and tensions. Once you've been told about this you start seeing the behaviours in a different light. For example, the feeding order or the internal fights that occur will make much more sense.
After you've captured the footage, how do you utilise it when creating the animal animations?
Josh:
There are multiple uses that are very helpful. In some instances with difficult 'body mechanics', where the animals move in challenging ways, we will follow video reference very directly as a base, then build on top of it to give it that Planet Zoo hyperrealism charm!
Poses are very good to use from references as well, especially for the Capybaras and Asian Small-Clawed Otters from our trip for the Wetlands Animal Pack. What I've learned is often animals will look stranger in real life than you would expect them to!
Victor:
Once we have selected a good clip, we analyze it frame by frame and make notes about the important poses and moments. When it comes to body mechanics this is a complex thing, but normally it includes weight shifts, leg movement and patterns, head darts when they indicate a change in attention, and other similar things like this. We also use this clip when we show our animation as a point of reference for other animators who may not be as familiar with the animal in question.
What was your favourite behaviour to record, and was it also your favourite to animate? If not, what was?
Josh:
The eating for the Capybaras was definitely my favourite to record because I got to hand-feed them bamboo leaves!
My favourite to animate from reference after our Wetlands Animal Pack research trip was probably the way the Capybara rest on their haunches, just because it's such an iconic pose to capture! I then passed that to some of our other talented animators on the team, like Kai and Skye, who went to town adding lots of details!
Victor:
For me, it's always the social interactions - especially if it is between adults and babies! For this pack, it was the otters standing up and vocalizing, which we dubbed the "Otter choir". I think they are so cute and this is something the ones in Shepreth do a lot.
What were some of your favourite moments from meeting animals for this Pack?
Josh:
Meeting the Capybaras at Shepreth was very special, especially because they had two babies at the time who were only three weeks old! If that wasn't enough, one of them came up to me and gave me a cuddle! They truly are the chillest animals in nature.
I also got to see the Asian Small-Clawed Otters playing together which was very sweet to see!
Victor:
I was lucky enough to do both the Small-Clawed Otter and the Capybara experiences at Shepreth Wildlife Park and it was AMAZING. Capybaras are so gentle and nice to be around that I would recommend it to anyone. Otters are amazing and very loud when you get them food. They are really cute and they will take the fish you gave them, wash it in the pond before eating it, and be back for more in less than ten seconds!
And that's all we have for you this time, folks! Thank you for joining us for another developer journal. We hope you enjoyed getting this insight into how our animation team works with our partnered zoos, it certainly made us want to join them next time!
If you're longing to see more then don't fret, you can join in the experience at Shepreth Wildlife Park too by joining us for Capy-cam! Capy-cam is our upcoming charity stream where we'll be raising money for the Shepreth Wildlife Conservation Charity and celebrating the launch of the Wetlands Animal Pack with a day full of Capybara footage, keeper talks, and even some giveaways in chat.
Join us on Twitch at 11am BST on 12 April to take part!
The Planet Zoo: Wetlands Animal Pack launches on 12 April, and you can
wishlist it now on Steam
.
Last edited: