Community Manager
Frontier
Greetings Commanders,
A new week begins in the world of Elite Dangerous, so grab a seat, and let's talk about everything happening right now within the game.
Console Account Transfers
As announced in our
post
last week, we're very happy to be able to tell you that console account transfers are making progress behind the scenes, with the dev team hard at work to make sure as much as possible is transferred over should you wish to copy your Commander from console to PC. Secondly, if you've purchased Elite Dangerous on consoles, we'll be giving you a free copy of Elite Dangerous on PC. This will all be done in a limited-time window and the exact details are still being confirmed, but we'll be giving you plenty of heads up so you can prepare if needed.
The team are also gathering the most frequently asked questions about console account transfers so that we can provide you with the answers all at once.
The Rest of 2022
Another thing we spoke about last week was the remainder of the year and what that looks like in terms of structure for Elite Dangerous updates. Our first upcoming update, Update 12, is due this month. The main focus of Update 12 is on optimisation and fixes as we continue to improve Odyssey based on your feedback and Issue Tracker reports. There'll also be a new mission variant added, which we'll share more on in the coming weeks!
Moving forward, Updates 13 & 14 are currently aiming for August and November respectively. As well as continued performance improvements, these updates will be focusing on exciting new narrative threads for you to engage with. I know that you're all itching to hear more about what this specifically means, but rest assured that this is more than solely the continuation of GalNet. The closer we get to those updates, the more we can reveal, but it's too early right now. I would very much recommend that you keep up to date with the current happenings in the Elite Dangerous universe, as the Azimuth Saga continues to evolve.
2023
I can't say much about 2023 right now, in fact, I can't say anything other than what you already know! The team are currently looking at a key feature overhaul for 2023, and although I cannot give you any hints as to what this is, I hope it will help allay some concerns that there is no more content coming to Elite Dangerous. There's a lot still to come, and the new major narrative phase will have a part to play in the future, too.
Frameshift Live
As you will have heard if you tuned into last week's show, Frameshift Live will now air once every two weeks on Thursday's at 4PM BST. We're looking to revamp the show based on your feedback, specifically, your ask for more insight from the development team. What this means is that there are around 16 shows left in the year, and for each of those shows, we're looking to give you something you can't get somewhere else, and I don't just mean Twitch Drops! We're currently finalising our plan for the rest of the year's shows, and once that's concrete, we'll begin sharing with you our upcoming schedules, so you know what to expect before you jump into a stream. These subjects will likely range from ship design, ideas behind core gameplay elements, concepts and more. With this in mind, is there anything in the game currently that you'd like to know more about from a development point of view?
This doesn't mean the community elements of the show will stop, though! The Elite Dangerous community continues to be one of the best things about the game, and we're keen to highlight the fantastic things you do both in and out of the in-game galaxy.
Community Event Calendar Spotlight: On The Rocks (Magic 8 Ball)
We have another Buckyball race this week! This time, it's the On The Rocks race. This one involves delivering Buckyball Beer Mats to five asteroid bases in and around the bubble in the fastest time possible. Check out more information right
here
.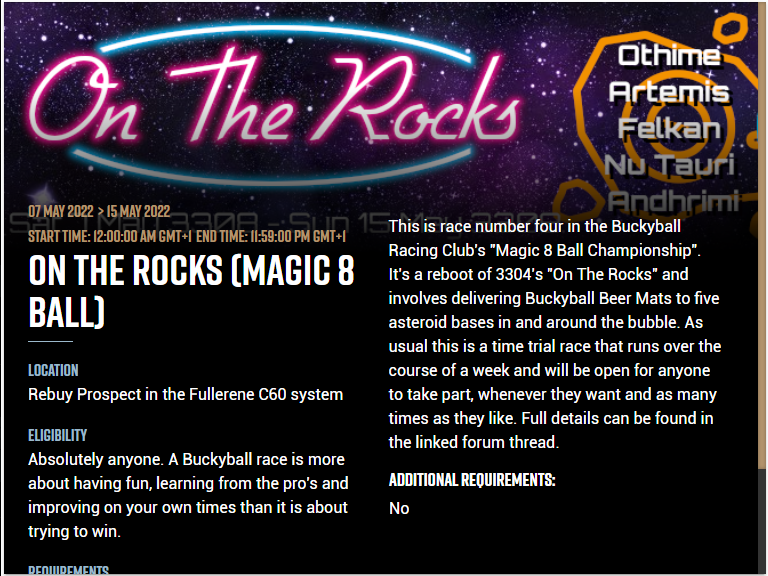 Commander Creations
First up this week, CMDR Rheeney has framed this majestic storyboard work from CMDR Dasjav, showcasing the 'Little SRV' that caused a big explosion...
https://www.reddit.com/r/EliteDangerous/comments/ugnc4v
As always, it's impossible to ignore the incredible artwork of BeetleJude, who once again astonishes with this piece, highlighting CMDR Exorcist's adventures.
---
That's all for this week!
o7