Good evening spacefarers, explorers, professional bountyhunters.
As part of the
Deep Space Support Array Initiative
i have pledged to dedicate my Carrier to serve in the
Hieronymous Delta-Sector
and the time has come to start the deployment operation towards that promise.
This means that in the first step of the operation the FC will head towards Colonia and i happily invite everyone willing to come with me on this journey.
The carrier will depart from
LHS 1914
on the
31 of July
at
20:00 Servertime.
The travel distance of 22.000 Lightyears is split in multiple parts which you can see in the following table:

As you can see the first destination will be
Bleia Dryiae DB-X D1-5.
The carrier will remain in the spots listed above for about 1-2 days and then head towards the next destination. To make this trip interesting for everyone willing to join me i made a list of POI that you can see in the second table below. The number in this table correlates to the System-number in the table above, with an approximation of distance from it.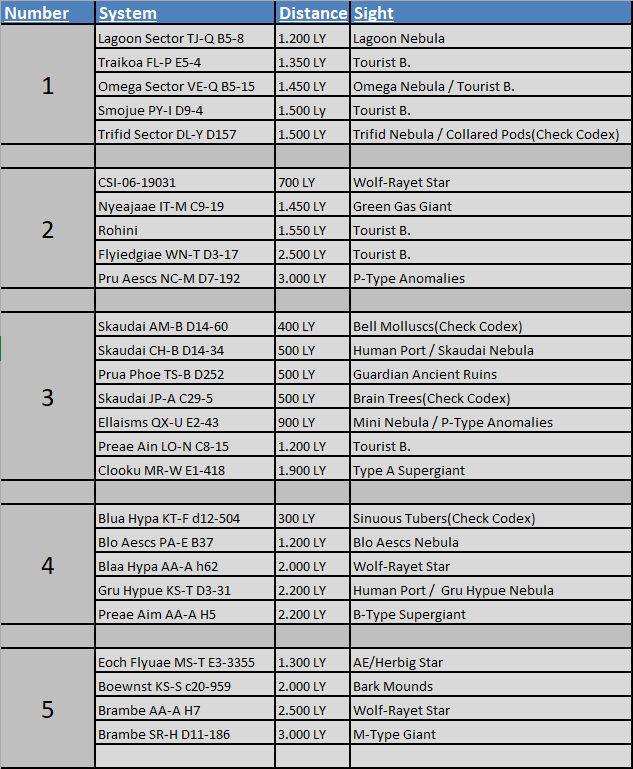 In the second part of the operation the carrier will head from Colonia to the destination in Hieronymous Delta. The plan for this will be made available as soon as possible, because we will probably have to wait either for Tritium fixes(No stock in Colonia) or for mining fixes(rings seem empty).
As of now I hope for a great number of enthusiasts who will join me on this trip.
I also invite everyone interested to join me on the FleetComm HQ Discord for faster news regarding this. You can find the news for this carrier under "Operation Pilgrimage" of the DSSA deployment events.
Edit: Please also be aware that this operation is a
One-Way Trip.
Everyone wishing to return back into the Bubble, Colonia or any other nearby Station / POI will have to do so on his/her own!
Last edited: