Community Manager : Elite Dangerous
Frontier
Greetings Commanders, another new week begins.
These things really are whizzing by us right now!
Here's hoping you had a good weekend just passed and equally, here's to a strong week of Elite Dangerous shenanigans ahead of us all out there in the Galaxy!
Just to let you know that Zac and Bruce are out this week, so it's just myself, Paul and Arthur in a wing on this side of the curtain.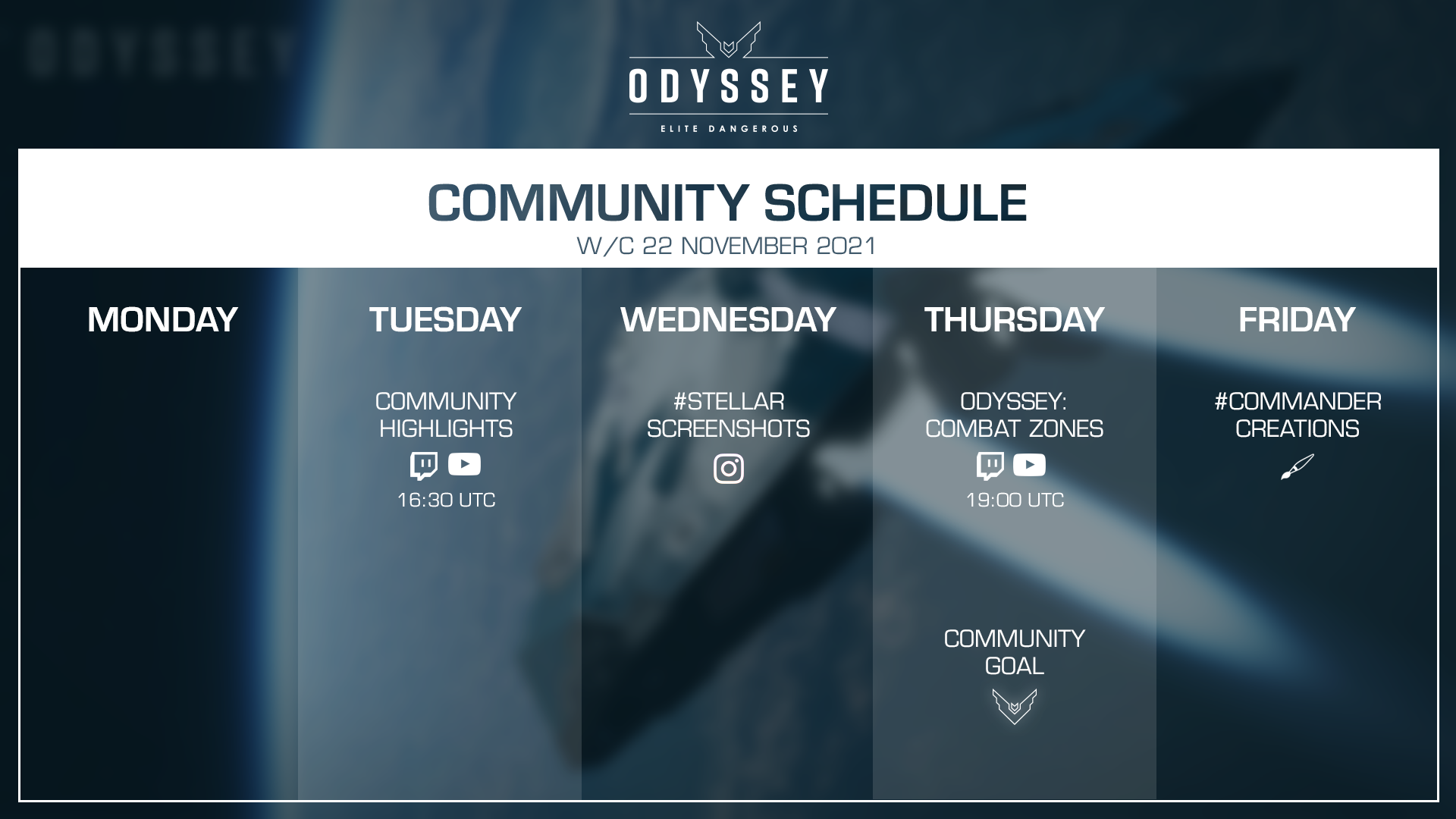 Tuesday


Community Highlights:
Arthur & Sally will be getting all excited over the latest and greatest happenings within the Elite Dangerous Community, by sharing a selection of highlights from the past week (if Arf can find the right button -
JOKES, ARF, JUST JOKES!
).
Wednesday


Stellar Screenshots:
Paul could be persuaded to pick out some of the most peaceful, pleasant and potentially pinker toned screenshots to feature in this week's selection of winners...but then again, maybe not. I won't get my hopes up, but let's see. Don't forget to keep using that hashtag
#StellarScreenshots
on socials!
Thursday


Odyssey Combat Zones:
Double dose of Arthur & Sally this week (
if you and Arf's muscle memory on button presses can handle it
), with this Thursday being a fine time to get a bit feisty on foot, in Combat Zone action.
Community Goal:
Heads up for yet another brand new Community Goal coming this Thursday too.
Friday


Commander Creations:
Already seen some very fine contenders for this week's
#CommanderCreations
over on social channels, so definitely keep 'em coming! Excited to share them in Friday's creative slot, for sure.
---
And that's us! Again, as I say we're a wing of three this week however we'll remain ever vigilent for you if you need us and will of course dive in with any ad hoc updates on Elite Dangerous happenings throughout ther week, should they arise.
o7 Commanders!