Hello commanders o7
I want to build a control board like this
https://www.instructables.com/id/How-to-Make-a-Custom-Control-Panel-for-Elite-Dange/
You need to buy Arduino and code it. With the link above, you can do it easily, the maker explained every step and gave the pdf files of blueprints. The principle behind this control board is easy, it acts as a keyboard. So basically, it is just a keyboard with custom keycaps.
If it uses arduino as a keyboard, why bother with arduino anyway? Standard keyboards have the board like this (i know it's from a calculator)

When you press a button, silicone-like stuff make the circuit closed so a signal goes to computer indicates which button is pressed. What if we solder two wires to a buttons two ends and attach a button to it. I think it will work.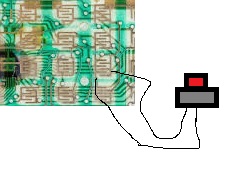 I don't know anything about electronics, well not much, but you know some stuff and think it will work, or unsure about it. I will try it. We can do even wireless control boards!
I will upload schematics, images, pics, intructions about it when i'm finished.
p.s. the first image (control board) have two red and one black guarded switches, i couldn't find them at first, but they sell the caps seperately (at least in my country). I don't think the power from usb power whole buttons, so i will use external power source for it. but i will try the usb power source first.