Original DOS version (EGA/MCGA) for PC programmed by Chris Sawyer, developed in 1991 by Microplay Software, and published by Realtime Software Games Ltd.
I decided to start new thread for this often ridiculed, undervalued and underestimated version of Elite as it seems there are still many unfinished businesses and unanswered questions concerning the version and newer generations of EP/E+ commanders can find it useful if information and FAQs are gathered to the same thread. It seems information about specifics of EP is scattered around various sites and forum threads. Somehow I feel personally responsible to do that as I am deeply addicted (using it as a method of meditation, particularly killing sprees in Anarchies) to the Elite Plus with over 20 years more or less continuous and serious gaming experience.
Elite Plus is considered a 'Lite' pseudo-sequel version of classical PC Elite which flight dynamics, speed, user interface, graphics and enemy pilots' AI etc. caused serious complains. However, it is also most fast paced version of Elite with lowered requirements for achieving Combat ratings (Elite: 1000 or more Hits) Which makes it optimal for different kind competitive efforts and for breaking records. It takes only about 3 hours game play to achieve Elite rating from start of the game if playing seriously with decent piloting skills. Indeed, you don't have to spend months for achieving Elite status and it is very well possible accumulate over 1000 Hit Points in a single anarchist system during single playing session (takes about 2h 15mins - 2h 25 mins to do). This fact makes it optimal version for speed runs and competition between old school Elite commanders whom doesn't hesitate or prejudice its in-built faults, but value its possibilities and fast action it can give to them. EP can be the version where it is really possible develop higher and higher level of skill, with faster and faster game playing speeds. Nevertheless, but still there is that same spirit and feeling which can be reached only by after hundreds of hours of flying all around the galaxies, common for all versions of The Master Piece and Forerunner of open ended sand box universes...
Elite Plus is downloadable for example here:
http://www.iancgbell.clara.net/elite/
and here
http://www.myabandonware.com/game/elite-plus-155
(Copy protection cracked)
Elite manual (.pdf):
http://www.oldgames.sk/en/game/elite-plus/download/698/
This thread is intended to be the place where all kind things related to ELITE PLUS can be discussed, hopefully constructively. The game is what it is and you can like it or you can hate it, but still it is there among other versions and at least someone can find it entertaining to play.
First things First!
Combat Ratings​
Unofficial Archangelic Overflow Ratings:
'Double Elite': 66535+ Hit Points
'Double Deadly': 65690 Hit points
'Double Dangerous': 65625 Hit points
'Double Competent': 65570 Hit points
'Double Above Average': 65555 Hit points
'Double Average': 65544 Hit points
'Double Poor': 65539 Hit points
'Double Mostly Harmless': 65537+ Hit points
'Double Harmless': 65535+ Hit Points (16 bit hit counter floating point 65535/zero)

Officially Unofficial 60K+ ratings:
'Elite Plus Level 3': ~65000 Hit Points (Promotion message confirmed at 65111 Hits)
'Elite Plus Level 2': ~64000 Hit points (Promotion message confirmed at 64014 Hits)
'Elite Plus': 60000+ Hit points (Promotion message confirmed at 60081 hits and 60005 Hits)

Official Ratings:
Elite: 1000 Hit points
Deadly: 155 Hit points
Dangerous: 90 Hit points
Competent: 35 Hit points
Above Average: 20 Hit points
Average: 9 Hit points
Poor: 4 Hit points
Mostly Harmless: 2 Hit points
Harmless: 0 Hit points
Missions implemented to Elite Plus
---
TRIBBLE
---
SUPERNOVA REFUGEES
There will occur FUEL LEAK before this mission. If you want stay in same galaxy you should scoop some fuel from a star as after emergency message this is not possible anymore because the star is REALLY going to supernova. Other option is then make a galactic hyperspace jump to next galaxy.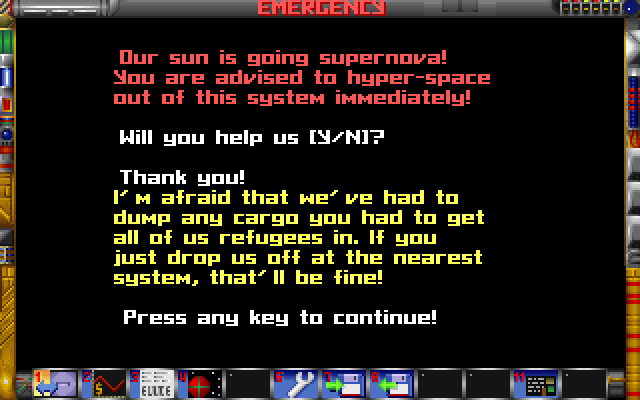 If you say: "YES!"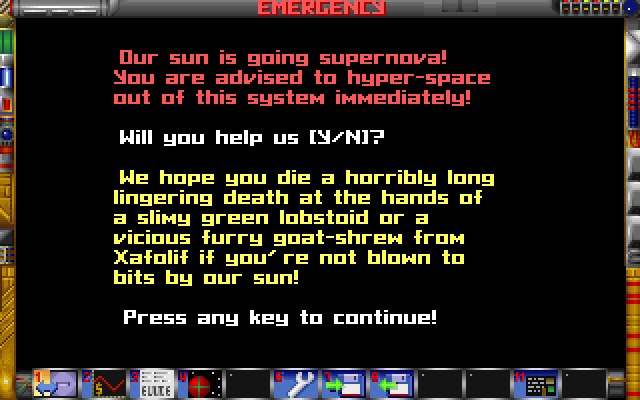 If you say: "NO!"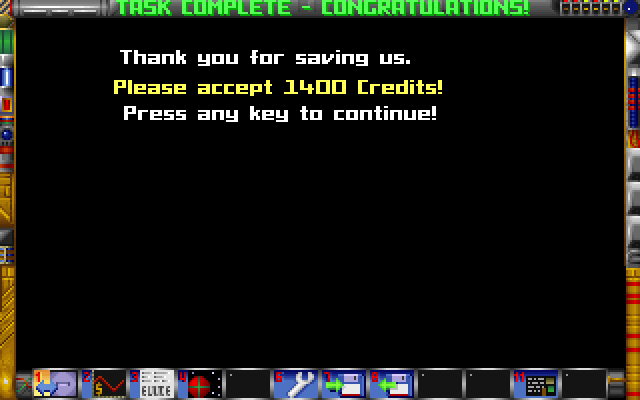 ---
MASK DEVICE
---
THARGOID INVASION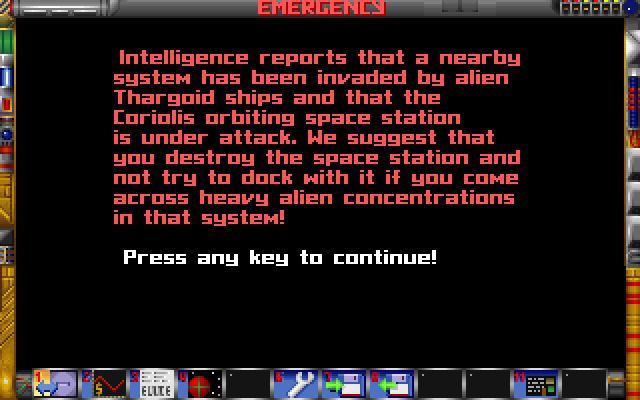 Jump to a system (Random nearby system with a Coriolis Station in same galaxy)...and shoot everything. There will occur FUEL LEAK when you arrive to the system under alien invasion. Destroy a station first if you don't want struggle with hordes of Thargoids and Thargons. Straightforward, nice, moderately challenging (if fighting those Thargoids) and entertaining. Not that boring.
---
STOLEN POLICE SHIP
---
THARGOID PLANS
---
ASTEROID BOMBARDMENT
---
"CONSTRICTOR"
You'll realize that either your copy of Elite Plus is broken and corrupted or that this mission is not fully implemented to this version of game. Beyond 60000 Hits you'll get weird and buggy promotion messages effectually losing your combat rating, meanwhile you could occasionally see strange message about "ew ship" at Errius (Who has seen it?!... NO! there are no such ship), and overflow in your Cobra Mk III's fully automatic and modern high tech
Riedquat Systems UnLtd. 16Bit IronAss Head&BodyCount©
Hit Points Counter (Only possible to buy from Tech Level 17+ systems
) will eventually occur at 65536 hits. After that you start get 'normal' promotion messages again...
to be
ELITE
Commander again.
---
---
An Identified Flying Objects of Elite Plus
• Adder (Hunter) - Bounty 4.0 Credits
• Anaconda (Trader) - No Bounty
• Asp MkII (Wolf) - Bounty 20.0 Credits (Masked Ship in a Mask Device mission)
• Asteroid (Debris/Hermit) - Bounty 0.5 Credits / If shot, releases a Krait, Mine for Minerals, Gems etc.
• Boa Class Cruiser (Trader) - No Bounty
• Boulder (Depris) - Bounty 0.1 Credits
• Cargo Canister - 1 Ton Random Cargo if Scooped
• Cobra MkI (Trader/Hunter) - No Bounty/Bounty 7.5 Credits
• Cobra MkIII (Trader/Wolf) - No Bounty/Bounty 17.5 Credits
• Constrictor (Wolf) - Bounty 20.0 Credits (Only in Mask Device Mission)
• Coriolis Space Station (Station)
• Cougar (Wolf) - Bounty 20.0 Credits (Only in Mask Device Mission)
• Dodecahedron Space Station (Station)
• Escape Capsule - No Bounty (If scooped, 1 Ton slaves)
• Fer-de-lance (Wolf) - No Bounty
• Gecko (Hunter) - Bounty 5.5 Credits
• Krait (Hunter) - Bounty 10.0 Credits
• Missile (No Bounty)
• Mamba (Hunter) - Bounty 15.0 Credits
• Moray Star Boat (Wolf) - Bounty 5.0 Credits
• Orbit Shuttle - No Bounty
• Plate (Debris) - No Bounty (prevents jumping in a system when on radar)
• Python (Trader/Wolf) - No Bounty/Bounty 20.0 Credits
• Sidewinder (Hunter) - Bounty 5.0 Credits
• Splinter (Depris) - If Scooped, 1 Ton metal alloys
• Thargoid (Wolf) - Bounty 50.0 Credits (Releases remote controlled Thargons)
• Thargon (Wolf) - Bounty 5.0 Credits (If scooped, 1 ton of Alien Items)
• Transporter - No Bounty
• Viper (Police) - No Bounty, Criminal Offence (Wolf in Stolen Police Ship mission)
• Worm Class Landing Craft (Wolf) - No Bounty
---
ARCHANGEL MODE: Game difficulty and hints for more challenging game play

Note that learning curve will be insanely hard in the game which is probably easiest version of Elite ever made. Extra difficulty can be added by increasing DosBox's frame rate and/or setting challenges, for example: killing 100 or more Thargoids in Witch Space with side mounted beam laser using "semi-newtonian" mode for ship controls. OP of this thread consider herself as
"a harmless beginner"
if we look at to potential what would be in theory achievable
"Elite Archangel"
skill level in Elite Plus if really mastering all piloting and combat skills possible to learn with Cobra MkIII of Elite Plus. Such skill levels would be mandatory if ever going to reach to a witch space lane directing to Raxxla...
---
Sorry about my bad alien English, I'm from The Finnish Colony of Riedquat!
Sincerely,
Right on Commanders!
~ Nothoria Infama ~
The historical timeline and synopsis for the career of Elite Plus Archangel Nothoria/Infama (.cdr)

November 6th 2002: Lave, Galaxy 1. Commander/game started.
November 9th 2002: Sotiqu, Galaxy 1. 21610.8 Credits. Elite (1264 hits).
November 11th 2002: Erbiti, Galaxy 1. 82372.6 Credits.

New record: ~1008 hits/10880.6 Cr bounties.

November 13th 2002: Usdive, Galaxy 2. 104913.8 Credits.
November 17th 2002: Anenat, Galaxy 2. 155721.4 Credits. Supernova Refugees mission.
November 22nd 2002: Inrieran, Galaxy 3. 197141.2 Credits. Mask Device mission.
November 24th 2002: Onmaar, Galaxy 4. 240767.5 Credits. Thargoid Invasion mission. Archangel!
December 5th 2002: Edrebi, Galaxy 5. 312581.3 Credits. Stolen Police Ship mission.
December 8th 2002: Isatanar, Galaxy 5. 394494.4 Credits. Thargoid Plans mission.
December 27th 2002: Xeisanan, Galaxy 6. 458212.2 Credits. Asteroid Bombardment mission.
February 22nd 2003: Estiri, Galaxy 7. 603528.9 Credits.
April 12th 2003: Quzabibi, Galaxy 7. 678278.7 Credits.
September 6th 2003: Enatzaus, Galaxy 7. 707906.5 Credits.
December 21st 2003: Atbea, Galaxy 8. 808807.3 Credits.
January 14th 2004: Veerbidi, Galaxy 8. 936864.6 Credits.
August 17th 2004: Erlabeor, Galaxy 8. 1000031.7 Credits.

1 MegaCredits!

1st Retirement.
May 9th 2008: Tevebebi, Galaxy 8. 1019676.6 Credits.
June 3rd 2008: Ribiso, Galaxy 1. 1106763.8 Credits.
June 15th 2008: Riedquat, Galaxy 1. 1206436.4 Credits.

New Record: ~1030 hits/11025.4 Credits bounties

.
June 21st 2008: Bibe, Galaxy 1. 1393470.4 Credits.
November 11th 2008: Xeesenri, Galaxy 1. 1578755.2 Credits.

New Record: ~1161 hits/12208.2 Credits bounties.

January 7th 2009: Inleus, Galaxy 1. 1634119.6 Credits.
September 12th 2009: Zeaqu, Galaxy 1. 1734717.7 Credits.

New Record: ~1212 hits/13085.3 Credits bounties

.
February 28th 2010: Raoror, Galaxy 1. 1807431.3 Credits. 60K+ Promotion: 60081 Hits !!!
March 3rd 2010: Errius, Galaxy 2. 1836140.8 Credits. 2nd retirement.
October 6th 2013: Dimadi, Galaxy 2. 1880884.3 Credits.
June 15th 2014: Xeate, Galaxy 2. 1963129.0 Credits. 60K+ Promotion: 64014 Hits !!!
June 15th 2014: Usceza, Galaxy 2. 20001519.1 Credits.

2 MegaCredits!

June 16th 2014: 60K+ Promotion: 65111 Hits !!!
June 17th 2014: Isxees, Galaxy 2. 2027710.1 Credits. Normal Promotion: Competent (74/65609 Hits).
November 26th 2014: Beedbeon, Galaxy 2. 2060925.1 Credits. (Deadly)
November 26th 2014: Galaxy 2. 2089376.1 Credits. Normal Promotion: Elite (1006/66541 hits). 1st Confirmed 'Double Elite'. 3rd retirement.
December 16th 2016: Ondisora, Galaxy 3. 2300429.2 Credits.
January 10th 2017: Oninriar, Galaxy 3. 2416499.7 Credits. Cartographing Galactic Chart 3 completed.
January 15th 2017: Diriceen, Galaxy 4. 2535091.7 Credits. Cartographing Galactic Chart 4 completed.

To be Continued...
Elite Plus Forever!
Thargoid invasion ship releasing a remote controlled Thargon in the witch space...
​
Thanks for all Elite fans contributing! Special thanks to Archangel Darrenc. [smile]
Last edited: