Community Manager
Frontier
Hayo there, coaster friends!
We hope you're all doing well! We've been having a fantastic time hearing from our PlanCo Entertainers, who spend their days roaming our parks, providing our guests with fabulous entertainment! It's been interesting to hear about their experiences, and we're excited to hear from another crowd-favourite today: Cosmic Cow!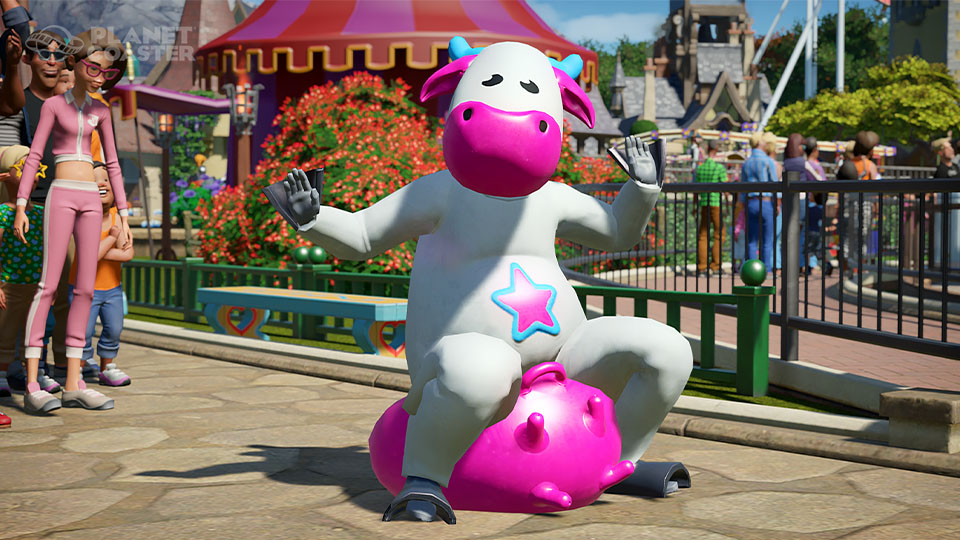 Hey Cosmic Cow! Glad you could join us for a chat! How have you enjoyed your time as a PlanCo entertainer?
It's been udderly great! I have had a wonderful time as a PlanCo Entertainer! When I was a calf, I only ever dreamt of doing something like this, and now I do it all day, every day!
How do you spend your average day?
Well, when I'm not getting cheesy with the guests, I like to hang out in the field and help keep the grass nice and short. Saves money on packed lunches. Have you ever seen a Gardener roaming the PlanCo Parks? No need! But other than that, I try and get at least 10,000 bounces done in a day on my Cosmic Cow Space Hopper. Not many would have the stomach, or the willpower, to bounce around all day long. I love spending my time bouncing around, waving at guests, and seeing them smile. Plus, it's much faster than walking.
What is your favourite kind of ride?
I like the ones that spin really fast, get the butter churning. The faster, the better! What can I say, I guess one of the major benefits of having 'four stomachs', is that I have a strong tolerance for some of the crazier rides!
What happens if your space hopper deflates?
Would you believe, it's not happened yet! If I'm honest, I don't think I would notice, my leg muscles are so strong from bouncing around that I'm not sure where the space hopper ends and I begin. I sometimes dream that the space hopper is another part of me. I'm not sure what I would do without it!
How do you know your milk is the best in the universe?
Because I'm the Cosmic Cow! I transcend all realities and my milk is absolute. Cosmic Cow knows all. Cosmic Cow sees all! Ahem, sorry.
Ask any Planconian, they'll all agree! My Cosmic Cow Ice Cream is one of the biggest hits in the park! I've heard some say they come for the rides, but stay for the ice cream.
What are you most looking forward to about Planet Coaster: Console Edition?
I can't wait to play it on those beefy next-generation consoles! I wouldn't want to semi-skim over what they'll bring to the PlanCo experience! It will be great to welcome all those new Planet Coaster community members too.