Community Manager
Frontier
Hayo coaster friends!
We're so close to the launch of Planet Coaster: Console Edition! We can't wait for you all to get your hands on the game, and we're looking forward to seeing what you create. We're expecting all sorts of bustling parks, filled to the brim with crazy rides and happy guests. But it's not just the rides and tasty food that ensure the guests have a great time; the Entertainers keep your guests laughing even when they've got a long queue for a ride ahead of them. Perhaps the most iconic Entertainer of them all, King Coaster, is here with us today to talk about what it's like being a PlanCo Entertainer!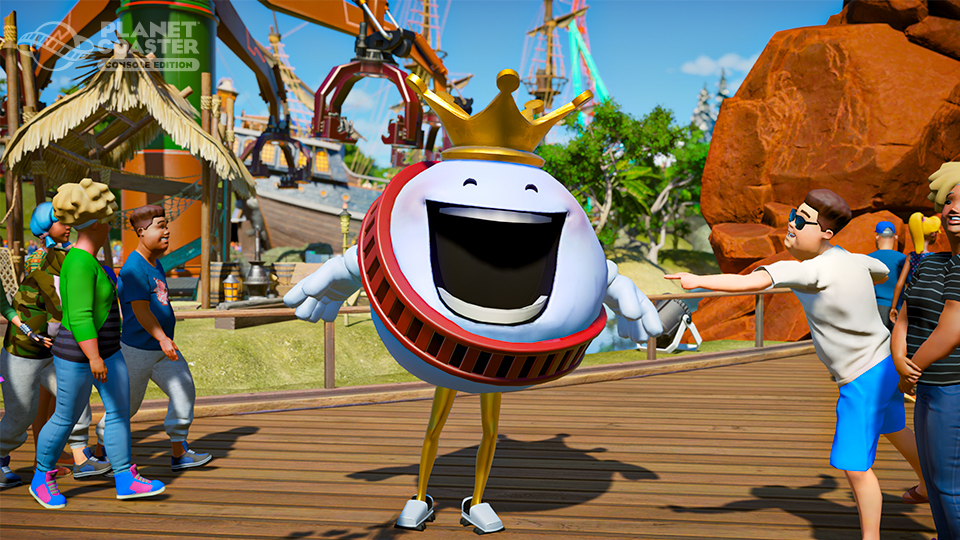 King Coaster! How is it going?
Most well! Nay. Spiffing! Exciting times are ahead, and to be at the forefront is both an honour and a privilege. Knowing just how many new and returning faces will soon be greeted with my wonderous smile, I can't help but... smile! Gufhahahahahaw!
Oh, that's wonderful! Speaking of, how do you keep smiling - even through the tough times?
Oh my, there are so many incredible things to smile about, it's difficult to have a moment to think about the tough times! That being said, there are many tricks of the trade - one being to think of a happy thought; the gaze of a newcomers' excited expression into the park, cold Gulpees on a summer day, teeth whitening, and, of course, being voted for as the best Entertainer by my adoring public. Oh, such wonders never cease!
Ah, yes! A couple of years ago, we held an Entertainer tournament with our community, and you won! What was that like?
Well, one already wore the crown, the public vote reaffirmed what I, and the other Entertainers, knew all along! Long live King Coaster! A little unknown fact is that I wear the Entertainer Tournament crown underneath my usual crown as opposed to leaving it in the vault which holds the other dozen. It is most rude to gloat, after all. I would know, I also had the pleasure of winning the Least Likely to Gloat Tournament!
How... ironic! Let's change course - what is your favourite kind of ride?
Though it most pains me to admit, this contagious smile... has its disadvantages. Have you ever looked at your car's front windshield after your journey to the park? There's a plethora of creepy crawlies! Now imagine going at such speeds in the air with your mouth wide open. Yuck! Simply put, nothing too fast or too high. Precariously balance me inside the Teacups any day!
The Teacups are the favourite of many! Any tips for our aspiring park builders?
One must ensure that those of all ages and shapes are taken into consideration when building a new park! Especially shapes. Imagine for a moment: a gentleman with slender legs and a body grand in size - perhaps some would even say spherical. Imagine the difficulties one of such stature would have riding, say, the Chair-O-Plane.
The magnificent and majestic Chair-O-Plane... giving such pleasure to those lucky enough to ride it... Sigh. Oh, hope. Hope is also a fantastic way to keep smiling through tough times, in regards to a previous question of yours!
A wonderful notion! We touched on this earlier, but is there anything you would like to say to the new additions to the PlanCo Fam?
My warmest salutations to you all! I hope you find the love and joy I do within our fantastic kingdom. Create the park of a lifetime and allow your imaginations to go wild with ideation! Perhaps, I don't know, a park with a Chair-O-Plane that can accommodate spherical fellows? Just a thought!