I know this has come up in a few different threads, but I did a bit of "in-game" research to see how feasible this sort of thing would be with the current game mechanics and what new mechanics/features would need to come into play for this to really "work."
The current game as it stands is close to having all of the basics to build a smaller aviary-style structure or small animal enclosure. See the pics below (one with glass covering the front and the other without so you can see inside better). I put this together with an owl in mind, but I could also see this exhibit also working for raccoons, porcupines, etc.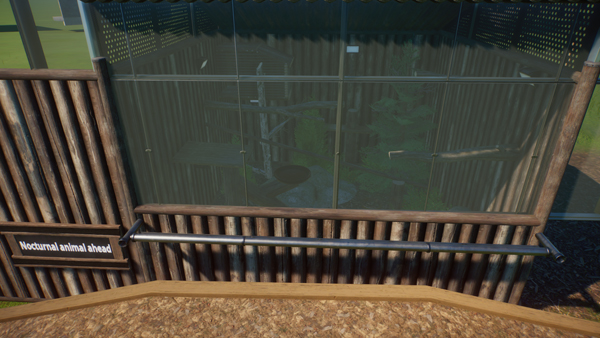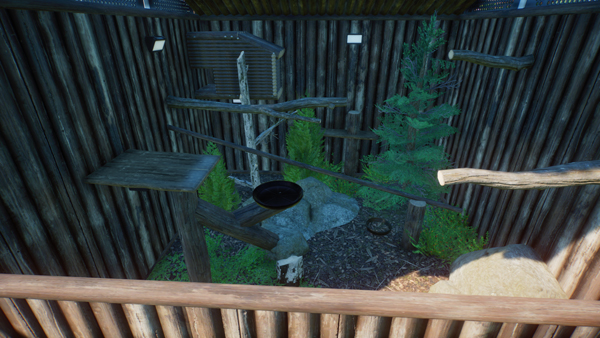 Obviously, additional pieces with exhibits of this size in mind would only improve things but... The pieces are there. And they are all climbable. And being able to have mesh netting or a chainlink-type wall would make this more realistic than having to use glass. So that would be important to add too.
There's also a few other points to consider:
A series of smaller food items and enrichment items would be a must. Particularly for birds. Most of the ones that might be appropriate wouldn't fit in an exhibit of this size (or at least, they wouldn't for me in this set-up). It would be particularly cool if these new items were able to be placed on top of and/or hanging from branches.
The zookeepers. An exhibit set-up like this is tricky for keepers to navigate. I would propose these would be cleaned and animals fed in the same way they are done with exhibits. This could be determined by marking the exhibit in a specific way. I'm not sure what that would be called, but...
Movement! This is probably the trickiest part. Especially for birds. How do we deal with the movements of these animals? Well...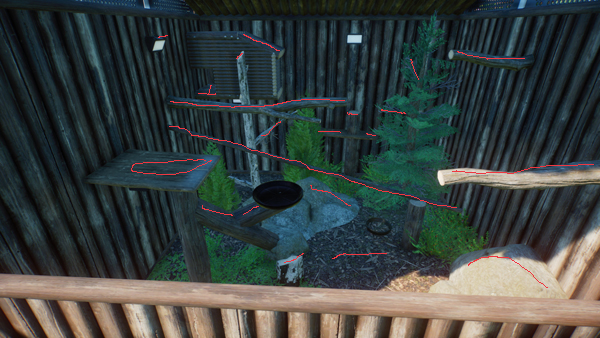 The red lines indicate areas the animal could traverse. Assuming the animal were an owl here, it could move/walk along the various perches. And would jump/fly from the edges of different points, assuming there is nothing blocking it's way. You don't generally see free-flight for extended periods of time in zoos, so to me this feels like a reasonable middle-ground.
But I also don't know how that all works within the game so... Yeah. Just some thoughts. I think adding something like this to the game would be a really cool (and fun) addition.