Community Manager
Frontier
Hello Park Managers,
We are excited to bring you a new update to Jurassic World Evolution this summer, which will feature a huge selection of additions and improvements. To give you some insight into what to expect, we'll publish three weekly Feature Focus articles to give you an overview of some of the content coming soon.
Our first Feature Focus is on a topic we know a good number of you are interested in learning more about...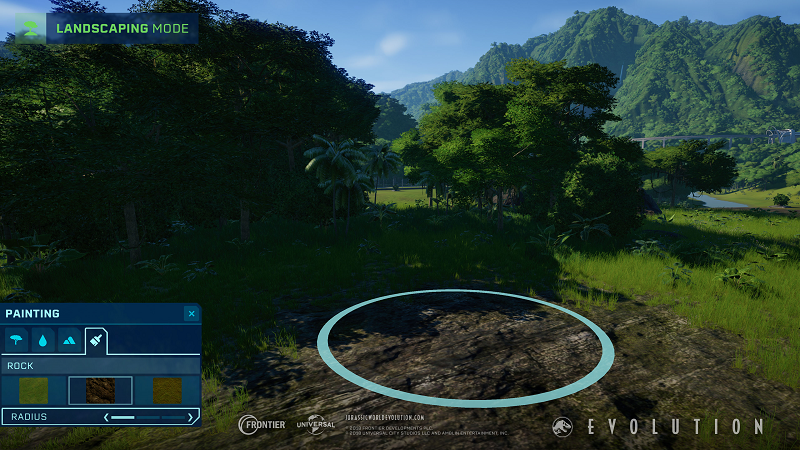 Terrain Painting and Scenery improvements!
A few of you noticed our little Easter Egg in the last Developer Spotlight picture from a few weeks ago... Whilst we're sure many people do enjoy rocks and the sun, it's still a bit unusual to have framed photos of them on your desk! These were of course hints towards our new environmental improvements coming to Jurassic World Evolution that will let you style your parks to make them even more unique. With Update 1.8 we'll be adding a number of terrain painting and scenery improvements and we're going to highlight a selection of those today.
Terrain Painting
Update 1.8 introduces a selection of terrain brush tools that will allow you to alter the land textures of your parks. These will be specific to each island, allowing you to create your individual areas whilst still ensuring each island retains its own unique feel and personality. You will be able to theme areas with rock, mud and grass effects, and certain islands, like Isla Muerta, will feature sand brushes to help you create those lush beach-front dinosaur resorts you've always dreamed of!
As these materials are used as the base for the islands themselves, we had to put in some work to pull them out for the brush system to use. Some core framework changes were needed to ensure that we maintained performance and save game size. However, we wanted to expand the existing available terrain, and give park creators the freedom we've had in creating these islands.
These new terrain brushes will complement the existing grass option – no research unlocks necessary! We've also added a toggle option to show elevation contour lines.


Shrub Tools
New shrub brushes will be available with Update 1.8. These will give you the option to place all the different shrub types from each island in any park you like. Want to add Isla Pena shrubs on Isla Muerta? Go for it! We're also adding a new vibrant shrub type to allow even more creative freedom with the vegetation in your parks!
The different shrubs types were originally envisaged as part of the differentiation between the different islands, but we wanted to progress that so they could be used on all the islands; as with the painting we needed to ensure that occurred without increasing memory or save game size, and without impacting performance.
You'll find these new shrubs right next to the existing tree and shrubs, from the moment after you install the update. They'll work out of the box with the new terrain brushes as well, helping you create the perfect Capture Mode shot!
Natural Scenery Items
With Update 1.8 you'll be given the tools to add new scenery items to the game! These new scenery items, including individual rocks and trees, can be placed around your parks so you can craft fantastic new layouts to your enclosures. These will be natural scenery items so that they will fit thematically in your enclosures.
For this release, we've added a selection of five different trees, and six unique rocks and rock formations. One of the new trees is wide and low, perfect shade for dinosaurs to shelter under; meanwhile we've also provided some tall leafy palms, great for lining pools and ponds with. These singular trees will also provide forest satisfaction for the dinosaurs. For the rocks, we've aimed to provide an assortment of shapes and sizes – making it easier to break up your enclosures and wind your park paths around.
All the new items are exceptionally photogenic, and should be snapped alongside your prehistoric residents to really get the most out of them! They can be found in the new Scenery tab, with the same placement and rotation controls as other buildings in the game.
These are most of the terrain and scenery improvements coming in Update 1.8 this summer. We'll be sharing more details with you in an upcoming Feature Focus next week!