Senior Community Manager
Frontier
Hello Park Managers,
We are very excited to bring you another
Jurassic World Evolution 2
Feature Focus! In our
last Feature Focus
, we talked about how you can put a unique touch on your guest buildings, parks and dinosaurs through the game's enhanced customisation options. This week we're taking a look at the non-narrative game modes you can find in
Jurassic World Evolution 2
, and showing you what you can expect in Challenge Mode and Sandbox Mode.
Much like the original
Jurassic World Evolution
game, you'll be able to put yourself to the test in
Jurassic World Evolution 2
with Challenge Mode, although this time around we'll be taking it up a notch with some exciting new additions - don't worry, we're sure you're up to the challenge!
All missions in Challenge Mode will offer 4 difficulty levels (Easy, Medium, Hard, Jurassic) with their own par times, which will be unlocked by progression - so you'll need to unlock a certain number of stars on any given difficulty before you can proceed to the next level!
We'll also be introducing a new feature in Challenge Mode: Conditions! These will place constraints on your game to make each playthrough slightly more challenging, and will differ depending on which difficulty you're playing - for instance, if you're playing an easy level on Challenge Mode, you may be limited to 25 species in your park, whereas if you're playing a medium level you may have a limit of 15 species.
Each level is a bespoke challenge with different tasks you'll need to complete. The conditions, maps and what you have available to achieve is different for each level, and it's up to you to decide how to achieve a five star rating.
These Challenge Mode missions will have both a global location and a context that will make them really fun to play. They're not tied into the game's main narrative, so each can be played in isolation; plus, you'll earn unique species cosmetic unlocks for earning 5 stars across the different difficulties, so there's lots of reasons to take up the challenge!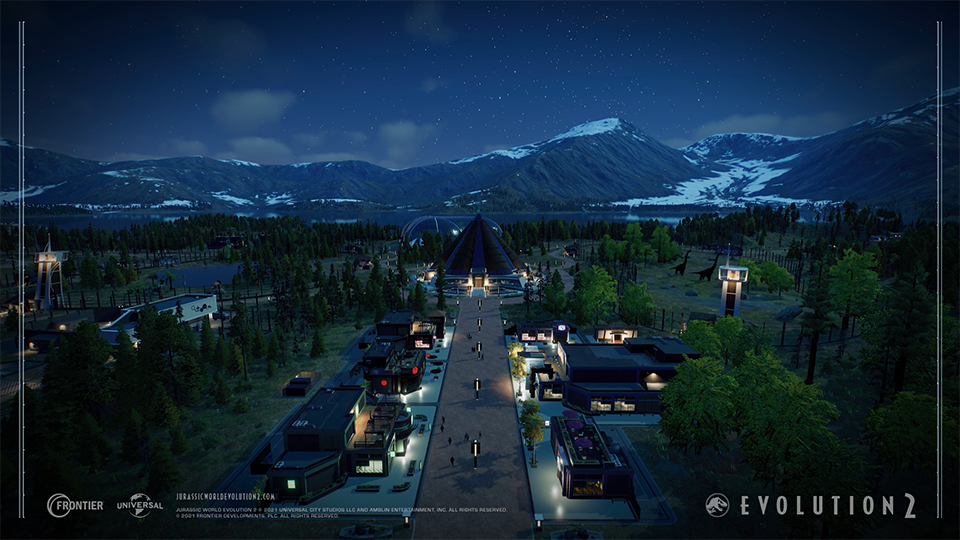 Sandbox Mode
This wouldn't be
Jurassic World Evolution 2
if we didn't bring back another exciting mode from the first game: let us reintroduce you to Sandbox Mode! This game mode features an open-ended gameplay experience, where you'll be able to create your perfect park, making the most of a variety of options to tailor the mode to you.
Sandbox Mode will offer up a range of options that will allow you to alter the gameplay for your park, allowing you to customise various aspects of how you play the game. Some of these options include granting your park infinite money, allowing you to forgo profitability concerns, adjusting weather options and the time of day, and even altering dinosaur and reptile behaviour and lifespan, so you can play at entirely your own pace!
By using the new territory system to its full potential, you could even build a nature reserve style park, but you'll need fences to keep your visitors safe.
Maps from Chaos Theory and Challenge Mode will be playable in Sandbox Mode, offering up lots of variety to your park building experience. Just remember: Sandbox Mode content needs to be unlocked by researching it in other modes, so your Sandbox parks will be constantly evolving with your gameplay! We start you off with some basic stuff, but the rest will need to be unlocked for you to access.
We hope you've enjoyed this glimpse into these two exciting modes you'll be able to play in
Jurassic World Evolution 2
! Which are you most excited to try first, Challenge Mode or Sandbox Mode? Let us know in the comments below! Until our next Feature Focus you can follow us on
Twitter
,
Facebook
and
Instagram
, and join the discussions about the game on our
forums
!
Last edited: