Senior Community Manager
Frontier
Welcome back, Park Managers!
We are very excited to bring you a new
Jurassic World Evolution 2
Feature Focus. Previously, we talked about the various improvements that have been made to the
Guided Tours
you can add to your parks. This week we're taking a look at where you'll be building your parks. It's time to talk about environments!
Jurassic World Evolution 2
will let you build dinosaur parks and facilities across a wide range of environments. All modes will let you experience different environments and settings as you play, and the environments all have their own characteristics and scenery, making them feel distinct and unique from each other. There are also different kinds of decorative rocks, shrubberies and vegetation that come with each environment. You can use these to add a little something extra to your parks.
Desert
The desert environment will be the first place you go when you start up
Jurassic World Evolution 2
's Campaign Mode. You will also be able to build a desert park in Sandbox, Challenge, and Chaos Theory Modes. It's inspired by the real life Sonoran Desert, with its dry climate and flat terrain. Expect to see a lot of cacti and shrubs that would usually thrive in a desert environment alongside dirt, sand and the occasional rock and tumbleweed.
There won't be a lot of rain, but you may be forced to tackle the odd sandstorm, which can gum up the works on your vehicles and cause a bit of damage. You'll see the sandstorm coming in, growing in density as it whips up the dirt and sand around your dinosaurs and buildings.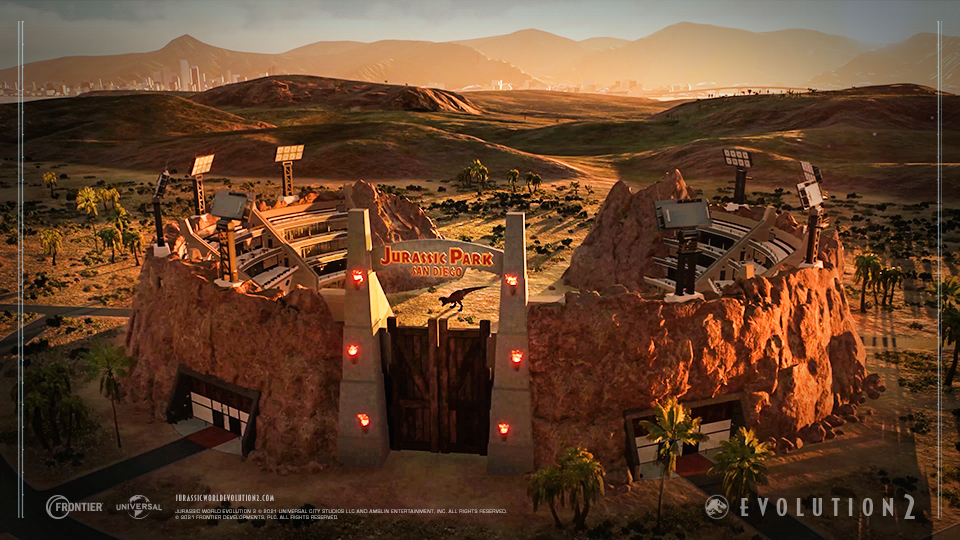 Taiga
The taiga Environment is inspired by mountainous forests of British Columbia, Canada. You'll get to build and house dinosaurs in a taiga environment in Campaign, Sandbox and Challenge Mode. It's quite a different environment from the desert, offering shades of green and auburn pines, in addition to snow-covered peaks in the background. Expect sunshine and dense forestation around you as you build your parks and facilities.
Taiga introduces one of the other new calamity types: snowstorms. When a snowstorm sweeps in over the area, you'll see thick flakes falling from the sky, and snow piling up on the ground and on building surfaces. If you've ever wanted to see dinosaurs in the snow, this is the environment for you!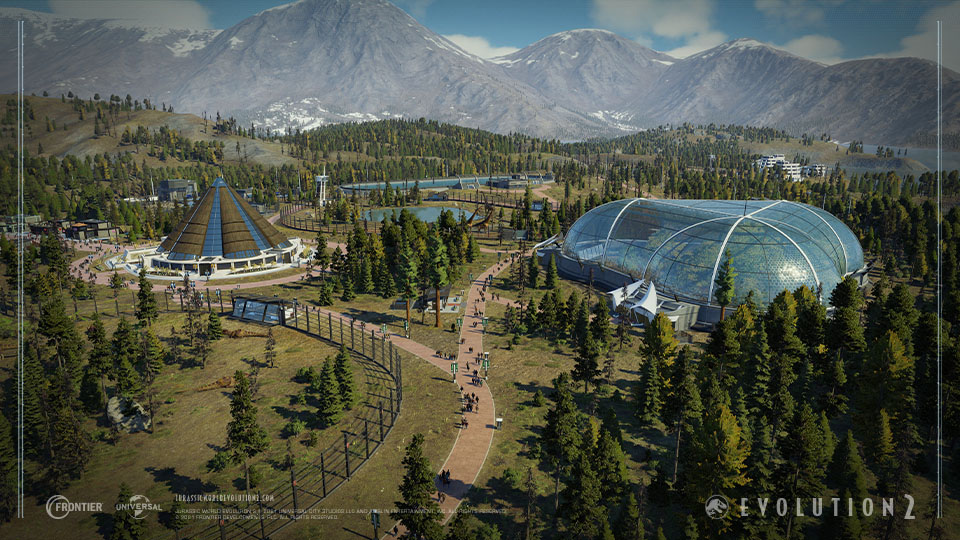 Temperate
As we continue our journey through
Jurassic World Evolution 2
's environments, we come to the temperate environment. Warmer than taiga, but not as warm as the desert, it could very well be the perfect spot to build a dinosaur park or facility. You'll head into the temperate environment in Campaign, Challenge and Sandbox Mode, exploring it from different locations based on the mode.
The temperate environment is characterised by lush and leafy trees, and a warm sun shining down from the blue skies above. While there will be less snow, you should expect some mist, and maybe the odd rainstorm. What you really need to be careful of though, are the tornadoes.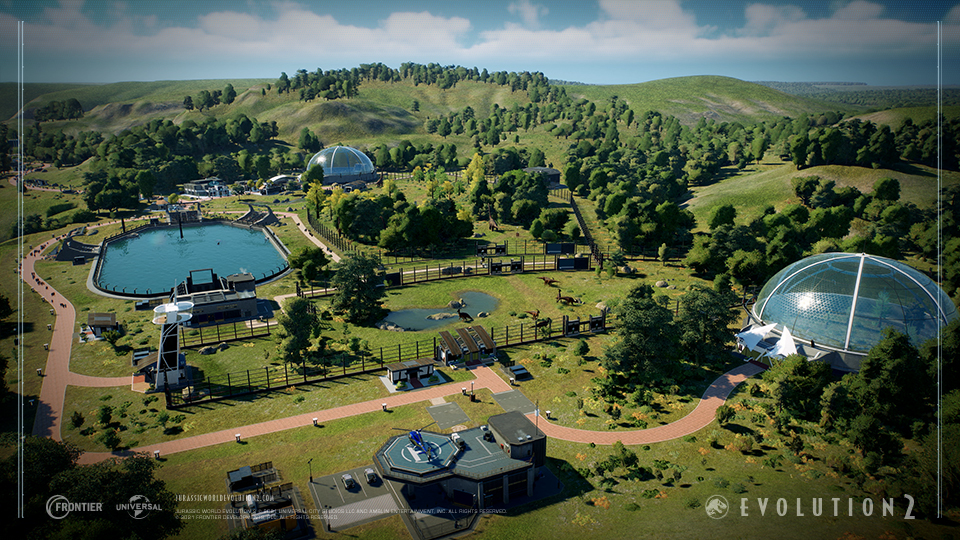 Tropical
It wouldn't quite be an authentic
Jurassic World
gaming experience without a tropical environment. Inspired by the Hawaiian islands of Oahu and Kaui, the tropical environment isn't featured in the Campaign, but will depict Isla Nublar and Sorna in Chaos Theory and Sandbox Mode.
As you would expect, this environment is sunny and quite warm, offering up a beautiful climate for both your guests and dinosaurs. Be mindful that there's a potential for tropical storms and hurricanes. Heavy swirling rain will come blowing in on howling winds, causing damage to its surroundings. Don't forget to keep some extra shelters open, just in case!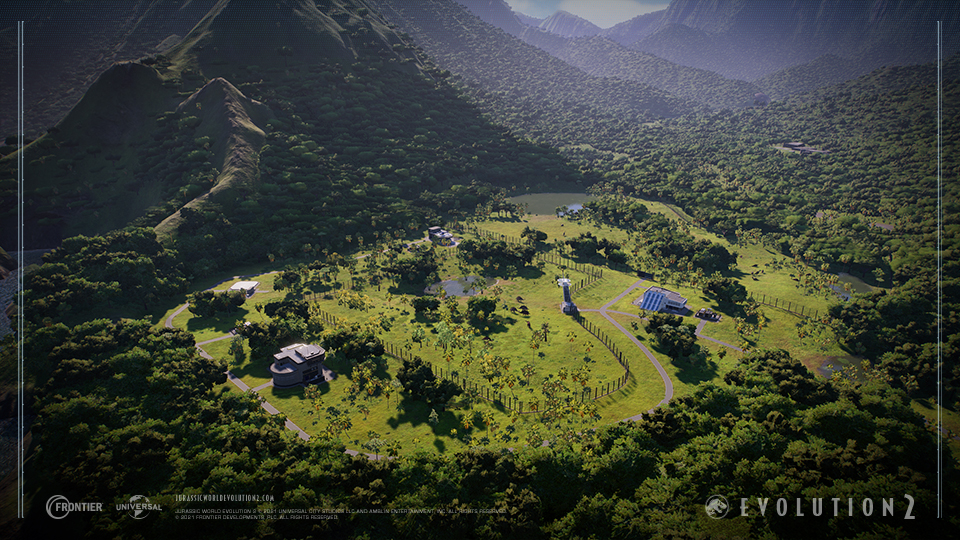 Alpine
Finally, there's the alpine environment. Large mountains tower over green hills and valleys, and a bright sun shines down from a blue sky in this Yellowstone inspired environment. You'll get to play around in the alpine environment in Campaign, Challenge and Sandbox Mode.
The alpine environment's bright sunshine is broken up now and again by some light rain, and you may need to contend with the odd snow and rainstorm when building in this environment.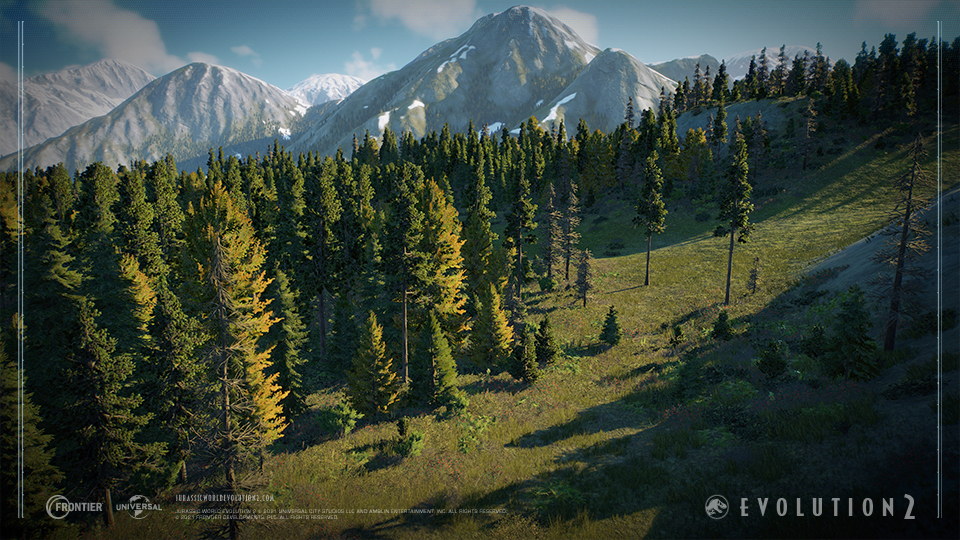 That's it for this
Jurassic World Evolution 2
Feature Focus! Of the five environments we've shown you, which one stood out to you? Which one are you most looking forward to exploring? Let us know in the comments below! Join us for our next Feature Focus, where we'll be taking a look at the different calamities you'll be facing in the game.
Jurassic World Evolution 2
comes to PC, PlayStation 5, Xbox Series X|S, PlayStation 4 and Xbox One on 9 November. You can
pre-order
now to get access to a set of vehicle skins inspired by
The Lost World: Jurassic Park
for use in Sandbox and Challenge Mode.