Hello Commanders, and welcome to the twenty-second Featured Commanders interview of 2019! This week's interview is a little different as we'll be talking to Miguel Johnson, CMDR Mach1ne, CMDR Eid LeWeise, CMDR Spatula007, CMDR Turjan and CMDR Ascorbius all about their good friend, and fellow content creator, Tom Cook aka CMDR ToCoSo!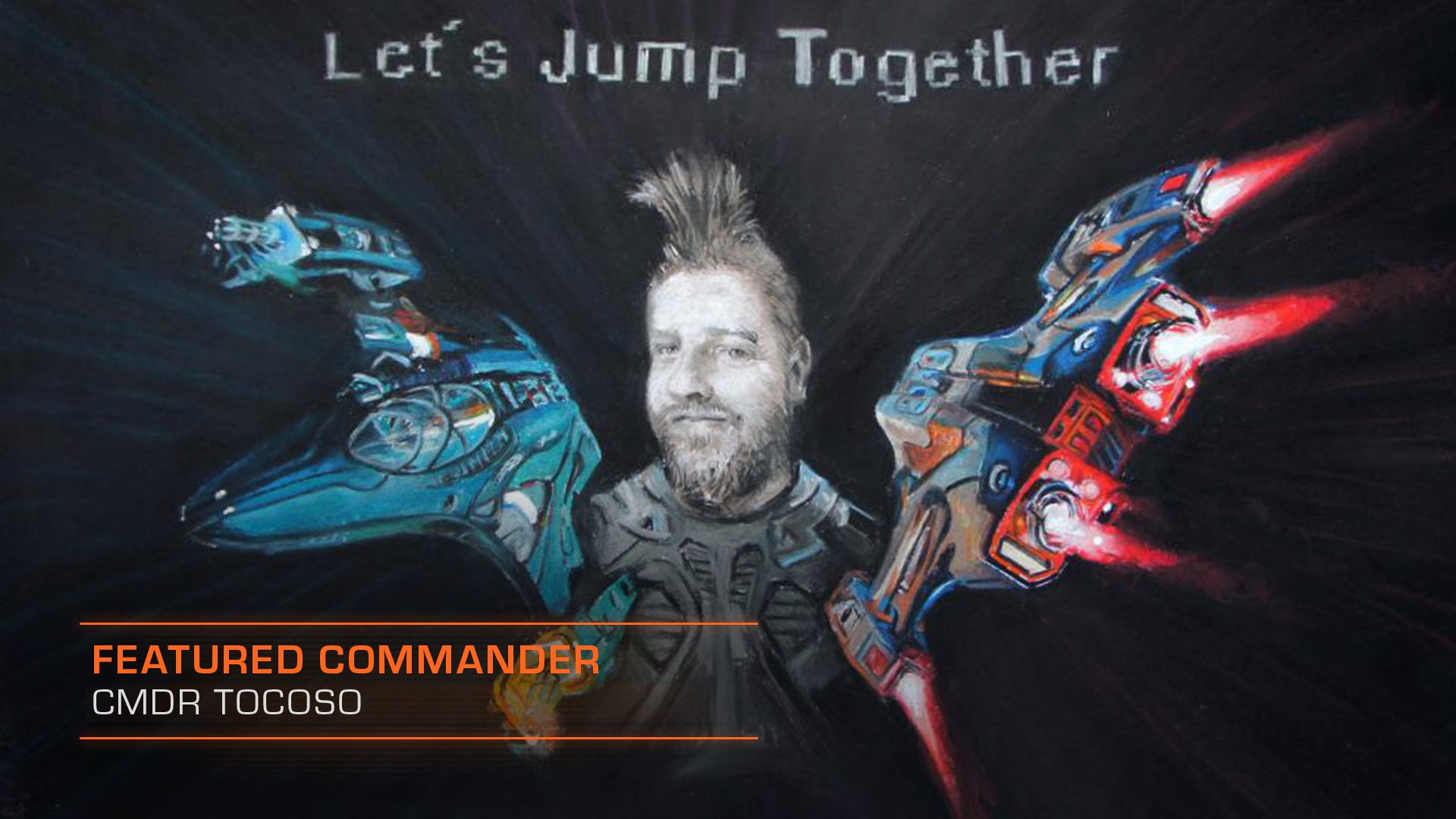 Hello everyone! Introduce yourselves!

Miguel Johnson

– Hello, I'm Miguel Johnson. Yes, that's my name both in-game and out! I live in Las Vegas with my beautiful family, and professionally, I'm an IT consultant. I'm also a part-time music composer, having created 3 unofficial Elite Dangerous soundtracks!

CMDR Mach1ne

– Hi there! I'm CMDR Mach1ne and I make humorous Elite Dangerous story-based videos on YouTube. My first ever video was for the 'CTRL-ALT-SPACE' competition, and I've been making content ever since. For the past year or so I've been using 3D animation and lip-syncing tools alongside in-game footage to help tell my stories in a more dynamic way, rather than relying on cutaway shots when a character is talking! I've been playing Elite Dangerous since launch and I love to play it in VR which puts me right into the cockpit of these wonderfully designed ships. What better way is there to unwind than to sit in a Mamba, look up and stare into the abyss! It's so immersive!

CMDR Eid LeWeise

– I'm Cmdr Eid LeWeise, otherwise known as Ben from

Lave Radio

. I'm also involved with other audio projects like the

Sagittarius Eye Podcast

and

Dockers

. I've been involved with Elite Dangerous since the early days of the Kickstarter campaign and haven't looked back. I also played the original Elite on a BBC Micro!

CMDR Spatula007

– Hi, I'm Captain Spatula and I am the milk that turns the cereal of mysteries... soggy. I've been playing Elite since what, 3301? Oh my lord, what year is it? Oh no, I think that

data deliver mission

may have expired…

CMDR Turjan

– CMDR Turjan here, creator of the whimsical YouTube story series "

Turjan's Travels

", and winner of the Elite Dangerous CTRL-ALT-SPACE video competition. In a way, it feels like I've been playing Elite Dangerous since 1984, because in my mind, the game I played back then felt like the game we're all playing today. It was definitely worth the wait!

CMDR Ascorbius

– Hello, I'm Commander Ascorbius! I'm the creator of the

Mostly Aimless

YouTube series, a

Twitch streamer

and the muppet who races Type 9's in canyons for fun. Check out the livestream where I raced Type-9's with Frontier Developments

here

!

Nice to meet you all! Tell us, how and when did you first meet CMDR ToCoSo?



Miguel Johnson

– I met Tom in August 2017 when I'd finished my album,

Exodus

. I was already starting to work on a couple tracks for my next album,

Revelation

, and we were talking about music and decided to work on something together. We've not stopped talking about music since!

CMDR Mach1ne

– I first met ToCoSo back in Sept 2017 after the Elite Dangerous CTRL-ALT-SPACE competition. I was bitten by the video-making bug and came up with an idea for an Elite Dangerous based story called '

Adrift

'. CMDR Ascorbius knew just the person to speak to about music, and introduced us!

CMDR Eid LeWeise

– I met CMDR ToCoSo when Elite Dangerous ran the "

Design a Holo-Screen Advert Competition

". Tom, (being the awesome guy that he is!) asked if he could design an advert for Lave Radio. Though the advert didn't make it in-game, it highlighted his generosity and how much he gives to the community.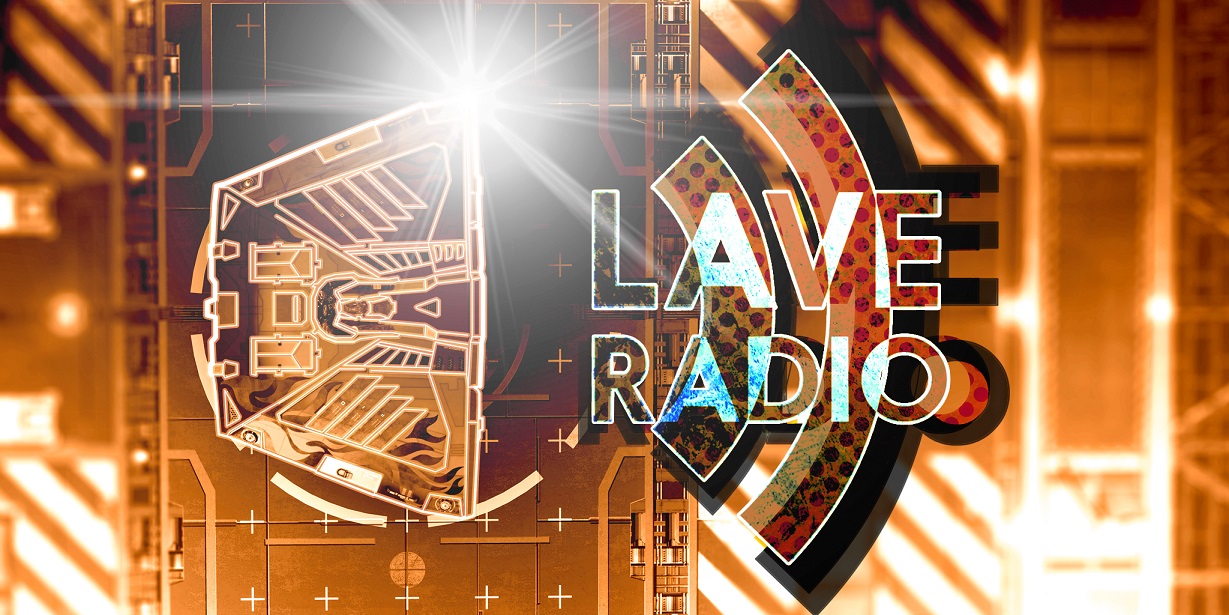 CMDR Spatula007

– Funnily enough, when I was just starting out on YouTube, this "CMDR ToCoSo" bloke found my Elite Dangerous videos and commented on them pretty regularly. At one point, he mentioned he'd be willing to send me some music, and I was immediately suspicious that he was actually a bot trying to steal my identity, but I reached out and started talking through email. At the time, I had no idea just how lucky I was to know this guy!

CMDR Turjan

– For me, it was back in 2016. I already knew of Tom from his comments on my videos and from banter in the BroCast stream chat, but one day, completely out of the blue, he sent me a folder of music that he'd composed inspired by my story videos!

CMDR Ascorbius

– Early on in my Elite Dangerous career and before I was a content creator myself, I was an avid fan of the

Josh Hawkins Brocast

. One day, Josh announced a new theme tune which was created by CMDR ToCoSo specifically for the show. It was awesome with loads of rock guitars riffs and, to this day, that same tune is still used as the intro and closing jingle. After that, I learned about CMDR Spatula007's videos, and heard ToCoSo's music used to great effect alongside Spatula's unique style.

What lovely stories! What made you friends?



Miguel Johnson

– He'd commented on my album and was saying how much he liked some of the songs on it. It's a rare treat to speak to a fellow producer about music and rarer for you to realise that you have so much in common! We both have this deep love and passion for music and we found a lot of common ground. I believe that because of this, we built a great friendship right away. He's an awesome human being and I'm honored to call him a friend of mine.

CMDR Mach1ne

– Imagine this, I've just started on YouTube and only have one video to my name, I'm unproven, with no reputation in the community... and immediately, a music producer is willing to sit down and with me and help choose some suitable tracks! Tom is so down to earth and helpful that he also helped me with script ideas before creating a powerful and emotional music track to end the episode on.

CMDR Eid LeWeise

– It's simple, he keeps being awesome and doing fabulous things that I want to know about!

CMDR Spatula007

– Beyond the fact that he's a man of many talents, he's also a super-positive, mega-creative and ultra-amazing human being who's a lot of fun to talk to.

CMDR Turjan

– Our mutual creativity and sense of humor. Sometimes in life, you're lucky enough to find a fellow artistic soul you just click with, someone who can inspire you just by being there - that's Tom.

CMDR Ascorbius

– Over time I gotten to know Tom by chatting in Discord, sharing ideas and stories together. It soon became clear to me, and many others, that we had a legend in our midst. Tom is such an approachable person, very humble, with a great sense of humor and a heart of pure gold. It's impossible not to love the guy. At the Frontier Expo in 2017, I had the pleasure of meeting him in person and since then, we've been good friends!

Have you created any content with CMDR ToCoSo?



Miguel Johnson

– We've worked together on a couple of released songs ("

The Alien Within

" and "

Frontier Calls

"), and another that is currently unreleased, which I think is quite awesome! There's still some more work to be done on that track before we can release it publicly.

CMDR Mach1ne

– As I mentioned earlier, collaborating with ToCoSo was awesome and it didn't stop with the one video on my channel. I was invited to take part in "

YuleTube Christmas is cancelled?

", a collaboration which featured over a dozen commanders from the Elite community during which I got to work with ToCoSo again. He knocked out three or four tracks for me in no time at all. He pretty much did the music for the entire YouTube series alongside making some cool sets... It was an amazing feat!

CMDR Eid LeWeise

– Tom and I haven't really collaborated in the past, but we tend to share our triumphs with each other in regards to content we've made elsewhere!

CMDR Spatula007

– Collaborating on the music has been really fun - on some projects I'll give him an idea like… "can you make an Euro-themed disco song circa 1989 about the fall of the Berlin Wall?" And he'll nail it. Like, completely nail it! We co-wrote a couple Elite-themed songs as well - I'd make a rough version and he'd turn it up to 11. When I know Tom is working something in his studio, it's an exciting time to be alive.

CMDR Turjan

– Two pieces definitely stand out for me - the "

Elite YuleTube

" video collaboration mentioned above by CMDR Mach1ne, and "

The Ballad of Turgan Sandstone

". There was a fun emotional synergy in both of those, with ideas bouncing back and forth to shape just the right feel that we wanted for the projects.

CMDR Ascorbius

– In my opinion, Tom's musical talent is without compare in the community. There was a lazy Saturday afternoon a while ago, when I sent him some lyrics for a

1950's rock and roll song

, about a guy in a Fer De Lance trying to get docking permission. The very next day, he'd not only made a tune for the song, but he'd performed the entire rock and roll treatment live complete with vocals! But the most impressive thing I believe he's done is producing an insane amount of content, for free, for content creators during the YuleTube project. He wrote piece after piece of incredible music which helped to bind each of the disparate stories together with one audio palette. Tom's music made the project work in ways we couldn't have ever expected or asked for. He will have my undying respect for what he did for us.

These all sound brilliant! We've linked the content you've talked about, so be sure to check out the hyperlinks, Commanders! What's your favourite piece of content that CMDR ToCoSo has made?



Miguel Johnson -

Although we worked on it together, I would have to say it's "

Frontier Calls

". His singing and the feel of the guitar in that track are just completely awesome. He was totally in the zone when he came up with those lyrics.

CMDR Mach1ne -

Wow... this is tough to answer as he's done so much! The guy can draw, play pretty much any instrument, make awesome music and create jaw-dropping concept art based on the Elite universe. His music speaks for itself, the best piece for me is "

Frontier Calls

" which was co-produced with Miguel Johnson. As for artwork, this one is brilliant, so imaginative!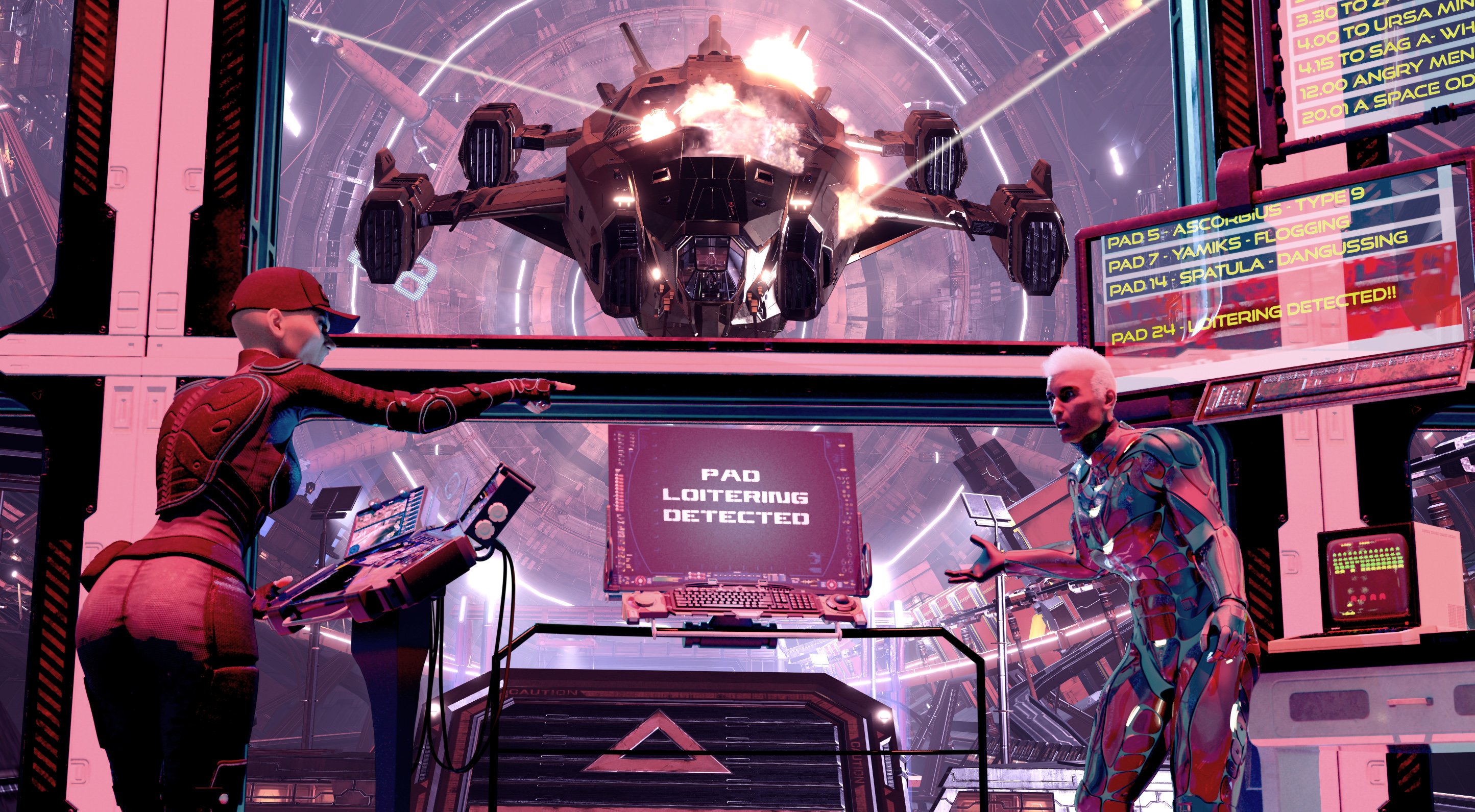 ​
CMDR Eid LeWeise -
There's so much to choose from, but the song "
Let's Jump Together
" keeps worming its way into my head. CMDR ToCoSo and his daughter did such an awesome job on that song.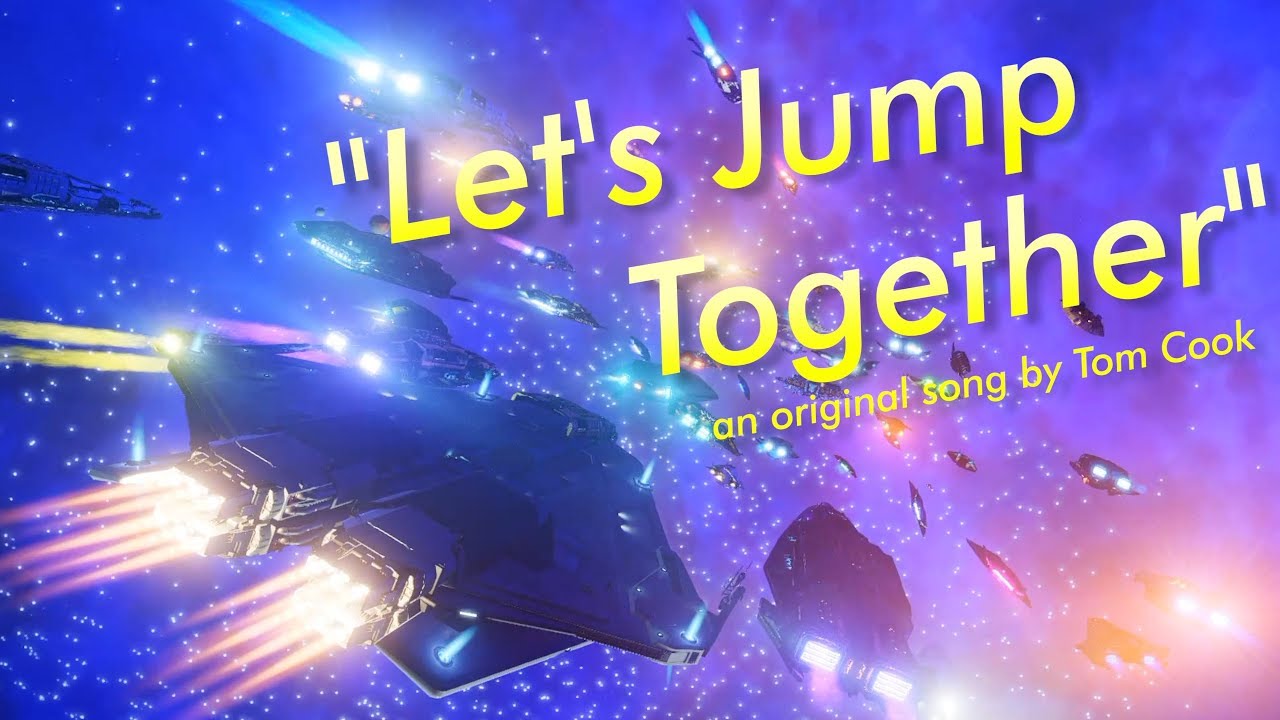 ​

CMDR Spatula007 -

Now this is a tough one… can I do a Top 20 list? No? Okay, fine. If I have to choose, then I pick "

Livin' in the 80's"!

The tune captures the essence of the 80's, has hilarious and authentic lyrics, and I've probably listened to this tune more times than anything else as it is...

bumpin'! CMDR Turjan -

That has to be the song he composed for CMDR Spatula "

Livin' In The 80s

". I have a lot of fond memories of the 1980s (including the original Elite in 1984, naturally!) and Tom's song just resonates with that era perfectly. To get poetic for a moment, it's like he reached into my head and plucked the guitar strings from my memories.

CMDR Ascorbius -

I really love "

Rare Brew Trading

" (the song he wrote for my episode), because it's catchy and makes me happy. However, the song I've listened to the most would have to be "

Living in the 80's

". There is something so special about that song!

Great answers, Commanders. Do you have any words of wisdom for the Elite Dangerous community?



Miguel Johnson -

I am honored to be part of the Elite Dangerous community. There is no other game that has a community that is so supportive and generous with their time and resources than this one. I hope the community keeps it up, as it's a very precious thing

CMDR Mach1ne -

Play the game at your own pace, don't rush, don't get caught up in game loops just to make credits quickly. I've been playing the game since launch and I've still yet to scratch the surface. If you find yourself stuck or feel that you are alone in the universe, reach out to the community. There is always someone out there that will help you. If you see someone out in the black, send them a friendly o7 as you never know where that may lead... (sometimes a rebuy screen, but more often than not, you'll likely make a new friend!)

CMDR Eid LeWeise

- Never play leapfrog with a unicorn...? Especially if your ship is engaged in combat maneuvers...

CMDR Spatula007

- Sure! If you've been around the galaxy as long as I have, you probably know the feeling of burnout that happens when you're in the grind. If that happens, then take a step back sometimes and ditch the goals - just go and check something random and go with the flow. Most of my favourite moments in game have happened when I've had no goals! That's my motivational speech. Ditch the goals, wander around, have a good time... and throw on CMDR

ToCoSo's soundcloud

when you do it!

CMDR Turjan

- My friendship with Tom and our work on projects like Elite YuleTube have shown me just how amazingly creative our Elite Dangerous community is - and every commander is a part of that. So, if you have a creative idea, then go for it! The community will be there for you.

CMDR Ascorbius

- I suppose I'd say that this is the kindest, most welcoming and most talented gaming community I've ever been a part of. Look out for others and they'll look out for you. No matter how you may feel, you're never alone.

Wonderful words of wisdom, Commanders. Are there any other Commanders you'd like to shout out?



Miguel Johnson

- Of course! Firstly, all of the people who put their time into this game to make it a great experience for everyone. Secondly, shout-outs to

CMDR Burr and CMDR Rheeney

,

CMDR Turjan

,

CMDR Ascorbius

,

CMDR Mach1ne

,

CMDR Spatula007

,

CMDR Exigeous

,

Ghost Giraffe

,

TheCookieRebel

,

Obsidian Ant

, and especially

CMDR ToCoSo

! Finally, a special shout-out to my partner, both in crime and in music, CMDR Gunjammin!

CMDR Mach1ne

- Whilst we're on a musical theme, I'd like to shout out

Miguel Johnson

. He's created some epic music over the last few years, his wonderful compositions have accompanied many an explorer whilst out in the black. I'd also like to mention a newcomer to the storytelling scene,

The Welshman

. Check him out on YouTube and send some love his way, because we can never have enough storytellers!

CMDR Eid LeWeise

- All of the guys and girls who work on

Sagittarius Eye

magazine (especially the Podcast department), and on

Lave Radio

!

CMDR Spatula007

- There's a whole wonderful group of Commanders who know the awesomeness of CMDR ToCoSo and have regular collaborations -

CMDR Turjan

,

CMDR Ascorbius

,

CMDR Mach1ne

,

TheYamiks

,

Ghost Giraffe

... If you want to check out a great group of creators, check out "

Yuletube

" on YouTube, which has been mentioned a couple of times in this interview.

CMDR Turjan

- I'd like to mention

CMDR Greytest

, whose legendary organisational efficiency has been the backbone of so many creator collaborations!

CMDR Ascorbius

- There are so many unsung heroes.

CMDR Turjan

,

CMDR Mach1ne

,

CMDR Plater

,

CMDR Spatula007

and

Miguel Johnson

are all great content creators, but I'd like to say a special shout-out to CMDR S1Studios who does music for my show, and has also

collaborated

on a piece of music with Tom.

As CMDR Ascorbius said, so many unsung heroes! Hopefully we'll hear their voices one day, but for now do you have any final words for CMDR ToCoSo?



Miguel Johnson

- I truly wish you the best! You really deserve it. I can tell you are an awesome father, friend and husband. You do so much for everyone and we need more people like you in the world. Every time we work together, I learn something new!

CMDR Mach1ne

- I am so humbled by the work you do with autistic children with your music and instruments. You help kids to communicate and express themselves and make them feel at ease. Please keep doing what you do, but remember to take time for yourself and your amazing family. It's okay to say 'no' to people sometimes!

CMDR Eid LeWeise

- It sounds lame, but keep being awesome! You're so creative, talented and generous with your skills, thank you for all the joy and the assistance you've offered over the years.

CMDR Spatula007

- Keep rocking, dude! The work you do with kids, the love you have for your family and your creative work is an absolute inspiration.

CMDR Turjan

- A hearty thank you for all the time and effort you put in, not only with the Elite community, but with autistic children. Just keep on being you, matey!

CMDR Ascorbius

- You're a legend mate. I'll never be able to thank you fully for everything you've done for me and for the community. All I can do is be your friend, and I hope that's enough.

It's safe to say that CMDR ToCoSo has made a massive impact on the Elite Dangerous community, and we cannot wait to see what he'll create in the future, but we already know we'll love it. Before we say goodbye, and o7, please take a moment to appreciate this STUNNING portrait of CMDR ToCoSo, by the ever incredible and talented

CMDR BeetleJude

.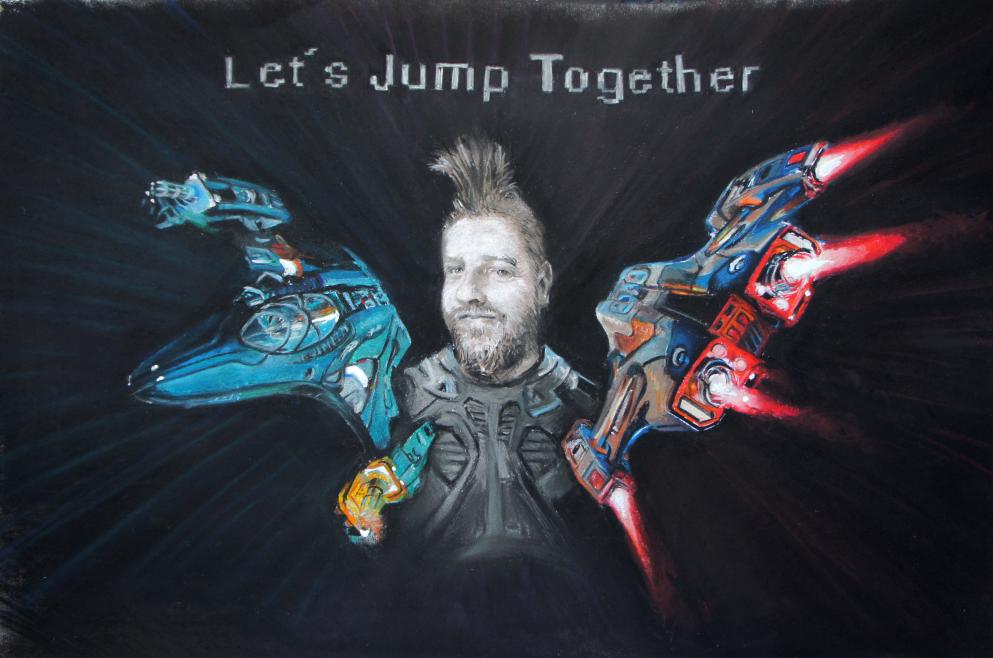 ​
If you're reading this and would like to be interviewed as a Featured Commander, apply here.
Last edited: