Community Manager
Frontier
Hello Commanders, and welcome to the eighteenth Featured Commanders thread of 2019! This week we're speaking to CMDR Buur of The Buur Pit, a husband-wife duo of video-makers, focused on bringing news from around the galaxy right to your PC!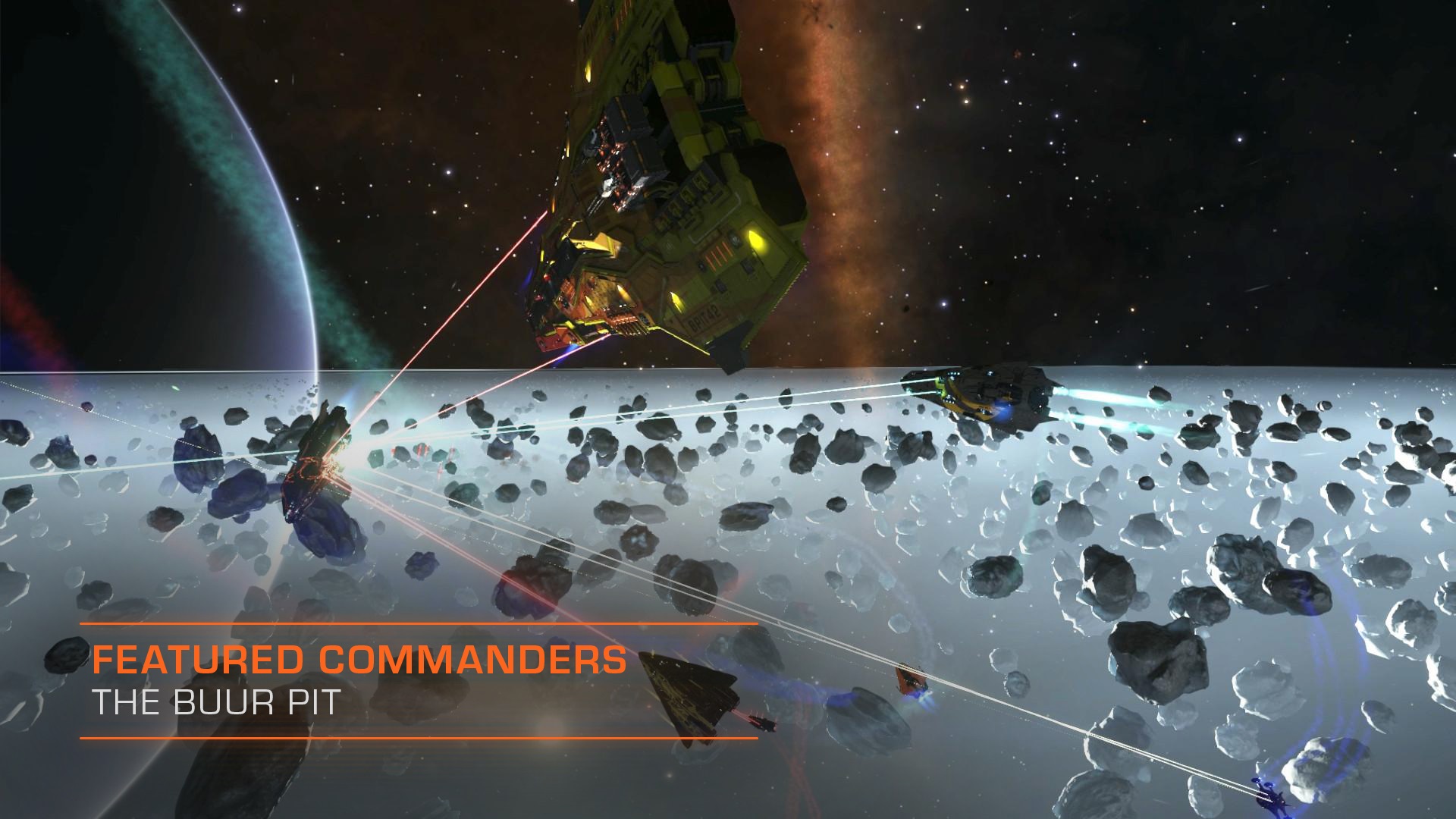 ​
Hello Commander! Tell us, how and when did you first find out about Elite Dangerous?
That was with the launch of the Kickstarter! I can't remember exactly how I stumbled across it (gaming press probably), but as soon as I read the words "Braben", "Elite" and "Kickstarter" I sprinted for my wallet. Having been a massive fan of the 1984 original game, the 1985 Spectrum version of Elite, then Frontier: Elite 2 on the Amiga, and then again with First Encounters, a brand new iteration of my favourite franchise was a no-brainer for me.
You've been with the series a long time! What got you hooked on the game?
As I mentioned up above, Elite Dangerous was an easy sell for me, but what got me hooked first and foremost was the multiplayer. There had never been an Elite game with other human Commanders in it - actual people, just flying about, minding their own business (or sometimes your own business!). I still get a huge buzz whenever I see a hollow square in a system. These days that hollow square is usually followed up by a "o7" in local system chat as well. I've never, in all my long years, played a multiplayer game where other players will just randomly basically say "hello" as they pass you. That's something really special about Elite. Oh, and of course, there are spaceships
That's really great to hear, we're proud of how lovely our community is. So, how long have you been creating content around Elite Dangerous?
I made my first episode of Witchspace News on June 26th, 2018.
And that really kicked off your channel, as you haven't stopped since! What's your favourite piece of content that you've created around Elite Dangerous?
There are two videos that we (myself and my wife, Commander Rheeney) are most proud of, and that somewhat reflect our journey here at the Buur Pit. The first one is "Turn and Burn". Back in Autumn 2018, I had this mad idea that I wanted to capture and show combat footage but from a third person perspective, so I asked CMDR Rheeney if she would be prepared to try using the vanity camera to capture the footage… Three weeks later we produced "Turn and Burn"! The community, at large, seemed to really enjoy seeing Elite Dangerous filmed from this perspective. She's now the other half of the Buur Pit production team, being the full time camera operator.

The second piece of content that we're really proud of is a recent video called "Multicruising". We wanted to create a video that was almost the complete antithesis to combat footage, so it's a selection of ships flying dangerously low across planetary surfaces and showing a side to Elite Dangerous that you just can't see without a camera operator… unless you want to crash... a lot! We're trying to make it a mission of ours to show Elite Dangerous from interesting third person perspectives, as it's such a beautiful game to play, film and photograph. We're really proud of the results we've achieved so far.
As you should be, they're wonderful videos. If you could give one piece of advice to every Commander, what would it be?
Aside from the obvious mantra of "never fly without a rebuy", I think I'd encourage players to reach out to like-minded Commanders and to take part in things outside of their regular comfort zone. Elite Dangerous is such a huge game, with so many options for players, that it can seem daunting to try something you might not be comfortable with doing on your own. So, I'd encourage other Commanders to find a player group or community that shares their values and play style, and then join up with them to explore aspects of the game they think might be beyond their reach.
Great advice, and different to what we've heard from other Commanders. Are there any other content creators you'd like to give a shout out to?
As a family, we sit down a couple of times a week and watch Peter Wotherspoon's Galnet News Digest on YouTube. Aside from being informative and well observed, his videos are often laugh-out-loud funny, and Peter's wry sense of humor is beautifully complemented by his "Hitchhikers Guide to the Galaxy" style vocalisations.

Another I'd like to shout out CMDR PrimetimeCasual on YouTube for his Distant Worlds 2 video logs. They are beautifully put together, and his laconic tones can ease away the most stressful of days. I've also recently discovered the videos of CMDR Echo3. He documents his combat in the game, which is all in flight-assist off mode, and I'm in awe of the skills on display in his simple but very effective videos.

We're blessed with a hugely creative community in Elite Dangerous, so it's hard to focus on just a few creators, but we in the Buur Pit have taken to maintaining a list under the description of our videos that reflects who we follow and recommend.
Do you have any cool projects on the horizon you'd like to tell us about?
We've got a quite a few irons in the fire project-wise at the moment - all in various stages of development! While we're really excited about all of them, the one that really stands out to me is Turn and Burn 2. We're taking everything we've learnt since doing the original Turn and Burn, and putting it into a new third person multi-crew combat video.
It sounds awesome, we can't wait to see it! Before we let you go, where can people find you online?
You can find all our videos on YouTube.
We're on our Discord server everyday which is an active, friendly and welcoming community.
You can follow me on Twitter.
We also livestream on Twitch.
And finally, you can also follow us on Instagram!
Thank you for your time, CMDR Buur and CMDR Rheeney! We can't wait to see how your future projects will play out, so we'll be keeping a close eye on your channel.

If you're reading this and would like to be interviewed as a Featured Commander, apply here.