Community Manager
Frontier
Hello everyone, and welcome to the fifthteenth Featured Commanders thread of 2019! This week, we're talking to an Elite Dangerous Commander, livestreamer and real-life Experimental Quantum Physicist, The Midnicorn!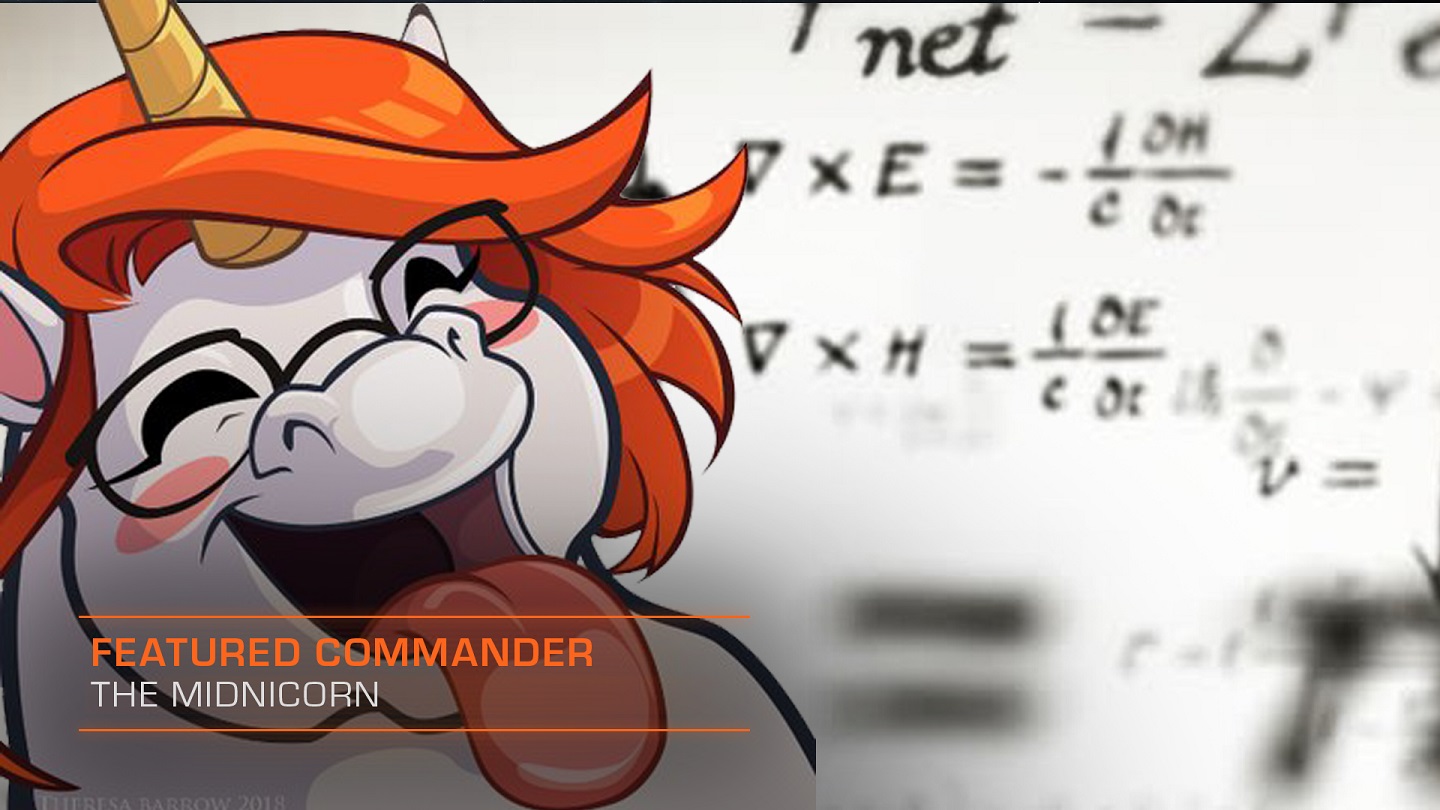 ​
Hello Midnicorn, introduce yourself!
Hi! My name is Mia, but I go by the Twitch username of The Midnicorn.
How did you first hear about Elite Dangerous?
As an educational broadcaster and streamer, I'm always on the lookout for games that are fun and that can provide an interesting platform for explaining and investigating scientific theories. In 2015 I heard from friends and fellow streamers about an awesome space-based game that everyone said I had to play and stream, because of my love for space and university degree in Astrophysics.

They weren't wrong...
That's great to hear. We're very proud about our games' scientific accuracy in many places! What got you hooked on Elite Dangerous?
As soon as I jumped into the game, I was in awe of it's beauty and realism. I quickly came to the conclusion that this was unlike any game I had played before, and that it was the first game that allowed me to fully experience the wonders of the galaxy I had avidly researched at University. To top it off, I soon found out that the Elite Dangerous community was like no other I'd come across, and I've forged long lasting friendships, after having to be rescued several times as a new player.
It happens to us all, we were all new Commanders once! So, when did you start making content around the game?
It's been several years since I began my epic adventures in Elite Dangerous, and during this time I've spent countless hours explaining astronomical phenomena to anyone that happens to come across me in the vastness of space and time, otherwise known as Twitch! Every week I team up with new Commanders to discuss new discoveries in-game during Team Up Tuesday, which kicks off at 19:00 UTC and every Saturday at 10:00 UTC. I fly through Elite Dangerous and discuss the science behind everything and anything.
What was your favourite piece of content that you've made around Elite Dangerous?
I think the best content I've created in Elite Dangerous was the first time I ever played it and decided to stream it live on Twitch. I'd been advised to undertake the in-game training missions several times and master the hotkeys before attempting anything too hard. But, me being me, I decided that I would broadcast my first ever attempt at flying. I can honestly say that my hilarious and thrilling experience of trying to get through the "mail slot" and land for the first time was enjoyed by many viewers, as it evoked fond memories of the first time they played the game. Even today, I have the broadcast available to watch on my Twitch channel, just to remind me of how far I have come and to stand as a symbol to others that we all have to start somewhere.
That's very sweet, and it sounds like it was a fantastic time. What advice do you have for new Commanders?
Never go at it alone. The moment you step into the world of Elite Dangerous, you have entered into a world where someone's always got your back, even if you haven't met that person yet. Our Universe might lack evidence of intelligent extraterrestrial life and civilisations, but the universe of Elite Dangerous is teeming with it.
Is there anyone you'd like to shout out?
I am a proud member of The Knowledge Fellowship. This group isn't a stream team, but a community of like-minded people, who seek knowledge and share knowledge with others through gaming platforms. The communities primary goal is to share peer-reviewed information on a variety of topics in a casual, highly-interactive environment on Twitch.
Each broadcaster within The Knowledge Fellowship is a certified amazing person and all deserve a massive shout out.
Is there anything else you'd like to share with us and the Elite Dangerous community?
Within my community, we have a new and exciting group planned for the near future, named 'The Geek Squad'. This will be a association player group, that will travel the vastness of the galaxy to document the strange and weird astronomical bodies found to harbour life and collectively we will pull on our knowledge of science to explain how it got there.
And where can people find you online?
Thank you for taking the time to speak with us, Midnicorn!

If you're reading this and would like to be interviewed as a Featured Commander, apply here.