Community Manager
Frontier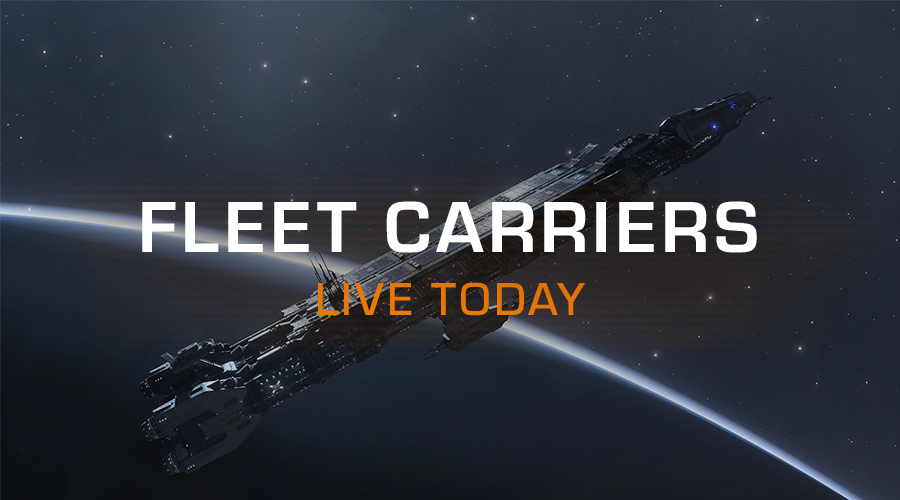 Greetings Commanders,
"
CAPITAL-CLASS SHIP DETECTED"
Fleet Carriers are now traversing beta hyperspace and they will arrive in the live Elite Dangerous galaxy today. We would like to give another big thank you to everyone who participated in the betas and provided us with the feedback to make Fleet Carriers what they are today!
For a recap of what Fleet Carriers have to offer, read below. Catch up with the full Patch Notes by clicking the link
here.
These monolithic mega ships are a mobile base of operations for you and anyone you want to welcome aboard. With a 500-light-year jump range, Fleet Carriers provide a new platform for deep-space exploration and long-range travel, equipped with every essential you could ever need. No matter where you are in space, you're home on a Fleet Carrier.
Offering a range of on-board services, capabilities, and customisation options, Fleet Carriers are truly tailored to suit your play style, offering you the ability to rearm, refuel, and repair on-the-go. Here are six great features making Fleet Carriers well worth purchasing in Elite Dangerous.
Deep Space Exploration
Exploring the far reaches of our galaxy can be a long and daunting journey. With Fleet Carriers running on newly discovered element Tritium, you can now make staggering jumps of up to 500 light-years, enabling you to establish a forward operating base and explore surrounding systems. Top up fuel reserves by mining ice asteroids to prepare for the long journey home.
A new source of income
You have to spend money to make money, and there are plenty of ways to do both on your Fleet Carrier. Owners can impose stiff tariffs for visitors who wish to use their ship's services, letting you earn extra when Commanders sell bonds, buy modules, and more. Any funds you accrue will deposit directly into your Fleet Carrier's bank, and you can withdraw them at any time. Whether you're feeling relaxed or ruthless, the finances are up to you.
Your own personal shipyard
Fleet Carriers let you bring the whole crew along for the ride. With ample room for a range of craft both above and below deck, it's never been easier to organise your squadron. Each Fleet Carrier has 16 landing pads, allowing for eight large ships, four medium ships, and four small ships in total. Touch down and browse potential upgrades, or take the party to a new system. Your Fleet Carrier's capacity, services, and local Superpower reputation is visible to everyone at a glance.
Control Landing Clearance
Who comes aboard your Fleet Carrier is entirely your call. Choose whether only friends have docking permission, extend the invitation to squadron members, or throw open the gates to anyone with a pulse. An additional setting lets you control if Commanders with notoriety can dock, letting you give refuge to criminals or protect your good name. Visitors can see what your Fleet Carrier's focus is via the interface, whether that's mining, bounty hunting, pirating, and more.
Upgrade with a range of services
Fleet Carriers are powerful, versatile, and purpose-built to work for you. Optimise your experience by adding extra features, from Universal Cartographics and Outfitting, to your own personal Redemption Officer. Keep it quiet and you might even decide to invite along a fence, who'll facilitate the trade of illegal cargo on-board. Your Fleet Carrier, your rules.
Keep your carrier jump ready
Like any good Commander, you'll need to employ a trusty crew to run all of the operations. Your Deck Officer, for example, is responsible for day-to-day maintenance, navigation, weaponry, and other duties. In addition, each service you introduce corresponds to a Head Crew Member. Provided you've got the credits to cover upkeep costs, you can turn your Fleet Carrier into its own micro economy.
We'll keep you updated on when the Fleet Carriers Update is live, but in the meantime, why not jump into our Launch Day livestream over on
Twitch
? We'll be joined by Head of Online, Dav Stott, to talk through Fleet Carriers and their journey from beta to launch. Don't miss it, starting at 11:00 AM UTC.
o7
Last edited: