Greetings fellow CMDR's,
I have just finished a one-month exploration trip covering Bubble -> SagA* -> Beagle/Semotus -> SagA* -> Colonia.
Besides visiting these landmarks (which was a really fun and thrilling experience), I also wanted to visit one spot in the galaxy nobody has given any notice - until now:
There is only one "
quadripoint
" in the ED galaxy where four galactic regions meet:
Izanami / Newton's Vault / Arcadian Stream / Ryker's Hope
Since there exists a "Four corners monument"
in the United States
https://en.wikipedia.org/wiki/Four_Corners_Monument
and in Canada
https://en.wikipedia.org/wiki/Four_corners_(Canada)
and also in Great Britain
https://en.wikipedia.org/wiki/No_Man%27s_Heath,_Warwickshire
I wanted to find this unique location in ED, too
When I got to the target area I catalogued several star systems to discover that there is no "cross-shaped" border between the four regions, but that there are two "3-region-confluences" about 50ly apart from each other. Newton's Vault and Ryker's Hope share a common border, while Izanami and Arcadian Stream do not touch each other. I have drawn a schematic to illustrate the situation: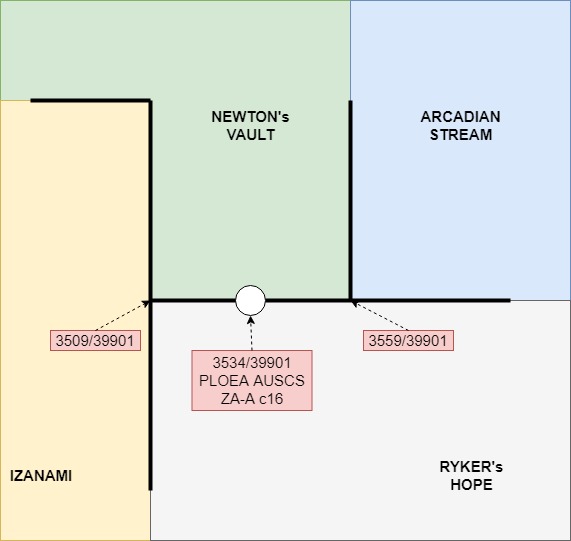 From the coordinates of these two confluence points: [3509 / 0 / 39901] and [3559 / 0 / 39901]
I calculated that a star system located near [3534 / 0 / 39901] being as close to the galactic pane as possible, must be in minimum distance to all four regions.
Luckily, there is one system nearly exactly on these coordinates, only -13,7 below the galactic pane:
PLOEA AUSCS ZA-A c16
[3534.4375 / -13.6875 / 39901.0625]
https://www.edsm.net/en/system/id/44943407/name/Ploea+Auscs+ZA-A+c16
The system is located at the very edge of Ryker's Hope region, you can reach the three other sectors via a short <30ly jump:
Newton's Vault = Ploea Auscs AC-A b6 (6,98 ly)
Arcadian Stream = Ploea Auscs NA-A d110 (27,94 ly)
Izanami = Ploea Auscs YB-A b8 (29,80 ly)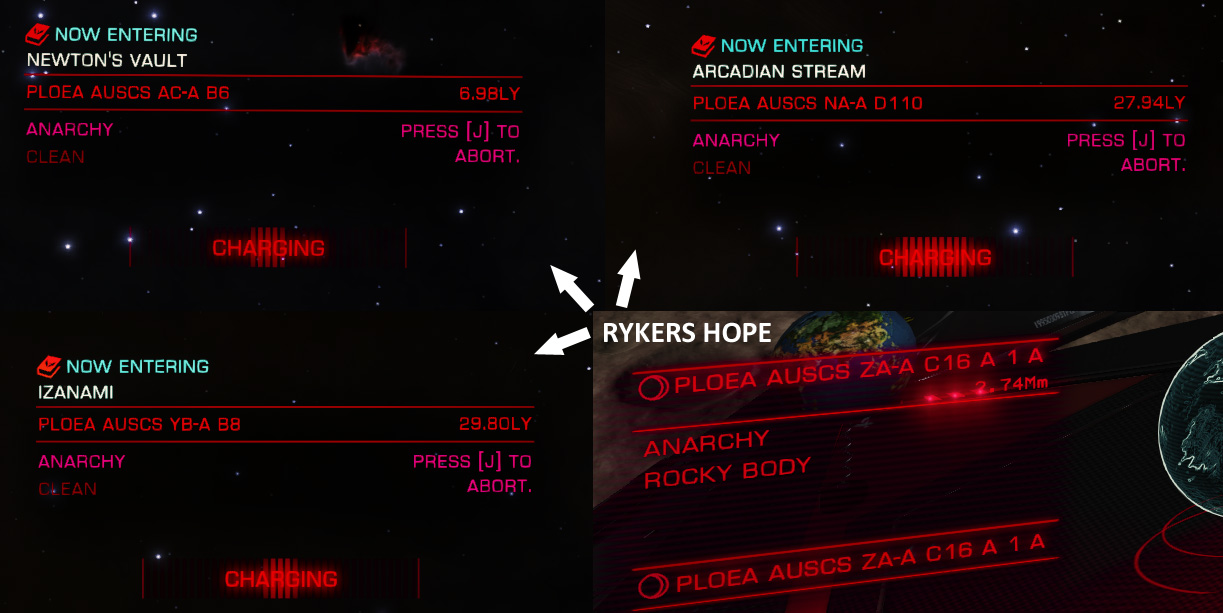 I therefore nominate PLOEA AUSCS ZA-A c16 as the true location for a Four Corners Monument in the ED galaxy waypoint
and want to propose that sometime Frontier Developments honors this unique spot with a tourist beacon / base / megaship.
(October 16th, 3305)
If you want to visit this system, there is a nice giant crater on the innermost moon (A 1 A) for landing.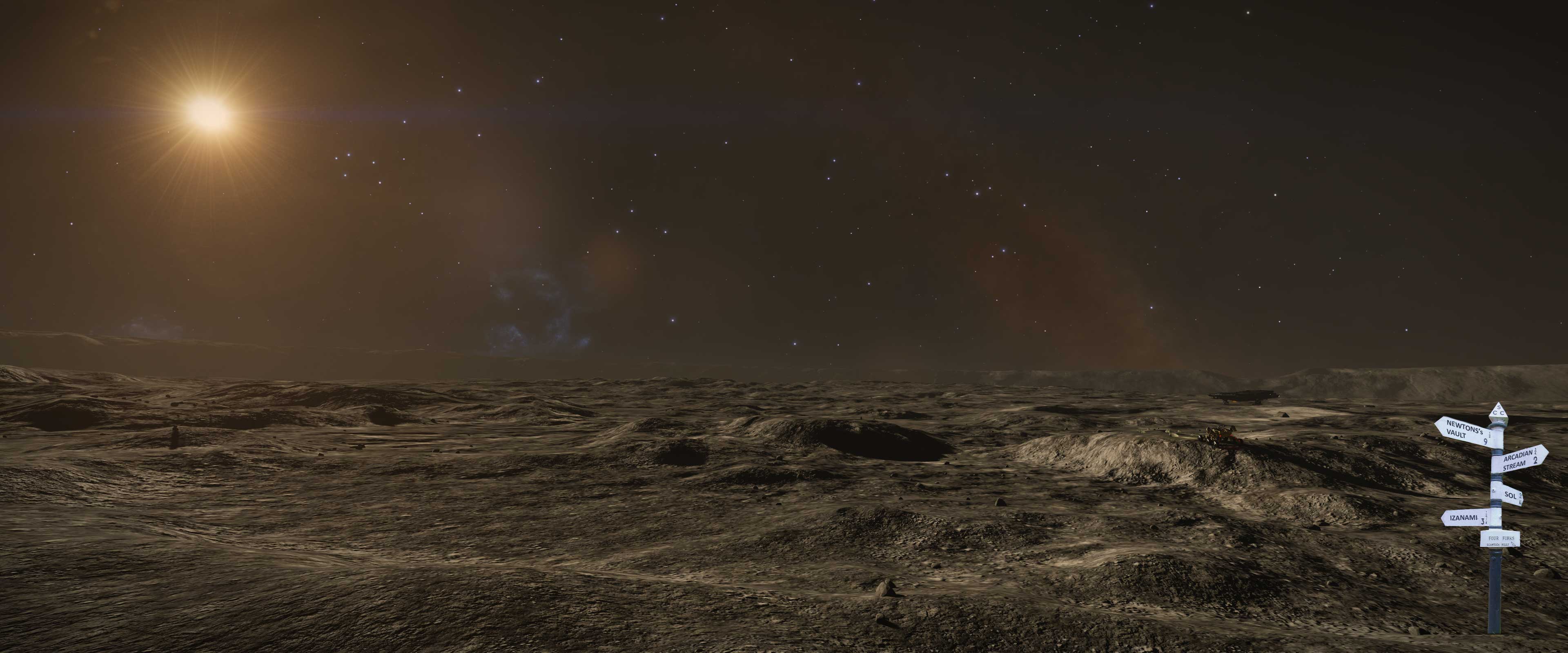 Other interesting facts:
Distance to Sol: ~40k ly (40057 ly)
The nearby system Ploea Auscs AB-A c16 (29,8ly) is an EDSM "green" system, it contains all necessary ingredients for jumponium FSD injections.
Fly safe
For all, who have read this far ...

My trip tried to cover as many other "borderstone confluences" as possible, here are the coodinates for all of them:
Galactic Centre / Rykers Hope / Odins Hold 05.10.3305
DRYAU CHRAEI UO-Z D13-3178 / DRYAU CHRAEI TJ-X C28-2729 / DRYAU CHRAEI TJ-X C28-715

Rykers Hope / Odins Hold /Izanami 05.10.3305
HYPOAE CHREA BH-0 B47-276 / HYPOAE CHREA BH-0 B47-348 / HYPOAE CHREA BH-0 B47-12

Odins Hold/ Inner Orion Perseus Conflux / Izanami 05.10.3305
HYPIAE CHREA IO-B B13-3 / HYPIAE CHREA GD-D B12-48/ HYPIAE CHREA SR-N C6-658

Newtons Vault / Outer Orion Perseus Conflux / The Conduit 06.10.3305
PLAE FREAU PL-L C21-31 / PLAE FREAU GI-V B43-3 /PLAE FREAU GI-V B43-5

Newtons Vault / Hieronymus Delta /Formorian Frontier 06.10.3305
SMOOTAE RN-U B16-2 / SMOOTAE RN-U B16-1 / SMOOTAE RN-U B16-0

Formorian Frontier / The Abyss / Acheron 13.10.

3305


SLAIYIAE XY-S D3-3 / SKUEQAU NN-C B19-0 / SLAIYIAE AE-K C8-0 (contains an ELW!)

Newtons Vault / Formorian Frontier / The Veils 14.10.

3305


WRUETHAI NF-N C20-16 / WRUETHAI CW-Y B41-2 / WRUETHAI CW-Y B41-8

Arcadian Stream / Newtons Vault / The Veils 14.10.

3305

(~20k ly to SagA* from here)
BYOI AOD SO-M B48-0 / BYOI AOD LC-D D12-13 / BYOI AOD LC-D D12-16

Rykers Hope / Izanami /Newtons Vault / Arcadian Stream 16.10.

3305

(Four corners)
elected PLOEA AUSCS ZA-A c16 as described above

Galactic Centre / Rykers Hope / Empyrean Straits 19.10.

3305


Dryuae Chruia YE-T b58-66 / Dryuae Chruia YJ-X c28-652 / Dryuae Chruia YJ-X c28-3334

Galactic Centre / Empyrean Straits / Odins Hold 19.10.

3305


Choomee JL-P c5-968 / Choomee JL-P c5-8390 / Choomee JL-P c5-7572

If I calculated correctly, there are in total 70 "borderstone confluences" (3-region-junctions) to find, good luck
Last edited: