Community Manager
Frontier
Hi everyone,
We're very excited to announce another new update is coming to Jurassic World Evolution on 18 June!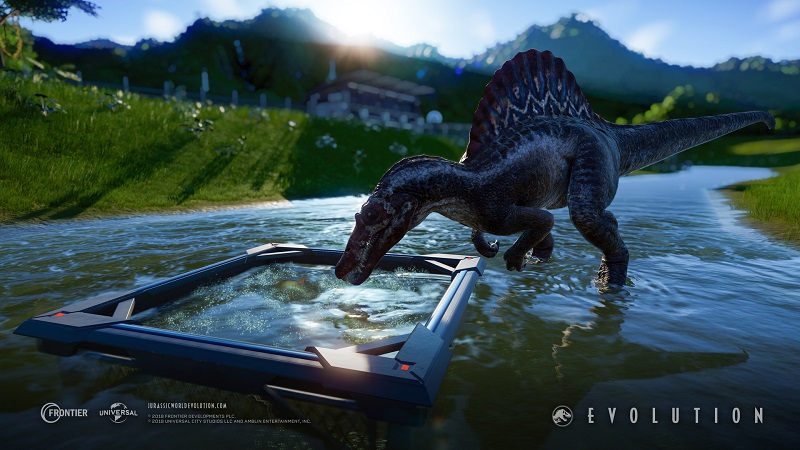 The free 1.8 update will bring a whole range of features to the game that have been widely requested by the Jurassic World Evolution community. If you caught our recent Feature Focus posts over the past two weeks, you'll know a lot of the main features already, such as: terrain brushes, scenery items, refined care for spinosaurids and gyrosphere improvements. Here's a quick breakdown of the Feature focus articles:
Terrain and Scenery Items
It's time to get creative with brand-new terrain and scenery items. Place new rocks, trees and shrubs in your dinosaur habitats or change their terrain from grass to dirt or sand on some islands! Read more about it right
here
.
Spinosaurid Care
Spinosaurids are receiving some refinement for their care with the addition of a wetland need to represent their swamp and coastal environments, as well as new fish feeders! They'll prefer to eat fish over standard meat or goats, so do add these into their homes to ensure they're content in their environment. Read more about it
here
.
Gyrosphere Improvements
Players have often told us they'd like to be able to build gyrosphere tracks to have one big tour of their park. We've made some changes to allow gyrospheres to pass through enclosure fences by adding automatic gates, so now you can wow your guests with a park wide tour of all of your exhibits! Read more about it
here
.
These features will be coming along with a number of bug fixes and gameplay tweaks to certain areas of the game like Monorails, dinosaurs, buildings and more, as well as some super exciting paid content which we'll be talking about separately soon.
We'll have more information available when the update goes live on 18 June, but in the meantime tune into our weekly livestreams on
www.twitch.tv/frontierdevelopments
to have some fun, make some new like-minded friends, and chat about all things Jurassic World Evolution!