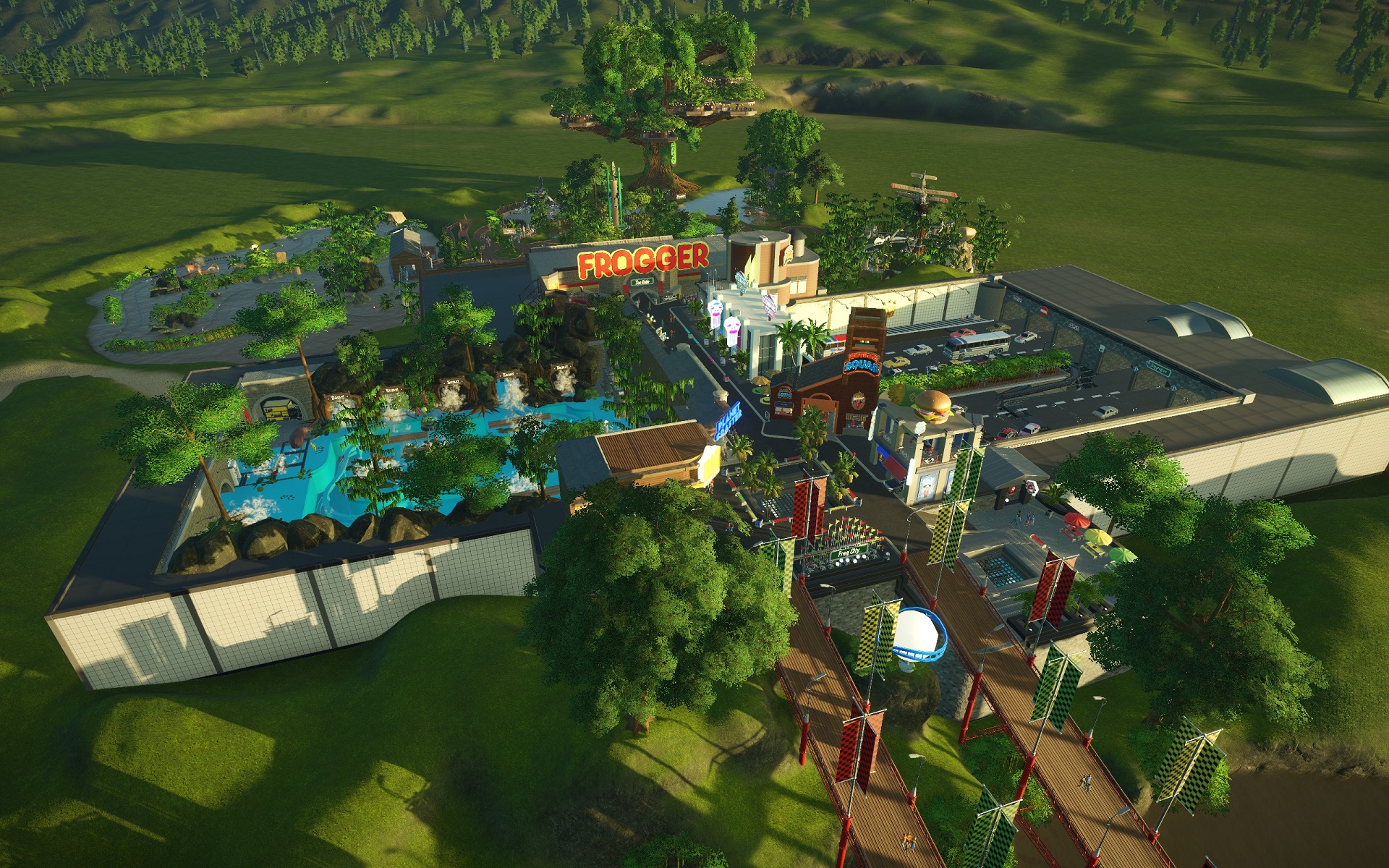 Carella Coaster Creations (Steam/Discord ID : Geneocide) is proud to present, in honor of one of the first hit video games,
Frogger: The Ride!
Frogger: The Ride is a Re-Motion arm track ride in which riders guide Frogger across a 6 lane Freeway, through the City Sewer, and then through the dangerous Swamp. Cars, Humans, Crocodiles, Snakes and Hippos will all be in your way. Avoid them all and get Frogger Home!

It is my entry for Channel 5 Gaming's Video Game contest and you can watch Johnny's video (and then go vote for it!) here:
[video=youtube;BXgh-PPra-w]https://www.youtube.com/watch?v=BXgh-PPra-w[/video]
Even though most Re-Motion are traditionally dark rides, Frogger: The Ride is designed to provide unique ride experiences both during the day or at night. Also, while standard Re-Motion rides usually run at 5 MPH and use parabolic screens, Frogger: The Ride moves at 12 MPH and uses precisely-timed animatronics and special effects to create a highly immersive, intense thrill ride. The downside to this is that there is a delay between cars launching from the station so that all the animatronics can reset before the next car arrives. This can result in large queue times, so set the price high and profit!
Statistics:
- Length & Duration: 542 meters in 2 minutes, 13 seconds
- Ratings:

- Excitement: 6.14 (Green)
- Fear: 3.25 (Orange)
- Nausea: 1.25 (Green)​
- Cost: $68,338
- Number of Pieces:
-Piece 1: 3,995 (1 Building, 1 Ride)
-Piece 2: 3,707 (4 Buildings, 1 Shop, 9 Restaurants)
​
-Just-a-Momento
-Street Fox Coffee
-Gulpee Soda
-Gulpee Energy
-Pizza Pen
-Chief Beef
-Hot Dog Squad
-Monsieur Frites
-Cosmic Cow Ice Cream
-Cosmic Cow Milkshakes
-Restroom
-ATM
-Staff Building
​
- Recommend PathType: Standard Asphalt
- Recommended Queue Type: Standard Asphalt
Links:
If you do use it your parks, please send me or post videos or screenshots! Enjoy!
-----------------------------------------------------
Carella Coaster Creations
Steam and Discord ID : Geneocide
Steam Workshop:
http://steamcommunity.com/id/Geneocide/myworkshopfiles/?appid=493340
Twitter: @CarellaCoaster |
https://twitter.com/CarellaCoaster