Question: Why does it take forever to refuel after a jump?
Elite Dangerous has multiple size fuel scoops. The larger the fuel scoop the faster it will replenish lost fuel after a jump.
A quick "rule of thumb" guide before diving into the numbers.
If you match the Fuel Scoop size with the size of the ships Frame Shift Drive (ie 3A Fuel Scoop with a 3A FSD) it will take about 10 seconds to recoup the lost fuel after one jump.
Using a fuel scoop one size smaller (ie 2A Fuel Scoop with a 3A FSD) will double that time (About 20 seconds)
Using a fuel scoop one size larger (ie 4A Fuel Scoop with a 3A FSD) will half that time (About 5 Seconds).
These values are using a Fuel Scoops max rate. (The best scoop rate you can obtain by flying deep into a stars corona.)
Now onto the numbers.
Each Size fuel scoop also comes in different grades (A-E) which increases the scoop rate by a set percentage.
Grade E to D = 33% increase
Grade D to C = 25% increase
Grade C to B = 20% increase
Grade B to A = 16.5% increase
(percentage is a close estimate , different size fuel scoops increase or decrease the values by up to 0.3%)
Each size and grade of Frame Shift Drive consumes a set amount of fuel after every jump.
Converting the "Max Fuel" used per jump from (T) Imperial Ton to (kg) Kilograms we can figure the time it takes to refuel after one jump at the maximum rate for each fuel scoop.
For the examples below we will only use the "A" grade FSD and Fuel Scoop for comparison.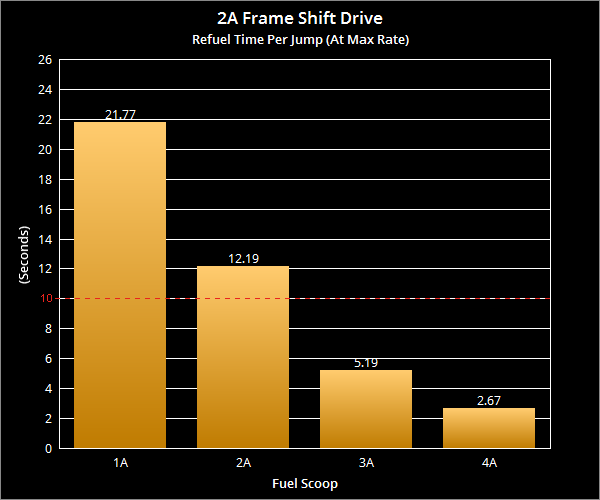 | | | |
| --- | --- | --- |
| FSD | Fuel Per Jump | Converted to Kilograms |
| 2A | 0.9T | 914.4kg |
| Fuel Scoop | Fuel Rate (Kilograms per second) | Time Per Jump (Seconds) |
| 1A | 42kg/s | 21.77s |
| 2A | 75kg/s | 12.19s |
| 3A | 176kg/s | 5.19s |
| 4A | 342ks/s | 2.67s |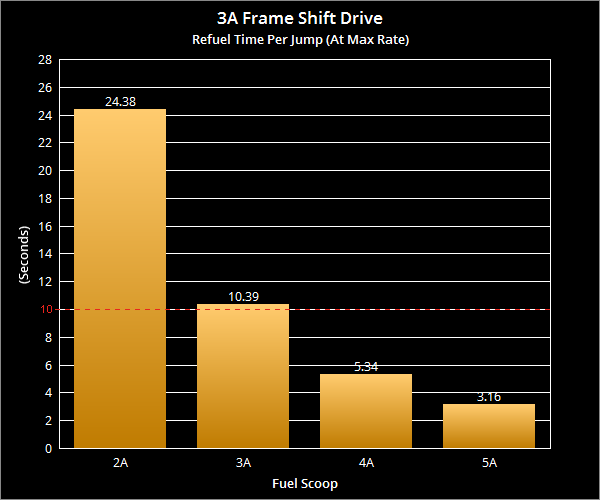 | | | |
| --- | --- | --- |
| FSD | Fuel Per Jump | Converted to Kilograms |
| 3A | 1.8T | 1828.8kg |
| Fuel Scoop | Fuel Rate (Kilograms per second) | Time Per Jump (Seconds) |
| 2A | 75kg/s | 24.38s |
| 3A | 176kg/s | 10.39s |
| 4A | 342kg/s | 5.34s |
| 5A | 577kg/s | 3.16s |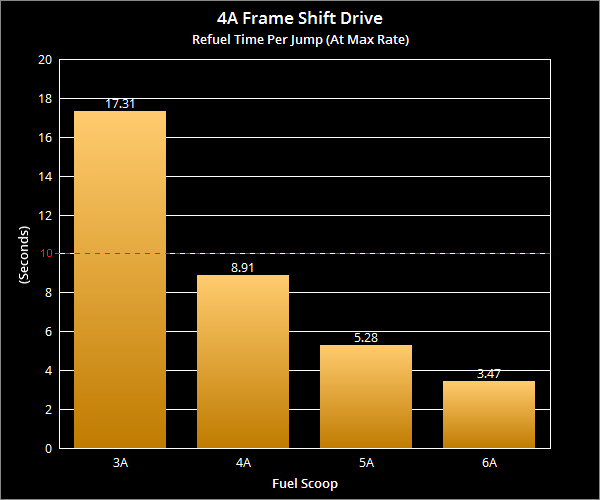 | | | |
| --- | --- | --- |
| FSD | Fuel Per Jump | Converted to Kilograms |
| 4A | 3.0T | 3048.1kg |
| Fuel Scoop | Fuel Rate (Kilograms per second) | Time Per Jump (Seconds) |
| 3A | 176kg/s | 17.31s |
| 4A | 342kg/s | 8.91s |
| 5A | 577kg/s | 5.28s |
| 6A | 878kg/s | 3.47s |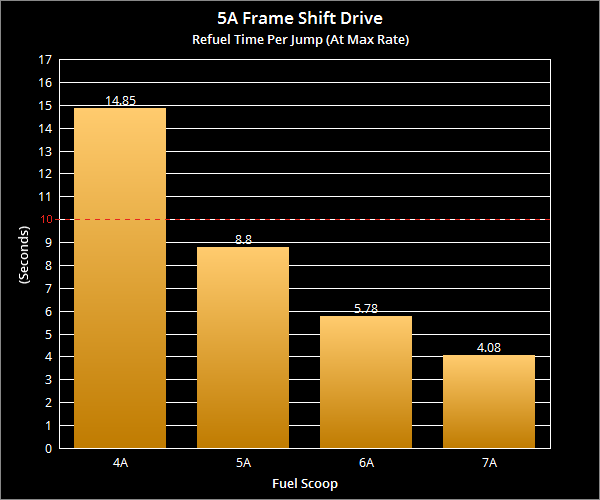 | | | |
| --- | --- | --- |
| FSD | Fuel Per Jump | Converted to Kilograms |
| 5A | 5.0T | 5080.2kg |
| Fuel Scoop | Fuel Rate (Kilograms per second) | Time Per Jump (Seconds) |
| 4A | 342kg/s | 14.85s |
| 5A | 577kg/s | 8.80s |
| 6A | 878kg/s | 5.78s |
| 7A | 1245kg/s | 4.08s |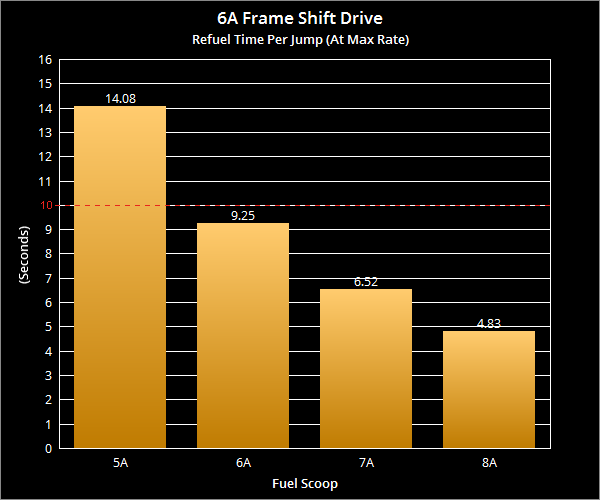 | | | |
| --- | --- | --- |
| FSD | Fuel Per Jump | Converted to Kilograms |
| 6A | 8.0T | 8128.3kg |
| Fuel Scoop | Fuel Rate (Kilograms per second) | Time Per Jump (Seconds) |
| 5A | 577kg/s | 14.08s |
| 6A | 878kg/s | 9.25s |
| 7A | 1245kg/s | 6.52s |
| 8A | 1680kg/s | 4.83s |
| | | |
| --- | --- | --- |
| FSD | Fuel Per Jump | Converted to Kilograms |
| 7A | 12.8T | 13005.4kg |
| Fuel Scoop | Fuel Rate (Kilograms per second) | Time Per Jump (Seconds) |
| 5A | 577kg/s | 22.53s |
| 6A | 878kg/s | 14.81s |
| 7A | 1245kg/s | 10.44s |
| 8A | 1680kg/s | 7.74s |