what i like to see here,
post your favorite old school game
system(s) you used
dislikes and likes
your personal story how you became a gamer
and what became of that
Got that idea because i posted to what games i play if not ED, now i can't play this because of two reasons, lack of funds and no access to web at home.
But i can play a vast amount of games from the past which costs me nothing.
Got that idea because of Frontier and nothing else as Frontier.
Playing computer games since approx. 1980 i can look back to a lot i played and even much more i never touched.
It started to me with "pong" which was quite before 1980, my dad was a diy electronics engineer and made a pong and a lightgun game for me, the lightgun he made from a pellet gun and of course the needed opto electronic sensor to "hit" the spot on the screen.
The console was disassambled by him self after some years, he doesn't liked and claimed it would harm the tube, which isn't true for sure (apart from the burn in) but i guess he feared more to miss his daily news on tv which was like a drug to him.
Later i always liked to obtain one but my dad was against it and also claimed that they are tard, he had still the Odyssee in mind with the overlayed foils on screen and claimed also that this is a cheat and it's basically all the same game only the used pins vary due to the plugged in cards.
When i started my education and received my first own money i spent 90% of it in coin op's, after a while i decided to buy a console because it would spare me some money.
My decision was the Intellivision of which i thought it was the most advanced of the available ones, the ATARI was already a little outdated and i couldn't get warm with the sprite based stuff of Coleco, it was so poor animated, but it seemed the mass liked it better, they liked to press a single button in rocky and see his stupid grin instead of an advanced sports game, as example.
Still i'm addicted to this console and the concept behind.
Surprisingly dad also liked it and we played quite often, but as i said it stole him to much time from watching tv.
Thus i bought as next a own tv set.
For a boy who liked to play foremost shoot 'em ups it was a uncommon decision i guess to buy a console which made his success with sport games.
Couch sport became a main factor and i never liked what was published those days for other systems or for the upcoming C64.
Graphically maybe better (as far as animations made of two sprites are "graphically better" it's debatable) but with far less gameplay.
I learned that shoot 'em ups aren't the best to play at home.
I'm a weird dude and my second inty (first broke because of ???) i smashed on the wall because of frustration over a game.
I bought me a third one used that was already late i guess in 1986.
It didn't lasted to long and the controllers broke, i lost a interest in gaming and lost my mind completely i became member to a religious sect.
However it was stashed away and later disassambled by dad because he thought i won't use it anymore.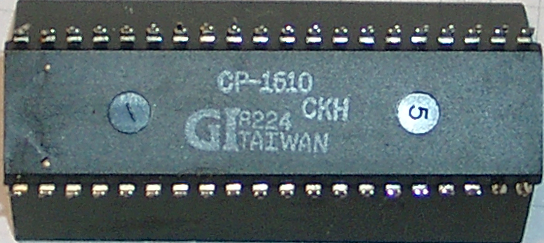 the leftover(s)
Aftef the excurse to "higher spheres of beeing" i turned to be normal and bought me a SEGA master system, yep i always decided for the losing system
No, i hated the nintendo games, they are - i don't know with a couple of exclusions they aren't good, "advantage to the child" take soccer as excample, i liked the inty soccer much but i disliked the idea of a soccer game where a certain team will win always, even when this was the german team and i'm a german but such is tard.
You could leave the game on without to play and the german team will win. It doesn't depended on your skill if you won or not.
C'mon SEGA was 100 times better as nintendo, with the exception of mario & zelda, that's it.
But again customers was misleaded by advertising one could say.
I guess SEGA made some hard faults, if i look at the packaging for europe and USA it was miserable, it leaks of catchy images and well unfortunately like for vinyls this is the first a customer reacts to the image on the box/envelope.
But it's a hard business and i guess even baseball clubs have been used to convince retailers or simply bribery and if that didn't worked out then baseball clubs.
SEGA offered quite good sport games and this might have caused my dislike of nintendo, also and of course i could never stand to use what the mass liked.
Whatever was popular and liked by most i had to dislike, games, movies, music.
Listened only to '50 rock 'n roll
Watched only classic movies
Played the "losing system"
I guess this is still to recognize by my posted music clips i.e. it must be something unconventional else it's not good.
A friend lendet me a A500 and from then on my SEGA was forgotten, everything else was forgotten.
I bought a A2000 (later he gifted the A500 to me) and i became addicted to the amiga.
Beeing out of "deep valley" in switzerland most wasn't known to me. To buy an amiga game i haven't many options one single shop 50km from my home so it took me a little while until the CD32 was released and with it i discovered Frontier.
It was gifted to me by the same dude who gifted me the A500 because he disliked the game, he's one of those who can't get warm with an open world he liked Lemmings i hated them.
End of the line, no other game i played for a long time, it was my absolute favorite, i loved it, it was a dream come true to me, even when it was a late dream come true.
It was a dream come true because i dreamed of it, i liked the space shooters back in the '80s and i dreamed of something more complete, something...
...something like Frontier.
In between, or shortly before i had an amiga (1990 exactly), i lived still with my parents and dad bought a PC, thus i bought and played some of the PC releases from back then, mostly i played SimCity and SimEarth. SimCity became to a favorite while it was replaced by Frontier later.
At this point the A500 was still far better as a 3000$ expensive ibm doze, it wasn't good for gaming, it was good for almost nothing with a blown up OS which left no power for the applications to run except a word or a spreadsheet. Most you had to start from the floppy likewise for the miggy but with a lot of drawbacks compared to the miggy.
From sluggish analogue joysticks over less colors to miserable sound.
Emulators today might give the wrong impression, because the machine, cards and peripherals was to expensive for gaming.
You was happy to have a basic 386 with a nameless adlib sound card and a minimal graphics card.
Many games had only beeps as sound but you needed the soundcard to connect the sluggish joystick.
Besides i still own the joysticks, unbranded from "interdiscount" a swiss consumer electronics discounter.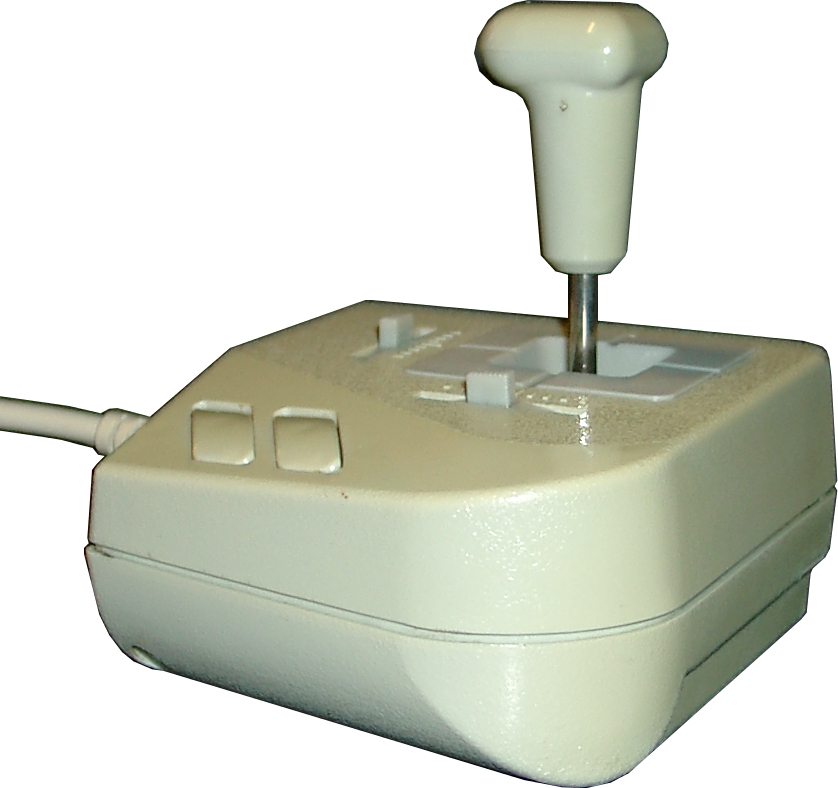 That's not the amstrad stick i posted already this is my own "microspot", the other image i downloaded once because i haven't had the photo at hand but it's my common icon for "games".
Recently i can't use them anymore, my old computer strikes because of a burned power supply (and i'm to lazy to fix it) but it would still hold a sb card to connect such a cripple and it runs an old XP.
As soon as i fixed it i will degrade the OS to win98 just to play the dos games unemulated.
A multisync monitor still lurks around to which i could also use for my amigas but i didn't even know if it still works.
I'm not a collector even if i hold some old stuff i just use it up and don't mind about boxes or condition, it has to work that's what is relevant to me.
I would never spend one cent for such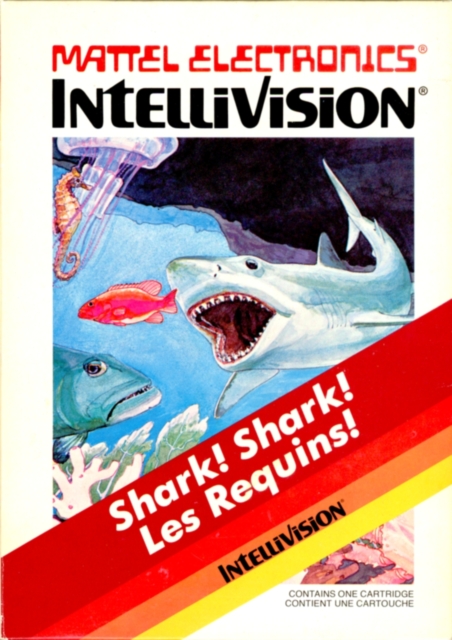 But some of my comrades at atari-age would because this box is a rarity in the states.
Marriage, children, kept me away from gaming, mostly, but i spent a lot of time playing games with my stepson on a used SNES (aha, so he likes it nonetheless).
He broke also my CD32, dunno how he's one of those with a bad hand while i have a golden one, whatever i touch fixes itself in a magical way whatever he touches breaks apart in a magical way. He's not interested in technical things and hasn't the right attitude.
Divorce and the return of addicted gaming, it turned to everything which was left of me.
I lost everything with divorce, it's not about the money it's about that you lose one life and have to start a new game.
For a hole year i hided in a small cabin didn't worked neither i lived on welfare, i have no idea by what i lived - rice and tea like an eremite and picked up cigarette stumps.
I had an old simens laptop to fumble around with with a win98 on it (in 2008!).
I played again Frontier the second game i had on the laptop was Railroad Tycoon II.
For the latter i created some scenarios.
For Frontier i downloaded once an article of "Theunis de Jong" (before divorce already) about the objects in Frontier.
I started to hack the game, it became to a passion.
I started to work again and that was the point when i met you girls and guys here.
Stumbled over "Pioneer", first i spent no attention to it and it was Geraldine who attracted me to it, who told me that it is more as just an experiment.
From then on then there was no stopping, having created already some 3D models this was my sandbox, my playground.
The very first i created a couple of years before, shortly before i was divorced.
I liked to play NFS4 and discovered a full mod named "need for space" where all tracks was changed to a space environment and instead of cars you ran spaceships over the track.
But his selected models was far to large, it's no fun curving around in an enterprise.
Because i'm addicted Frontier player obviousely i started to implement some ships from FE2.
Using CarCAD i created my first 3D model and it had to be the "imperial courier".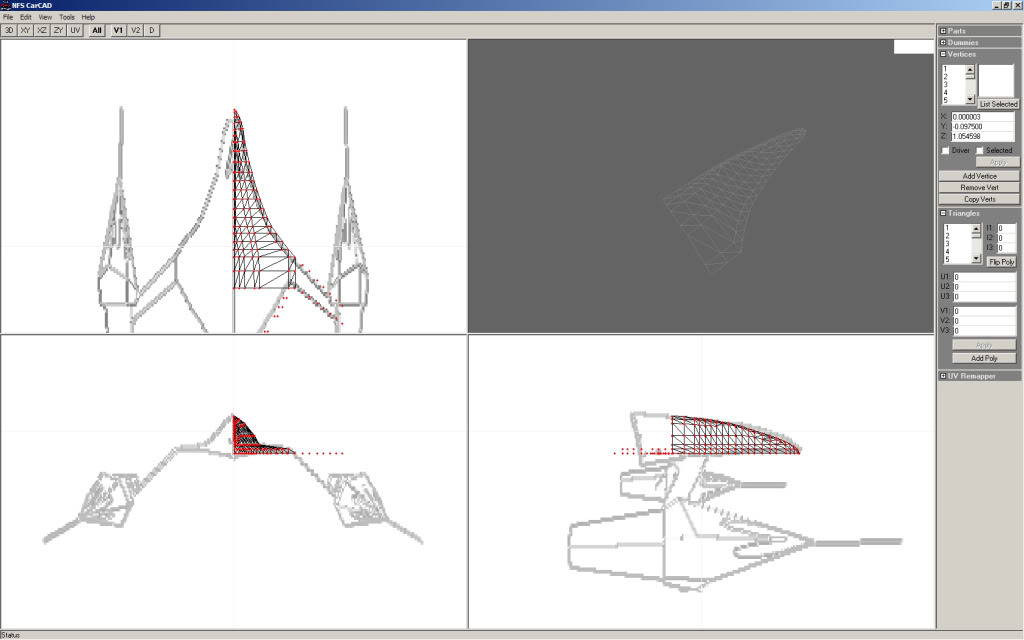 A hell of work with this program, i finished the model for NFS4 using "z-modeler", but the basic model i made in this way.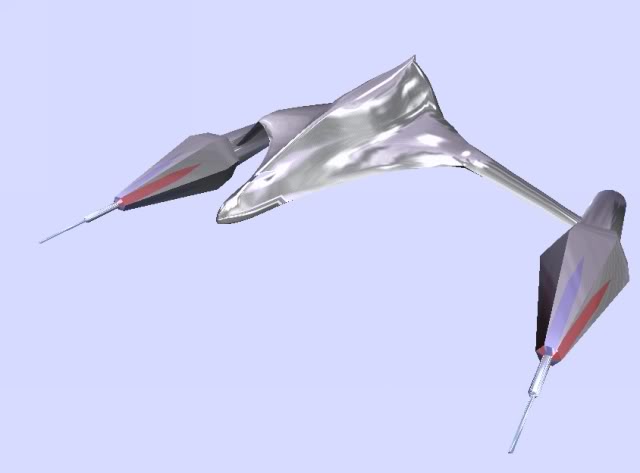 The model how i used it for "need for space"
i made a couple of other derivates but far not as good as this one.
Like i said after the pause of a beeing as eremite, i first discovered here FFED3D and of course the courier had to be pimped up for this game again i used "z-modeler" for this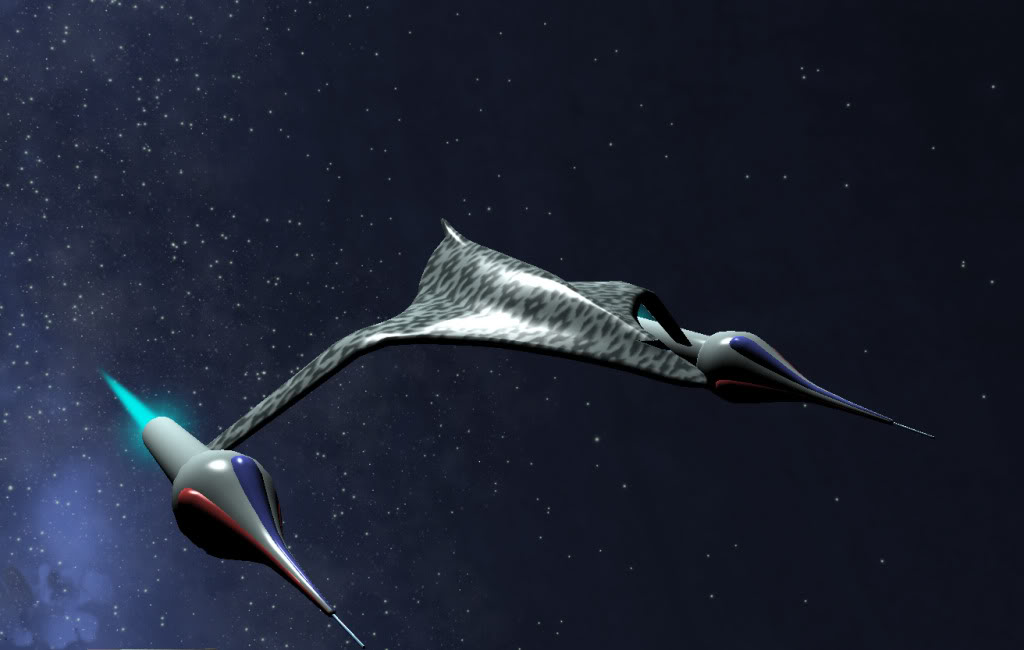 The wings are still not retractable on this model.
I downloaded a hacked "3ds max" and added the retractable wing part(s).
Of course FFED3D had a Courier model already and even for this ship i had no real use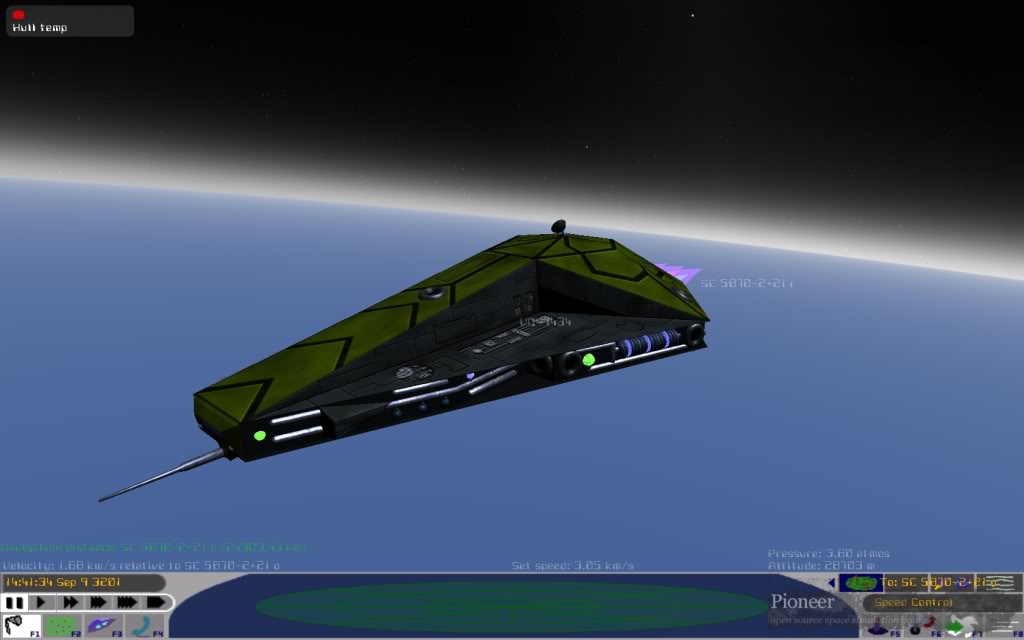 before i started to fill "pioneer" with a wide variety of ships.
recent state of the "courier"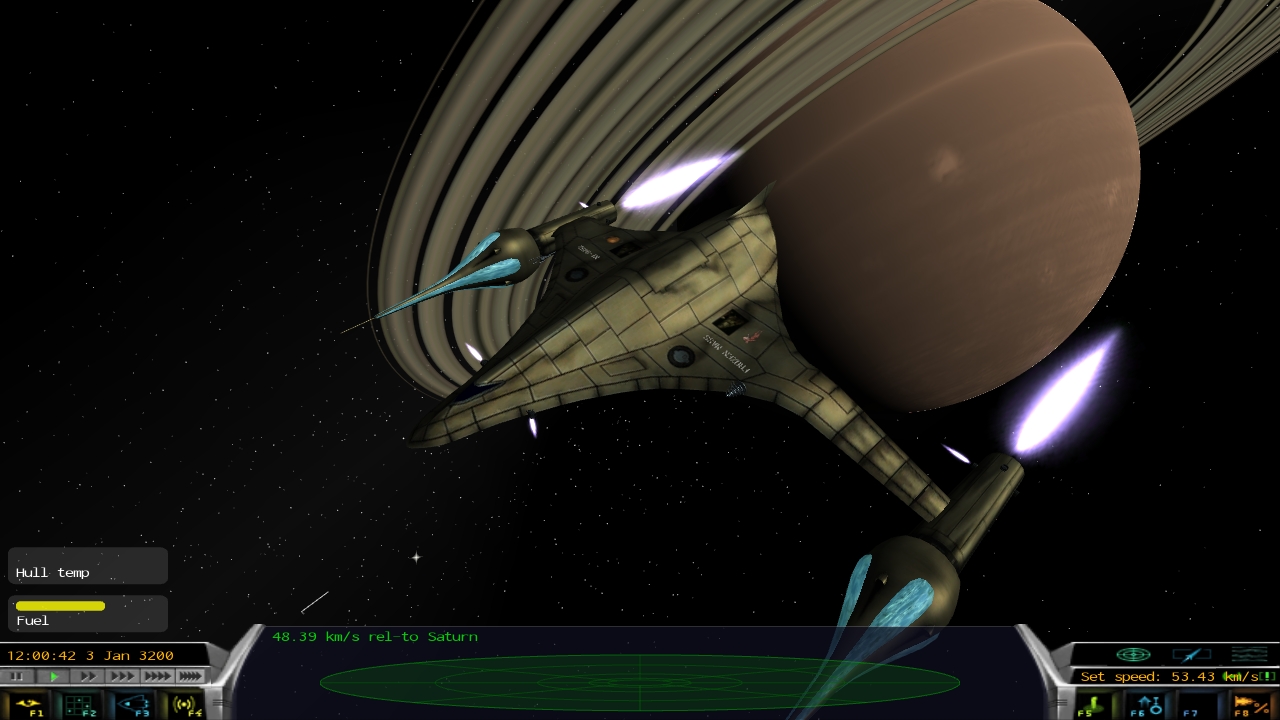 I will end here before i leave the topic of retro gaming completely and wait what will be replyed, i'm curious.
(feel free to kick my steve)