Some of you may remember that early in 3306 (yes, that's 2020), CMDR Dogsbreath was mission leader on a trip by the Australian Antarctic Division down to a number of the research bases in the frozen south as part of Operation HOTMESS. He had on board a couple of Hutton Mugs and gave us scientific and voyage updates from the journey, including some fascinating science insights into the work they do down there. The mugs made it home, and were part of Hutton's charity fundraising during 2020 - helping make a HUGE total for Hearing Dogs and SpecialEffect.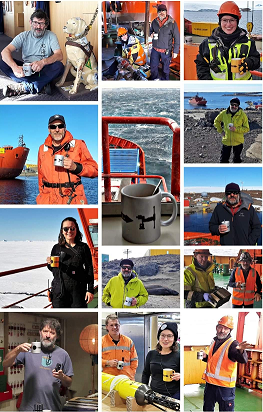 For their next voyage, they're aboard a different vessel - the MPV Everest and this time they've taken a selection of awesome Fuel Rats and Canonn Interstellar goodiesdown to the Antarctic, to be signed and returned to Hutton in the name of charity once again.
We will be following their journey, receiving messages from CMDR Dogsbreath as they make this vital journey - its purpose, to Fuel Rat Casey station in the Antarctic to keep it running for the next year. On its return, it will then immediately be making a 2nd journey down there with yet MORE Elite goodies on board for charity.
Today's "official" sitrep from on-board can be found here:
Cool Australian Antarctic Program news about wildlife, scientific research, stations (bases), expeditioners, ships, the environment and jobs in Antarctica.
Once again, our huge thanks to the Australian Antarctic Division for their participation in the charity fundraising efforts and of course to the entire team on board who have taken all of this silliness to heart and are bringing us all the updates.
For info on Brad - their on-board Fuel Rat (honourary) and the operations - here's an intro video:
All the signs pointed to Brad Collins ending up in Antarctica.

www.antarctica.gov.au