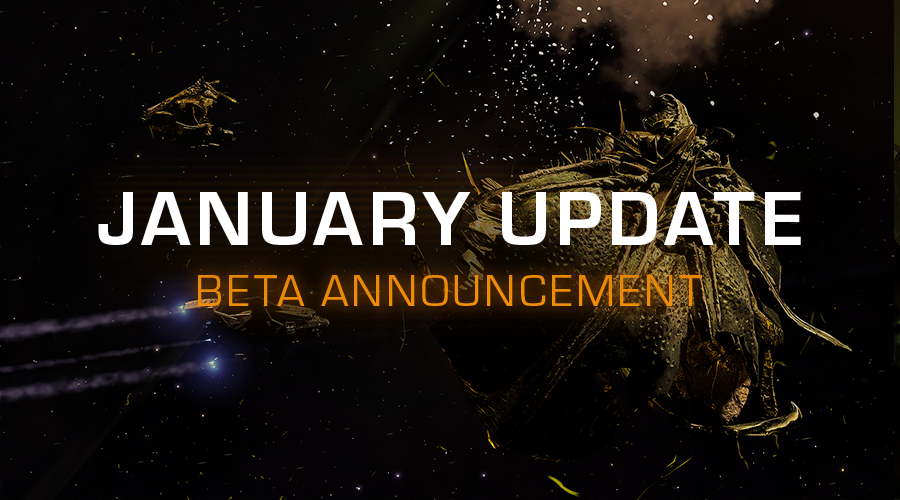 Greetings Commanders,
As mentioned in
October
, our upcoming updates will be almost exclusively focused on addressing recent and longstanding issues and bugs. The next update will be our first step as part of that - and it will be coming towards the end of January.
For this update, our first and foremost priority is to ensure that everyone is able to have a seamless experience when playing Elite Dangerous, so our focus will be on
aiming to resolve game breaking bugs and stability issues that cause disconnects, softlocks and crashes
. By working internally with Customer Support, QA and Development teams, alongside the feedback you shared with us here and via the Issue Tracker, we've identified and are addressing a number of issues in the January Update, which we've detailed below.
As with previous betas, we found your feedback and assistance incredibly useful in helping us identify and resolve bugs and issues. The next updates will be coming with their own public beta, the first of which will run on PC from
27 November
to
2 December
for the January Update. We are also investigating the ability to extend future betas to console players as well, and will announce any developments about this when we have more information.
Due to this update focusing on a number of bug fixes, rather than new content and features, the beta will appear and play very much like the existing live game. However, getting involved and testing provides a huge benefit for all Elite Dangerous players, so we are very grateful for any time that you are able to spend in the beta. Every system, ship, loadout, module, mission, activity, rank or other part of the game played provides opportunities to test and identify issues. With your support, we hope to be able to identify and fix as many as possible before the update goes live, offering a smoother and better experience for all. Thank you to all who are able to get involved.
What we're addressing in the January Update (and the beta)
We wanted to highlight some of the top voted issues from the Issue Tracker, and what we plan on doing with them moving forward.
Alongside our own internal tests, we'll need the help of you, our community beta participants, to help us identify if the fixes we're introducing work as intended in a live, multiplayer environment.
Repairing Thargoid-attacked stations: not all delivery numbers counted
We will implement a fix that will correctly account for all deliveries for starports that have been attacked by Thargoids.
High resolution screenshots create tiling artifacts in bright objects
We will implement a fix that should prevent tiling artifacts in bright objects when taking a high-resolution screenshot.
Galaxy Map won't select systems I search for
We will implement a fix that should allow you to select a searched system on the Galaxy Map.
Keyboard stops working within game
We will implement a fix for this issue to ensure keyboards work in-game as intended.
SLF female npc crew member has no audio and no text in the comms
We will implement a fix for this issue.
We wanted to bring your attention to the following issues, as these will need additional information and testing in the beta to ensure the fixes are working as intended:
FSS: Long delay when scanning planets with geological sites
As it currently stands, in order for the geological/biological sites to be placed on the surface, the entire stellar body must be fully generated (we then know the topography and can place sites where they will be accessible). This can take tens of seconds.
As part of the January Update, we aim to address this with an alternative process. We have run tests on thousands of in-game planetary bodies and by using this data, we're able to extrapolate the likelihood of geological/biologic sites being present on similar stellar bodies. We then use this data and indicate if the planet is 'Unlikely', 'Likely', or 'Very Likely' to have a geological/biological sites.
It is not 100% guaranteed that there will be a geological/biological site on the planetary body, but does give commanders a much faster indication of probability. This will enable commanders to quickly ascertain if the planet's worth a visit.
As this is an alternative way to display information, we would love to hear your feedback on it to determine whether or not it is better than the current process.
Please note: this will not affect Thargoid or Guardian sites, which will show up instantaneously.
Conflict Zones have no contents
We have identified that the LUA script responsible for populating Conflict Zones can stop running at times, which causes this kind of issue. We will implement a fix, but we'll need your feedback on whether or not the issue persists.
The Invincible Heart
The team have been investigating this issue for some time, however, it has proven difficult to reliably reproduce in-house. As part of the beta, we'll be adding additional logging information and will need our community beta testers to try to reproduce the issue so we can collect more data to help us resolve it.
Instance splitting when fighting Thargoid Interceptor
We'll be introducing a fix for this, but as it is a network-related issue, we'll need this to be extensively tested in the beta.
Thargoid Interceptor - Heart cycle reset
We will implement a fix to ensure that the Thargoid Interceptor's combat state does not reset. As with the issue above, we'll also require commanders to identify if this is still occurring in the beta.
Exiting the Game just hangs, need to force terminate
We will need additional feedback in checking if this issue is still occurring in the beta.
Please note that this is not an exhaustive list of all of the fixes coming in the January Update and more will be detailed in the beta patch notes, released next week.
We'll be investigating the following issues for future updates and will detail any fixes for these when available:
We also wanted to give you an update on the following issue:
VR: Double Vision and Incorrect Rendering on HMDs with Non-Parallel Displays (ex. Pimax)
. At the current time, there are no plans to provide support for new HMDs outside the officially supported systems and platforms. The officially supported platforms are
Valve Index, HTC Vive and Oculus.
BETA - how to get involved!
A new beta section forum will be set up with details on how to take part and how to submit bug reports, but here are the main details on how you can help us in the upcoming beta:
The beta begins on the 27 November and will run until the 2 December.
The beta will be only be accessible on PC. We are looking into expanding this for console players in the future.
To take part in the beta, all you'll need to do is load up the launcher and select (and update) the following product: Elite Dangerous: January Update (Beta) from the 27 November. Once that has been completed, you'll then have access to the January Update beta. If this doesn't appear, please restart your launcher.
We'll be updating the Issue Tracker with a January Update (Update 3.6) Beta section, and we encourage all those who are taking part in this beta to report any encountered bugs or issues through it. In addition, we will also be adding links from inside the game that will take you directly to the Issue Tracker site.
We just want to thank you once again for all the passion and involvement you show for Elite Dangerous. With your participation, we know that we can help to make our game more sustainable and beneficial for the future of this amazing galaxy!