Flying on PS4 means that basically all "firsts" are done.
Flying furthest? Done.
Flying highest? Done.
Writing the Elite logo onto the galaxy? Done.
Mapping entire (sub)sectors? Done.
Yes, occasionally somebody finds a way to a system higher above the galactic plane than the current record. But I'm too much a coward for that (not a single neutron boosted jump so far).
Yes, occasionally somebody stumbles over incredible views. But that process is a bit unsystematic.
And then there is my "personal narrative" which includes that I consider myself more of a traveler than an explorer. So while the journey certainly is the reward, reaching the goal is why I headed into the void in the first place.
So systematic data gathering is not why I'm a pilot. (I did that enough in RL).
But then there is also "RL me" who totally can get lost in exploring what is to be found in (large) data dumps.
Much of the data collected by the many, many explorers can be found on EDSM. While officially much more is explored, all that can be found just ingame and not on EDSM is basically lost information.
So. How can I merge this?
Well, the answer to that question occured to me after the
velocity of a planet
was asked for.
It dawned upon me, that there must be some records out there, which were discovered without the discoverer realizing this.
Some of these are recorded and visible for everybody on EDSM (e.g. the hottest Metal-rich body, the coldest B (Blue-White) Star etc. pp.). But much more is out there.
So I did a quick search and figured out what is NOT recorded anywhere (except in the data dumps).
Then it took me some weeks to write programs that search for that in the EDSM data. It took so much time because I had ever more ideas what I could visit. This was also the reason for some of my recent threads.
So, this is what I'm going to do the next couple of years.
The journey is NOT bound to be done "all at once". So if I feel like it, I will do something else.
It is also not bound to be done just in my trusty Kassiopeia. Since many of the record holding bodies are close the Bubble I may chose using different ships.
Neither are the waypoints fixed. Since the community is still exploring, new records are found all the time. However, to not make this a never ending quest, I've decided to NOT visit bodies which hold a newer record in a given characteristic if I have already visited the old record holder. But as long as I haven't been there, the old record holders will be replaced by the new record holding body.
In general I will JUST visit unique records that are NOT recorded on EDSM (except in the data dumps). That means if several bodies have the same record value for a given characteristic I will visit none. However, some exceptions are made (mainly for photo opportunities or to just look at it).
Finally, I've decided to look at all record holders from up close. So not just honking and FSS'ing but I will actuallyfly there, no matter the distance from the point of arrival.
So, this journey will mostly be to systems and celestial bodies which pilots usually are not interested in. It may produce some nice photos, but mostly it won't. But it may give a bit better impression of what is "out there" and how the life of a traveler / explorer is for most of the time.
Well, since I'm already going to everywhere in the galaxy I will also visit certain systems which are visited by many explorerers and travelers (e.g. the meridian systems).
To finish this initial post, here a map of where I'm about to go (with the mentioned caveats):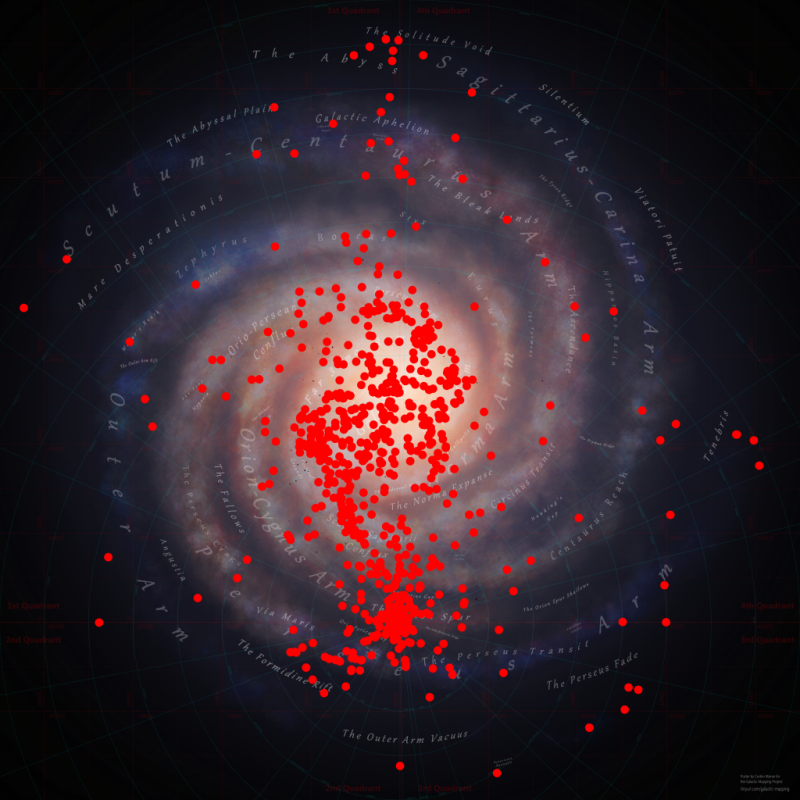 Source of the map
, license: unknown. The galactic map was made by CMDR Finwen und CMDR Corbin Moran, lettering and coordinate grid by CMDR Corbin Moran with names from the Galactic Mapping Project. I've shrinked (or shrunk? maybe shranked? … HELP!) the map and included the red points
Edit: I forgot to mention: of course everybody is invited to go and visit the known but unknown record holding celestial bodies. If you do so, please post here which system / body it is and which record it holds
. Maybe I should re-name this thread to "The Galactic Book of Records" or something like this.
Edit 2:
An analysis
revealed that the size of giants, super giants and dwarfs (that is normal star dwarfs, NOT white dwarfs) is NOT as it is in the real universe. E.g., are most M (Red giants) smaller than Sol or M (Red dwarfs) exist with radii much larger than Sol's.
A proper classification is not possible (see the discussion under the given link). Hence I just made up limits which shall not be passed as when a (super) giant or dwarf shall beonsidered as such.
The radius of giants needs to be larger than 23 solar radii (because of a classic book).
The radius of super giants needs to be larger than 230 solar radii (originally I used 420 radii but I changed it to this lower value).
And finally, (regular star) dwarfs must be smaller than 1 solar radius.
If the star under question is smaller (or larger in the dwarf case) than that value it shall NOT be considered as record holding body.
Edit 3:
Due to issues with the orbital parameters in connection with binary systems I've dropped some of the records.
See
this pos
t where these issues were discovered and
this post
where I go in detail about it.
Last edited: