Community Manager
Frontier
Hello park owners!
Jurassic World Evolution is officially one year old, and what an absolutely incredible year it's been! We've had such an amazing time working on the game so far and getting to know more of the wonderful community surrounding JWE, and we'd like to say a huge THANK YOU to every single one of you for your continued support!
It's hard to believe it's been a whole year already, but we're extremely proud to be able to look back and see how far the game has come since it released on 12 June 2018. So far we've released Update 1.4 with dinosaur size adjustments based on your feedback and Challenge Mode, Update 1.5 with our first big DLC: Secrets of Dr. Wu, Update 1.6 with the awesome Cretaceous Dinosaur Pack, Update 1.7 with the Carnivore Dinosaur Pack, and we're soon to be releasing our biggest update yet: 1.8 with the brand new DLC: Claire's Sanctuary!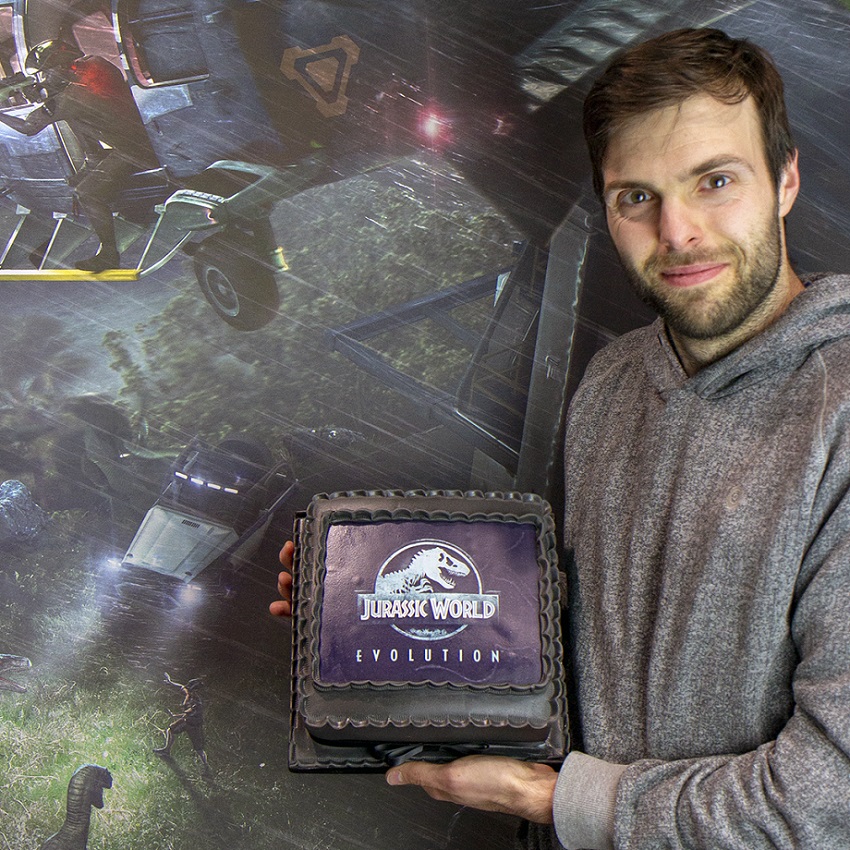 We can't celebrate Jurassic World Evolution's first anniversary without a huge shout out to the brilliant development team behind it, fueled by a love for all things Jurassic and an incredibly passionate community behind us, here's what some of them had to say about the last year on the islands:
"We always knew that creating Jurassic World Evolution would be a fun challenge and it's been a privilege to help bring it to fruition and to keep evolving it from launch. I'd like to thank all of the team for their hard work and dedication and also thank our players for their support and feedback."
- Michael Brookes, Game Director.
"Getting the chance to work on a Frontier game with dinosaurs and a franchise as important as Jurassic World has been amazing for me. We have such a great team who work so hard to make everyone, from palaeontologist's, to Jurassic World fans happy. This can be a challenge to find the right balance at times, but having such a passionate and supportive community makes it so worthwhile. Also getting the chance to meet some of the community in person was a great experience!"
- Brendon Morgan, Producer.
"It's been an honour bringing the Jurassic franchise to life like never before in Jurassic World Evolution and we've been constantly blown away by the passion and support of our fans over the last year!"
- Dan Greer, Principle Designer.
"Working on this game is the closest I will ever get to seeing a real dinosaur. The attention to detail that goes into these creatures is staggering!"
- Duncan Mackinnon, Senior Audio Designer.
"It's always inspiring to see the creativity from the community! Whether it's artwork, incredible parks, fun challenges or beautiful screenshots, I'd like to thank the community for showing us their passion to the game."
-
Marleen Vijgen, Character Artist.
"It is fun working on a game which so many people care about. Having people noticing the finer details of our work is something I appreciate. I hope that our community continue to enjoy it, and that we can keep improving and bring you more going forward"
- Joseph Saliba, Programmer.
"Seeing players enjoying the game is the most satisfying reward there is. We put a lot of love into our dinosaurs, so please take good care of them for us!"
- Jenny Yang, Programmer.
"I'm really excited to see what the community does with the new stuff we've got coming up. Keep the feedback coming as always - seeing your passion for the game motivates us to make it the best it can be."
- James Moulang, Designer.
"Working on Jurassic World Evolution was the realisation of a lifelong dream for me. It was an honour to work with such a prestigious license and I've loved working with such a passionate community." - Nick Rodgers, Head of Animation
"
Jurassic World Evolution
is a fantastic game that I am proud to have helped build and support. Our communities drive us forward to keep making new things and improving the play experience for everyone." - Dan Davies, Senior Designer
"I really enjoy working on Jurassic World Evolution! It is fantastic and encouraging from our side to see the community's reaction to the new features, dinosaurs and campaigns that have been introducing to the game since we launched last year. I love the direction that the game has gone with the focusing storylines of the films prominent characters from the films; Dr. Henry Wu & Claire Dearing. I'm thankful to the devs for making a great game and the dedicated, adoring community keeping it alive." - Robyn McLean, Product Manager
Once again, we'd like to thank the Jurassic World Evolution community for your constant support, we love seeing how passionate you are about the game and we can't wait for you to experience more of the awesome things we have planned for the rest of the year.
The JWE Team
Last edited: