During last Thursday's livestream the legend 'LOUIS DE LACAILLE METALWORKS xxxxx' appeared on Athur's screen as his and Bruce's Beluga docked at Garrido Market.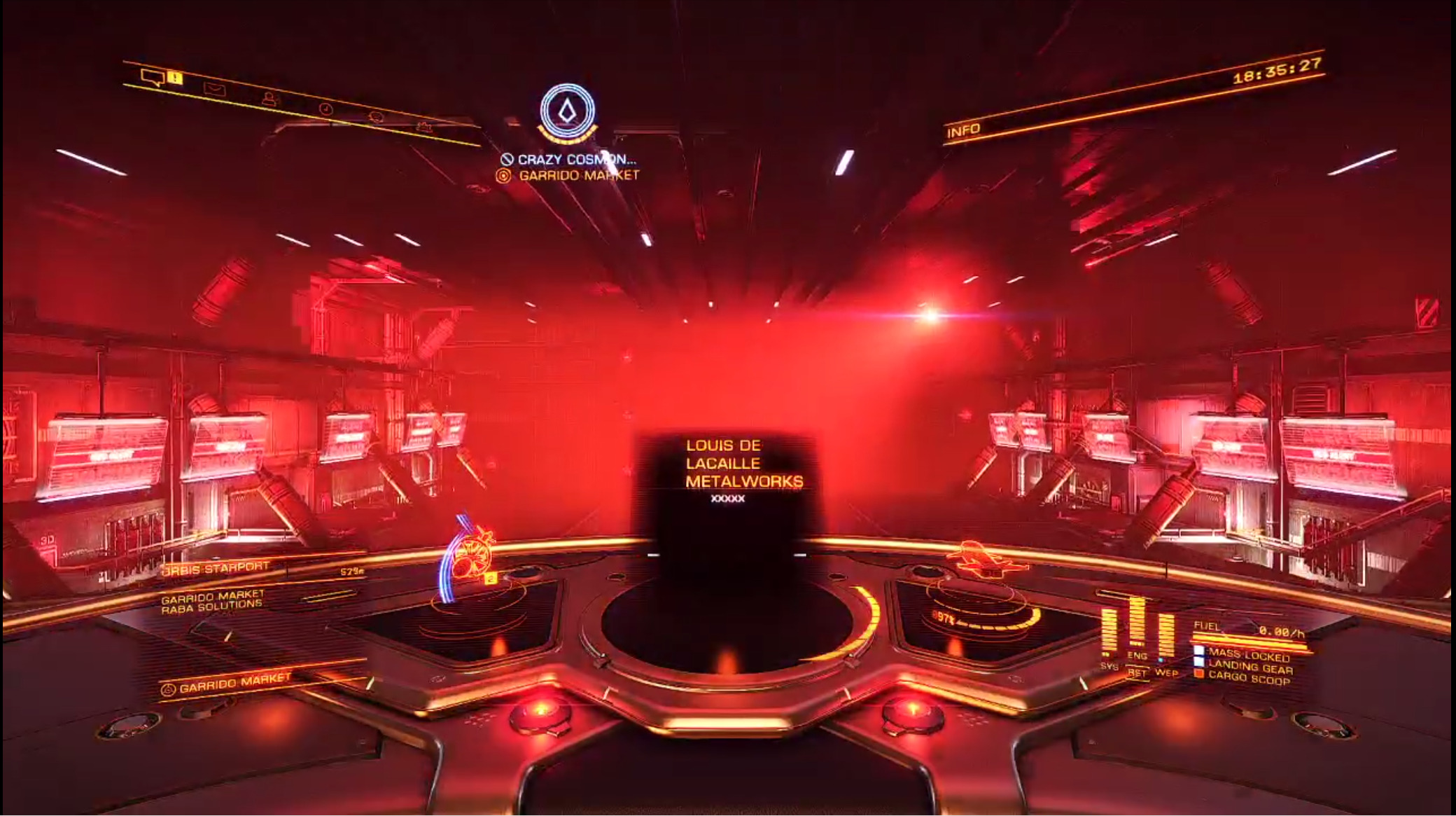 I noticed it but thought little of it at the time: I assumed that the station had recently been renamed in honour of our beloved Bruce, and that this was the old station name which had somehow lingered on to pop up in the stream when it shouldn't oughter.
However, CMDR Plater in a stream on Saturday took a great interest in this legend, and he in turn had been clued in by Friday's Elite Week podcast. Apparently this was most likely to be some sort of clue to something. Listening to Elite Week I was struck particularly by Kai Zen's comment that the five x's could refer to five stars.
Now Louis de Lacaille was an eighteenth century astronomer who among other things named fourteen constellations. In particular he named one Fornax. Fornax is a Latin word meaning 'furnace, oven or kiln'; it can also be use for 'forge'. A check on Google showed that several companies working or trading in metal use Fornax as part of their company name.
So it seemed to me worth having a look at the constellation Fornax, in particular the 27 stars that Lacaille identified as part of it, to see if any of them had five stars, or indeed five of anything.
To cut a long story short, I found nothing. Nu Fornacis had five stars, and a Degraded Emissions USS, which had what they generally have, which is not much.
Nor did I find anything out of the ordinary at stars with five planets, or planets with five moons, or systems with five bodies in total.
So why am I bothering you with this sad tale of failure?
Well, at one of the Fornax systems I did notice something. Zeta Fornacis is a populous Empire system with four stations and, wait for it, five outposts. All five outposts (and for that matter three of the four stations) are refineries.
What if the devs have decided to concentrate, as far as possible, the system overload of carriers in one system where they can take special measures to mitigate the effects of carrier overload. By upgrading the five outposts to stations they'd have eight stations orbiting eight different planets to spread the carriers round the system.
Aren't we about to see a program to upgrade refinery outposts to stations? I wonder where that will be?
OK, you can take the tinfoil hats off now.