Ello
this is my first megathread and big 'suggestion' on this forum.
I hope people will take notice and give their full support on this as this thread is in, I believe, almost everyone's interest.
Looking at big "New Era" update and "Fleet Carriers" which are coming closer and closer by every day, I have been thinking quite a while about what the best possible solutions for a variety of problems would be for the entire community, and not just one major or minor part of it.
We're all playing the same game here, therefore changes should be made with everyone's interests in mind.
Everyone is free to comment here with their thoughts on this and I will acknowledge very good and constructive feedback as well as further suggestions and include them below.
So, let's go!
____
First thing I want to point out beforehand,
are some of the problems that the early-/mid-game community has with veteran players (mostly PvP veterans) and the Open Play community as that is what inspired me to make this post. Some of the problems are often mentioned as "ganking", "pointless murder" or "endless grinds".
I also want to mention, that alot of the things below origin from my point of view and amount of time that I have spend in this community and in playing this game. So some things may differ from your personal opinions, so please keep that in mind and respond on this topic appropriately, if you wish to do so!
Improvements & changes for new players & early-game playerbase
A good way to approach some of the above mentioned problems, is to support the learning process of new players and the early-game playerbase. Put up very informative and instructive ingame tutorials on how to survive in this dangerous and vast galaxy and what the key aspects of good and well specd ships are with the main focus on survivability and versatility in mind. As alot of new players are at first overwhelmed with what to do in this game
This can be achieved by:
expanding the basic tutorial that new players have to do when they start playing this game for the very first time
a tutorial section in the main menu, which contains tutorials in text and video form either created by the veteran playerbase and approved by the developer, or created by the developer and approved by the veteran community to ensure that everything in these tutorials are as informative and correct as possible.
deeper descriptions of modules and their properties/use in the outfitting panel
small tooltips in the outfitting screen to hint key aspects of ship outfitting, such as example how effective good shields are and how you can achieve a good balance of survivability and versatility
better descriptions of the three main activities in this game: Combat, Exploration and Trading
All this gives new players a basic understanding of how this game works and makes sure that they can blaze their own trail with a good set of information and skills.
Improvements & changes for casual players, mid-game playerbase and the whole community
After completing a couple of hours of playtime and testing out several game features and the three major ingame activities
Combat, Exploration & Trading
, new players decide what kind of activities they want to focus on for the majority of the time they spend in this community. At that point they are part of the mid-game playerbase and they will most likely immerse themselves into things which can unintentionally or intentionally affect other players either by indirect or direct interaction with them. The two main features that come into play here are the galactic BackGroundSimulation, with it's playerfactions or players who support their favourite star systems and NPC factions, and Powerplay.
Unfortunately these two features are currently heavily borked to the point where a large group of players can affect and potentionally ruin a minor groups or even one single players experience and progress in Open Play. BGS and Powerplay were obviously designed to be actively influenced by this community with various different activities from the three major playstyles.
The fact that BGS and Powerplay can be affected by these activities from the singleplayer and coop gamemodes,
Solo Play
and
Private Group,
completly breaks the aspect of a "living" and "breathing" galaxy though as trolls or griefers can undermine and blight other players activities without ever having to face their opposition and without any chance for the players, who choose to immerse themselves in Open Play, to ever prevent this from happening to them.
This needs to be changed as soon as possible.
Suggestions to fix this problem are:
disconnect Solo Play and Private Group BGS and Powerplay from Open Play but keep those features in seperate the gamemodes. Therefore any exploiting and undermining of Open Play is fixed and the singleplayer playerbase do not lack any content.
completly remove BGS and Powerplay features from Solo Play & Private Group and turn those two gamemodes into static Singlerplayer environments
disconnect any BGS and Powerplay directed progress from Solo Play & Private Group so they cannot undermine and break the Open Play environment
Another problem that is directly connected to the inbalance of the two features and the three gamemodes mentioned above, is the dead
progression system
.
Highly rewarding grinds such as mining and exploration can currently destroy the player maintained Open Play environment and the fact that players can grind themselves alot of credits or reputation with system factions and superpowers in the Solo Play and Private Groups environments completly nulifies and takes away any kind of feel that there is a progression system and skill curve in this game.
Imo this almost can almost be descriped as an exploit in which you can get yourself a very high rewards for facing absolutely
ZERO
player or NPC induced challenges and risks which results in a
broken risk/reward ratio.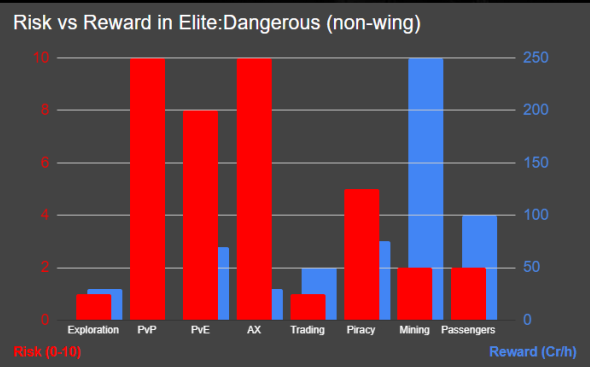 Community created graph of the current state of R/R, dated 07.05.2020 - by CMDR Mgram
Both of these things need to be adressed and changed to give players the feeling that they have truly achieved something and that they are progressing in this game as currently, getting credits and ship/module assets is way too easy.
Suggested fixes:
completly remove BGS and Powerplay features from Solo Play & Private Group and turn those two gamemodes into static Singlerplayer environments
& nerf all reputation and credit payouts outside of Open Play by 50% to compensate for the almost non-existent risks and challenges
increase the skill level of NPC pirates and outlaws in Solo and Private Group
increase ATR response time in Open Play to fix crime & punishment and increase the risks for notoric outlaws
Related to that, some players feel that Open Play and it's indirect/direct PvP influence is heavily inbalance despite the existence of several features that let players escape and dodge direct PvP encounters.
Part of the reasoning behind that are the currently dead progression system and the big learning curve for new players caused by the lack of ingame tutorials and help as well as the amount of time it takes to shift over into being part of the veteran & end-game playerbase.
The main problem here is that direct PvP situations in Open Play are heavily affected by the status in which the players are at that point. Most commonly seen encounters are the early-/mid-game
players with their fully D-rated and unoptimized ship builds and veteran/late-game players with their fully A-rated and fully engineered combat ships. Even with fully A-rated and optimized ships, they are still in a disadvantage to the fully modified combat ship from the other side.
Reasoning behind that is the way too high amount of time it takes for casual players to unlock all main Engineers in this game and to collect all materials to craft the modifications for the ship and modify the ship in the end.
The time and effort to fully modify a ship, and therefore enter the state of being late/end-game, needs to be reduced significantly as it can sometimes take hundreds of hours for a casual player to complete this task!
By:
buffing the downtrading and crosstrading ratio between all g4-5 materials at all material traders
creating more obvious and various material farming spots inside the powerplay bubble and rest of the galaxy in order to reduce the time it takes to find and collect the materials
a material market that lets players sell and buy materials from other players for credits
Improvements & changes for veteran players & end-game playerbase
Alot of veteran and end-game players main complaints are currently related to PvP inbalances and there being nothing to do anymore.
Atleast from my point of view.
You could say, that the upcoming Fleet Carriers will bring new things to do for end-game players as they are hugely expensive and require alot of effort to maintain.
We can't completly rely just on that though. There need to be more changes and additional features in order make end-game gameplay like PvP more rewarding and actually attractive not just for the veterans, but for all players.
Suggestions:
add a player mission board where players can hire or contract other another player for credits for their own descretion.
This way veterans and PvPers have something to do and are less likely to resort to activities such as "ganking". PvP also becomes actually lucrative for everyone as well.
add a proper player banking system to support the player mission board.
addition of a galactic outlaw bounty tab, on which a list contains all outlaw players with a minimum notoriety of 5 and/or a pure bounty of 1 million credits. Any time one of the players on the list is scanned by another player who has Crimes On enabled, or by a system security NPC their current system location gets updated on the list and is visible for everyone
Quite a majority of the PvP playerbase have discovered numerous inbalances and even exploits that give players a significant and uncounterable advantage over every other player.
These were found not just in side features like ammo synths but also core mechanics like engineering, the game's netcode and other things:
removal of premium ammo reload's effects on player ships (increased damage) OR implementation of an indicator to notify the player if someone hits them with increased damage premium ammo reloads IE: Warning, irregular damage detected!

ramming things in general should connect to the hulls kinetic resistance, especially when you ram another ship. This is a softfix for netcoding issues -> shadowrams where you fly past someone's ship but they ram you on their screen and the damage connects on your ship but not on their own ship.

engineerable Module Reinforcement Packages to give shieldless combatships a buff and overall better chance of fighting off shielded combat ships

increase overall ship cockpit canopy health as it gets destroyed way too easily in raw shieldless PvP encounters and renders the vessel completly combat ineffective

revert the changes made to the blocking feature in one of the previous updates: Players should not be able to block instancing with another player and therefore exploit their way around player combat. It's however completly understandable to block another player from harassing you through text chat or voice comms.

increase the menu logging timer upon being in a "dangerous environment" aka being in direct combat to 30 seconds to counter notoric combat logging
make combat logging a fully bannable offence and also make that clear to every player in form of tooltips
That's all for now, as mentioned at the very top I'll be happy to add more major suggestions in regards to the above mentioned things.
Last edited: