Before this trip I had never completed any long distance exploration trip in Elite. Starting the trip, my exploration rank was only Trailblazer (< 4 mil Cr earned) with 72% progress to Pathfinder (unlocked at 10 mil cr earned). My trips always unintentionally and abruptly ended less than 10k ly into them with me doing something stupid like trying to fly upside down near a planet's surface with my 5D Thrusters on my Anaconda and only a 3A shield, plummeting to my death, and losing hours worth of data. After learning SEVERAL of Elite's 'exploration no-nos' the hard way (lessons like: 'always check the gravity of a planet before trying to land' and 'don't initiate jumps with the fuel scoop still engaged'), and heavily engineering my Anaconda to a jump range of 75.85 ly with a full tank to 78.88 ly on empty, I decided to make my first actually successful trip in Elite: Dangerous something I hadn't quite seen done before in the time I was planning on doing it in:
I ran the galactic circumference (over 210k ly) in 1 month (started 6/5/19 and finished 7/7/19), then reached rank 5 with Li Yong Rui for the +200% exploration data cash in bonus by shipping 10,000 T of Sirius industrial materials from Lembava to Kalak (spending 100,000,000 to get it done as quickly as possible), and earned 7,504,116,264 Cr. I also did 100% of the exploration in VR. Grinding Li Yong Rui to rank 5 and cashing it in was in 2D since the grind was painfully boring and I wanted better resolution for recording the cash in.
Here is my loadout for the trip
Here is the video of me finally cashing in of all of the data
Before:
After: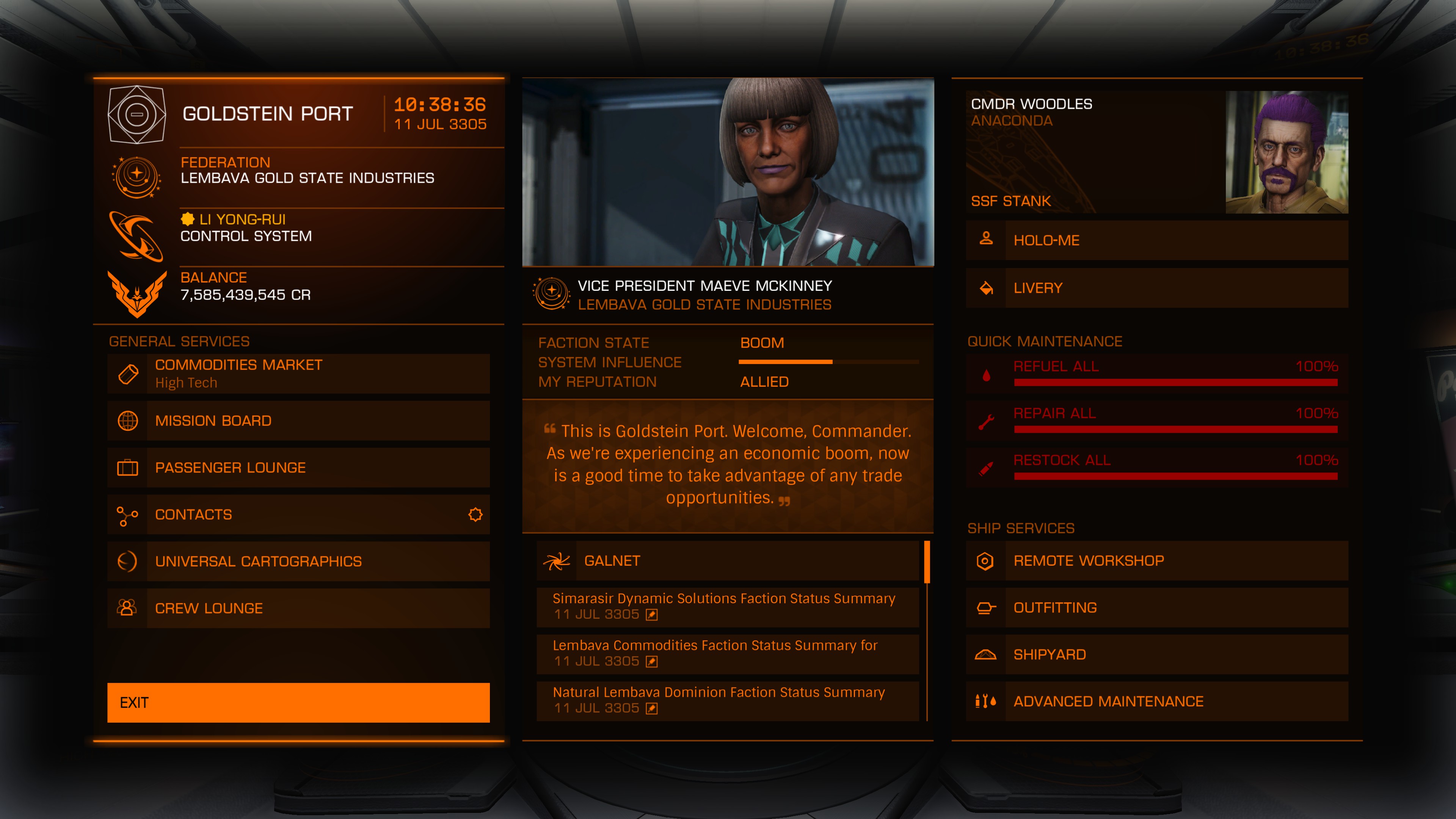 My route consisted of several 20k ly stretches using jet cone boost, following whatever systems the route plotting took me through. After the first 100k ly or so, I filtered out L, T, Y, and Proto stars. I did 100% FSS scan in
every
system I passed through and surface mapped all ELWs, Ammonia Worlds, Water Worlds, Metal Rich Bodies, and HMC and Rocky Terraformables. At first, I mapped anything within 15k ls from the arrival point and included Class 2 Gas Giants, but realized how huge of a time sink that was, stopped DSS on the Gas Giants, and reduced my range for DSS to 5k ls from the star with the exception of VERY valuable solar systems I considered worth the trip. If I was going to get food or use the restroom I would try to use the time constructively by flying to a valuable, more distant star for some scans, but other than that I stuck to the 5k ls limit. I also chose a route that was far off the normally traveled paths, so > 99% of the systems I encountered were first time discoveries. My waypoints for the trip in order were: Maia, Eifogy ER-V D2-4, Blaea Eurl VC-Z C27-0, Shumboo VA-E C28-0, Cyaumia ED-B B56-0, Ploxea AB-D D13-0, Iorant EQ-X D1-0, Syneayoi GP-E C25-0, Pyrivae BK-Z D3, Syroagaae NN-S D4-0, Ainairk AA-Q C21-0, Grie Eom ER-J C10-0, Slegiae WO-A D1, and finally home to Meliae. There were a few in stances I would have to use some FSD boosters and jump up or down a few systems to reach an area where the system density was high enough for the route to be able to plot successfully.
Will I ever do something like this again? No. Absolutely not. That was the most painfully long month of gaming ever. But now I'm rich and exploration ranked Elite, so it was totally worth it
Last edited: