Just attained the rank of King for the Empire.
Here's what I earned: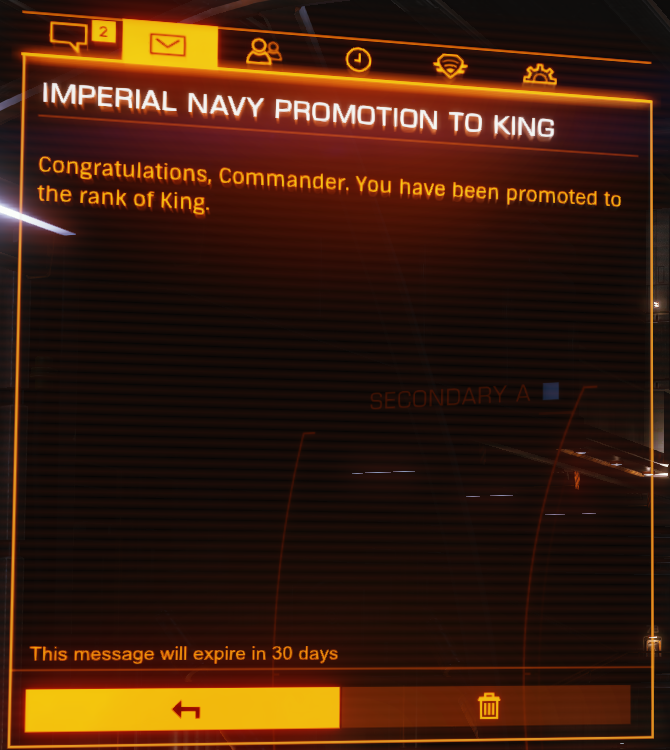 Wow! When I got the rank of "Mostly Harmless", I got an animated email.
King? Right.
First off, if you want to grind rank, here is the basic strategy (this isn't original material; it's fairly well-known):
Go to Ngalinn system and pick up courier missions bound for Mainani.

Hickam Survey is the only station in Ngalinn system.

Once at Mainani, pick up courier missions for Ngalinn.

Mies Van Der Rohe's Claim is the only station in Mainani system.

At first, select Reputation over credits for missions to ramp up reward values quickly.

Once allied, mission values are beween 32k - 56k.

Go back and forth between these two places running courier missions until you obtain the rank you wish.
Here are the things you want to know:
You will obtain rank pretty quickly.

It took me about 4 hours to go from Outsider to Squire (100%). Expect one rank per 1 - 2 hours

You will make a lot of credits, and it's not a bad rate per hour, either - although better rates are definitely out there.

In that same 4 hour period, I made about 35M credits

Consider avoiding missions to Aitvas - they give more credits and also engineering mats, but don't seem to impact reputation as much (YMMV)
Make sure your ship meets the following guidelines:

The ship needs to be able to land on S and M pads
The ship needs up to 72t of cargo space for Navy supply missions
The ship needs to be combat-ready. Some Navy missions are strike contracts

You are out in the middle of nowhere.

Miles Van Der Rohe's Claim offers Refuel service, but no Repair service
Hickam Survey offers both Refuel and Repair services
Neither stations offer Restock services
The closest station that offers full services is Mobius Enterprise in Bayah system

Avoid interdictions, which shouldn't be difficult since they're all PvE.

When I was in my Vulture, I would submit most of the time and fight.
Every ship was an Anaconda
My rank is Competent, and I fought everything from Competent through Deadly.
My ship was an Asp Explorer, although I brought a Vulture along for strike missions and to kill pirates when I was bored.
I don't know exactly how much time I spent, but here's what I gained:
Approximately 120M credits.
Imperial Courier (11.8M credit value)
Imperial Clipper (74.7M credit value)
Imperial rank of King
So, a little over 200M in credits, in all.
To Frontier Dev
:
There are so many things I love about this game. However, there are some things that are profoundly disappointing.
Why would you create this type of grind and have absolutely no in-game content to reflect these achievements? I mean, we do get some ships unlocked, but if that's the only benefit, might as well just call the ranks "Rank 1, Rank 2, Rank 3, etc." instead of actual titles.
This is such a wonderful opportunity for immersion that you guys totally missed. Here are some suggestions I have which I believe would be improvements:
Allow us to put rank decals on our ships
Have stations and official pilots great us by rank or by the formal protocols: "Your Grace", etc.
Make a big deal out of the email we get rather than just a one sentence Congratulations
Exclusive diplomatic, courier, supply and combat missions which actually impact the game
To get the rank after reaching 100%, the missions could be very story-intensive - and more than yet another courier message
I'm sure there are tons of ideas out there that would be better than these, but if you happen to look at these forums at all, please take this into consideration.
Fly safe, commanders! o7