Greetings,
Here is my
Krait Mk II TS build
. TS is for Thargoid scouts. It is very different versus big Thargoid ships. I found 3 large and 1 medium turreted AX multi-cannons plus a medium gimballed overcharged auto-loader multi-cannon takes out up to 4 scouts with ease. With 6 scouts effects such as caustic missiles and a few others show up and I have to suffer them. Pointe Defense won't take out their missiles.
With careful flying I found that decontamination limpets can work even when in battle. I lose a 3D Guardian module reinforcement package and a 2D hull reinforcement package for the decon controller and 8 limpets. The reinforcements didn't add that much versus excellent decon with the limpets. Besides I have to return to a station to rearm long before my hull is in any serious trouble. Worse case was the hull down to 65 percent against 6 scouts plus a few more threat 4s and I could have kept fighting if I hadn't run out of AX ammo.
Guardian fighters help a lot especially when being new to scout battles but then I lose a lot of combat experience points so I swap them out with a fuel scoop. A shutdown field neutralizer is not needed just for scouts so added a frame shift wake scanner for scanning the occasional Thargoid wakes. I also pickup Thargoid materials after a fight just because they are there. Already maxed out all but one. Useful for upgrading AX multi-cannon ammo but then I also need some Guardian mats which I'm not going to break off to obtain for now.
I went with a gimballed overcharged auto-loader multi-cannon because it never stops firing while the AX versions often reload. Bad for running out of ammo first but with gimballed I can control when to fire it. Interesting that the scouts seem to be shielded when running away wasting my ammo but tear them up when they come in for a fast attack. With turreted AX weapons it is wise to deselect the target then target again when they make their attack run. They are also sneaky with one staying 1.5-2.0km out while the others attack. I hit my highest threat button to switch using my ammo efficiently. Also going for reverse thrusters on the Krait just before the kill keeps my ammo hitting with the FA on low turn rate and ensures that I won't be in their caustic cloud when they are destroyed. The other scouts also seem to miss a lot. By the way anyone flying a combat Cutter knows the advantages of reverse thrusters even in open PvP but that is for another thread.
Fixed Guardian weapons and even the remote release flak launcher does serious damage to scouts but it takes time to use them just at the right moment. Multi-cannons are a no brainer for scouts. Taking out the big Thargoid ships plus a lot faster flying skills is where these weapons excel.
Going for the Elite combat rank is it faster than a battle Corvette with regular NPCs in a HazRez, CZ or CNBs? A LOT to quickly move up to combat Deadly status with this build then a little bit afterwards. Each scout is an Elite kill. About 15 of them moves a percentage when combat Deadly. But then a player has to kill them in say a threat 4 in one USS, then scan for more and fly there to continue. This takes time. In one out of 30 non-human threat 4s a player could have scouts that keep spawning. I with that this happened a lot more often.
Bi-weave shields with fast charge are not that big a deal as I will lose 1 percent hull taking out 4 scouts and worse with more. When I asked a Thargoid about it they replied, "Shields? We don't care about no stinkin' shields!". It did take awhile for my translator to decode their response. But when some regular NPC interdicts me in Thargoid space I found the shields with great flying useful and the AX weapons up close and personal are not all that bad taking them out.
So my thoughts taking out Thargoid scouts for the past month. Other players may have done it for years and are much better but they didn't get an A in a college creative writing course! I'm always TLDR but the more I type the better another player might find a comment useful to their play style.
Note I tried it with meeting girls but with all my positives it only takes one negative for them to hate me forever! That is why my ED milti-crew is three dogs. I can count on them. Go figure.
Enjoy the Game
UPDATE:
Taking out scouts is about the following...
1. Engineer a Thargoid attack ship going for hull versus shields.
2, Go with bi-weave shields and fast recharge.
3. Find the Thargoid scouts in threat 3-4 USS quickly using the FSS.
4. Switch to Combat mode and fly there and take them out.
5. Bring decontamination limpets when sometimes a threat 4 ends up with a lot more than 4 scouts. You will get hit with caustic missiles.
6. Use forward thrusters to engage then reverse thrusters just before the final kill to miss the caustic cloud when they blow up,
6. Have a binding for the next threat to quickly engage them.
With my Krait design and using fwd/rev thrusters 3 pips to SYS and 3 to WEPS takes care of business with scouts. Speed doesn't matter. It gets more complicated taking on the big guys needing boost as it takes longer using dedicated Guardian weapons. A Krait can do this Solo but bring a friend who knows what they are doing and Thargoid combat just got a lot easier!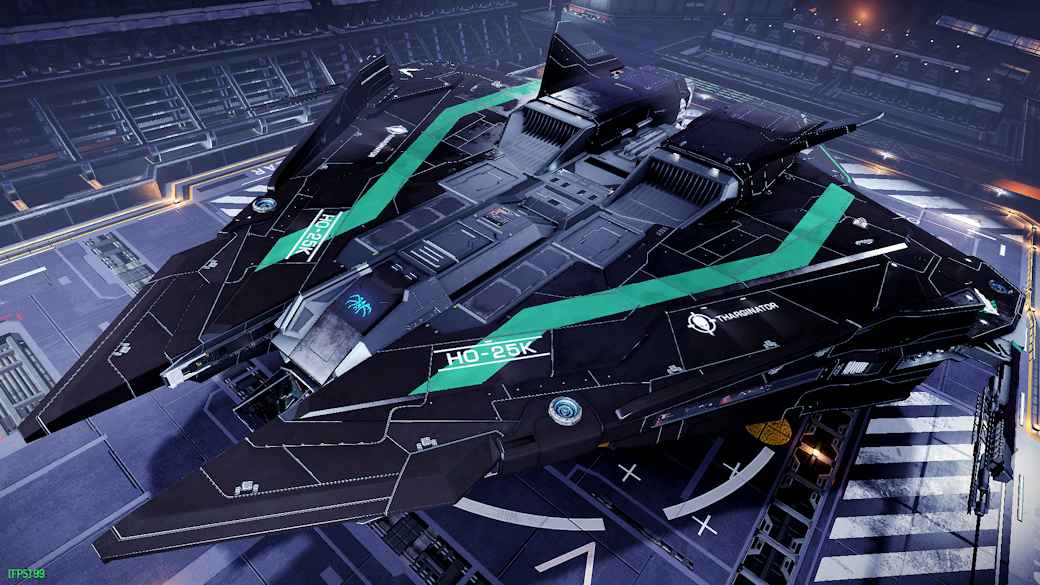 ​
Last edited: