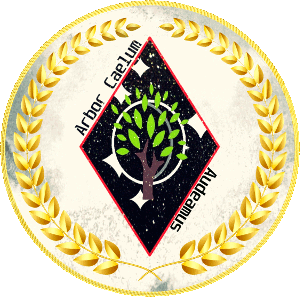 Arbor Caelum
is recruiting!
We are a new and rapidly growing squadron dedicated to advancing the skill and knowledge of all of our members. We seek to bring meaning and enjoyment to all that we do in the galaxy through connecting our members with a burgeoning network of like minded pilots. We have a coalition with our sister squadron
Gilgamesh Corps
, and we share our discord with them. This ensures that our community is a vibrant and active place no matter your schedule. We have just reached 30 members in game and more join us every day!
We feature frequent events with Gilgamesh including impromptu CTF in Arena and organized SLF races. In the future we will be planning these events with grand prizes for the winner!
In our discord you will have access to mentors, infographics and in depth breakdowns of the various aspects of Elite: Dangerous. We also have ambassadors from various other organizations available so non member mentors are present and engaged as well!
Now is an exciting time to be a member of ARCM. We are just starting on our BGS journey, with our very own PMF placed in a system near the starting zones. We have a long war ahead of us until we can say we truly control our own home, but we are sure to win it! If you're interested in meeting us and asking any questions, we can be found here:
https://inara.cz/squadron/5795/
And of course we can be found via your cockpit squadron hub by searching "ARCM".
Access to our discord is granted upon Inara membership.
We look forward to flying with you Commander!
Arbor and Ardor