Hi, please reply to few noob questions (sorry if it's too long)
1. As a newbie, I'm interested in flying with other people and see others in space, but this pvp harrasment is... well flying in a constant stress brings some fun but for longer it's exhausting.
The usual situation, I fly a hauler, no weapons, no cargo, harmless rank, courier missions between Dromi and some other, if I recall correctly it was Battuta station, and I'm interdicted by someone telling me to prepare myself. I'm not sure if it was a player or an NPC, because I had to keep an eye on that mini game. I did it and saw the blue bar filled in full so I guess I won...
But... I was flying to a target station, and around I noticed few individuals with Wanted status, so I didn't try my luck and jumped back to safe system. Thus I could not achieve the task and it's a bit annoying. Do I need to switch to Solo for a safe flying? Is it the only way? Maybe I can switch to neutral status in Open, that lets me be with players, who by default can not attack me?
Such untouchable status would be much more interesting I think, at least for the social humble traders / couriers like me
...
2. I was put in such situation. I was trying to operate within starting systems only, and I didn't notice that by picking some courier job I jumped to a remote system out of the starting zones. My fault of course. I also remember I didn't pick that mission to get 100k cr. if I fly out of start system - I bet I lost this opportunity now...
Being there in that system's station, checking commodities I noticed a good bussiness opportunity to make with the Dromi system, from where I came here. 36k profit for a noob like me was a cool thing, so I grabbed the goods on haste and was trying to jump back to Dromi - but my permit was cancelled
. Of course... I left the starting systems with appropriate rank so they are now closed for me...
But... why the game is constructed this way... why the heck a humble trader with no weapons, but full stock of minerals, cannot enter a system and do bussiness with a station? Ok the permission for starting systems works here, but why not getting just the limited permission for trading, with auto-lock weapons etc.? I find it a bit annoying, as I'm left alone with full cargo of expensive goods for which I have to find another station without loosing my money, not even from pirates, but the inflation
. Sure I wasn't paying attention, but generally it's an issue for newcomer
.
3. Targeting and radar is a pain for me, especially when I choose a remote station for target and see it on main screen (as in screenshot for Fermat City). Now when I loose that target from view, how the heck can I see it again, where is it, in which direction turn my ship? I don't see any markers in the screen corners, where they should be imo (in other games, like the X3Reunion, when a target is not visible on screen it's marked with dynamic markers moving on the edges of the screen, so you see where to turn ship to face them again. Here I have only radar on which I can't find the target, especially if it's a remote station. Or probably I do something wrong, so please help...
4. I'd like to spend some RL coins in the Livery section, but it directs me to the Frontier Store.
Is it possible to buy these items using money from the Steam wallet? I bought this game on Steam and don't want to use extra money out of Steam wallet (no credit card too).
5. When I was creating New Account/New CMDR name, I wasn't aware (I think there wasn't any notice about it) that it's important if the letters typed are small or big (capitals). So now I see my name the way below - on the left only capitals, and on the right mixed. Any way to correct it? It works against my immersion when I read those automatic messages. And I'm sure when creating cmdr name all letters I typed in were automatically displayed as capitals.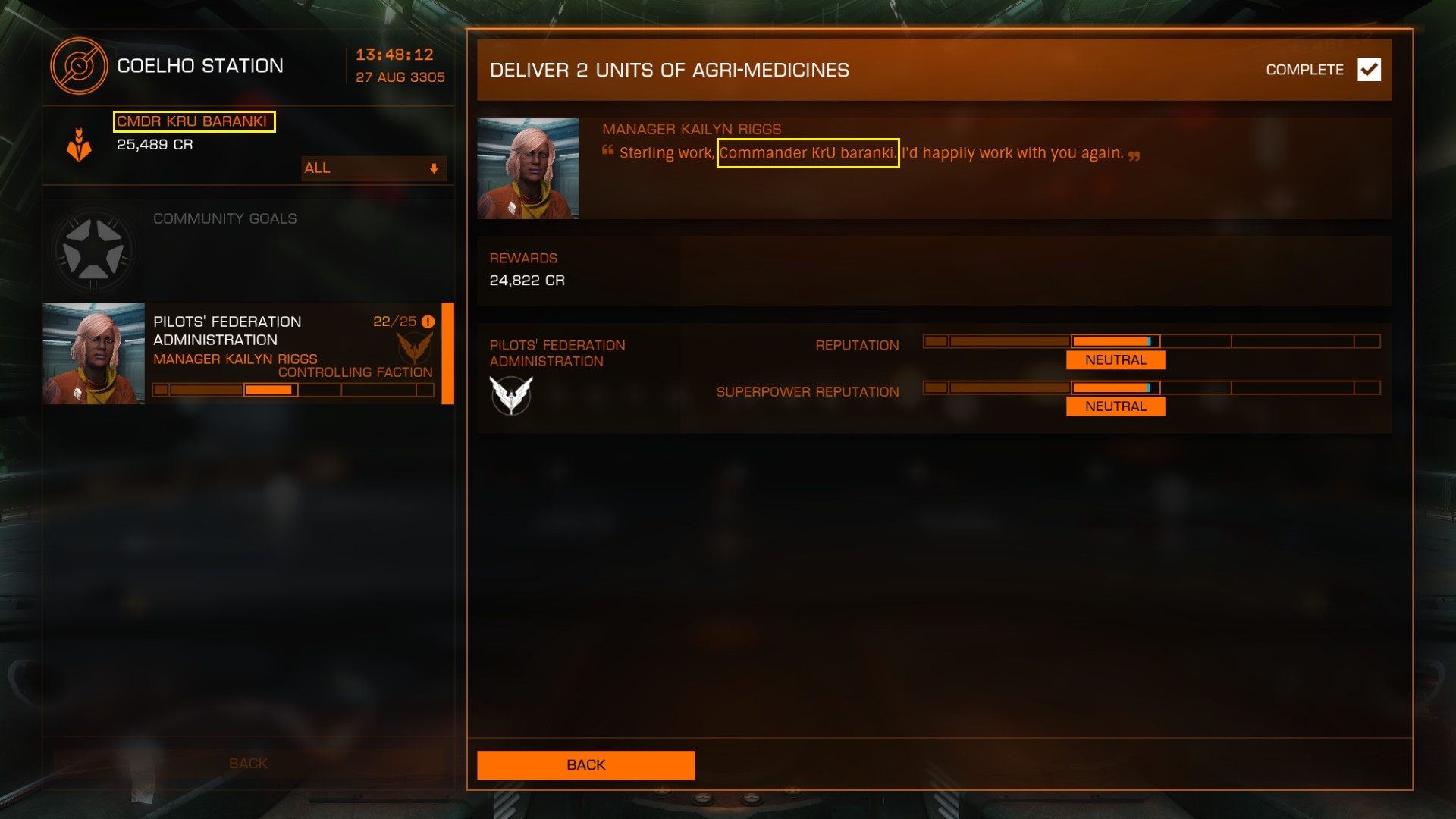 Edit:
6. In
Comprehensive Beginner's Guide
I read that "Be warned, pulling a clean ship out of SC will land you a 400cr fine".
Erm... how much? 400 cr fine for messing around my tail and wasting my time?
Why it's not at least 40k or 100k by default?
Even for a starting zone, 400 cr fine, even for a complete newbie it's nothing, once he did the first courier jobs...
Last edited: