Operation IDA: All Star-Port Repairs in The Pleiades are Complete.
As of this morning, Copernicus Observatory in Asterope is back online after being repaired this past Monday.
This means that repairs to ALL stations attacked in The Pleiades are now complete.
The Totals: 17 stations including 3 re-attacked stations (
20 repaired Star-Ports in total
) all completed in 15 months.
OP-IDA repaired all but Obsidian Orbital which was repaired by The Winged Hussars & allies. The Winged Hussars returned during our Holiday Haul to assist us on a Convoy day while we were repairing Asami orbital.
The past 15 months have been a monumental task as station repair in The Pleiades required many long range commodities (
Think 500-600 LY round trips for a single commodity
) in addition to difficult conditions that were present which would make our task even more challenging.
Obstacles:
1) 10% - 20%+ of all delivered commodities do not count. This is a known issue since we began hauling & continues to this day. Fdev is aware of this & one day we hope to see this resolved.
2) Many Commodities were in short supply or extremely far away.
3) Hyperdictions as well as interdictions were numerous.
4) Various BGS issues that would cause a loss when selling or lock-downs at commodity resource stations in addition to the usual wars, civil wars, elections that we had to manage & overcome.
5) The renewed attacks on Pleiades based systems & stations this past December through February including our own sister systems in which we learned to adapt & become not just haulers, but a defense force to push back infestation & Incursion.
*Unfortunately we were not always successful in this last regard as even with support from our allies, we lost stations including our own Artemis Lodge.
In the end however, we have finished what we set out to do and The Pleiades (
barring no future attacks
) & all stations located therein, are now fully functional.
When we first arrived shortly after the initial December 14th, 3303 attacks
(The start of the 2nd Thargoid Wa
r), we were few & the task ahead was enormous. With each week, more & more stations were attacked & what we were attempting seemed even more daunting. As the attacks quickly advanced into the Bubble we questioned whether we would ever get the opportunity to reach the bubble itself.
Over time however more & more CMDR's came to The Pleiades to help. It was slow going those first 4 months & some of the stations had monstrous totals to complete, even after Chapter 3 dropped which significantly lowered needed Station commodities. 2 million tons of needed commodities post Chapter 3 for a few stations would take us 6 weeks & when you consider the factors mentioned above, often selling for losses, deliveries not counting etc... all of it can test the morale of even the most resolute CMDR.
Still, we carried on & stations came back online. By The Summer of 3304 we had even more CMDR's joining us & assisting our efforts.
At it's core, Operation IDA though now a PMF, with presence in four systems & control of two, is in reality a volunteer group of firefighters from all walks of the galaxy.
People come & go but our numbers have managed to steadily increase.
During the Holiday Haul this past winter, we set records for deliveries, raised $1100 for a real life charity & saw yet another upsurge in haulers that continues to the present day.
We started in The Pleiades essentially alone but over time, new groups arrived & friendships were forged.
Sirius Inc. Hanks Alliance of Anti-Xeno, AXI, Galactic Pathfinding Group, Squadron 42 as well as other groups not native to the Pleiades but whom came to help or defend.
We worked together & helped each other as we continued to haul & repair. It was Glorious.
For many of us The Pleiades have become home. There is so much to this region of space that is rooted in the central story-line of Elite Dangerous.
So much mystery to explore & document here.. to this very day still. The Pleiades is a magical & terrifying place.
And we helped stabilize it.
We could not have done this if not for all of the people who have hauled for OP-IDA. All of you insane, mad, driven, wonderful people.
You have all done something incredible. Each and every one of you. You deserve the greatest of o7's
It's not a glamorous job or even a profitable one at that. It comes with no accolades or glory & we've certainly never tried to vaingloriously trumpet our efforts at all.
But we feel it is an extremely important aspect of game-play that we are very proud of.
While myself & a few others will remain behind in The Pleiades to keep watch & commute to the Bubble to haul... Operation IDA is now Leaving our home to go where we're needed most.
With One Chapter Ending, Another Begins:
We have decided to forego the next 6 immediate damaged stations & jump right into the central bubble.
We're there right now working on Levi-Cevita Dock in HIP 21167. The Fatherhood is in Kunuvii working repairing Weil Station, we're talking to other groups as we speak, right now as well.
We've targeted a cluster of Star-Ports that are located in the middle of the bubble and are starting an Outreach/Recruitment program.
We're looking for allies to tackle this grouping of Stations with us.
With the exception of a few,
1) Bubble based attacked stations do not require the incredibly high amounts of commodities we've seen with Stations in The Pleiades.
2) Bubble based Repair targets do not require long range hauling.
& Most importantly,
3) Bubble based attacked stations are within a few jumps & close by to the general population, most who reside in the bubble.
We can supply support, tools, knowledge & experience to enable you to either join us or host your own repair efforts.
The War is very real & intensifies each week. Humanity is at risk even if many wish to not acknowledge this.
In the coming weeks look for more information on how you can help us or assist in the repair of damaged Star-Ports.
Amazing OP-IDA Needs you Poster by CMDR Draxxor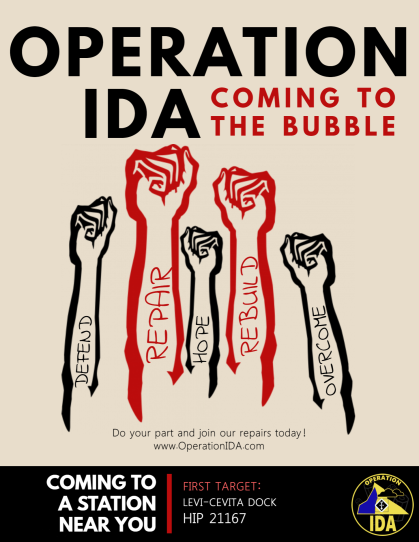 Fab OP-IDA coming to The Bubble poster by CMDR Light027
Check out
www.operationida.com
for more information, links to our Discord, Stats, Spreadsheets & more.
Follow OP-IDA on Twitter
@OperationIda
o7 CMDR's!
Last edited: