Greetings CMDRs! The Pegasus Run expedition will begin from the inhabited bubble of space, making a near full circumnavigation of the Milky Way. This expedition is aimed at those who are moderately experienced to elite explorers whom haven't yet been to the deep black that is the outer rim and/or haven't yet completed a circumnavigation.
Here is the (rough) proposed route: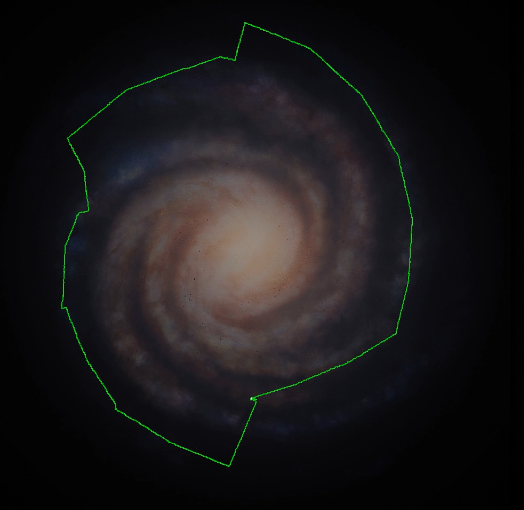 This expedition will have way points spaced roughly 10,000 LY apart. The entirety of the waypoints will be available at the start and the expedition will be completed at your own pace. This expedition is about finding what is out there, and is not meant to be a guided tour of the outer rim for the casual explorer. I expect a fast explorer will complete this in six months, with the planned route taking a year. Thats roughly the same pace per week of Distant Worlds 2. So be prepared to spend some time out in the black, travelling a path that few have traveled. I expect the start to be around the beginning of September, meaning we would be back in time for the Q4 update in 2020. I'll also likely be pushing out the route to include the end of the Perseus arm.
Minimum jump range is 30+ LY. We will be heading to Beagle Point along this expedition, so crossing the Abyss is going to be difficult in anything lower than 30. I reccomend ~50LY jump distance.The expedition is going to be in whichever mode you personally enjoy, however, FleetComm has graciously added support for this expedition. Communication will be primarily through FleetComm discord. I will be in the FleetComm Private Group.
Check out the FleetComm HQ community on Discord - hang out with 12,995 other members and enjoy free voice and text chat.
discord.gg
There will be scheduled meetups at every waypoint every two weeks. Waypoints are spaced 10k LY apart, making ~5k LY/week pace.
Support will be available through FleetComm (Hull Seals) unless it's a fuel issue, which can be handled by the fuel rats here:
https://fuelrats.com/
Joining FleetComm:
https://forums.frontier.co.uk/threads/announcing-fleetcomm-the-exploration-focused-private-pc-group.285918/
Here is the proposed waypoint list (subject to change):
ENIF (Epsilon Pegasi)
VIVVY KD-K D8-3
HYPAU PHLAI VU-G D10-23
PREOU THOE DV-P D5-4
THRAIKIO IK-A D9
EOS FLEE NH-V D2-12
PHEIA FRAAE AU-R D4-42
HYPI BROO AA-A H0
BLEAE FREAU DL-Y D16
EUFARB MO-I D9-12
PROXUIA VN-K D8-10
CHUA EOP ZC-T C20-0
Beagle Point
CHEAE EURL MC-D D12-9
TRUECHUIA MF-A D7
SCOAGAAE FV-G D10-27
MYLIENGA YX-U D2-39
OOB AUSCS CC-T C17-13
PLOOE AEWSU TY-A B55-0
BYOOE EUQ ZD-K D8-29
MARKAB (Alpha Pegasi)
Departure is set for September 28th
https://www.timeanddate.com/countdown/generic?iso=20190928T18&p0=:&msg=Pegasus+Run+Expedition&font=cursive
If you're interested in this journey, drop a message below with your CMDR name.
See you out there among the stars!
Last edited: