Game:
Phoenix 20190320
Mods:
Mod Music Amiga 2019
(+500MB soundtracker modules in .ogg)
Mod FFE 20190330
(incomplete wip, adds/replaces many systems from FFE, changes factions, replaces the whole shipset with conversions from FFE)
(i nearly forgot how comfortable it is that i can edit my first post whenever i like, even atari-age disabled this because of ppl who deleted their comments ("i never said such") and you have to ask the admin for permission)
Started this thread here in the off topic section even if "Pioneer Space Sim" (you remember?) is a c.... no they don't like to hear that but it is a clone of Elite2 Frontier.
Some might remember me this forum was where it all began, where Geraldine (hail hail) discovered Pioneer and i found a toy where i could stick my head in.
Some might even know that i got quite disappointed with Pioneer like it recently is and started my own derivate of it, a couple of years ago with "Sputnik". It was no fail but i lost all work i've made back then due to a lot of tard, lack of funds, broken machines, brain stroke, aorta dissection.
But i'm back (stronger then ever
just like the phoenix )
And i decided to advertise a little for my project "Phoenix" (how Sputnik is named now).
I guess "Phoenix" is the right name for it because i like to keep Pioneer like it was, easier to play with maybe even more fun to play. I'm a sole one and mainly i create models the whole developing stuff exceeds a little my capabilities but one can still learn.
It went to my head as the team decided to remove the scripted geometry, i liked that much and i still like it, it's something far different from creating models with a CAD. It needs 5 times more time, it's enerving, it's clumsy, it's exactly what i like.
(caugh it allows to copy the FE2 ships vector by vector)
But that's not the only thing which annoyed me.
I really like to keep it closer to "FE2" while the devs like to get as far from it as possible
Further i see "Pionner" (Phoenix) as a sort of sandbox, it should teach a little how such a game is made, a player can edit nearly the whole game via LUA scripts. This changed to and the recent scripting system prevents more from what it should force, user created content.
Instead to hack the good old FE2 i found in it the right thing to let my creativity go wild.
"Hey i'm not that new face on the block, i'm an old knittery face here" (but had to create a new account)
OK lets see how Phoenix looks like, it's still far more rudimentary as "Pioneer" is in the recent state.
In other terms it looks and feels like pioneer was almost a decade ago.
I didn't wen't back to the beginning - it wasn't possible the available sources reach only back to the point where we incorporated the new devs, alpha 10 i guess is the oldest available source, i would have liked an older release because of the changes to the AI, it has getting unbeatable and to beat it with a hand selected co-pilot i can't call "to play a game", i let play in such a case.
The chosen release is "Pioneer alpha31" with all it drawbacks due to that this marks the point where the LMR was removed and i was finally pushed out of the team because i couldn't stop from arguing and ranting.
Recently i didn't work on the source even if that is planned, but i have a lot of other things i can waste time with.
models, models, models
and step by step changes to the existing mission modules of pioneer31.
That was the state at beginning of the year, only tidbits have changed since then.
The main difference is that you won't start at Sol or any system that might be commonly known (with exclusions).
You start with a lousy shuttle and nothing else as 100 bucks, no autopilot no nothing, this is the very first "mission" and i didn't had to write a single line of code or mission script, it's already there.
It's not possible to exchange the ship with a better one, the starting ships are priced the same and the same.
Mission no.1
Get warm with the controls and learn to fly a space vessel manually, sort of operating license for "Phoenix".
Choose a interplanetary mission and fulfill the task, it can be hard enough.
Earn money to buy first an autopilot, scanner, finally a better ship with a hypedrive which allows you to leave the system.
Main mission (so to say)
Find back to Sol, that isn't easy already.
Avoid conflicts - you will be burned to ashes mostly, a victory in "Phoenix" (or Pioneer) counts like 100 victories.
Recently there is no source to "Phoenix" respectively the source is Pioneer alpha 31, as soon as a make changes on it i will publish that. The internal name "Phoenix" and the created user directory "phoenix" are a hack to seperate mainly the user directory from "pioneer" else that would conflict.
The content is (should be) lincensing compliant even if i still have to remove this or that tidbit.
The rest i will publish as a "mod" which belongs exactly in this user dir to probably change the whole look of the game.
Such a mod is my "FFE mod" (or ship mod, but it grows again to what it was)
In both clips you only see scripted geometry only the astronavigatrice is an exclusion and i would even have liked to get rid of her.
Recently that also changed a bit and i implemented some wavefront models, buildings, because of performance because you draw many buildings in a city and a small impact sums up to a big one.
I extended the functions of the LMR and it's now a chaos, nah but it's really a lot and a tohouwabohou.
i guess i break at this point and wait for replys, maybe i'm under the wrong topic here, maybe whatever.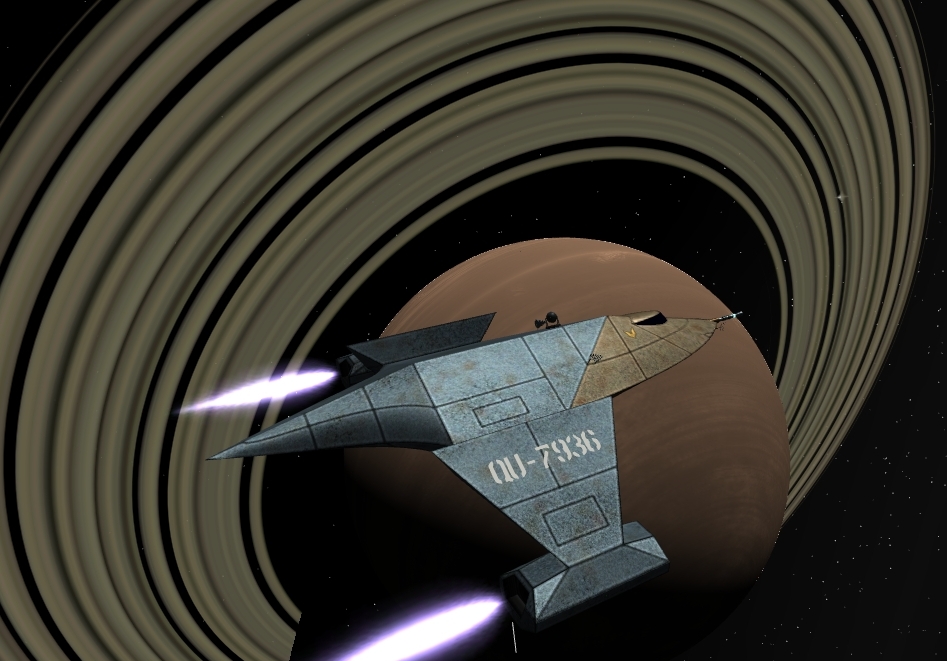 Last edited: