Senior Community Manager
Frontier
Hayo coaster friends!
Can you believe it? It's been a year since we first announced Planet Coaster is coming to consoles. This is a game we poured so much passion into for our PC community, and wanted to share with you all on console too. It's been a wild ride, but today the wait is finally over.
We're thrilled that the day is here: Planet Coaster: Console Edition is out now!
Today, our PlanCo Fam will get to enjoy the Planet Coaster experience on Xbox Series X|S, Xbox One and PlayStation 4. PlayStation 5 will be available from 12 November in the US, Japan, Canada, Mexico, Australia, New Zealand and South Korea, and 19 November in the UK, Europe and the rest of the world.
Planet Coaster first launched four years ago on PC, and in every livestream, on our forums, and via our social channels, we've been asked: "when will the game come to consoles?" Planet Coaster has always been a passion project for the development team in the studio, and was the culmination of everything the team has learnt over the years. Getting to share it with our incredible community has always been special to us. Today, with the launch of Planet Coaster: Console Edition, we get to share Planet Coaster with even more of you!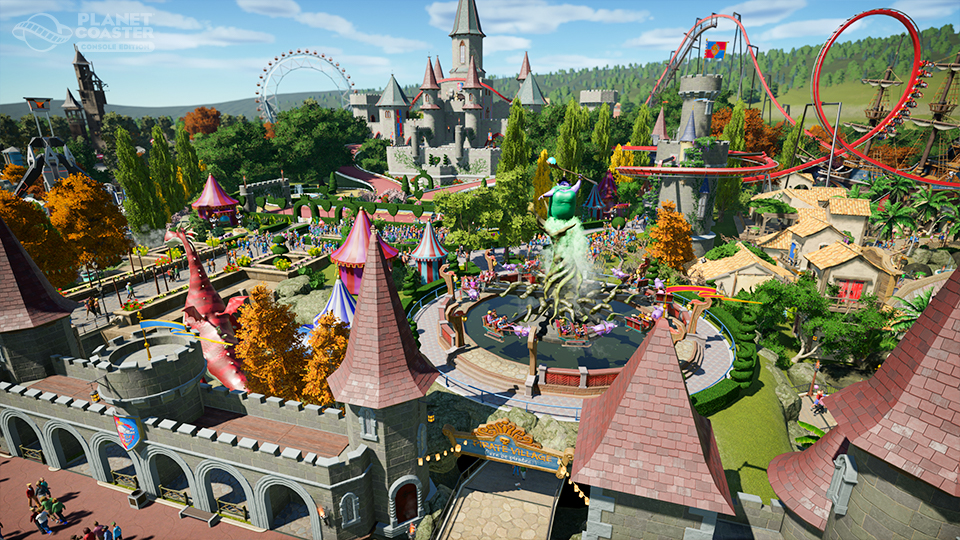 To our Planet Coaster: Console Edition players, we've got a top-tip for you all: we recommend first jumping into the fully-voiced tutorial to get to grips with the controls, and to meet the friendly personalities that will help you get your parks to a top-tier standard. Our charming friend, Oswald B. Thompson, is a renowned Theme Park Manager who can't wait to show you the ropes on how to get started building the parks of your dreams. You'll meet him, and others, who will get you set-up, while providing you with all the helpful advice and friendly charm you could need to become one of the best builders and managers around! Whether you start your adventure in Career Mode, where you'll really get to show off your well-rounded skills, create whatever you can dream up in Sandbox Mode, or show you're up to the task of running a park in Challenge Mode, we can't wait to see what you all get up to. And don't forget, no matter which mode you play in, the Frontier Workshop will be at your fingertips! The team created this platform so that our console community can share creations, browse for inspiration, and subscribe to must-have blueprints for your parks. The Frontier Workshop has cross-generation support, meaning that anything uploaded on a current-gen console can also be downloaded on its next-gen equivalent. We're looking forward to seeing what our Xbox and PlayStation communities create! You can access the workshop in-game, or via our Frontier Workshop web-page which is compatible with PC and mobile, meaning no matter where you are, you'll be able to feel connected to your PlanCo Fam all around the world.
The wonderful Planet Coaster: Console Edition development team have spent a lot of time ensuring that whether you end up playing on the gamepad or a mouse and keyboard, you'll have an experience that is suited towards your play-style. The team have made the controls incredibly intuitive, with brand new UI and a great radial menu that puts the most used shortcuts just a button away. Not only that, but they've also added hundreds of beautifully crafted new blueprints that will enable you to build a fully functioning, jaw-dropping park in just a matter of minutes. Of course, you'll still be able to do the piece-by-piece building you know and love from the Planet Franchise, to create whatever your mind can conjure up with the tools provided. With the Oswald-Eugene Counter, a nifty tool that will keep your console running smoothly for maximum playtime, you can learn how to best use the space you have in your parks. The team have made it easy to check the Oswald-Eugene Counter, by just a short visit to the settings menu. The counter will rise as you continue to create your park, and the more you add to your park the more the counter will increase. When you start reaching capacity, the Oswald-Eugene Counter will notify you that you'll need to remove a few non-essential items to maintain the smooth running of your park. The dev team have worked hard to enable you to create incredible places to visit and share, no matter what console you choose to play on.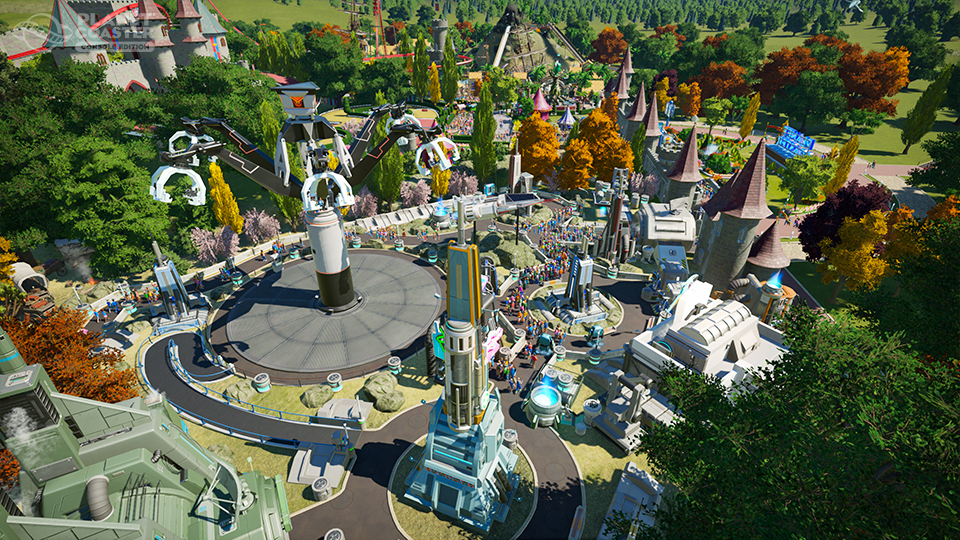 For our ultimate thrill-seekers in the community, Planet Coaster: Deluxe Edition, a digital exclusive, provides you with the base game, the Magnificent Rides Collection and Classic Rides Collection. These Collections will supply you with a total of 18 new rides and coasters, inspired by iconic attractions from theme parks and fairgrounds around the world.
Whatever version you decide to purchase, you will be able to benefit from our upgrade path support! For digital copy owners, on PlayStation 4 or Xbox One, you will be able to download the optimised next-gen version free-of-charge when it becomes available by logging on to your next-gen console with the account you purchased the game on. If you purchased a physical copy, you can also download the optimised next-gen version at no extra cost when it becomes available by simply inserting your disc into your next-gen console. Next-gen upgrades are not available for physical versions of Planet Coaster: Console Edition if you have purchased a PlayStation 5 Digital Edition or Xbox Series S, as these are consoles without disc slots. If you'd like to read more about how upgrading with Planet Coaster: Console Edition will work,
you can do so here
!
Planet Coaster: Console Edition is available for you to buy now by visiting our
website here
, or the console platform store of your choice.
Thank you for all of your support, feedback and comments, and enthusiasm for the game. We've had a wonderful time with you all over the last year, as you've been patient with us as we've worked to bring you Planet Coaster: Console Edition. Thank you for coming on this journey with us. We can't wait to see what you all create and share. Now go out there, and get building!
Last edited by a moderator: