Community Manager
Frontier
Hello Zookeepers!
Our Planet Zoo Beta is now live for you to enjoy!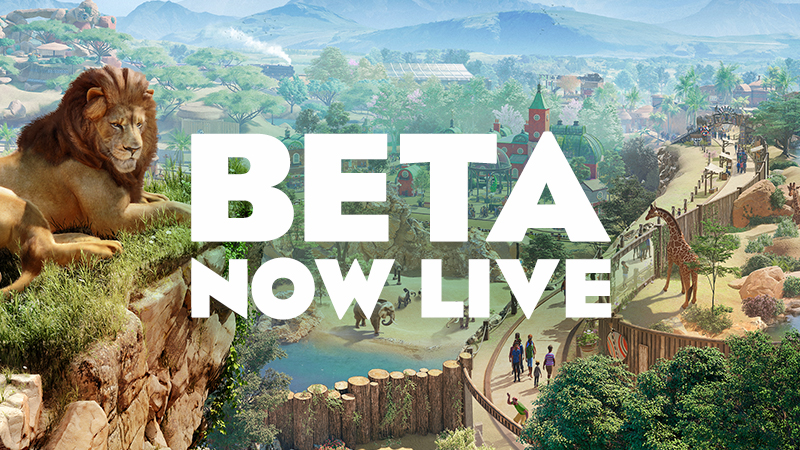 The Planet Zoo Beta is available to everyone who has pre-ordered the
Planet Zoo Deluxe Edition
and runs from 24 September until
5PM BST on 8 October
! If you haven't bought the Deluxe Edition just yet; don't worry, you can still pre-order
here
and join before it ends!
What's available?
Our Beta is not the full Planet Zoo experience, but rather a focused selection of game content to let you have a taste of what's to come! If you'd like to know exactly what will and what will not be available during the Planet Zoo Beta, please read our post
here
. Additionally, your dedicated Community Team is around to answer any other questions you might have!
Bug Reports
You may encounter the odd bug or issue from time to time, as this is not the final game build of Planet Zoo. If you experience any problems, please report via our
Issue Tracker
so that our teams can investigate as soon as possible! We're also really interested in your gameplay experiences and feedback, so please share any thoughts via our brand new, dedicated
Beta Feedback forum
. You'll be helping us a lot by leaving us your constructive comments, as we aim to bring you the most fun, final experience on 5 November!
Known Issues
The build you are about to enjoy is a Beta game build, so it's not the final version of the game that you will be playing on 5 November. This means there may be a few issues or bugs you encounter which we'd like you to report to us via the Issue Tracker
here
.
We are also aware of some potential framerate issues you might encounter. Our developers are working incredibly hard to optimise the game's performance, but you may experience some issues at the start of the Beta. Please know that we are working on this and we'll keep you updated on further improvements. Again, this is not indicative of the final build in November.
As you will be playing the Beta build of the game, there are a few Known Issues you may run in to. You don't need to highlight these to us as we're already on the case!
General
Frame rate improvements are ongoing
A delay when saving a zoo can make it appear that it isn't saving when it is, please be patient!
Several crashes we are aware of:
Crash when deleting a workshop that is in use by staff
Crash when selecting the traversal heat map on a boxed animal
Crash when comparing Warthogs after Scenario 1 objective to adopt them
Rare crash seen when deleting a habitat
Crash when double clicking Steam Train camera
Scenario/Career Mode
You can block your progress completing the scenario by releasing animals to the wild too early
Occasionally hippos get stuck swimming in the water.
Moving them to the trade centre and placing them back into the hippo habitat will resolve the issue
There is no hint pop-up for the heat maps in the bottom left corner
Juvenile Warthogs in pre-built habitat can be seen as escaped if interacting with the mud bath
Franchise Mode
Avatars don't currently visit Franchises.
Unable to close a zoo under a Franchise.
Animal history does not update when starting a new Franchise, so you can get duplicates from previous Franchises
Franchise management tab work in progress
Animals
Animal disease is turned off for Beta
Occasionally Animals can fall through the ground and are then boxed; you will need to unbox them
Sometimes animals can be boxed, but the option to unbox is unavailable. You can get round this by moving the animal to storage and placing back in a habitat.
Animals sometimes jump through barriers
Animals will not be able to interact with feeding stations placed close to the habitat gate (including enrichment feeders)
Animal Animation issues when displaying certain behaviours like stretched muzzle on walking animation or floating enrichment grab animation.
Big cat jumping animations are being refined
Climbing animations are being refined
Navigation on slopes as well as general navigation is being refined
People
If Staff or Guests get stuck walking, moving them manually will solve that.
Some Staff or Guest reactions to management issues are ongoing, for example upset at ticket pricing.
Building
Inconsistent costs when raising barrier height
UI related
Path and Terrain UI will not open if you have opened them twice in a row beforehand. If you open other UI and try again this fixes the issue.
Several outstanding issues in the Animal Market
Shop finances appear green even if they are losing money
Cannot change ticket price from the zoo management menu
Various Help Buttons aren't connected to their help
Guest UI's "Group Finances" spending categories are inaccurate
You are free to stream and share content of your Planet Zoo Beta experience, and we look forward to seeing the magnificent zoos you create! Be sure to keep checking our forums and social pages for some exciting Beta activities you can participate in - there's some great prizes to win as well!
We hope you enjoy it,
the Planet Zoo team.