Community Manager
Frontier
Hello Zookeepers!
There's snow need to wait any longer! We're absolutely thrilled to announce that Update 1.1.0 and Planet Zoo: Arctic Pack are live now!
Join Bernie Goodwin and Nancy Jones on an adventure that will send chills down your spine as you face your toughest challenges yet. You'll need to use all the skills you've learnt so far in two new Scenarios that will take you to Norway and Mexico, and ensure the animals thrive in these landscapes. You get to meet four new animals: the Polar Bear, Reindeer, Dall Sheep and Arctic Wolf - which all come with their own needs. You'll need to learn what these four iconic species require and enjoy from their Zoopedia entries, which will help you learn how to keep your animals happy.
We'll give you all the tools you need - there are over 200 new building, scenery, and foliage pieces included in the Arctic Pack, all to help you build a true winter wonderland.
Alongside the Arctic Pack, we have now released free Update 1.1.0, which includes highly requested community features such as Slow Age Rating, improved social behaviours and management updates, plus more.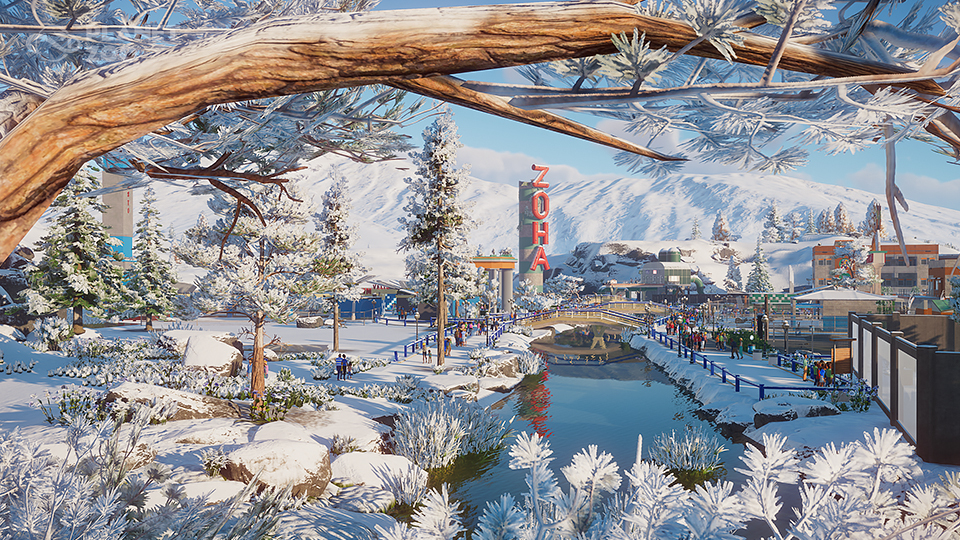 Read the full Update Notes for both the Arctic Pack and Update 1.1.0 below:
UPDATE NOTES
This update contains many more bug fixes, updates and some new content.
Animals
Slow animal aging - We have added a slider in the Gameplay section of the Options menu, where you are able to alter the rate at which your animals age; you can use this to age them up to 5 times slower. This will also affect the rate at which they mature, how long they gestate for, the amount of time between mating attempts, and how long it takes for their star rating to increase. Animals will still display all of their other behaviours at the same rate as they do now. Slowing down everything to do with the animals should also reduce the rate at which things happen in your zoo, giving you fewer animal births and deaths to deal with. This setting will be available in all modes: Career, Sandbox, Franchise and Challenge. Upon using the slider, the ageing of your animals will become disconnected from the in-game years that pass. This is deliberate, not a bug.

This can be set on the front end, which will become the default for any new zoo you start after that point. Any existing zoos will require you to load the save and go into the options to alter it for that zoo.

We have introduced pack structures specific to canines - this applies to Timber Wolves and African Wild Dogs. Alphas are stable within a pack structure, and members won't normally fight unless they are overcrowded. All juveniles will be added to the pack structures. All pack members will be listed in the animal UI.
Added new social interactions to the red ruffed and ring tailed lemurs.
Enabled jumping on Bengal Tiger, Siberian Tiger and West African Lion.
Fixed issue which could lead to animals ignoring feeding and watering stations until they are replaced.
Further fixes for animals jumping through barriers.
Further improvements to climbing.
The Indian Peafowl will now display it's tail feathers again.
New Content
Aurora effect for Tundra biome - requires graphic settings to high or above.
Festive spruce foliage assets.
Ice and Snow rock sets.
Ice statues and icicle scenery assets.
Wooden & frosted ice path.
Enrichment items:

Large Snow Ball
Small Ice Ball
Snowman Skittle
Gift Box

Avatar ice cream costume
Management
A new crime management page has been added to the Zoo Overview management screen - this tab will display and locate vandalised items in your zoo.
Refunds have been modified, and now have a breakdown of costs in the Zoo Finance screen. If a guest has spent less than half of their allotted time in the zoo before going home due to low happiness, they will receive a refund. If an animal escapes and the guest flees, they will receive a refund that's proportional to the time they've spent in the zoo. Innocent guests ejected from the park will receive a full refund. Additionally, unhappy guests will not donate as much money to your zoo.
Staff
Fixed bug causing staff to teleport to the origin of the zoo.
Fixed staff getting stuck on path intersections.
Animal bones will now be cleared from water if the keeper can't reach them.
Fixed mechanics not using alternative workshops when queuing
Guests
Fixed guests walking on staff paths.
Fixed bug with guest visibility calculations when on transport rides.
Added a visibility override to the following scenery items Classic Fence Copper 01 and Classic Fence Copper 02. Guests will now be able to see through them to view animals
Fixed issue where guests wouldn't use bins when "Going Home".
UI
News Feed Carousel - We are introducing a News Feed to the Planet Zoo home page, which will update you on any announcements you should be aware of! These will include maintenance information, latest change log notes and news updates.
New notifications to help with bad keeper setup.
Added a new "Important Alert Requires Attention" notification pop-out that appears in the middle of the screen that notifies players when something tremendously negative is affecting their zoo .

This can be turned off in the Interface section of the Options menu.

Added a notification that displays when more than one mechanic is attempting to use the workshop, others that cannot fit will queue outside.
Added bad education notification.
Added option to Disable Alerts on a per category basis in the Settings > Interface menu.
New Heat Maps:

Staff happiness
Crime
Animal breeding
Habitat cleanliness

Improved the guest negative impact Heat Map.
Immediate family in the zoo info added to animal info panel.
The radius of effect is now shown when placing heaters and coolers.
Added additional information about keeper feeding to the help menu.
Added new function to allow avatar visitors to be set to Friends Only or disabled entirely via a new drop down entry in the Settings > Game menu.
Added a re-hire staff button to the staff info panel in the way of a "+" button at the top. We will continue to further develop and improve the UI in the future.
Clicking on the Guest Happiness at the bottom of the main HUD will now open the Guest Happiness Heat Map.
Added a "Remove this plant" button for all unsuitable plant types to the animal info panel.
Improved feedback when adding water.
Career Mode
Scenario 3 - Improvements made to placing the Vet Surgery and the Shop; now place a building instead of adding a facility to a shell.
Opening hours can be changed in Scenarios 3 through 12.
Challenge & Franchise Mode
Opening hours can now be changed in Challenge and Franchise Mode.
Added new "No Protesters" challenge.
Sandbox Mode
When turning off illness in the settings, any illness already present in the zoo will also now be removed.
Added Sandbox toggles for enabling Cash/Conservation Credits (no longer unlimited) and setting Cash/Conservation Credit amount (applies when unlimited Cash/Conservation Credits are turned off).
Add Sandbox toggle option to turn off Vandalism.
Misc
Fixed issue with lights not turning on when "Power Everything" option is turned on in Sandbox Mode.
Animation
Various bug fixes and polish.
Audio
Various bug fixes and polish.
Stability
Further crash and stability fixes.
Localisation
Various localisation fixes.
Now get out there and have some fun in the snow!